Pros VS Cons • Configurations
2020 Audi Q5 Pros vs Cons. Should You Buy?
Performance • Comparisons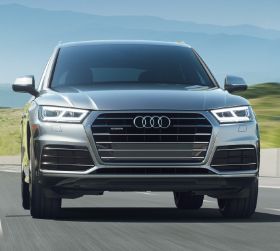 Are you looking for a new vehicle that hits the mark for 'luxury'? If so, then the 2020 Audi Q5 might be an attractive option for you. Not only is this vehicle luxurious, it is athletic. All-wheel drive is standard, and the well-tuned suspension and engine are strong. The Q5 is a small vehicle (and can easily be parked in tight spots) but has a cavernous interior with a utilitarian but minimalist design. All in all, this is a small SUV that will suit a lot of drivers' needs and taste levels.
What's New for 2020?
A few important changes were made to the 2020 Audi Q5. First and foremost, there is a brand-new plug-in hybrid powertrain option available for those looking to get the best fuel efficiency. Some of the standard and optional features have also been swapped around. Other than that, expect to find everything as it was on the 2019 model year's line-up, as this vehicle was only introduced into its second generation in 2018. There is not a lot that needs to be fixed on the Q5 anyway, so only minor changes were really necessary this year.
The Pros and Cons of the 2020 Audi Q5
The Pros:
✅ A Serene, Well-Crafted Cabin
All aspects of the 2020 Audi Q5's cabin are quite remarkable, but perhaps the most outstanding element is its tranquility. There is no wind, road, or engine noise that seeps into the cabin from outside or under the hood. In fact, everything is sufficiently insulated. You can easily hear what rear seat passengers are saying and will never have to crank up the volume on the awesome audio system in order to hear your music.
This car is meant to be driven for hours at a time. The cabin is not just quiet, it is comfortable. Enjoy its plush seats for hours on end; this vehicle is made for roadtrips. Even though the seats are firm, they provide proper bolstering and support to keep your hips and back feeling comfy enough. The leather that comes on the seats is gentle enough, but it can get a bit toasty during hot weather (which is why opting for the ventilated seats can be a good idea). The heated seats feel pleasant during cooler months. Those living in cooler climates will definitely appreciate those!
But what about the space itself? Well, this vehicle looks small from the outside, but on the inside, it feels like a small cave. Up front, there is more than sufficient head and leg space, and the rear seats are surprisingly generous on room as well. Taller adults will not have a problem fitting in back there, as there is enough space for their heads, knees, hips, and legs. Nobody will feel squished, and you can comfortably fit three kids in the back seats.
From the driver's seat you can clearly see almost all the way around the vehicle. You will not have to rely on the standard rear-view camera to guide you out of tight spots, and even the blind spots on each side are considerably small. Considering that some vehicles in this segment have limited outward visibility, the Audi Q5 is refreshingly well-constructed for both safety and comfort.
✅ Excellent Driving Performance and Features
The 2020 Audi Q5 puts in a pretty solid performance when it comes to all aspects of driving. In fact, it is hard to pinpoint anything that is really wrong with how the Q5 drives. Everything seems to function just as you should expect. For example, this small SUV can get from 0 to 60 mph in a respectable 6.2 seconds. Other vehicles in this segment sometimes struggle to get up to speed this swiftly due to under-powered engines. But the Q5's 2.0-L turbocharged engine is able to muster up a solid 248 hp and 273 lb-ft of torque. While you cannot opt for another engine (unless you go with the PHEV's hybrid powertrain), this one will certainly make do. And the 7-speed dual clutch transmission is smartly paired with the engine, creating seamless transmissions as you go between gears. Also, having standard all-wheel drive is awesome for those who want to go off-roading or who live in places where inclement weather frequently creates hazardous driving conditions.
As far as braking goes, the pedal feels appropriately firm. It never gets squishy under your foot over time, which will lead to you feeling more secure as you get used to driving the Q5. In any given road situation, the pedal is easy to modulate. Handling is also quite secure, but you will notice a little more intrusion than you might like from the stability control system. It is a minor gripe, and the system is just trying to work at keeping you safe on the road. Steering is also easy breezy on the Q5, as you get quite a bit of feedback through the steering wheel. This small SUV can easily be guided into even the tightest parking spot, which is a huge bonus for those who live in a city where parking is dense.
✅ Intuitive MMI Infotainment System
Not all infotainment systems are worth the cash you shell out for the vehicles they are equipped in. Audi's MMI Infotainment System, however, totally nails it. Audi makes their technology totally current-gen but remarkably easy to use. Even if you are unfamiliar with how to navigate an infotainment system, the learning curve on the MMI is quick and painless.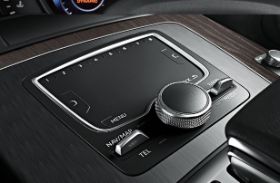 The cabin is not littered with a bunch of redundant controls, which is part of why the set-up is so effective. Everything you need is easy to find, whether it is a physical control or digitally based in the MMI's system. The buttons on the MMI touchscreen's interface are large enough and clearly marked, so you should not have much trouble getting through all the different menus. The whole layout has an intuitive feel to it since everything is so smartly laid out. Overall, it is one of the best systems out there right now.
Keep in mind that Android Auto and Apple CarPlay come standard, meaning that you can integrate your smartphone apps to work with your vehicle. Some people prefer using their smartphone's apps since they are already accustomed to them. Getting them all synced up is a breeze, so if you do not want to use, say, the built-in navigation, you can just switch over to your preferred navigation app on your smartphone. It is a hassle-free way to get where you need to go and makes the whole tech set-up feel all the more convenient.
✅ Excellent Fuel Economy
Let us be honest here: One of the things that lured you into looking at the 2020 Audi Q5 was probably its fuel economy. And we cannot say that we blame you one bit! EPA estimates show that the Q5 should get about 24 mpg combined (with 22 mpg in the city and 28 mpg on the highway). If you go for the plug-in hybrid PHEV, you get boosted to 25 mpg in the city and 29 mpg on the highway. You also get a combined gas-electric rating of 65 MPGe. Additionally, there is 20 miles of pure electric range that come from the 14.1-kWh battery pack. Not bad for a small SUV.
But how do the real world tests stack up against the EPA estimates? Pretty well, actually. Those who have conducted real world tests of the Q5's fuel efficiency have found that it can get somewhere between 26 and 28 mpg combined. Of course, you must bear in mind that we all drive a little bit differently, so how you put the pedal to the metal can factor into just how much you get out of this vehicle efficiency-wise. Still, this is a strong showing for a vehicle in its segment. This vehicle bests quite a few strong competitors, such as the Cadillac XT5. Other AWD SUVs struggle to get this much fuel efficiency because of how they are built, but Audi has found a way to make a small SUV that is rather savvy on fuel.
Just remember, while you are out there looking at other vehicles, fuel economy is not going to be a strong selling point in this segment. Luxury vehicles are not typically constructed with this factor in mind. It's all about looks and tech. The fact that Audi mixes those elements with a strong fuel economy shows that they are dedicated to giving consumers well-rounded vehicles.
The Cons:
❌ A Small Cargo Space
Okay, we have gone over the 2020 Audi Q5's high points, but it definitely has some low points that we need to mention. The first one that needs to be highlighted is the Q5's puny cargo space. Audi sacrifices the cargo space for room in the rear seat, so if it is rear seat room you need more, then this might just be the vehicle for you. However, if it is cargo room you require, then you might find the Q5 to be rather disappointing.
When all seats are left in place, the Audi Q5 offers up 25.1 cubic feet of cargo space. When you fold the rear seats down, the cargo space maxes out at 53.1 cubic feet. While this might do for folks who never tote much more than a week's worth of groceries around, the rest of you might feel like this space is all too limited for your needs. Want to haul your kids' double stroller around? Good luck. Got camping gear to lug with you on your vacation? Have fun trying to fit it all in. You can fit a few pieces of luggage back there, but that is about all you are going to manage.
Thankfully, loading cargo in and taking it out is not terribly difficult. The load height is decent enough, and having the standard power liftgate is a real treat. However, those rear seats do not fold down flat like they should, which really hinders just what type of cargo you can put back there. You will really have to spend time figuring out how you need to load everything so that it fits.
You do get a few handy features that help you organize the cargo area. There is a track-based anchor system that holds larger items in place while the nets and hooks are more ideal for keeping your groceries from flying all over the place. Utility is pretty limited though. Other automakers, such as Honda, are finding ways to utilize the cargo area for increased storage. More bins, under-floor compartments, and other such features would be nice to see in this luxury vehicle. If the non-luxury vehicles can manage to have smartly designed and spacious cargo areas, then Audi could certainly find a way to revamp the Q5's limited cargo space.
❌ Small Item Storage Areas Aren't Well-Thought-Out
Speaking of utility, a lot of the cabin's small item storage areas do not appear to have been well-planned by Audi. The 2020 Audi Q5 has some spaces that are sufficient enough in size, but some of them are awkwardly placed.
The center arm rest is a fairly good size and will allow you to stash quite a few small items inside of it. The pockets on the insides of the doors can also fit a fair amount of small personal items. There is also a slot designed to securely hold your cell phone, and it does a great job.
However, there are a lot of small item storage elements that just do not work well. Up front, you will have to work around the cup holders located in front of the center arm rest in order to access the infotainment center. It can be a bit of a hindrance when you are trying to drive and use the infotainment system at the same time, especially if you have cups in the cup holders. It makes for one heck of a tight squeeze, that's for sure. You should expect a luxury auto maker like Audi to think things like this through since their customers are shelling out a ton of cash for something they expect will make their daily lives easier.
View more pros and cons of the 2020 Q5. ›
Configurations / Trim Levels
Alright, it is time to get down to the nitty-gritty and go through each of the 2020 Audi Q5's trim levels. Knowing which trim level to pick is half the battle since each one adds more features on the higher up you go. How much money are you willing to spend? Since you cannot upgrade to another engine option, what good is it to get a higher trim level? Can a higher trim level offer you more of the features you might want? Let us take some time to find out.
Premium
The line-up starts off with the base Premium trim level. (Note that the PHEV hybrid powertrain can be equipped on any trim level, but it will definitely take the price up a bit.) The Premium is the first of the three trim levels, but it is quite well-loaded with standard infotainment and safety features. Like the other two trim levels, it is powered by a 2.0-L TFSI (which is Audi's fancy way of saying that it is turbocharged) engine and 7-speed dual clutch transmission. All-wheel drive is standard as well. There is an electromechanical power steering system, five-link suspensions in both the front and rear, a 110-150 A alternator, a 420 A/75 Ah battery, and a body crafted from steel and aluminum materials.
As we have already mentioned, there is a MMI infotainment system with a 7-inch screen. You also get a 7-inch colored multi-information display, a 10-speaker sound system, Bluetooth connectivity, the HomeLink universal garage door opener, front data and charging USB ports, HD radio, and smartphone app integration via Apple CarPlay and Android Auto. For a base trim on a luxury SUV, that is a pretty generous line of features, but the generosity does not stop there.
The Premium gets a wide array of safety features. These features include a rear-view camera, power central locks with safety unlock should the airbags deploy, an electromechanical parking brake, and a tire pressure monitoring system. To add to that, there are a number of driver aids that come equipped. These driver aids include Audi drive select, hill descent control (which comes in handy when you go off-roading), Audi pre sense basic, Audi pre sense city, cruise control, keyless start/stop for the engine, and windshield wipers and headlights that are able to sense rain.
On the outside, you will find that the Q5's Premium trim rides atop 18-inch wheels and has a shiny singleframe grille up front. Spot line bumpers, rear privacy glass, a power tailgate, and aluminum roof rails also come equipped. Meanwhile, on the inside, you will find a plethora of creature comforts. The Premium has tri-zone automatic climate control, a manually tilting and telescoping steering wheel with multiple functions mounted to it, gorgeous dark brown walnut natural wood inlays, an auto-dimming rear-view mirror with its built-in compass, and 40/20/40 sliding and reclining rear seats. Oh, and leather is standard as far as upholstery goes.
Premium Plus
How does the Premium Plus improve upon all that? For starters, the Premium Plus gives you the Audi virtual cockpit, which features a massive 12.3-inch LCD instrument cluster. Voice control and navigation get added to the MMI infotainment system, and there is an 8.3-inch touchscreen display. SiriusXM pre-wiring (along with a trial) gets added, as does the Audi phone box, which has a wireless charger and signal booster. Added safety features and driver aids include the parking system plus (which has sensors for the front and rear) and Audi side assist with Audi pre sense rear (which comes with a vehicle exit warning and rear cross-traffic alert).
The Premium's Xenon headlights get upgraded to LED on the Premium Plus, giving it a full LED exterior lighting set-up. There is also a panoramic sunroof. On the interior, you get a chic leatherette center console and arm rests on the doors. The front seats are 8-way power-adjustable.
Prestige
The line-topping trim is known as the Prestige. It offers Audi connect CARE assistance and security services under a time-limited subscription. You also get upgraded to a stellar Bang & Olfusen 19-speaker 3-D sound system. Audi advanced keyless start equips a hands-free tailgate release along with keyless stop, start, and entry. Audi active lane assist, Audi park steering assist, Audi adaptive cruise control with a traffic jam assist feature, and traffic sign recognition get added to the slew of driver aids. The steering system becomes power-adjusting with a memory function, and contour/ambient LED interior lighting gets equipped instead of the standard ambient lighting. Overall, it is a pretty big step up from the Premium Plus.
For a detailed comparison of these trim levels, see our recent research into the 2020 Audi Q5 Trim Level Comparisons and Configurations. ›
Driving Impressions and Performance
As we have already discussed, the 2020 Audi Q5 is impressive when it comes to its driving performance. You might not expect a small SUV of its ilk to be as snappy as it is on the up-start, but the Q5 has no problem getting from 0 to 60 mph in about 5.9 seconds. There are vehicles in this segment that take almost double that time, so this is a respectable showing from Audi and lets us know that they are focused on performance and not just creature comforts.
The Q5 really does put in a stellar all-around performance. It lacks the super sporty vibe some of its competitors boast, but it is plenty enjoyable on its own accord. Some folks do not need anything sporty, and that's where the Q5's plush comfort really shines. The ride quality is impressively smooth. The five-link suspension system easily smooths out any imperfections the Q5 encounters on the road, and the wheels absorb a good amount. Passengers won't feel jostled about at all.
Add to that the Audi Q5's superior handling, steering, and braking, and you've got one excellent performance. Never will you feel this vehicle is about to tip over or fly off the road. You can easily switch between the five drive modes that are offered and find one that fits your preference.
Safety
Safety is definitely a big deal on the Q5. We have already gone over the extensive list of standard safety features and driver aids that help to enhance the vehicle's appeal. And, yes, they pretty much work as expected with few errors.
But how does the Q5 rate in terms of crash safety? The Insurance Institute of Highway Safety (IIHS) gave the 2020 Audi Q5 a 5-star rating overall. The only thing that they marked down was the headlights, which received a "Marginal" score. If they were curve-adaptive, they might have gotten a better score. The high beams do compensate well enough for the limitations of the low beams though.
The National Highway Traffic and Safety Administration (NHTSA) also awarded the Q5 5 full stars. It scored 5 out of 5 stars on every crash test that was administered and showed a 16.40% rollover risk, which is about average for this segment. So far, only one recall has been issued, and that was for wheel arch cover trim that might become detached.
Interior
The interior reflects Audi's emphasis on quality comfort. The leather seats are attractive and comfortable enough to sit in for quite a few hours despite not being the most plushly padded. The leatherette trim along the dash looks just as appealing, and the hard plastic surfaces are pretty minimal. The only real flaw is that the carpets do not reflect the same degree of quality. They look cheaper than you'd expect to see in a luxury SUV.
The virtual cockpit really makes the Q5 look high-tech. The screen is large but mostly unassuming and not intrusive. Everything is laid out in a logical manner, which makes the learning curve relatively short for consumers. The cargo area, of course, could be larger and more versatile, but the roomy rear seats kind of make up for it.
Exterior Color Options
Azores Green Metallic
Brilliant Black
Florett Silver Metallic
Glacier White Metallic
Ibis White
Manhattan Gray Metallic
Matador Red Metallic
Monsoon Gray Metallic
Moonlight Blue Metallic
Mythos Black Metallic
Navarra Blue Metallic
Reliability
So, just how reliable is the 2020 AUdi Q5? Only time will tell, but as it stands, Audi has a good reputation for building solid vehicles. As of right now, there are only a few known complaints that mechanics have about the Q5. The first complaint is that there is a computer malfunction that disables all of the systems instantaneously, causing the vehicle to shut itself off. This happened after the driver had the vehicle at a brief stop, causing the vehicle to become difficult to control as it rolled into an intersection. It seems to be a problem with the start/stop function, and the complaint has not been echoed by a lot of drivers as of yet. The other complaint involves the seatbelts, but there have been no further issues brought up about it.
Overall, people seem to like their Q5s. They are trading in their sedans and going for something with a little more room and more off-roading capabilities. People love that the Q5 handles with such ease and feels fun. The quiet cabin with its cavernous space is appealing to many, but some people do not like the carpeting and how it holds up over time. People think it can get nasty and that it is not up to par with everything else inside of the vehicle.
How Does It Compare
2020 Audi Q5 vs 2020 Audi Q3
The 2020 Audi Q5 experiences some sibling rivalry with the Q3. The Q3 is the more affordable of the two and is loaded with current-gen technology. The interior has the same high-quality appearance, and it also provides a quiet and cozy ride quality.
However, the Q3 does not have the same solid fuel economy. Drivers will be left wanting more from this SUV. Also, like with the Q5, the small item storage feels limited and is not always the most well-thought-out. Also, the Q3 does not feel like it is much fun to drive, as the sporty vibe is totally lacking on it.
See our In-Depth Comparison of the 2020 Q5 and the Q3 Here
2020 Audi Q5 vs 2020 Audi Q7
The Q7 is a much more expensive option than the Q5 since it adds a third row of seats. The third row is unfortunately pretty cramped, so kids will be relegated to that row. It also does not offer as much cargo space as a lot of the competition, and this seems to be a trend with Audi.
On the plus-side, you get some beautiful interior materials and a totally smooth ride quality. You also can delight in the spunky handling and lengthy list of standard infotainment and safety features.
See our In-Depth Comparison of the 2020 Q5 and the Q7 Here
2020 Audi Q5 vs 2020 BMW X3
The 2020 BMW X3 is a tough competitor, as it is more affordably priced than the Q5. You can take your pick between two strong and moderately fuel-efficient engines, and it is easy to customize the vehicle with plenty of feature options available. Also, the interior is comfortable and lush with space, even in the rear.
On the downside, the X3 does not have Android Auto compatibility, just Apple CarPlay. Sorry, Android users, but you won't be able to sync your smartphone apps on this car. Otherwise, there aren't too many pitfalls to the X3.
See our In-Depth Comparison of the 2020 Q5 and the X3 Here
2020 Audi Q5 vs 2020 Volvo XC60
The 2020 Volvo XC60 is another affordably-priced luxury SUV. Its interior design is stunning, full of quality materials that look expensive. Also, the second row is spacious enough for even for folks over 6 feet tall. There is a plug-in hybrid version available that gets good fuel economy.
Unfortunately, the XC60 isn't as exciting to drive as the Q5. You might feel like it is just bland. And the infotainment screen is far from being user-friendly as its controls look nothing short of cluttered.
See our In-Depth Comparison of the 2020 Q5 and the XC60 Here
2020 Audi Q5 vs 2020 BMW X5
The 2020 BMW X5 is the X3's big sister. It comes with a huge list of standard features and optional packages. Each of its engine options gives a strong performance, and the cabin looks and feels totally luxurious. The cargo area offers a better amount of cargo space and even manages to look chic as the cabin.
You get a lot of big blind spots on the sides though due to the way the side windows and mirrors are constructed. Additionally, entering and exiting are hindered by the too-wide doorsills.
See our In-Depth Comparison of the 2020 Q5 and the X5 Here
2020 Audi Q5 vs 2020 Acura RDX
The 2020 Acura RDX is another affordable option that comes with a ton of cabin space. Its cargo space is also pretty generous - more so than the Q5's. Steering and handling feel sporty enough, and the cabin looks just as exquisite as the Q5's. All of the trim looks high-end. You won't find yourself getting gouged on the extra options either, as they're more reasonably priced.
Performance isn't as stellar though, and the sole powertrain is not a strong one. Also, those extra options are all bundled into packages so you cannot simply pick and choose one or two that you really want.
See our In-Depth Comparison of the 2020 Q5 and the RDX Here