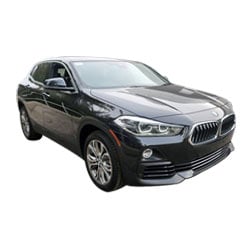 Find New Car Deals Near You
Get multiple price quotes from the Internets leading automotive websites
• Car Clearance Deals
• CarsDirect
• NADAguides
• Motortrend
The 2019 BMW X2 is a crossover SUV with four doors and a rear hatch for the cargo area. The X2 emphasizes the sport part of an SUV over utility. It offers excellent power and performance from any of the available engine choices. Steering and handling feels downright sporty for an SUV. The BMW X2 is also a stylish vehicle with an attractive exterior and interior. It gives you all of the luxury, comfort and quality that one would expect from a BMW. We will take a look at the top ten reasons to buy an X2 along with some reasons why it might not be the best choice for you.
What's New for 2019?
Most of the trim levels are the same in 2019 as they were for 2018. The exterior and interiors remain mostly unchanged. BMW has introduced a new trim for this year. It's a high-performance model called the M35i. This trim has a tuned engine with more horsepower and a performance suspension system. It also offers upgraded bucket seats and a new exterior color called Cerium Grey.
Top 10 Reasons to Buy a 2019 BMW X2 – The Pros
1. Good Engine Performance
The 2019 BMW X2 comes equipped with a few different engines depending on the trim package. All of them offer plenty of power, solid engineering and good acceleration. The base model uses a turbocharged four-cylinder that cranks out around 228 horsepower. It's a smooth engine that can quickly get you up to 60 miles-per-hour in just 6.4 seconds. The highest-performing model is the previously mentioned M35i trim. The engine for the M35i package has been fine tuned to produce an impressive 302 horsepower.
2. Nice Steering and Handling
The BMW X2 is an athletic and agile vehicle, especially for a crossover SUV. It drives and handles more akin to a sports coupe than an SUV. Steering is firm, accurate and predictable. It can be downright fun taking the X2 out on a winding road. It handles the curves with very little body roll too.
3. A Quiet Ride Quality
The 2019 BMW X2 provides a nice, quiet ride. Part of this is due to the smooth-running engine. There are no noticeable vibrations coming from under the hood. BMW has also done a fine job of soundproofing the interior. Traffic and road noise will be all but completely removed from your daily commutes and road trips.
4. Plenty of Passenger Space
One of the best reasons to choose an SUV over other vehicles is for the added passenger space. The BMW X2 gives you room for up to five passengers. The front-seat area provides plenty of head, leg and elbow room. The BMW X2 is a great choice of vehicle for anyone with a large family. It's also great for anyone with a large entourage of friends that they like to transport around.
5. A Large Cargo Capacity
The 2019 BMW X2 may not be a full-size SUV, but it still gives you plenty of space for cargo. This SUV provides some flexibility and options for transporting your cargo too. With all of the seats in their default positions, you get around 21.6 cubic-feet of storage space. That's a perfect amount of room for groceries and small loads. If you need more room, you can configure the seats in a couple of ways. You can extend the cargo capacity in this way up to 50.1 cubic-feet of space. The BMW designers have also loaded this SUV with cup holders, pockets and a number of small-item storage spots.
6. The Elegant and Classy Exterior
The design of the X2 exterior accomplishes a number of things. It simultaneously says class, quality and performance. You get lines and contours that evoke the elegance and luxury of a BMW. They've also managed to incorporate the rugged looks of an SUV and the aggressive, sleek lines of a sports coupe. The end product is something unique that will look great anywhere you go. The X2 never seems out of place at a fancy country club, at the business meeting or on some camping grounds.
7. The Refined and Comfortable Interior
The 2019 BMW X2 interior provides all of the comfort and quality that BMW is known for. There's a lot of real wood and metal trim throughout the interior. The front seats are multi-adjustable, supportive and extremely comfortable. The instrument cluster and infotainment center look both modern and classy. All of the interior materials are of the highest quality, and the fit and finish here is second to none.
8. Impressive Safety Features
The BMW X2 is a safe vehicle that comes loaded with a number of safety and security features. A rear-view camera is equipped on all models. You also get front and rear parking sensors. A pedestrian-detection system is included along with emergency braking. Some of the remaining, notable safety features include a lane-departure warning, adaptive cruise control and a forward-collision warning. The Insurance Institute for Highway Safety has named the 2019 BMW X2 a Top Safety Pick.
9. Modern High-Tech Features
The 2019 BMW X2 comes with a lot of standard, high-tech features. The infotainment system gives you a high definition, 6.5-inch touchscreen. This display can even be upgraded to a larger 8.8-inch model. You get BMW's navigation system and a premium audio system as well. The sound system can be upgraded to a package created by Harman Kardon. There's plenty of connectivity options and smartphone integration onboard as well.
10. Good Fuel-Economy Ratings
SUVs and crossovers aren't always known for having the greatest fuel-economy ratings. The BMW X2, however, offers some of the best numbers in this class of vehicle. The most economical models provide 23 miles-per-gallon in the city and 32 miles-per-gallon on the highway. These numbers will drop ever-so-slightly if you select an all-wheel drive version over a front-wheel drive model.
Buying Tip:
To avoid overpaying on a new car, shop prices online first. Get up front pricing before you walk into a dealership. We recommend the following free services;
Car Clearance Deals,
NADAguides,
CarsDirect &
Motortrend.
These free services will offer you
the lowest prices
and supply you with multiple competing price quotes. You will know the best price before you visit the dealer.
Reasons Not to Buy a 2019 BMW X2 – The Cons
1. The Price
One of the few downsides to a luxury SUV will always be the price. The BMW is no different here. Keep in mind that the cost isn't much different from the competition in this class of vehicles. It's just that a cheaper alternative can be found if you go with a more practical crossover SUV. The BMW, however, offers a level of luxury, comfort and quality that more than makes up for the price increase over a budget vehicle.
2. Rough Ride Quality
The 2019 BMW X2 has an adequate suspension system, but it can be a bit firm at times. This is likely a result of the emphasis on sports-like performance. Just like your average sports coupe, this crossover can feel a bit stiff and bumpy over rough terrain. This is a trade off that simply must be made for the athletic performance.
3. The Second-Row Seats
The rear seats are fine for children and most average-sized adults. They may get a bit cramped, though, if your passengers are especially tall or larger than average. This won't be an issue for many, but it's something to be aware of. There may be competing vehicles in this class with a little more space in the back.
How the 2019 BMW X2 Compares to the Competition
The market for luxury, crossover SUVs is a crowded one. The 2019 BMW X2 faces some stiff competition. Three of its top competitors are the 2019 Volvo XC40, the 2019 Jaguar E-Pace and the 2019 Audi Q3. The Volvo comes in at a similar base price as the BMW. It also gives you similar performance and a near identical fuel-economy rating. Both vehicles offer a nice interior with great features. The BMW comes out on top when it comes to performance and handling.
Jaguar's E-Pace offers a similar, sporty performance as the BMW. It also seats five passengers and has a similar price point. The BMW beats it out when it comes to interior quality and comfort. The Audi Q3 falls behind the BMW when it comes to power and performance. The Audi has an excellent interior quality, but it's a bit more cramped than the BMW and has less cargo space too.
In Conclusion:
The 2019 BMW X2 is an excellent luxury vehicle for anyone who also appreciates good performance. It's a fun vehicle to drive with an attractive, sporty design. The X2 also provides steering and handling that feels more like a sports car than an SUV. It's exterior is classy yet aggressive. The interior is one of the best in this class of vehicles. You get all of the comfort and style that's associated with a company like BMW. If you want the perfect mix of modern tech, style and performance, it's hard to beat the BMW X2.
Did you find this article useful?
Please rate this page. Select a star rating from 1 to 5 below:


Save Money on a 2019 BMW X2:
Find New Car Clearance Prices - Many Vehicles are Selling Below Dealer Invoice Prices.
Every dealer offers a secret price. Many prices are below invoice.
Find yours here
.