Reasons to Buy • Pros vs. Cons
2019 BMW X6
Should you buy? Find out below..
Buying Tip:
Before you walk into a dealership, price shop Online first. Avoid overpaying by use pricing services such as
Car Clearance Deals
,
Edmunds
,
CarsDirect
&
MotorTrend
.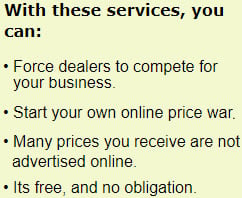 Visit
Car Clearance Deals
,
Edmunds
,
CarsDirect
&
MotorTrend
.
Now in its fifth year of the second generation of the X6, BMW has seemingly figured out everything (except for rear seat and cargo space) on this so-called coupe. Of course, it is really more of a midsize SUV than a coupe - a style that seems to appeal to consumers. While there are quite a few impractical elements to the design of the 2019 BMW X6, it offers the levels of comfort and quality that BMW fans have come to expect from this beloved automaker.
What's New for 2019?
The X6 is due for some updates, but this model year, they are few and far between. The 2019 BMW X6 now comes with a standard subscription to Apple CarPlay, and a number of driver aids have been tacked onto the "standard" list as well. Other than that, expect to see a lot of similarities between this year's models and those from the 2018 line-up.
Top 10 Reasons to Buy a 2019 BMW X6 – The Pros
1. Rapid Acceleration
You do not have to buy the line-topping, high-powered xDrive50i to get an exceptional driving performance from the 2019 BMW X6. In fact, going with the mid-level xDrive35i gives you a powertrain capable of getting this vehicle up to speed in no time. All it takes is roughly 5.8 seconds for the vehicle to get from 0 to 60 mph, which is a great time for this class. The xDrive35i is smartly paired with a 3.0-L inline-6 cylinder turbocharged engine, 8-speed automatic transmission, and all-wheel drive. The engine is able to put out 300 hp and 300 lb-ft of torque, which is certainly enough to power this vehicle. Also, the 8-speed gives smooth transitions between gears, so acceleration up to highway speeds feels seamless.
2. High-quality Interior Materials
BMW lovers should expect nothing less than the best inside of the new X6. In fact, this degree of luxury is where the X6 truly shines. Throughout the cabin, there are plenty of high-quality interior craftsmanship to be found, ranging from the standard leather upholstery to the soft-touch materials. There are no noticeable shakes or rattles coming from anywhere inside of the cabin, which indicates that this vehicle is solidly built on the inside.
3. Comfortable Seating Throughout the Cabin
Not only is the cabin on the 2019 BMW X6 well-constructed, but it is also built for comfort. The seats are some of the most cozy you can find, even for a luxury vehicle in this class. The 35i trims both come with power-adjustable front seats that are heated, and the driver's seat has memory functions. The upgraded front seats on the xDrive50i are even more comfortable, and there is an option for heated rear seats to help maximize comfort for passengers sitting in the back. Even though the rear seats might feel slightly flat due to their design, they still provide enough padding to make it through long rides.
4. A Quiet, Well-mannered Ride Quality
The new BMW X6 has one of the more well-mannered ride qualities in its class. The X6's adjustable suspension is able to soak up all types of bumps and shakes in the road surface without any issues. While Sport mode will, of course, have you feeling some imperfections here and there, Comfort mode completely erases them. Things stay muted in the cabin, too. The only noise you will ever hear seeping into the cabin comes from taking the car into full-throttle.
5. Excellent Braking Capabilities
Braking on the 2019 BMW X6 feels smooth and secure whether you have the vehicle on a slower city road or out on the highway. The X6 is able to come to an emergency stop from 60 mph in just about 108 feet, which is pretty good for a large SUV. Drivers will likely notice a little bit of fading in the pedal, but this is only after repeated hard uses of the brake. Otherwise, these are some of the best brakes you can ask for in a vehicle in this segment.
6. Off-roading Capabilities
While no vehicle in this class is truly meant for serious off-roading, the BMW X6 can handle some light adventures off of the beaten path thanks to its 8.3 inches of ground clearance and standard all-wheel drive. Dirt roads are not a problem and remain comfortable to drive down since the adjustable suspension soaks up so many of the bumps.
7. Controls Are Easy to Use
A lot of luxury vehicles struggle with being user-friendly, but this is not the case with the 2019 BMW X6. All of the vehicle's controls are laid out in an intuitive fashion along the dash. The iDriver controls are easily within reach of the driver's fingertips, and accessing climate control is relatively easy once you have learned the set-up.
8. The xDrive50i's V8 Powerful Engine
Should you decide to upgrade to the X6's line-topping xDrive50i model, you will get one powerful engine. The xDrive50i comes equipped with a V8 turbocharged engine that is able to produce an impressive 445 hp and 480 lb-ft of torque. This makes flipping the vehicle into Sport mode quite fun as the V8 works well with the spunky 6-cylinder engine. Transitions feel smooth as can be with this powertrain configuration and make it well worth the upgrade.
9. The Optional Packages
There are quite a few optional packages to choose from when customizing your brand new 2019 BMW X6. BMW has several "Tier" options. The Premium Tier, for example, gets you a heads-up display screen, wireless charging for smartphones, WiFi hot-spot, and automated parking. Upgrading to the Executive Tier nabs you the bonus of having window shades in the rear and automatic high beams. There is also an M Sport package that comes with unique interior trim and caters to the sportier drivers.
10. Numerous Stand-alone Options
In addition to there being a lot of optional packages, there are a number of stand-alone features to choose from on the X6. Some of these stand-alones include an upgraded audio system made by Bang & Olufsen, an entertainment system for the rear seat passengers, and a heated steering wheel. While these features do, of course, up the price tag, selecting the right ones can make the X6 well worth it.
Buying Tip:
To avoid overpaying on a new car, shop prices online first. Get up front pricing before you walk into a dealership. We recommend the following free services;
Car Clearance Deals
,
Edmunds
,
CarsDirect
&
MotorTrend
.
These free services will offer you
the lowest prices
and supply you with multiple competing price quotes. You will know the best price before you visit the dealer.
Reasons Not to Buy a 2019 BMW X6 – The Cons
1. Limited Rear Seat Head Room
One of the biggest limitations on the 2019 BMW X6 has to do with space, and head space in the rear seat seems to suffer the most. Up front, space is not an issue, but taller adults will have to duck their heads down if they are sitting in the back. Additionally, the seat sits somewhat low compared to other BMW models, so those with long legs might feel some cramping in that regard as well.
2. Limited Cargo Space
In addition to there being limited space in the rear seats, there is not a whole lot of cargo space for storing bulky items. While the underfloor storage area helps, the availability of 26.6 cubic feet of cargo space with all seats in place is not stellar for this segment. The amount of cargo space only maxes out to 59.7 cubic feet when the rear seats are folded down. Unfortunately, there are competitors who do a lot better than this.
3. Limited Rear Visibility
Another hindrance based on the design of the 2019 BMW X6 is that there is limited visibility to the rear of the vehicle. The window in the rear is far too small for a vehicle of this size, and the chunky roof pillars make visibility even worse. Drivers will have to rely on driver aids like blind-spot monitoring and the parking sensors to know what is going on behind the vehicle. Thankfully, forward visibility is pretty good due to the large windshield.
4. The Steering Feels Numb
Steering on the BMW X6 is, at best, boring and, at worst, feels totally numb. The vehicle seems to struggle with communicating between the driver's hands and the front wheels, especially while in Comfort mode. Switching over to Sport mode seems to help with providing more feedback, but the switch should not have to be so necessary. It is a good thing that the vehicle tracks straight, but more of a connection with the driver and the front wheels is necessary.
How it stacks up to the competition:
2019 BMW X6 vs. 2019 Mercedes-Benz GLE-Class Coupe
One of the biggest competitors for the new 2019 BMW X6 is the 2019 Mercedes-Benz GLE-Class Coupe. The GLE-Class has an impressive ride quality that rivals that of the X6 and comes packed to the brim with a ton of standard safety and infotainment features. Also, the interior is incredibly well-designed and evokes a feeling of luxury. However, the GLE-Class Coupe suffers from similar issues with the sloping roof limiting visibility in the rear. It also lacks cargo space and is only available in two different trim levels, so there are not as many choices that customers can make.
2019 BMW X6 vs. 2019 Land Rover Range Rover Sport
Another strong rival for this model year is the 2019 Land Rover Range Rover Sport. The Range Rover Sport has a cabin that feels just as luxurious as it looks, and the vehicle is able to compete well with the X6 in terms of its sporty performance capabilities. It also has the advantage of providing ample cargo space for a vehicle in its class. The biggest downside is that some of the technology is not the most user-friendly.
Conclusion
Overall, the 2019 BMW X6 is a solid vehicle and should make for a cozy and luxurious daily driver. The fact that it can absorb nearly any road imperfection balances out the lackluster feeling that the driver gets from the steering. However, if cargo space is a must-have, buyers will need to look elsewhere to find it.
Did you find this article useful?
Please rate this page. Select a star rating from 1 to 5 below:


Save Money on a 2019 BMW X6:
Find New Car Clearance Prices - Many Vehicles are Selling Below Dealer Invoice Prices.
Every dealer offers a secret price. Many prices are below invoice.
Find yours here
.