2022 BMW 3-Series Pros Vs Cons. Should You Buy?
There was once a time when the BMW 3 Series came in four different body styles - a coupe, convertible, sedan, and station wagon. These days, you can only get the sedan, as everything else has been systematically axed from the line-up. The coupe and convertible were converted into the BMW 4 Series about a decade ago, and the wagon departed after that due to the growing interest in SUVs instead of wagons.
But here we are with the 3 Series sedan still functioning as a force to be reckoned with in this segment. You can take your pick from a number of different powertrain options: a turbocharged 330i, the 330e plug-in hybrid, an M-tuned M340i, and the high-performance M3. While the 3 Series isn't quite the crème de la crème anymore, it is a sedan with superb handling capabilities and a modern, upscale interior loaded with space.
There are, of course, some downsides to owning the BMW 3 Series. There are a lot of driver aids that get left as pricy options, whereas many competitors have them as standard equipment. The infotainment system also requires you to follow a long learning curve. The truth is, there are vehicles in this segment with a better leg up on technology.
The 3 Series has its merits, and it might pique your interest. But what's new for 2022? And how does it stack up against the competition? We will answer those questions as well as tell you ten things we like about the 2022 BMW 3 Series and a few things we would like to see improved.
What's New for 2022?
There aren't any major changes to report for the 2022 BMW 3 Series. You will perhaps notice that there have been switches made to some of the equipment, stand-alone options, and packages. Also, each trim level now gets the digital instrumentation panel, thereby eliminating the former analog model that came on lower trim levels. Other than that, everything carries over from the 2021 line-up.
Top 10 Reasons to Buy a 2022 BMW 3-Series – The Pros
1. Three Powerful Engine Options
The 2022 BMW 3 Series gives you the choice between three strong engines: the base 330i, 330e, and M340i. The 330i is a turbocharged engine that delivers 255 horsepower. And it only takes about 5.6 seconds to get from 0 to 60 miles per hour. The 330e is a plug-in hybrid variant of the 300i that offers you a combined 288 hp and 310 lb-ft of torque. It gets 23 miles of pure electric range before the gas-powered engine kicks in to assist. And the higher powered M340i is a turbo V6 that serves up 382 hp. So, no matter which engine you go with, you're going to get a powerful performance characterized by swift acceleration.
2. Above-average Braking Capabilities
The brakes are truly the icing on the cake here. The 3 Series' brakes provide smooth, quick stops without any hesitation or nosedive. They have an appropriate amount of firmness and won't come off as feeling soft and squishy beneath your foot. They perform better than many other brakes do in this segment.
3. Enhanced Control From the M Sport Package
The M Sport package is an option you can get that has a sport-tuned suspension. This suspension exhibits better control than the standard suspension, keeping body control under wraps as you round through turns. The vehicle remains stable and planted, ensuring some driver confidence.
4. A Quiet Cabin
No matter how fast you are going, the cabin will remain pleasantly quiet. You can take the 3 Series up to speed on the highway and still hear your music and talk with your backseat passengers without outside noise bombarding your ears. The wind and road noise is kept to a minimum, and the engine gently purrs.
5. Comfy Seats All Around
No matter where you are seated inside of the cabin, the 3 Series offers some comfortable, well sculpted seats. The front seats are particularly delightful with their numerous adjustments and supportive structures. With the Premium package, you get power lumbar support and heated front seats for additional comfort. It is one of the packages we recommend equipping on whichever trim level you buy.
6. Spaciousness Abounds
The 3 Series is spacious for a luxury sedan. Getting in and out is simple due to the generous amount of head clearance in the doorways. The grab handles are smartly placed for aiding with entry and exit. Once you're in the vehicle, you'll feel as though your head and legs have enough room, even if you're over 6 feet tall.
7. The Optional Harman Kardon Sound System's Quality
If you're an avid music listener who wants to feel like they're at a concert, the optional 16-speaker Harman Kardon sound system is something to tack onto your 3 Series. It pumps out some crystal-clear sound and fills the entire cabin. You can crank it up without getting any distortion.
8. Plenty of Cargo Space
Got a lot of cargo you need to haul? Many luxury sedans are tight on cargo space, but the 3 Series gives you a sizable trunk to get the job done. The 40/20/40-split folding rear seatback can easily be folded down for pass-through space when your bulkier cargo demands it. Smaller items can be placed in any number of small item storage areas throughout the cabin.
9. A Capable Family Hauler
The 3 Series is actually quite family-friendly. The LATCH system makes installing child car safety seats in the rear rather simple. You can quickly find the Isofix anchors beneath flip-up lids - they're all clearly marked. With how spacious the cabin is, you can fit a rear-facing car seat in the back without much hassle.
10. Fuel Economy That Exceeds Expectations
On the gas-powered 300i with all-wheel drive, you can get an EPA estimated 28 miles per gallon in combined driving. The rear-wheel-drive version does get slightly better numbers, but the difference is pretty small. While some sedans in this segment only make it to the mid-20s, real-world tests reveal that the 300i xDrive yields about 31 mpg combined. That is a number that exceeds our expectations.
Reasons Not to Buy a 2022 BMW 3-Series – The Cons
1. A Rough Ride Quality From the M Sport's Suspension
The M Sport suspension is sport-tuned, which means it tends to be stiffer than the normal comfort suspension. But this suspension is really stiff. In fact, we'd bet that most people will find it to be too stiff for a luxury sedan. You might want to stick with the standard suspension if you prefer a plusher ride.
2. A Bizarre Climate Control System
The 3 Series' climate control system is nothing short of confusing. The system itself is capable of operating as it should, but there is a long learning curve involved. Some of the controls are really counterintuitive. For example, if you want to sync the zones, you have to use the touchscreen in order to do so. When it is in auto mode, the system won't let you adjust fan speed, which forces you to do it manually.
3. The Confusing iDrive Infotainment System
The 3 Series' iDrive infotainment system is honestly one of the worst models on the market right now. The menus will make you feel like you're running through a maze, and the console's flat physical buttons mean you will have to take your eyes off of the road for a few seconds since you'll struggle to feel them by touch alone.
4. The Advanced Driver Aids Are Hit-or-miss
There are quite a few advanced driver aids on the 3 Series, but some of them are a lot less functional than others. And many are bundled into packages. Forward collision mitigation is standard issue, but you'll have to add the Driving Assistance package or Driving Assistance Professional package if you want things like adaptive cruise control, blind spot monitoring system, and a lane keep assist system.
How It Stacks Up to the Competition:
2022 BMW 3 Series vs. 2022 Audi A4
A major contender in the segment this year is the 2022 Audi A4. Its cabin is immaculate and looks way more expensive than what you're going to pay for it. Everything oozes quality. Its advanced driver aids are abundant and easy to use. The rear seat is quite spacious for this segment, and you get snappy acceleration from the A4 45 TFSI engine. On the downside, you might not feel terribly engaged while steering since there isn't much feedback coming through the wheel.
2022 BMW 3 Series vs. 2022 Genesis G70
Despite its subpar fuel efficiency ratings and cramped rear seat, the 2022 Genesis G70 has some good things to offer. Its V6 engine offers a swift acceleration to rival the 3 Series. The interior has an upscale design that feels contemporary. You also get a lot of value from any trim level you select. There are a ton of standard infotainment features and creature comforts, and they are all backed by some industry-leading warranty coverage.
Conclusion
The 2022 BMW 3 Series is, for the most part, a comfortable and luxurious sedan. Its driving performance is solid, especially if you stick with the standard suspension. This sedan is spacious enough for a small family to use as a daily driver, and it pulls in a strong fuel economy for this segment. You do get to choose between three powerful engine options and can customize it with a number of different packages. But the 3 Series does have issues with less-than-functional technology, and the M Sport suspension makes the ride feel too firm. You will need to take care in how you decide to equip the 3 Series so that you can get the biggest bang for your buck. When done right, the 3 Series packs in a fair amount of value and comfort.
Are you Shopping for a New Vehicle? Find the Best Deals with "Free - No Hassle" Prices Quotes.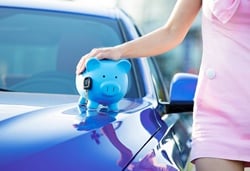 Get up to 4 local dealers to compete for your business by offering free, competitive pricing. Know before you go to the dealer.
Every dealer offers a secret price. Find yours here.