2019 Buick Cascada Pros vs Cons. Should You Buy?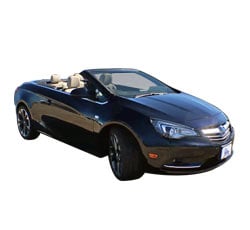 If you desire a sharp-looking convertible that doesn't cost too much money, don't ignore the 2019 Buick Cascada. Although the Cascada may not deliver class-leading performance, it has a number of other impressive qualities. Drivers will especially enjoy the Cascada's four-passenger seating and easy-to-use components. Does the new Cascada have what it takes to win you over?
What's New for 2019?
Although the 2019 Buick Cascada didn't receive any big changes, a few updates were made. You can now get the Cascada's Sport Red exterior color with Light Neutral seats. The Cascada continues to offer the same powertrain and features.
Top 10 Reasons to Buy a 2019 Buick Cascada – The Pros
1. Fun Summer Car
The 2019 Buick Cascada is definitely an entertaining summer car. While the Cascada won't win many drag races, it accelerates quickly enough for you to have a bit of fun. You'll love driving this convertible on the open road. Even when traveling at city speeds, you can lower the Cascada's top at the touch of a button. Furthermore, a lack of wind turbulence inside the cabin allows you to have a normal conversation without raising your voice.
2. Reasonably Priced Convertible
If you can't handle the expensive of a European convertible such as the Mercedes-Bez C-Class, the 2019 Buick Cascada will prove to be a good alternative. Prices start at just over $33,000 for the base 1SV model. Most drivers will enjoy the Cascada's standard list of equipment. Some of the features include a 7.0-inch touch screen, GM's impressive OnStar communications system, and satellite radio. A 70,000-mile powertrain warranty makes the Cascada an even stronger value.
3. Good Braking System
You'll grow to appreciate the Cascada's strong braking system. Although the Cascada may not stop as quickly as some other cars, its brakes work very well during emergency situations. Drivers like the responsiveness of the brake pedal. When approaching an obstacle in the road, the 2019 Buick Cascada will instill a great deal of confidence. Furthermore, panic stops won't cause the Cascada to become unstable.
4. Sexy Styling That Stands Out
The 2019 Buick Cascada certainly has a one-of-a-kind appearance. This should attract the drivers who like to stand out. Sweeping body lines enhance the convertible's sleek profile. Meanwhile, standard 20-inch wheels give the Cascada an especially sporty stance. Featuring gloss-black exterior trim, the Dark Effects package bolsters the Sport Turing model's curb appeal. Some of the attractive colors include Sport Red, Flip Chip Silver Metallic, and Summit White.
5. Provides Enough Room for Four People
Many of today's convertible cars can only accommodate two people. Not only does the new 2019 Buick Cascada provide enough room for up to four passengers, but it also benefits from a usable backseat. This means your family and friends will be able to tag along. Drivers will enjoy the Cascada's comfy driving position. During the summertime, you can hit the road without making any sacrifices.
6. OnStar Communications System with Wi-Fi
All Cascada trims benefit from GM's nifty OnStar system. It's among the most advanced communications system in the business. If you happen to encounter a troubling situation on the road, OnStar provides a direct connection to emergency personnel. The system can provide turn-by-turn driving directions as well. All of your passengers can enjoy OnStar's built-in Wi-Fi hot spot.
7. Automatic Roll-Over Bars Enhance Safety
Understandably, some drivers consider convertibles to be not as safe as a regular coupe. Fortunately, the 2019 Buick Cascada comes standard with automatic roll-over bars. In the event that you experience a roll-over accident, these spring-loaded bars will automatically activate. Because the bars are constructed of high-strength steel, they prove to be remarkably strong. The extra protection will enable you to have fun without worrying.
8. Advanced Safety Technologies Are Available
Unlike most of its competitors, the new Buick Cascada comes standard with adaptive xenon headlights. When cruising at night, you'll have a clearer view of the road ahead. An available Driver Confident package also equips the Cascada with some helpful safety technologies. While Forward Collision Alert warns you to step on the brakes, Park Assist helps you to safely maneuver the Cascada in congested spots. Lane departure warning also comes with the package.
9. Over-Boost Function
To give the Cascada ample passing power, Buick designed its turbocharged engine with an over-boost function. When you are merging onto the highway or attempting to overtake another vehicle, this feature temporarily boosts engine torque. Simply press down on the accelerator and the Cascada quickly gets up to speed when needed.
10. Can Keep You Warm on Chilly Days
Although the 2019 Buick Cascada is designed to make your summer more exciting, it also provides good comfort on chilly days. Standard heated seats help keep your body nice and toasty. Meanwhile, a heated steering wheel enables you to drive without getting cold hands. Because Buick did such a good job of insulating the cabin, the climate control system is able operate efficiently.
Buying Tip:
To avoid overpaying on a new car, shop prices online first. Get up front pricing before you walk into a dealership. We recommend the following free services;
Car Clearance Deals,
NADAguides,
CarsDirect &
Motortrend.
These free services will offer you
the lowest prices
and supply you with multiple competing price quotes. You will know the best price before you visit the dealer.
Reasons Not to Buy a 2019 Buick Cascada – The Cons
1. Not a Sports Car
If you're expecting the Buick Cascada to perform like a sports car, you'll likely be disappointed. While the Cascada's turbocharged four-cylinder engine is responsive, it doesn't have enough muscle to easily move this nearly 4,000-pound car. With a 0-60 time of around 8.4 seconds, the Cascada is slightly slower than many of today's family sedans. When traveling on curvy roads, you'll also notice the Cascada's so-so handling. Furthermore, Buick decided not to offer a manual gearbox.
2. Lacks Some Safety Technologies
The Cascada's available driver-assist technologies do create a safer ride. However, you won't have access to automatic emergency braking. Some drivers would enjoy the extra peace of mind. Adaptive cruise control is another technology missing from the Cascada's list of available safety features. When taking a long trip, smart cruise control would help reduce driver fatigue.
3. Fuel Economy Trails the Competition
Rated to return 21 mpg in town and up to 29 mpg on the highway, the 2019 Buick Cascada is decent on gas. However, it's not the most frugal convertible in the class. For example, the 2019 BMW 230i can return up to 33 mpg. You should also be aware of the Cascada's premium fuel requirement.
4. No Optional Sound System
The Buick Cascada's standard sound system performs well enough to fulfill most people. On the other hand, some music fans will desire a stronger punch. Unfortunately, Buick does not offer an upgraded sound system. The new 2019 Audi A3 convertible can be equipped with a high-powered Bang & Olufsen premium audio system.
5. Interior Doesn't Feel Luxurious
Despite being classified as a luxury car, the 2019 Buick Cascada doesn't have an upscale cabin. Some of its interior materials look a bit cheap. Many of the cabin's design details are also a bit old. While the infotainment system is simple to use, don't expect to be wowed by its graphics. On the bright, leather upholstery comes standard.
How It Stacks Up to the Competition:
Some car shoppers will also be looking at the new 2019 BMW 2-Series. Although the BMW 2-Series convertible is more expensive, it does have some key advantages over the 2019 Buick Cascada. You'll find the BMW 2-Series to be more luxurious and more engaging to drive. If you desire a less expensive model, consider the 2019 Ford Mustang convertible. It packs a lot more performance than the Buick Cascada. However, drivers who have a family will find the Cascada's backseat to be a bit more accommodating.
Conclusion:
The 2019 Buick Cascada should catch the eye of drivers shopping for a new convertible. Although the Cascada may lack the sheer performance of a sports car, it's still fun enough for the average driver. Because the Cascada can seat up to four people, it's a great choice for the drivers who can't leave behind their family. Sexy styling adds to the Cascada's appeal. Whether you're cruising down the beach strip or pulling up at the local shopping mall, expect to get plenty of attention.
Save Money on a 2019 Buick Cascada: