2022 Buick Encore GX Pros Vs Cons. Should You Buy?
There might be some confusion when it comes to the Buick Encore. There are actually two encores: the standard extra-small SUV Encore (which debuted in 2013) and the newer GX. The GX isn't a trim level; it is its own vehicle with its own set of trim levels. It effectively replaces the original Encore even though both are being sold in 2022. The Encore GX has a surprisingly delightful handling quality mixed with a smooth ride quality. The eye-catching design is undoubtedly attractive, but it all comes at a premium price. The Encore GX also struggles with reduced rear visibility due to some bulky roof pillars back there. Is the Encore GX the right vehicle for you? Perhaps it is, but before you make that jump, let's talk about what's new, what there is to like about the Encore GX, what you might not like so much, and how it stacks up against a couple of the top performers in this segment.
What's New for 2022?
There aren't any major updates to report for 2022. The only noteworthy alteration Buick made to the 2022 Encore GX is the 1.3-L engine now coming standard on the line-topping Essence trim level. Other than that, everything else carries over as it was on the 2021 Encore GX line-up.
Top 10 Reasons to Buy a 2022 Buick Encore GX – The Pros
1. An Attractive Interior and Exterior Design
One of the most praised traits that the 2022 Buick Encore GX possesses is its alluring interior and exterior design. The body has undulating, swooping lines and a modestly sized front grille that look sporty but refined. Inside, you get a nice amount of soft touch surfaces and chic upholstery. Even the base trim's cloth/simulated leather combination looks more expensive than it really is. All told, the Encore GX is sure to catch and dazzle the eye.
2. Sharp Handling Capabilities
The Encore GX isn't all about face value. It has a driving performance highlighted by sharp handling capabilities. The wheels have a good amount of road grip, and there is hardly any body roll to be felt while rounding through turns. And the Encore GX's diminutive size makes it easy to maneuver in and out of tight parking spaces and down narrow city streets.
3. A Smooth Ride Quality
Another highlight for the Encore GX is its refined ride quality. Even as you roll over rougher road surfaces with noticeable imperfections, you won't actually feel these bumps making their way into the vehicle. The suspension irons them out with ease. Square-edged bumps can cause a slight jolt, but it is nothing compared to what you will feel in other vehicles.
4. Many Physical Controls
There are a lot of physical controls thoughtfully placed inside of the Encore GX's cockpit. While some manufacturers choose to bury a lot of controls in a touchscreen menu, Buick holds back on putting that many of them into a digital set-up. There is a nice balance of digital and tangible control knobs and buttons, and all of them are clearly labeled and easy to reach.
5. A Roomy Cabin
Buick certainly knows how to design a roomy cabin, and they hit that nail right on the head in the Encore GX. Even with the optional sunroof equipped, there is still plenty of head space left for those sitting in the front or rear of the vehicle. Legs have plenty of space in both rows too. You won't feel cramped for space inside of this extra-small SUV.
6. A Massive List of Infotainment Features
Buick really goes to town with the amount of standard infotainment features that get included in the Encore GX. While the volume won't go too high, it does have a crisp sound quality for a base sound system. The predictive text feature that comes with the built-in navigation system makes it so that you do not have to waste time trying to type out the entire name of a point of interest. Even an incomplete search term or phrase typically yields a good result. Also, you can get a wireless charging pad, 120-volt power outlet, and four USB ports on the Encore GX.
7. A Plethora of Safety Features
There are also an abundance of standard safety features equipped on the GX. You can even opt for a digital rear-view mirror and 360-degree surround-view camera system, which are rarities in this segment. Voice command is also offered, which is something not all vehicles in this segment include. If you get the Essence, you can equip it with the Convenience Package, which comes with an automated parking system.
8. Plenty of Room For Bulky Cargo Items
Bigger cargo items can be loaded into the Encore GX's 50.2 cubic feet of cargo space that you get when you fold down the rear seats. Although this is a fairly average size for the segment, the rear seats do fold down flat - something a lot of vehicles do not offer.
9. A Respectable Fuel Economy
Buick gets the Encore GX a respectable 28 miles per gallon in combined driving on the all-wheel-drive models. Real world tests show that the vehicle can actually exceed these EPA estimates, getting more along the lines of 31 mpg in combined driving. These are some of the best numbers you will get from an extra-small SUV.
10. Lengthier-than-average Roadside Assistance Coverage
Sure, the other warranty coverage periods are pretty standard, but the roadside assistance Buick offers is longer than average. Also, your first service visit is totally on-the-house. This adds a bit of value to a vehicle that does come with a beefy price tag for its segment.
Reasons Not to Buy a 2022 Buick Encore GX – The Cons
1. An Elevated Price Tag
That brings us to the downsides of owning the 2022 Buick Encore GX, and its price tag is going to be what deters some buyers. Are there other vehicles in this segment that are similarly priced? Yes, a couple. But, for the most part, they price a few grand below the Encore GX. They might skimp slightly more on the standard features, which is where the trade-off comes into play. For those shopping on a budget, the Encore GX might be a bit of a stretch.
2. Reduced Rear Visibility Due to Thick Roof Pillars
Another qualm that buyers might have with the Encore GX is that its rear outward visibility is hindered by a couple of bulky roof pillars. Not only do you have to deal with that, but there are some sizable blind spots, and side visibility is reduced due to the undulating beltline.
3. Too Much Noise
The Encore GX's 3-cylinder engine likes to make an absurd amount of noise, even when you do not have it pressed into full throttle. The engine almost always makes itself heard. And the tire noise you get while zipping along on the highway makes things even worse. Unfortunately, the Encore GX just comes off as being too noisy, especially the faster you drive.
4. A Subpar Driving Performance
The GX's driving performance could be better. While handling is superb, other aspects fall flat. You will need over 9 seconds to get from 0 to 60 miles per hour, which means that you have to plan your merges and passes on the highway with this in mind. Also, consistently smooth braking is something that is lacking due to the brake pedal's overly sensitive nature. The 9-speed transmission is slow to downshift, and, to be the real cherry on top, engine stop-start will buck the vehicle when you come to a stop at a light. You will likely end up turning that function off.
How It Stacks Up to the Competition:
2022 Buick Encore GX vs. 2022 Hyundai Tucson
One of the biggest competitors for the Encore GX is the 2022 Hyundai Tucson. The Tucson is similarly priced and offers an abundance of standard tech, comfort, and safety features for owners to enjoy using. The infotainment system in particular stands out due to its user-friendly design. Also, the Tucson's ride quality rivals that of the Encore GX, gliding smoothly over even rougher road surfaces. But the Tucson has a few downsides. If you stick with the base engine, acceleration feels quite sluggish. Additionally, its fuel economy and cargo space do not stack up to what you get in the Encore GX.
2022 Buick Encore GX vs. 2022 Mazda CX-30
The 2022 Mazda CX-30 is another formidable opponent in this segment. The CX-30 has an upscale interior design that makes it look more expensive than it really is, and there are plenty of standard driver aids that come equipped. The driving performance is characterized by a smooth ride quality and refined handling capabilities. And the turbocharged engine feels downright powerful. Unfortunately, the CX-30 doesn't have a stellar fuel economy, and the transmission is somewhat slow on the downshift. To top it all off, the vehicle has some rather significant blind spots in the rear.
Conclusion
The 2022 Buick Encore GX isn't exactly the most refined vehicle, at least not when it comes to the driving performance. A more responsive transmission, less touchy brake pedal, and less growly engine would all make the Encore GX more pleasant to drive. But, aside from those gripes, it is a vehicle with a lot of personality and versatility. Its fuel economy is hard to best in this segment, and there are a ton of features equipped. Just be prepared to pay a premium price for this extra-small SUV.
Are you Shopping for a New Vehicle? Find the Best Deals with "Free - No Hassle" Prices Quotes.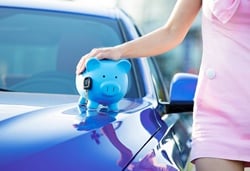 Get up to 4 local dealers to compete for your business by offering free, competitive pricing. Know before you go to the dealer.
Every dealer offers a secret price. Find yours here.