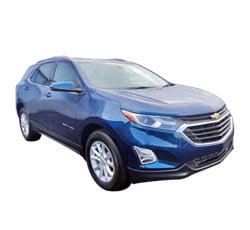 Find New Car Deals Near You
Buying Tip:
Before you walk into a dealership, price shop Online first. Avoid overpaying by using the following pricing services:
With these services you can:
• Force dealers to compete for your business.
• Start your own online price war.
• Many prices are not advertised online.
• It's Free and No Obligation.

Visit
Car Clearance Deals
,
CarsDirect
,
NADAguides
&
Motortrend
Even though the third generation of the Chevy Equinox was just released for 2018, the 2019 Chevrolet Equinox has been further revised and improved upon. Chevy seems to be listening to some of the demands that its customers are making regarding the Equinox, but there is still room for improvement. Although the interior leaves something to be desired, the 2019 Equinox offers great handling capabilities and a smooth ride that many drivers will enjoy.
What's New for 2019?
Since the Equinox was just revamped for 2018, you will not find many major changes to the 2019 Chevrolet Equinox. The most noticeable alteration is the new touchscreen interface for the Infotainment 3 system. This marks a massive improvement over the previous system. Adaptive cruise control is also available this year, as is the new Lights and Brights package for the LT trim levels.
Top 10 Reasons to Buy a 2019 Chevrolet Equinox – The Pros
1. Superb Handling Capabilities
One of the biggest bonuses to buying the 2019 Chevrolet Equinox is that it has some of the most refined handling capabilities in its class. Take this vehicle out on the most winding roadway, and you will still find it to be well-balanced and track on point. Handling feels spunky and enjoyable regardless of what type of road condition you are driving along, making the Equinox stiff competition for other vehicles in this segment.
2. A Smooth Ride Quality
Equally as enjoyable on the Chevy Equinox is the fact that it provides an incredibly smooth ride quality. The suspension is highly cooperative in catching and smoothing out bumps and jagged areas in the road's surface. Even driving down a dirt road in the country does not feel that bumpy. Given that the Equinox handles all situations so well, it is a wonderful bonus to have the smooth ride quality added in.
3. Three Strong Engine Choices
There are three different engine options to choose from, and each caters to what a driver might need most. The base 1.5-L 4-cylinder engine delivers 170 hp and 203 lb-ft of torque and is paired with a 6-speed automatic transmission. This is definitely the most affordable option, but it might not feel like enough power for some drivers. This is why upgrading to the 2.0-L turbocharged engine is recommended. It produces 252 hp and 260 lb-ft of torque, which feels sufficient for powering the vehicle. There is also a 1.6-L diesel engine option that garners 137 hp and 240 lb-ft of torque and is certainly the most fuel efficient choice.
4. Swift Acceleration
The turbo 2.0-L engine gives some of the best acceleration you can find in a vehicle from this segment. Acceleration feels effortless in everyday driving scenarios. The 2019 Chevrolet Equinox, when equipped with the 2.0-L, can get from 0 to 60 mph in just 6.4 seconds, which leaves most of its competitors in the dust. Of course, the more fuel efficient diesel option takes a few seconds longer, so if it is speed you crave, the 2.0-L turbo is the right engine choice for you.
5. The Brakes Feel Natural
The brakes on the Chevy Equinox have a reliable and natural feel to them, and the response you get from pushing down on the pedal feels completely adequate. Nothing about the brakes comes off as being too soft and squishy or too firm. For being a compact SUV, the Equinox makes a respectable panic stop distance from 60 to 0 mph in just about 115 feet. In other words, drivers should feel confident in the security their brake system provides.
6. Steering Requires Appropriate Levels of Effort
To make the driving performance on the 2019 Chevrolet Equinox even better, the responsiveness that the driver gets from the steering requires an appropriate amount of effort. Less effort is required while driving at slower speeds, and driving at higher speeds requires a bit more, as it should. The Equinox almost always tracks on center and keeps moving straight forward. The only time it might not do so is while it is traveling over those pesky rain grooves in the road surface.
7. Plenty of Small Item Storage Areas
There are a number of well-designed small item storage spaces to be found throughout the Chevy Equinox's cabin. One of the highlights that you will find is that the cellphone trays have rubberized coverings that help to hold phones of any size in place as the vehicle is moving. All of the other pockets, trays, and bins that you will find are adequately sized and feel like they were strategically placed in order to maximize utility for the driver and passengers.
8. Child Safety Seats Are Easy to Install
Mastering the art of crafting latches, anchors, and tethers for child safety seats is something that other vehicles in this class (and others) struggle with doing. Inside the 2019 Chevrolet Equinox, however, the latches are quite easy to locate and use to secure the seat into place. Both front- and rear-facing child seats are easy to secure into place since there is enough room in the rear.
9. The Infotainment Features
The new Infotainment 3 system is a huge step up for the Chevy Equinox and is putting some of its competitors' systems to shame. The graphics on the touchscreen display come out crystal-clear, are well-labeled, and are set up into menus that are easy for drivers to follow. Smartphone app integration via Apple CarPlay and Android Auto is standard, and both work extremely well. In fact, navigation via Apple CarPlay is better than the built-in navigation you get on the vehicle.
10. Well-tuned Driver Aids
Another aspect of the 2019 Chevrolet Equinox that gives it a leg up on the competition is the fact that its driver aids are well-tuned to respond to perceived issues and commands. The forward collision warning system is particularly well-tuned; it is not overly-touchy to perceived dangers, so drivers do not need to worry about experiencing false alarms. There is a safety alert seat feature that signals the driver to hazards in a much more effective way than the typical flashing and beeping you get from other systems.
Buying Tip:
To avoid overpaying on a new car, shop prices online first. Get up front pricing before you walk into a dealership. We recommend the following free services;
Car Clearance Deals,
NADAguides,
CarsDirect & &
Motortrend.
These free services will offer you
the lowest prices
and supply you with multiple competing price quotes. You will know the best price before you visit the dealer.
Reasons Not to Buy a 2019 Chevrolet Equinox – The Cons
1. Limited Cargo Space
Unfortunately, the biggest drawback to owning the 2019 Chevrolet Equinox is that it lacks the cargo space of some of its competitors. With all seats in place, the vehicle offers 29.9 cubic feet of cargo space. Folding down the rear seats maxes this number out to 63.9 cubic feet, which falls short of what you get on vehicles like the Honda CR-V. This number is not terrible, but it just does not stack up to other vehicles in its class.
2. Interior Materials Do Not Match the Price Tag
Although this is more of a minor qualm, the appearance of the cabin detracts from the overall appeal of the Equinox. For the price, some of the interior materials look too cheap. Many of the fabrics and textures look poorly matched, and there are simply too many hard plastic surfaces to make this feel like anything but a low-grade economy vehicle.
3. The L trim is Special Order Only
If you are bound and determined to get the L trim, you are going to have to special order it. You cannot get it any other way. Yes, the price offers up a great deal, and there are some great features on the L trim, but you will be waiting a while for it to be custom-built. This makes getting the 2019 Chevrolet Equinox a bit of a pain, but if you can tolerate the wait time, it is a better than spending more on the next trim level up. The LS does not add much more than what you get on the L.
4. Climate Control Does Not Feel Effective
Air flow is not properly distributed from some of the vents, particularly those found on either side of the touchscreen. The air from these barely reaches the driver's fingers and does not provide much relief. If you get a model with leather upholstery, be thankful that these seats are ventilated. Otherwise, they can get uncomfortable in hot weather.
How it stacks up to the competition:
2019 Chevrolet Equinox vs. 2019 Honda CR-V
One of the top contenders against the 2019 Chevrolet Equinox this year is the 2019 Honda CR-V. This SUV comes loaded with cabin and cargo space that is versatile in its design. Despite the touchiness of its infotainment features on the touchscreen display, everything else works relatively well on the Honda CR-V. Its turbocharged engine is particularly spunky and still manages to be fuel efficient.
2019 Chevrolet Equinox vs. 2019 GMC Terrain
The 2019 GMC Terrain is another major competitor this year with its chic interior and number of strong engine options. While the Terrain also lacks cargo space and has a dull 1.5-L base engine, it is comfortable and offers a lot in terms of safety.
Conclusion
If you are looking for a solid driving performance, the 2019 Chevrolet Equinox delivers. Opt for the 2.0-L turbo engine for the best balance of power and efficiency, but make sure you choose your trim level wisely if you want to maximize the number of features without spending too much extra money or having to wait for the L trim to be custom-built.
Save Money on a 2019 Chevrolet Equinox:
Find New Car Clearance Prices - Many Vehicles are Selling Below Dealer Invoice Prices.
Every dealer offers a secret price. Many prices are below invoice.
Find yours here
.