Exterior Paint Colors
2019 Chevrolet Volt Colors - Exterior & Interior Color Options
Color Guide • Advice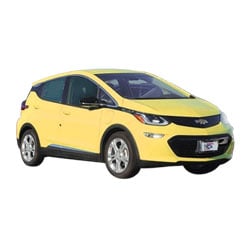 Click Images Below to Enlarge
2019 Chevrolet Volt Color Options 
Electric cars and hybrids are all the rage in the auto industry right now one of the top models you should get your hands on is Chevrolet's Volt. The 2019 Chevrolet Volt is a plug-in hybrid from the top car manufacturer and in terms of performance, it surely packs a punch. With a price that starts at $33,520, the Chevrolet Volt should be a top choice for car enthusiasts.
 
The 2019 model runs a whopping 53 miles with a fully charged battery. It can run for a total of 420 miles with a full charge and a tank of gas. Performance and driving distance aside, one of the Volt's defining characteristics is its aesthetic and the wide range of exterior colors it comes in.
2019 Chevrolet Volt Exterior Colors
Chevrolet offers a total of eight standard color options for the 2019 Chevrolet Volt. Buyers should be very discerning when picking the color their Volt comes in as it says a lot about their character and the car itself. Let's take a look at some of the options they can choose from upon stepping into the car manufacturer's online and physical outlets.
The standard exterior colors for the 2019 Chevrolet Volt are Satin Steel Metallic, Green Mist Metallic, Silver Ice Metallic, Mosaic Black Metallic, Pacific Blue Metallic, and Summit White. Choosing from these colors will not result in extra charges so buyers are free to choose whatever color they want. Moreover, these colors are available for LT and Premium Trims
The metallic paint available in the standard colors adds a more luxurious appeal to the hybrid. However, it is partly one of the reasons why the Volt is more expensive than other models as metallic paint is a little more expensive than solid colors. Furthermore, the metallic color is harder to repair when damaged as it is harder to match evenly so drivers of the 2019 Volt need to be extra careful on the road.
Moving forward, the available colors are all great but there are a few options that stand out from the others. Mosaic Black Metallic and Summit White are great options to choose from as they are both simple and elegant. However, the best option from the standard selection of colors has to be Mosaic Black Metallic as it is a fit for many occasions and its dark hue makes small dirt and mud harder to notice.
There are also two premium colors to choose from, Cajun Red Tintcoat and Iridescent Pearl Tricoat, both of which are available for LT and Premium Trims. Both color options are pleasing to the eyes but if the buyers choose these, they should be prepared to pay a little extra. However, they should take note that these premium options are all just for aesthetic appeal.
The Cajun Red Tintcoat option adds an extra $395 to the 2019 Volt's price. It is the perfect color option for those who are sporty as the red metallic coat gives off a fierce and athletic appeal. Though it may seem similar to a metallic coating, is the process of adding an extra tint clear coat atop the base paint, hence making it more expensive.
If the buyer really wants to show off, then the extra $995 for the Iridescent Pearl Tricoat should do the trick just fine. The metallic, glossy and pearly white coating spells luxury all over. Tricoat paint jobs make use of three layers of paint to provide a more vibrant hue. As such, this makes the color option way pricier than Cajun Red Tintcoat. However, if the buyer is looking to lessen the cost, then that extra fee is definitely not worth it.
2019 Chevrolet Volt Interior Colors
When it comes to the interior of the 2019 Volt, Chevrolet doesn't offer much to choose from. There are two color options available for LT and Premium trims, Jet Black and Light Ash/Dark Ash. Sadly, only leather interiors are available for the hybrid but regardless of the lack of options, both colors nicely complement all of the available colors for the 2019 Volt.
The Jet Black option covers the entire interior with a sleek-looking black leather for a simpler touch on the insides. It goes perfectly well it color options such as Cajun Red Tintcoat, Iridescent Pearl Tricoat, and Summit White. On the other hand, the Light Ash interior with Dark Ash accents is a perfect fit for the Mosaic Black Metallic color options. It is worth noting that there are no extra charges for any of the options.
2019 Chevrolet Volt Other Available Color Options
Chevrolet also doesn't offer too much personalization options when it comes to the other components of the 2019 Volt. In fact, the only part buyers have extra color options for are for the car's wheels and the plate frames. The standard wheels are 17" 5-spoke painted aluminum wheels. If buyers are willing to spend an extra $1,895, they can equip their 2019 Volt with 17" 5-split spoke machined-face Gloss Black wheels.
The extra colors for the plate frames will add an extra $29-34 to the bill. The options include Black w/ Chrome Chevrolet Script, Black with Chrome Bowtie Logo and Performance Script, Chrome w/ Black Bowtie Logo and Chevrolet Script, Chrome w/ Black Bowtie Logo and Performance Script and Chrome w/ Black Chevrolet Script.
To sum it all up, the color options for the 2019 Chevrolet Volt are varied and excellent. While its extra premium Iridescent Pearl Tricoat is a tad expensive, the overall appeal it adds to the car could satisfy those willing to shell the extra dough. If there is one criticism to be said for the 2019 Volt, it's that it lacks color options for the interior and individual components of the car. As such, personalization is weak for the Volt.
Save Money on a 2019 Chevrolet Volt:
Find New Car Clearance Prices - Many Vehicles are Selling Below Dealer Invoice Prices.
Every dealer offers a secret price. Many prices are below invoice.
Find yours here
.