Compare Trim Levels • Configurations
2020 Chevrolet Corvette Trim Levels with Comparisons & Configurations.
What do you get with each? Find out below..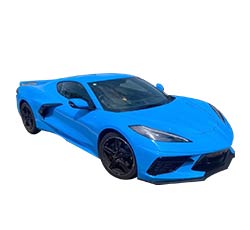 Buying Tip:
Before you walk into a dealership, price shop Online first. Avoid overpaying by using the following pricing services:
With these services you can:
• Force dealers to compete for your business.
• Start your own online price war.
• Many prices are not advertised online.
• It's Free and No Obligation.

Visit
Car Clearance Deals
,
CarsDirect
&
MotorTrend.
For good reason, the completely redesigned 2020 Chevrolet Corvette has become of the most talked-about cars of the year. A new mid-engine layout helps the Corvette to deliver a mesmerizing performance. Not only is the new model the quickest in history, but it also offers unbelievably good handling. A more modern interior also helps the latest Corvette to better compete against its European rivals.
When checking out the new Corvette's exterior design, you'll notice some dramatic changes. Gone is this legendary sports car's familiar quad-exit exhaust. However, its Ferrari-like body lines will cause everyone to take notice. Best-in-class pricing makes the latest Corvette more alluring. The lineup currently features three main trims: 1LT, 2LT, and 3LT. Let's take a closer look at each trim's biggest features.
Compare the 2020 Chevrolet Corvette 1LT vs 2LT Trim Levels. What is the Difference?
With an estimated starting MSRP of less than $60,000, the entry-level Corvette LT1 is a sensational bargain. Very few sports cars at this price point can match its jaw-dropping performance. Although the Corvette's new V8 engine is similar to the previous one, it's been modified to develop far more power. Total production has increased to a 490 horsepower and 465 pound-feet of torque. Although a traditional manual gearbox is no longer being offered, the Corvette's eight-speed automatic transmission is tuned for optimum performance.
Not only is the base Corvette 1LT just as quick as the upper trims, but it also delivers world-class handling. A sports-tuned suspension and all-season performance tires enable the Corvette 1LT to compete on a higher level. You'll also benefit from Chevy's Driver Mode Selector. This five-mode system allows you to tailor the car's throttle response and steering for the specific road conditions. While the Weather mode gives you greater confidence in the rain and snow, the Track mode transforms the Corvette into a legitimate racing machine.
Like every other trim, the Corvette 1LT offers a Z51 Performance package as an option. A high-flow exhaust system adds an extra five horsepower. Meanwhile, Chevy's Magnetic Ride Control suspension and an electronic limited-slip differential further aid handling. Upgraded tires give the Corvette more grip. A heavy-duty cooling system is also included in the package.
Although the Corvette 1LT may be an entry-level trim, it still has an exotic look that draws attention. Bold LED headlights come standard. While 19-inch alloy wheels sit in the front, a pair of 20-inch alloy wheels are found in the rear. There are a few optional wheel designs to choose from. Hidden door handles enhance the car's smooth appearance. Unfortunately, a center-exit exhaust is no longer featured on the Corvette. Three new paint options have arrived: Accelerate Yellow, Zeus Bronze, and Rapid Blue.
Many buyers will be interested in the optional Engine Appearance package. It decorates the engine bay with carbon fiber for an especially cool look. You'll also notice the LED lights.
Although the Corvette functions as a coupe, it comes standard with a removable roof panel. After detaching the roof, it can be easily stored in the trunk. If you desire more open-air driving excitement, go for the convertible body style. After pressing a button, the convertible's hardtop quickly folds down in just a few seconds.
In contrast to the previous-generation Corvette, the new model features a front trunk. It's large enough to accommodate items like overhead bags and groceries.
On the inside, the Corvette 1LT welcomes you to a much-improved cockpit. Higher quality interior materials give the cabin a more luxurious nature. Leather upholstery is standard. You'll also appreciate the Corvette 1LT's driver-focused cockpit. Vertical climate controls give you the feeling of being inside a jet fighter. A flat-bottom steering wheel with mounted controls comes standard as well. Meanwhile, standard 8-way power GT1 seats make comfort a serious priority. Competition Sport Bucket Seats are available for an additional $1,995.
Because the Corvette 1LT comes equipped with so many great features, many buyers won't feel the need to check off any options. Technology lovers will enjoy Chevy's latest Infotainment 3 interface. Chevrolet angles the 8.0-inch touchscreen towards the driver for easier operation. Apple CarPlay and Android Auto allow users to stream mobile apps from their smartphones. With the use of NFC technology, Bluetooth integration is especially easy. Simply place your smartphone near the infotainment screen.
To make the Corvette 1LT more entertaining for music lovers, Chevy equips it with a 10-speaker Bose sound system. You'll also enjoy the Wi-Fi hotspot, which allows you to surf the web at 4G speeds. The standard digital gauge cluster can be reconfigured in a variety of different ways. Keyless entry with push-button start is also on the Corvette 1LT's list of standard equipment.
While the Corvette 1LT does not offer safety technologies like pre-collision braking, it does feature a high-resolution backup camera and rear parking sensors. If you're a parent who allows a teenager to get behind the wheel of your new Corvette, you can use Chevy's Teen Driver system to limit their freedom. This system can be used to set a top speed and monitor your teenager's driving habits. Adjustable traction control is also standard on the 1LT trim.
Although the base 1LT trim will satisfy the needs of most drivers, some people may be interested in the more luxurious 2LT trim. While the Corvette 2LT doesn't look much different on the outside, it does feature power-folding side mirrors. They'll come in handy when parking in tight places.
A plusher interior is what really separates the 2LT trim from the 1LT trim. Heated and cooled seats with power-adjustable support come standard. Whether you're driving in the summer or the middle of winter, you'll always be able to experience an extra sense of comfort. A heated steering wheel also comes equipped on the Corvette 2LT. Napa leather seating surfaces and a carbon-fiber trim package are optional.
Also found on the Corvette 2LT is a more compelling Bose Performance Series audio system. It upgrades the sound of your music with a total of 14 speakers. This is the most powerful stereo system Bose has ever put in a two-seater. When venturing out of town, the integrated navigation system will prove its worth.
Chevrolet's exciting Performance Data Recorder is another one of the Corvette 2LT's great features. It can record video of your time on the track from a first-person perspective. You can also use the system to monitor important performance data like steering angle and acceleration times.
Blind-spot monitoring is standard on the 2LT trim. If another vehicle happens to enter your blind zone, an amber warning light will start to flash. Rear cross-traffic alert, which is integrated into the blind-spot monitor, helps you to safely back out of spaces.
When parking in the city, you'll be thankful for the Corvette 2LT's front-view curb camera. By giving you a much better sense of awareness, it helps you to avoid costly damage to the exterior. GM's Rear Camera Mirror is just as helpful, which enables you to see vehicles approaching from behind. A color head-up display and wireless smartphone charging also come equipped on the 2LT trim.
Unlike the base 1LT trim, the 2LT trim offers an innovative front-end lift system. When approaching speed bumps and pulling into uphill driveways, it lifts the car to give you extra ground clearance. Because the Corvette has such a low stance, this is a feature you won't regret getting.
Compare the 2020 Chevrolet Corvette 2LT vs 3LT Trims. What is the Difference?
Priced at nearly $72,000, the Corvette 3LT coupe demands more of your hard-earned money. However, you'll have to spend at least $78,945 for the convertible. Nevertheless, this range-topping trim does offer a lot of niceties.
The Corvette 3LT's cabin is especially nice. A leather-wrapped instrument panel gives the interior a beautiful radiance. Suede microfiber interior accents also help make the Corvette 3LT feel special. Buyers also receive the 2LT trim's optional Nappa leather seating surfaces. Furthermore, a total of 13 interior color options are available. Competition Seats remain an option.
Buying Tip:
To avoid overpaying on a new car, shop prices online first. Get up front pricing before you walk into a dealership. We recommend the following free services;
Car Clearance Deals,
CarsDirect &
MotorTrend.
These free services will offer you
the lowest prices
and supply you with multiple competing price quotes. You will know the best price before you visit the dealer.
Which Trim to Choose?
Could the base Corvette 1LT be the best bargain in the supercar world? In terms of performance, it often beats the competition for much less money. Like the entire lineup, the entry-level 1LT trim is motivated by Chevy's high-output V8 engine. You'll be able to race to 60 mph in roughly 3.1 seconds.
Even with its standard suspension setup, the Corvette 1LT remains flat and balanced around tight curves. If you plan to spend some time on the track, consider opting for the 1LT's Z51 Performance package. When pushing the car to its limits, an upgraded cooling system will help prevent engine overheating. Driving enthusiasts will also enjoy goodies like the Magnetic Ride Control suspension, which automatically adjusts to the specific road surface. Remember, this package increases the car's total cost by $5,000.
If you're looking for a comfortable sports car, the base Corvette 1LT proves to be a solid pick. While its eight-way sport seats help keep you snug around corners, they also feel nice and relaxing. All of the big technology features are also found on the Corvette 1LT, including a driver-centered touchscreen and 4G Wi-Fi connectivity.
You won't be sacrificing any style with the base Corvette. All of the eye-catching exterior treatments are found on the 1LT trim. You also have several paint options to pick from. Although the convertible body style is fun, there's no overlooking its more expensive price tag. Because the standard coupe features a removable roof, it's a better bang for the buck.
Despite its many upsides, the base Corvette does forgo some safety technologies. You must do without helpful driving aids like blind-spot monitoring. Luckily, you will receive an HD backup camera.
In the eyes of many experts, the mid-level Corvette 2LT is the best trim for the money. Some of the key amenities include climate-controlled seats, a curb-view parking camera, and Chevy's exclusive Performance Data Recorder. If you have some extra money to spend, be sure to get the Corvette 2LT's optional front-end lift system. When driving a sports car that sits so low to the pavement, nothing beats having this system.
Chevy also equips the Corvette 2LT with some enticing safety features. Both the Rear Camera Mirror and the blind-spot monitor make the Corvette safer to drive in traffic. Meanwhile, rear cross-traffic alert gives you an extra peace of mind in parking areas.
The range-topping Corvette 3LT is specially geared towards drivers who want the best of the best. A higher sticker price reflects its more luxurious interior. If you don't care about the upgraded interior materials, choose the lower 2LT trim. You stand to save more than $4,000.
Did you find this article useful?
Please rate this page. Select a star rating from 1 to 5 below:


Save Money on a 2020 Chevrolet Corvette:
Find New Car Clearance Prices - Many Vehicles are Selling Below Dealer Invoice Prices.
Every dealer offers a secret price. Many prices are below invoice.
Find yours here
.