2021 Chevrolet Silverado 3500 Pros vs Cons. Should You Buy?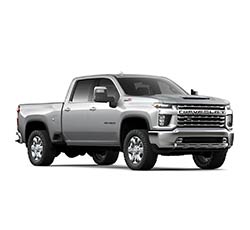 With the 3500HD, Chevrolet gives the market a solid option for a heavy-duty truck. Saying that this truck is powerful almost feels like an understatement. A lot of models have strong engines, but the 2021 Chevrolet Silverado 3500HD really stands out because of its almost unbelievable towing capacity, horsepower, and torque. It also has several other advantages, many of which will be detailed below.
What's New for 2021?
As if it wasn't strong enough, the Silverado 3500HD has been redesigned to have a higher tow rating than before. Chevy was able to increase the capability of the truck by enhancing the suspension and wheel packaging. The new technology in the cabin is sure to be appreciated, especially when towing a trailer. For 2021, people will have a number of special editions to choose from. Examples include the Midnight Edition, the Z71 Sport Edition, and a special edition with a Carhartt theme.
Buying Tip:
Before you walk into a dealership, price shop Online first. The following pricing services will help you find the best deals:
Give them a try. These services are free and no obligation.
Top 10 Reasons to Buy a 2021 Chevrolet Silverado 3500 – The Pros
1. More Capable Than Ever
The Chevy Silverado 3500 HD can tow up to 36,000 pounds when properly equipped. This is a best-in-class capability and a reason why this model is going to attract a lot of attention. Many smaller trucks have towing capacities that are nowhere near this mark. Do SUVS compare? Well, some can tow about 10% of the weight that the 3500HD can haul. That really puts things into perspective.
Maximum payload with the Silverado 3500HD is nearly 7,500 pounds. This means that people can feel free to load up all their heavy equipment and gear before they head out on the road. There's no need to worry about whether this truck can handle tough challenges. This can be attributed to the fact that the truck is made with high-strength steel in its body and frame.
2. Advanced Trailering Systems
Sometimes, it can be hard to keep track of everything going on while hauling cargo. Besides being mindful of what's going on with the truck, a driver has to make sure the trailer is safe to travel. Chevy's Advanced Trailering System gives people a convenient way to stay informed. Through the Chevy mobile app or the truck's infotainment system, a driver can be given a pre-departure checklist to go through, check on how the exterior lighting of the trailer is doing, monitor trailer tire pressure, and more.
Plus, the stability control systems on the truck can take into account any sway of the trailer. There's a tow/haul mode that optimizes performance in certain situations, and auto grade braking ensures that trucks pulling heavy loads can make it down from the mountains safely.
3. Two Engine Options
Both available engines in the Chevy are 6.6-liter V8s. The first is a gas-powered engine that's been paired with a six-speed automatic transmission, and the other is a turbo-diesel that's used in conjunction with a ten-speed automatic transmission made by Allison. The engines will give people a lot of kick, with the gas-powered version providing 401 horsepower and the turbo-diesel coming with 445 horsepower.
When looking at torque, consumers will get more of a sense how these engines differ. The gas engine does fine, with 464 pound-feet of torque, but the turbo-diesel takes things to a different level by having 910 pound-feet of torque. It's this diesel engine that gives the truck the 36,000-pound towing capacity.
4. Choose Single or Dual Rear Wheels
It's up to the consumers whether their new Chevy Silverado 3500HDs come with single or double wheels in the back. The single-wheel configuration is likely to be sufficient for most situations and can offer a smooth ride, but the dual rear wheel (DRW) set-up can be better for stability when towing. Many people who use their trucks for commercial reasons choose to go with a DRW 3500HD.
5. Multiple Camera Views
The Silverado HD has some futuristic abilities. Giving people more information are up to 15 different camera views. There are four views that can be used to make it easier to connect a trailer, and there are six ways in which the driver can see what's going on while moving. One of those is a front camera view, and another offers a glimpse behind the trailer. The side, rear, and front top-down views are very useful when parking, considering the truck isn't exactly the most compact model out there.
6. Access Cargo Without a Problem
It's great that the Chevy Silverado HD stands tall. This makes it more imposing and gives it better ground clearance. This could, however, potentially be problematic if people have difficult accessing what's in the cargo bed. Fortunately, the company has come up with a clever solution. The truck has integrated BedSteps, which are right behind the rear doors, that people can use to get a boost as they load/unload or rearrange the gear in the truck bed.
7. Work From the Road
Some people are always on-the-go and have to get their work done while away from home or the office. To help them accomplish their tasks and stay organized, Chevy has made a lot of accommodations in the cabin. A center console is a great place to store tablets, paperwork, and more. Some models can feature storage in the back seat for extra tools, a laptop, or extra gear for the worksite.
8. Expansive Cabin
This truck is huge, from all different angles. Inside the cabin, people will really benefit from the size of the 3500HD. Rear-seat passengers can stretch out with more than 40 inches of leg room. Those who plan on carrying three adults in the back won't have to worry about their comfort. Up front, it's almost the same story, but there's more head and shoulder room. Whether this truck is comfortable isn't up for a debate; it's clear that Chevy wants people to feel like the cab can be a home away from home.
9. Premium Materials Are Available
Chevy makes a number of trims with the 2021 Silverado 3500HD. If people are interested in having a powerful engine and not much else, the base model would be ideal for them. Otherwise, the Silverado can come with some nice features, like heated and ventilated front seats, leather upholstery, and a heated steering wheel. These features are some of the same ones that are found on luxury cars and SUVs, so there's no need to feel like people are missing out on the finer things by getting a truck.
10. Safety Is Important
The truck has many available driver-assist features for people to take advantage of. In addition to all of the camera views that were previously mentioned, the Silverado HD can be equipped with frontal collision alert, blind zone monitoring, and a few other systems that can actively look out for problems. If an issue is detected, a warning can be given, and the truck could potentially take corrective measures, if needed.
Buying Tip:
To avoid overpaying on a new car, shop prices online first. Get up front pricing before you walk into a dealership. We recommend the following free services;
Car Clearance Deals,
NADAguides,
CarsDirect &
Motortrend.
These free services will offer you
the lowest prices
and supply you with multiple competing price quotes. You will know the best price before you visit the dealer.
Reasons Not to Buy a 2021 Chevrolet Silverado 3500 – The Cons
1. High Gas Costs
Trucks in the Silverado 3500HD's class don't get the same type of fuel economy estimates as other vehicles. Maybe people might want to hear the numbers, anyway, since they're likely to not be very good. One wouldn't expect a truck like this to be efficient, but this doesn't take away from the reality of the situation. Trips to the gas station will be associated by hefty bills since the tank can hold more than 35 gallons of fuel.
2. Price Isn't Cheap
A very basic 3500HD starts out at $36,000. If someone wants something more than that, he/she should be prepared to fork over at least $40,000 and possibly much, much more. A top trim could cost more than $60,000. Some people might not be able to afford these prices and may have to settle for a less powerful model due to financial constraints.
3. Hood Makes It Hard to See
People who like trucks like the Silverado 3500HD aren't going to be surprised by this, but it should be said that this model isn't so simple to drive. The truck is long and wide, so it's not going to fit into just any parking spot. It also has a huge hood that can be difficult to see around. The truck could come with a front camera view, but this isn't a standard feature.
How It Stacks Up to the Competition:
2021 Chevrolet Silverado 3500HD vs 2021 GMC Sierra 3500HD
Chevy and GMC models have a lot in common, so it makes sense that the GMC Sierra 3500HD and the Silverado 3500HD are pretty comparable. However, the Silverado 3500HD barely edges out the Sierra in terms of capability. Even the smallest increment may be important to a potential buyer. The Silverado 3500HD has some more fancy technology as well, to include a more comprehensive camera view system.
2021 Chevrolet Silverado 3500HD vs 2021 Ford Super Duty
The Super Duty, made by Ford, is a formidable competitor to the Silverado 3500HD. One of its gas engines doesn't quite hit the market that Chevy's gas-powered V8 sets, and the Ford's trailering assist systems aren't as comprehensive as those found on the Silverado. Some people may prefer the infotainment system in the Chevy because they find it be more user-friendly than the SYNC technology used in the Ford truck.
Conclusion
If a prospective buyer is trying to find a heavy-duty truck that can live up to his/her expectations, the Chevy Silverado 3500HD would be a good buy. This truck has a lot of technology that isn't found in most competitors, and it has an amazing towing capacity. People will appreciate being able to choose from a gas or a diesel engine, and they can configure their cabins according to their preferences.
Save Money on a 2021 Chevrolet Silverado 3500: