2022 Chevrolet Tahoe vs Traverse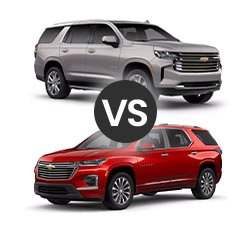 The 2022 Chevrolet Tahoe is a full-size SUV with three rows of seats. It can accommodate between seven to eight people. In many cases, when an SUV has three rows, the third row is only suitable for small children. That's not the case here. The Tahoe provides plenty of room in its third row for adult passengers to stretch out in.
This large SUV has massive amounts of cargo space, which should come as no surprise. What is surprising is how agile the Tahoe actually is. This SUV handles far better than what one might expect. Ride quality is smooth, comfortable and quiet. The interior is well-designed and downright luxurious in the higher trim levels.
Chevrolet's 2022 Traverse is also a large SUV with room for seven or eight people. It's slightly smaller than the Tahoe. It also has a more budget-friendly starting price. Consequently, the interior is not quite as posh, nor are the steering dynamics quite as good. Still, though, the Traverse offers quite a lot for the money, including many of the same features and technologies as the Tahoe.
Naturally, these two SUVs are frequently compared to each other by Chevy fans. They both have a lot in common and could appeal to many of the same potential buyers. There are also a lot of differences between the two. These could make one vehicle a better choice than the other for your specific needs. Here's a breakdown of how they compare in some key categories.
Size and Styling
The 2022 Chevrolet Tahoe is one large vehicle, coming in at 211-inches long, 81-inches wide and 76-inches high. The total passenger volume is 168.3 cubic-feet. There's 42.3-inches of headroom, 44.5-inches of legroom and 66-inches of shoulder room in the front. The second row provides 38.9-inches of headroom, 42-inches of legroom and 64.8-inches of shoulder room. The last row has 38.2-inches of headroom, 34.9-inches of legroom and 62.7-inches of shoulder room.
The Tahoe has 25.5 cubic-feet of storage space behind the third row. By folding the last row of seats down, this can be expanded up to 72.6 cubic-feet. By folding down both the second and third rows, the cargo volume can be increased up to 122.9 cubic-feet.
The 2022 Chevrolet Traverse measures in at 206-inches long, 79-inches wide and 71-inches high. The EPA estimates this vehicle's passenger volume to be 157.1 cubic-feet. There's 42.8-inches of headroom, 41-inches of legroom and 61.9-inches of shoulder room up front. In the second row, there's 40-inches of headroom, 38.4-inches of legroom and 62.2-inches of shoulder room. The third row provides 38.2-inches of headroom, 33.5-inches of legroom and 57.5-inches of shoulder room.
The Traverse offers 23 cubic-feet of cargo space when all of its seats are in use. This increases to 57.8 cubic-feet of space when the third row is folded down. When the second and third rows are folded down flat, the Traverse offers 98.2 cubic-feet of storage space.
The exterior design is very similar for these two SUVs. This includes a similar window layout, so visibility is equally good for both the Tahoe and the Traverse. These vehicles have a stylish design that straddles the fence between elegant and rugged. The Tahoe and Traverse look equally at home at the office or on an off-road trail. If anything, the Tahoe skews more toward rugged while the Traverse has a slightly more sophisticated appearance.
The Tahoe and Traverse naturally have a lot of the same exterior features, both coming from the same manufacturer. Both offer LED head lamps, tail lamps and daytime-running lamps. The Tahoe has an available panoramic power sunroof. The Traverse offers a two-panel sunroof by Dual SkyScape®. Both vehicles have heated, power-adjustable outside mirrors with integrated turn signals.
Drivability
Chevrolet gives buyers the choice of three different engines for their 2022 Tahoe. This includes two V8 engines and a diesel. The main powertrain has a 5.3-liter V8 that makes 355 horsepower with 383 pound-feet of torque. This engine has variable valve timing, direct injection and Dynamic Fuel-Management Technology. A Tahoe equipped with this engine will have a combined fuel-economy rating of 17 mpg (miles-per-gallon).
All models of the Tahoe get a 10-speed automatic transmission no matter which engine they come equipped with. Every trim level is available with either 2WD (two-wheel drive) or 4WD (four-wheel drive), except for the Z71 trim. This trim was designed with off-road performance in mind, and therefore is only offered with 4WD.
The Tahoe is also available with a bigger 6.2-liter V8. This engine produces 420 horsepower with 460 pound-feet of torque. It has an estimated, combined fuel-economy rating of 16 mpg. It also shares all of the previously mentioned attributes of the 5.3-liter engine, such as the Dynamic Fuel-Management Technology.
Last of all, Chevrolet offers the Tahoe with a 3.0-liter Duramax® Turbo-Diesel Engine. The diesel engine produces 277 horsepower and 460 pound-feet of torque. It offers the best fuel-economy numbers of the bunch with a combined rating of 24 mpg. When properly equipped, a Chevrolet Tahoe can tow up to 7,900 pounds.
The Tahoe has a solid suspension system that soaks up nearly every bump in the road. As mentioned, the steering and handling are excellent, especially in models with 4WD. The Tahoe is far more maneuverable than an SUV of this size has any right to be. There's good acceleration and plenty of passing power no matter which engine is inside of the Tahoe. Braking performance is spot on here as well.
The 2022 Chevrolet Traverse is only available with one engine. This is a 3.6-liter V6 with Spark Ignition Direct Injection and Variable Valve Timing. The motor has Start & Stop Tech for enhanced efficiency. This technology shuts off the engine when the brake is engaged and then restarts it once the brake is let up. By stopping the combustion engine every time the car comes to a stop, fuel is conserved.
The Chevrolet Traverse produces 310 horsepower and 266 pound-feet of torque. It's reasonably quick, though it can't match the performance of the Tahoe. The steering and handling aren't quite as tight and accurate either. The Traverse has a suspension system that's tuned for both ride quality and handling. Every model gets a smooth-shifting, 9-speed automatic transmission.
All trim levels of the Traverse are available with AWD (all-wheel drive). The Traverse can tow between 1,500 to 5,000 pounds, depending on the model and optional equipment. The Traverse really wasn't built for serious towing and falls short of what the Tahoe can do here. The Traverse has a combined fuel-economy rating of 21 mpg. That's better than the Tahoe's big V8 engines, but comes up a little lower than the diesel-engine's numbers.
Comfort, Options and Performance
The 2022 Tahoe and Traverse both have six trim levels. These share the same names and are more-or-less equivalent to each other, with one exception. The Tahoe has the Z71 trim that's focused on off-road performance. The Traverse gets a trim called the LT Leather. This is similar to the LT trim, howbeit with leather seat trim and some other premium-material upgrades.
The one difference in the trim levels is a clue as to who Chevrolet designed these vehicles for. The Tahoe is more tough, more powerful and off-road capable. The Traverse is meant to be more affordable, yet still provides a comfortable interior and a nice ride quality.
The base model for both vehicles is called the LS trim. At this level, both SUVs have cloth seat trim. The Tahoe has 8-way power seats up front at this level. The Traverse simply gets manual seats. Tri-Zone Automatic Climate Control is standard for all trim levels of both vehicles.
The highest trim level for both SUVs is called the High Country. At this level, the Tahoe gets 10-way power seats with lumbar support for the driver and front passenger. 12-way power seats are also optional for the High Country. The Traverse High Country has an 8-way power driver's seat and a 6-way power front-passenger's seat.
For the Tahoe, there's a Chevy Infotainment 3 System with an 8-inch touchscreen. The higher trim levels get a massive 10.2-inch screen. This infotainment system has Bluetooth for music streaming and Voice-Command Technology for hands-free phone calls. The system also has wireless compatibility with Apple CarPlay and Android Auto.
Every model of the Tahoe has an available WiFi hotspot and access to SiriusXM® Radio. Chevrolet even throws in a free three-month trial. Wireless charging for smartphones is available for the higher trim levels. Models like the High Country and Z71 also get a navigation system and built-in Google Services for the infotainment system.
The base model of the Tahoe gets a standard AM/FM stereo and a six-speaker audio system. The High Country and Premier trims get a 10-speaker Surround Audio System by Bose® with CenterPoint® technology.
The base model of the Traverse gets the same stereo and six-speaker audio setup as the LS model of the Tahoe. It also shares the same Chevrolet Infotainment 3 System with its Tahoe LS counterpart. Higher trim levels get the Chevrolet Infotainment 3 Plus system with built-in navigation. The 10-speaker system by Bose is again standard for the Premier and High Country trim levels.
Safety
The 2022 Chevrolet Tahoe and Traverse both come with six airbags. The Tahoe actually gets seven in models with bucket seats up front. There are front-impact and seat-mounted, side-impact airbags for the driver and front passenger. Head-curtain airbags add protection for all outboard seating positions in every row. Additionally, there's a Passenger Sensing System that turns the front-passenger airbags on and off as needed.
Both SUVs have Automatic Emergency Braking with an enhanced version of this technology for the higher trim levels. Forward Collision Alert and a Following Distance Indicator are both stock features for the Tahoe and Traverse. Front Pedestrian Braking helps to prevent collisions with pedestrians or at least to mitigate injuries. The Tahoe also gets Front and Rear Parking Assist for all models. This makes getting in and out of tight spaces a lot safer.
Both the Tahoe and the Traverse have HD Rear-View Cameras. The higher trims for both vehicles get Surround-View Cameras for an even better view of what's going on around the SUV. LED daytime-running lamps make the vehicle more visible to other drivers. Both SUVs have child safety locks and child safety rear windows. All models of both vehicles also get the industry-standard LATCH system for securing child safety seats.
A Tire-Pressure Monitor is standard for all versions of the Chevrolet Tahoe and Traverse. This lessens the need to worry about potential flats or blowouts due to over-inflation. Hill-Start Assist prevents the vehicles from rolling backward too far when stopping and going on an incline. The higher trim levels of the Tahoe and Traverse get a Rear Pedestrian Alert to warn the driver when someone walks behind the vehicle.
All of the Tahoe and Traverse trim levels are OnStar® & Chevrolet Connected Services capable. They also all get StabiliTrak with Traction Control. These systems help the driver to maintain control over the vehicles at all times. They keep things stable, and make sure that power and torque gets directly to the wheels that need it the most.
The Tahoe and Traverse also get Chevy's Teen Driver Technology for every trim level. This system allows the driver to set limits to some of the vehicle's features. These settings can be saved and associated with a key FOB that can then be given to a younger or inexperienced driver that will be taking the vehicle out once in awhile. It also helps the owner to monitor the driving habits of the younger driver.
Higher trim levels of the Tahoe and Traverse again get many of the same driver-assist features and safety tech. This includes a Blind-Spot Monitoring System, Lane Change Alert, Lane Keeping Assist and a Lane Departure Warning. There's a Rear Cross-Traffic Alert for both vehicles. The Tahoe also has an optional Rear Emergency Braking feature.
Which Model to Choose?
The 2022 Chevrolet Tahoe is better than the 2022 Chevrolet Traverse in almost every category. It has more room for passengers and significantly more cargo space. It offers far more power, better performance and better handling. The Tahoe has a more upscale, more comfortable interior with more standard features. It even offers more standard safety features.
The Traverse has slightly better fuel efficiency when only comparing the gasoline engines. It's also significantly less expensive, making it a great budget buy. It's still a fantastic SUV in every way. If you have the money, however, the added features, upgraded interior and superior performance of the Tahoe are well worth the extra cost.