2022 Chevrolet Traverse vs Buick Enclave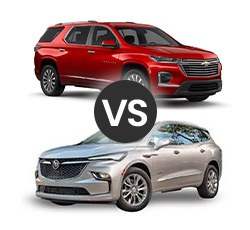 The 2022 Chevrolet Traverse and Buick Enclave both SUVs boast three rows of seating. They share many similarities, but there are some key features that differentiate the two. This overview will go over various factors, including performance, dimensions; interior and exterior features that can help prospective buyers decide which one they prefer more.
The Powertrain
With both being part of the same General Motors family, it's no surprise that the Chevrolet Traverse and Buick Enclave are equipped with a shared powerplant. Their 3.6-liter V6 engines boast 310 horsepower and 266 pound-feet of torque - delivering an exciting ride to their drivers time after time! To make sure you stay in control at all times, these cars also feature nine speed automated transmission for smooth shifting capabilities combined with manual override so you can keep your 'foot on the pedal' when needed most.
The two vehicles possess front-wheel drive as standard while the all-wheel drive is optional which can come in handy when driving on slippery roads, monitoring how the wheels are performing, and if any issues are detected, the system can adjust how power is sent to the front and rear wheels.
The Driver Mode Selector knob offers the ultimate driving experience, featuring an off-road mode and Snow/Tow Haul modes for customizing your ride to challenging terrain. Add in a hefty 5,000 pound tow capacity plus Jeep's Hitch Guidance system which makes hitching up easier than ever before - some models even boast Zoom function for better visibility when backing into trailers! Put it all together and you have an SUV that can tackle any road ahead with confidence.
A slight difference is observed in the fuel efficiency of the two vehicles. A Buick Enclave with front-wheel drive can earn an estimated 18 miles per gallon in the city and 26 miles per gallon on the highway. A Traverse with front-wheel drive can achieve up to 18 miles per gallon in the city and 27 miles per gallon on the highway but since it's such a minor difference it shouldn't really influence anything. If set up with all-wheel drive, a Traverse and an Enclave can both earn up to 17/25 (city/highway) miles per gallon.
Drivability
Given their size, it's certainly appealing that these SUVs are powerful. They can be driven confidently in a variety of terrain, especially if they've been given all-wheel-drive capability which is why many people appreciate how responsive they are.
The Chevy Traverse and the Buick Enclave may be similarly sized, but there's still room for distinction. With its overall length of 205.9 inches, width at 78.6 inches and standing tall at 70.7 inches with a low-riding 7.5 inch ground clearance, the Traverse packs more punch in each dimension - albeit slightly! Not to be outdone though is it's cousin offering: measuring 204..8 from tip to tail end across a wide wingspan of 78 9'', while keeping vehicle height down by 69 6''. Both vehicles share identical ground clearances allowing you an almost equal view of what awaits ahead on your next adventure.
When shopping for a car, the seating capacity is often a critical factor - and who could disagree that having more space to accommodate family or friends is always desirable. While Buick's Enclave offers seven seats, Chevrolet takes things up another notch with its Traverse featuring an extra row of seating which can fit up to eight people comfortably! This may be just what you need if your group demands all-important roominess on those longer drives together.
Despite the fact that the Enclave and Traverse are the same sizes, the Enclave has seven seats. The reason for this is that it comes standard with middle-row captain's chairs and there is no choice for a bench seat in the middle row. Second-row captain's chairs are frequently considered more upmarket than bench seats, which may be why Buick chose the seven-seat configuration.
The Traverse offers the lower trim with eight-passenger seating where Mid-level trims can typically have either type of seating configuration, and the higher trims are only available with the set of captain's chairs in their middle rows.
Conveniently, the seats in the Enclave and Traverse can be relocated and reconfigured. In both models, the second-row seat on the passenger side has a SmartSlide feature with the help of which the seat can be easily slid and tilted forward just by pulling a lever making it easier for passengers to get in and out of the back row.
In the back of both vehicles, the third row offers a 60/40 split configuration. When carrying cargo in the back, the seatbacks can be folded flat. To increase cargo space, either one side of the third row or the entire row can be lowered while the second-row bench that can be found in the Traverse works in the same way.
Having all the rear seats folded down the Transverse offers more cargo room providing a maximum cargo volume of 98.2 cubic feet. The Enclave has a maximum cargo capacity of 97.4 cubic feet, so it's not like it's small by any means, but it just doesn't have quite as much space as the Traverse.
The Enclave offers a bit more space behind its third row, providing a cargo hold that has a volume of 23.6 cubic feet while the Traverse offers a volume of 23 cubic feet. If you regularly fold down your third row, as some people do, the Traverse's cargo space is virtually identical to that of the Enclave. In this case, the Traverse offers 57.8 cubic feet of storage space, while the Enclave gives 57.7 cubic feet. This is significantly more space than what two-row SUVs offer, so there is a clear advantage to upgrading to a larger model like this.
The passenger room holds significance to the buyer as well. With three-row SUVs, there isn't always a ton of space for people to stretch out in the back. While these models don't have full-size third rows, they have a decent amount of legroom, offering 33.5 inches. Each model's second row should be more accommodating, particularly for taller passengers. The Enclave has 38.3 inches of second-row legroom, which is almost the same as the Traverse i.e. 38.4 inches of legroom.
There should be no cause for concern regarding the comfort level of the front row as these two seats are very much comfortable and offer ample space.
The Enclave comes standard with perforated leather upholstery and heated front seats to provide additional warmth on colder days along with the leather-wrapped steering wheel which is heated in all Enclave trims. Two of the three models feature heated second-row seats, allowing passengers to remain warm and comfortable.
The Enclave offers a manually adjustable steering column with its first trim, whereas the second and third features, power-adjustable steering columns that can be programmed to recall a preferred position. These two trims are upgraded with ventilation in their front seats, along with having a tri-zone automatic climate control and remote start. The front seats could even offer massages.
The Enclave is more than just your average SUV! Its first trim offers an auto-dimming rearview mirror while the higher ones boast a high-tech version. This advanced feature allows drivers to get a crystal clear, panoramic view of their surroundings with just one click - transforming this traditional mirror into an efficient video streaming tool that's sure to reduce driving strain and glare in low lighting conditions.
The Traverse and Enclave offer vastly different experiences. While the former offers plenty of luxurious upgrades, it can't compete with some of the more premium standard amenities included in the latter - such as a manual adjustable seat while higher trims are limited to leather-wrapped steering wheels and remote starts. Nonetheless, keyless entry comes standard on both models alongside tri-zone automatic climate control for added convenience.
The Traverse is packed with high-end features, ranging from the must-haves to luxurious touches. Memory settings for the driver's seat and a power steering column make every ride comfortable while perforated leather on the seats adds an extra touch of class - not forgetting its rear camera mirror! With extensive options across six trims up for grabs at varying prices compared to just three trims in another vehicle, you're sure to find something that fits your budget perfectly.
Taking into consideration the technological part, the Buick Enclave boasts some appealing components to offer. It automatically comes with wireless charging and wireless Apple CarPlay and Android Auto along with Wi-Fi capability, six USB ports, and SiriusXM. All Enclaves feature an eight-inch touchscreen, with integrated navigation standards on higher models. Navigation is not standard on the entry-level Essence trim, but it is available as an option.
The digital screen installed behind the steering wheel can provide useful information to the driver. The first trim has a display of 4.2 inches, while the others have displays measuring eight inches. These higher trims also include Bose ten-speaker audio systems rather than the usual six-speaker setup.
The 4.2-inch display is found on several Traverse trims, with the higher ones having an eight-inch display, while the base trim possesses a 3.5-inch. The first few Traverse trims have seven-inch touchscreens, while the higher ones have eight-inch touchscreens whereas the larger touchscreen can come with navigation. Fortunately, SiriusXM is standard in the Traverse, and so are Wi-Fi capability, wireless Apple CarPlay, and Android Auto. Only a few trims can be configured for wireless charging, but every trim has two USB ports in each of its three rows.
Safety
Several advanced components are standard on both of these vehicles including automatic emergency braking and forward collision warning along with pedestrian detection. These two vehicles also possess lane keep assist and lane departure warnings.
The Enclave has some additional standard components including lane change alert, blind zone monitoring, and rear cross-traffic alert. All of these features are available on the Traverse's lowest trim levels, although they are not standard. However, the higher Traverse trims do have these as standard features, which can be so useful since it's hard to see in every direction while driving.
The Enclave is equipped with standard front and rear parking assist, whilst the Transverse offers it as an option on lower trims and as standard on higher trims, albeit without front parking assist.
Numerous companies have included adaptive cruise control in their standard safety packages. Unfortunately, neither Chevrolet nor Buick has, at least for these models. Adaptive cruise control is available on the first two Enclave trims and standard on the highest one while it's only found on the top half of the Chevy Traverse lineup.
Which Has the Best Value?
With a difference in starting price of $10,000 between the Traverse and Enclave models, cost-conscious shoppers may find that investing in the former proves to be an economical solution. The affordability of its base trim - priced at just under $34K – makes it an attractive option for many buyers trying to stay within budget.
Is the Enclave's higher price reasonable? Some may believe so, given that the basic Enclave level includes upscale features such as leather seats and a heated steering wheel as compared to the entry-level trim of the fairly basic Traverse. The Transverse does offer a good infotainment system, but it lacks a lot of extra features that can elevate the overall style of the cabin.
Avenir is the most extravagant Enclave trim, and it costs approximately $55,000. Its counterpart in the Traverse lineup would be the High Country, having a starting price of around $51,000. Even at this price point, the Enclave is the more expensive vehicle. The High Country contains certain luxurious features, thus it appears to be equivalent to the Avenir.
Which is Better?
Budget certainly plays a significant role as it serves to be one of the major deciding factors when choosing between the Traverse and the Enclave. Anyone on a limited budget will be likely to opt for the Traverse, while those who feel like treating themselves to something a little more extravagant may choose to get the Enclave. The Enclave definitely has a more refined appearance, while the Traverse looks more sporty and athletic.
Finally, a major consideration can be the Traverse having, another seat in the middle of its second row, providing room for eight passengers, while the Enclave offers room for just seven, which could be fine for some buyers but not for others.