2022 Chevrolet Traverse vs Buick Enclave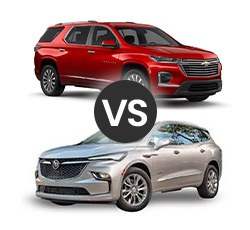 The Chevy Traverse and Buick Enclave are both SUVs that have three rows of seating. They share many similarities, but there are some key ways in which they differ. This overview will go over various factors, including performance, dimensions, and interior and exterior features, that can help prospective buyers decide which one they prefer more.
The Powertrain
Interestingly, these two SUVs actually run on the same type of engine. They use 3.6-liter V6 engines that provide them with 310 horsepower and 266 pound-feet of torque. Chevy and Buick vehicles are both made by the General Motors company, so with this information, it makes sense that the same type of engine would go into these models.
In both the Traverse and Enclave, the V6 engine has been paired with a nine-speed automatic transmission. This transmission is responsive and provides an ideal amount of power at various speeds. It's an electronically controlled transmission that does allow for manual override, in case someone really wants to be in control of that aspect of driving.
With the two vehicles, front-wheel drive is standard, and all-wheel drive is optional. All-wheel drive can be useful when dealing with slippery conditions. It can monitor how the wheels are doing, and if any issues are detected, the system can adjust how power is sent to the front and rear wheels.
The Driver Mode Selector knob lets people make adjustments according to the conditions that they face. There can be an off-road mode as well as a Snow and Tow/Haul mode. Each of these SUVs can tow up to 5,000 pounds, which is a very solid amount. Hitch Guidance is available, and it can make it easier to line things up when backing up to a trailer. Some models come with a zoom function that provides a close-up view of what's going on behind the SUV.
There is a slight difference when it comes to fuel efficiency. A Buick Enclave with front-wheel drive can earn an estimated 18 miles per gallon in the city and 26 miles per gallon on the highway. A Traverse with front-wheel drive can achieve up to 18 miles per gallon in the city and 27 miles per gallon on the highway. This is such a minor difference that it shouldn't really influence anything. If set up with all-wheel drive, a Traverse and an Enclave can both earn up to 17/25 (city/highway) miles per gallon.
Drivability
Given their size, it's nice that these SUVs are powerful. Many people will appreciate how responsive they are. They can be driven confidently in a variety of terrain, especially if they've been given all-wheel-drive capability.
The Chevy Traverse is the larger of the two models, but only by a small amount. It has an overall length of 205.9 inches. It's 78.6 inches wide and 70.7 inches tall. That being said, it doesn't sit terribly high off the ground. It has a ground clearance of 7.5 inches.
In comparison, the Buick Enclave measures 204.8 inches from front to back. It's 78.9 inches wide and 69.9 inches tall, and it has the same ground clearance of the Traverse.
What is a much more substantial factor is the fact that the Buick Enclave has a maximum of seven seats while the Chevrolet Traverse can seat up to eight people. Obviously, this is going to matter if anyone needs eight seating positions. Having the additional row of seating is great for the Enclave, but it won't matter if it doesn't have enough seats to accommodate a household or if a driver wants to maximize the amount of passengers that he/she can transport.
The reason that the Enclave only has seven seats, though it's just about the same size as the Traverse, is that it comes standard with middle-row captain's chairs. There isn't an option to get a bench seat in the middle row. Second-row captain's chairs are often viewed as more upscale than a bench seat, so perhaps this is why Buick decided to make this decision.
With the Traverse, the lower trim is only offered with eight-passenger seating. Mid-level trims can typically have either type of seating configuration, and the higher trims are only available with the set of captain's chairs in their middle rows.
It's helpful that the Enclave's and Traverse's seats can be rearranged and moved around, if needed. In both models, the second-row seat on the passenger side has a SmartSlide feature. Just by pulling a lever, the seat can be easily slid and tilted forward. This way, it's much easier for passengers to get in and out of the back row.
In the back of both vehicles, the third row has a 60/40 split configuration. The seatbacks can fold flat, which is convenient when loading cargo in the back. Just one side of the third row can be lowered, or the entire row can be lowered to maximize cargo space. The second-row bench that can be found in the Traverse works in the same way.
When all of the rear seats have been folded down, the Traverse offers more cargo room. It has a maximum cargo volume of 98.2 cubic feet. It's not as if the Enclave is small by any means, but it just doesn't have quite as much space as the Traverse, with a maximum cargo capacity of 97.4 cubic feet.
The Enclave actually has a bit more space behind its third row, having a cargo hold that has a volume of 23.6 cubic feet. This same area in the Traverse has a volume of 23 cubic feet. Lowering the third row, which is what some people may do frequently, results in pretty much the same cargo capacity in the Traverse as the Enclave. In this case, the Traverse, offers 57.8 cubic feet and the Enclave has 57.7 cubic feet of storage space. This is much more room than what two-row SUVs provide, so there is a definitely advantage to upgraded to a bigger model like one of these.
The amount of passenger room is important to consider. With three-row SUVs, there isn't always a ton of space for people to stretch out in the back. While these models don't have full-size third rows, they have a decent amount of leg room, at 33.5 inches.
The second row of each model should be more comfortable, especially for taller riders. The Enclave has 38.3 inches of second-row leg room, and the Traverse has about the same amount, with 38.4 inches of leg room here.
There shouldn't be anything to worry about when it comes to how comfortable the front row is. These two seats are supportive and provide plenty of space.
In the Enclave, things feel very sophisticated. To start, this SUV comes standard with perforated leather upholstery and heated front seats to provide additional warmth on colder days. The leather-wrapped steering wheel is also heated in all Enclave trims. Two out of the three trims have heated second-row seats so that passengers can enjoy being warm and toasty, too.
The first trim of the Enclave has a manually adjustable steering column, but the two others have a power-adjustable one that can be programmed to remember a preferred position. Those two trims are upgraded with ventilation in their front seats, and it's great that all Enclaves have tri-zone automatic climate control and remote start. The front seats could even offer massages.
To reduce glare at night, the first trim of the Enclave has an auto-dimming rearview mirror. The higher ones actually have a high-tech rearview mirror. It can be used like a traditional mirror, but with the push of a button, it can switch to show the live video feed of the Buick's rear-facing camera. In this mode, it provides a wider view of what's behind the SUV, and this view would be unobstructed by anything in the cabin.
These are perhaps the most major differences between the Enclave and the Traverse. While there are many luxurious upgrades that can be made to the Traverse, the fact remains that it doesn't come standard with the Enclave's more impressive features. For example, its base trim is limited to having a manually adjustable seat. Unlike some higher Traverse trims, it does not have a leather-wrapped steering wheel or remote start. It does have keyless entry and tri-zone automatic climate control, though.
The higher trims of the Traverse do have much of what the Enclave offers. For instance, they have memory settings for the driver's seat and power steering column, and they have perforated leather on the seats, as well as the rear camera mirror. There is a considerable price difference between the lowest and highest trim of the Traverse, especially since there are six total trims versus the Enclave's three trims.
When it comes to technology, the Buick Enclave has some attractive components. It automatically comes with wireless charging and wireless Apple CarPlay and Android Auto. In addition, it has Wi-Fi capability, six USB ports, and SiriusXM. All of the Enclaves have eight-inch touchscreens, with the higher trims coming standard with integrated navigation. Navigation is an option with the entry-level Essence trim, but it's not standard.
The digital screen behind the steering wheel can show the driver useful information. On the first trim, it measures 4.2 inches, and the others have eight-inch displays. Those higher trims also have Bose ten-speaker audio systems instead of the standard six-speaker configuration.
That 4.2-inch display is found on several Traverse trims, with the higher ones having eight-inc displays. However, the base trim just has a 3.5-inch one. The first few Traverse trims have seven-inch touchscreens, though the higher ones have eight-inch touchscreens. The larger touchscreen can come with navigation. Fortunately, SiriusXM is standard in the Traverse, and so are Wi-Fi capability and wireless Apple CarPlay and Android Auto. Only some trims can be set up with wireless charging, but all trims do have a pair of USB ports in each of their three rows.
Safety
Several advanced components are standard on both of these vehicles. They have automatic emergency braking and forward collision warning, and they have pedestrian detection. Further, these two vehicles have lane keep assist and lane departure warning.
The Enclave has some extra standard components. These include lane change alert, blind zone monitoring, and rear cross traffic alert. All of these systems are available on the lower trims of the Traverse, but not standard. Higher Traverse trims, however, do have these as standard features, which can be so useful since it's hard to see in every direction when sitting behind the wheel.
Front and rear parking assist is a standard program on the Enclave. With the Traverse, rear park assist is an option on the lower trims and standard on the higher ones, but there isn't a front parking assist to go along with it.
Many companies have made adaptive cruise control part of their standard safety packages. Unfortunately, Chevy and Buick have not, at least with these models. Adaptive cruise control is available on the first two Enclave trims and standard on the highest one. It's only found on the top half of the Chevy Traverse lineup.
Which Has the Best Value?
The Traverse is, by far, the more budget-friendly option. Its base trim costs approximately $34,000, whereas the Enclave has a starting price of about $44,000. It's hard for many people to afford an additional $10,000 when getting a new vehicle.
Is the higher price of the Enclave justified? Some may think so, since the base Enclave trim has many sophisticated amenities like leather seats and a heated steering wheel. The entry-level trim of the Traverse is fairly basic, in comparison. It does have a good infotainment system, but it lacks a lot of extra features that can elevate the overall style of the cabin.
The highest Enclave trim is the Avenir, and it costs about $55,000. Its counterpart in the Traverse lineup would be the High Country, which has a starting price of around $51,000. Even at this end of the spectrum, the Enclave is the more expensive one. The High Country does have some high-end details, so it seems to be quite comparable to the Avenir.
Which is Better?
Budget is going to play an important role as people decide between the Traverse and the Enclave. Anyone on a more limited budget will likely go with the Traverse, while those who feel like treating themselves to something special may choose to get the more expensive Enclave. The Enclave definitely has a more refined appearance, while the Traverse looks more sporty and athletic.
Finally, a key consideration is that the Traverse can have another seat in the middle of its second row, giving it room for eight passengers. The Enclave just has room for seven, which could be fine for some buyers but not for others.