2022 Chevrolet Traverse vs Dodge Durango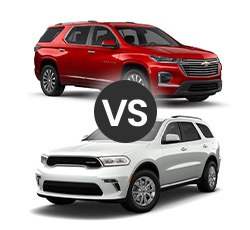 Three-row SUVs have become hot commodities. They are especially suitable for drivers who need a versatile family vehicle. The 2022 Chevrolet Traverse and the 2022 Dodge Durango are two of the segment's standout options.
To bolster the Traverse's curb appeal, Chevy decided to give the SUV an attractive styling refresh. For the first time, a digital gauge cluster is on the Traverse's list of options. Another big update is the arrival of more standard safety technologies.
Although a supercharged SRT Hellcat version of the Durango is no longer available, some key updates were made for the 2022 model year. Some previously optional features now come standard, including blind-spot warning and a third-row seat. Furthermore, more trims can be outfitted with a vented hood.
When preparing to buy or lease a new three-row SUV, some people will be choosing between the Traverse and the Durango. Keep reading to find out which model wins this head-to-head clash.
The Powertrain
Only a single powertrain is found in the Traverse's lineup. Motivating this three-row family hauler is a stout V6 engine, which generates 310 horsepower. A nine-speed automatic transmission holds the task of feeding the available power to the wheels.
On the road, the 2022 Chevrolet Traverse feels quite muscular. Not only does this SUV feature a strong engine, but it also benefits from a prompt-shifting automatic transmission. Road tests clock the Traverse with a 0-60 mph time of 6.8 seconds, which translates to brisk acceleration during real-world driving conditions.
Like the Traverse, the 2022 Dodge Durango comes standard with a V6 engine. Its 293-horsepower output is perfectly sufficient for daily commuting. Automotive reviewers were especially impressed by the Durango's eight-speed automatic transmission. It shifts quickly when drivers need to move out in a hurry. Expect a 0-60 mph time of around 7.5 seconds.
The Durango's optional power source is a 5.7-liter, Hemi V8 engine. It elevates the SUV's performance by producing 360 horsepower. Along with the extra muscle comes a swifter 0-60 mph time of 6.2 seconds. Some drivers will also enjoy the V8-powered Durango's more aggressive sound.
A larger 6.4-liter, Hemi V8 engine is exclusively found in the high-performance Durango SRT 392. It excites drivers with a monstrous 475 horsepower. This potent trim can accelerate to 60 mph in just 4.7 seconds, which is especially quick for a seven-passenger family vehicle. Many people consider the Durango SRT to be the perfect alternative to a modern-day muscle car.
When it comes to towing, the Chevrolet Traverse will satisfy the needs of most drivers. It boasts a maximum tow rating of 5,000 pounds. Chevy's optional Trailering Package adds a heavy-duty cooling system and a tow hitch.
The Dodge Durango is an even more capable towing machine. Even the V6-powered trims can handle up to a 6,200-pound load. Choosing one of the available V8 engines further increases the Durango's towing capacity to an impressive 8,700 pounds. Load-leveling rear shock absorbers give the Durango another advantage over the Traverse.
Although the Traverse is a rather large SUV, it manages to offer reasonable fuel economy. Drivers can anticipate getting up to 18 mpg in town and 27 mpg on the open road. Of course, trims equipped with all-wheel drive are a tad less efficient. Chevy does tune the Traverse to run on regular unleaded gasoline.
When equipped with its standard V6 engine, the Durango has a government fuel economy rating of 19 mpg town/26 mpg freeway. Stepping up to the V8 engine results in a rating of 14 mpg town/22 mpg freeway. Meanwhile, drivers who choose the high-performance Durango SRT can expect to get 13 mpg in city traffic and 19 mpg on the highway. Keep in mind that only the SUV's V6 engine is designed to use cheaper regular unleaded gasoline.
To no surprise, both of these SUVs give buyers access to an AWD system. However, the Dodge Durango is a better pick for taking off-road adventures. Available low-range gearing helps the Durango confidently climb steep inclines and churn through the mud.
The Traverse's braking system fares well during panic situations. When traveling at normal highway speeds, this SUV takes around 120 feet to come to a complete stop. However, road tests show the Durango is capable of recording an even better braking performance. Beefier Brembo brakes enable the racy Durango SRT to post a 60-0 mph stopping distance of only 110 feet. Drivers will also appreciate Dodge's standard Rain Brake Support system, which helps keep the brake pads dry during wet conditions.
In regard to reliability, the Traverse receives an average rating. Experts give the Durango a similar rating in long-term dependability. Both of these SUVs provide a powertrain warranty that lasts for up to 100,000 miles. Buyers will also receive a 36,000-mile bumper-to-bumper warranty.
Drivability
The 2022 Chevrolet Traverse's size can make it somewhat of a challenge to squeeze into parking spaces. However, it feels like a smaller vehicle on the highway. Quick steering and balanced handling give the Traverse a confident feel. Although the Traverse doesn't offer a high-performance trim, it maneuvers far better than a traditional truck-based SUV.
Like the Traverse, the 2022 Dodge Durango is a rather large family vehicle. This means it's not the best vehicle for tackling narrow city streets. A wide turning radius limits its ability to navigate in small spaces. It's more suitable for cruising along the open road.
Drivers who seek nimbler handling will favor the Durango R/T, which comes equipped with sports-tuned shocks. Expect the Durango's SRT 392 trim to be especially engaging to drive. Its high-performance adaptive suspension and limited-slip differential ensure more control on curvy roads. Luckily, the Durango SRT 392 sportier character doesn't take away from its everyday usability.
Families will have no complaints about the Traverse's ride quality. Its suspension quietly and effectively mops up potholed pavement. While the Durango is comfortable, its ride can be a bit more truck-like. Nevertheless, both of these three-row SUV's are excellent family road-trippers.
Expect the Traverse to maintain a quiet atmosphere. Its well-insulated cabin blocks out wind noise at freeway speeds. While the Durango is also quiet on the inside, trims equipped with low-profile tires and a stiffer sport suspension produce more road noise.
According to some car reviewers, the Chevrolet Traverse's outward visibility is a bit of a weak point. The driver's visibility when changing lanes can be compromised. However, Chevy's optional rear camera mirror does help make blind spots less of an issue. While the Durango's forward and side visibility is good, drivers are likely to encounter some blind spots when peeking out the rear window. However, most experts agree that the Durango and the Traverse have similar sightlines.
In terms of the overall passenger room, the Traverse slightly edges out the Durango. Second-row legroom is virtually the same. These SUV's also have a third row that can satisfy larger kids. However, there's more shoulder room inside the Traverse. This attribute makes its cabin feel more accommodating when traveling with a full load of passengers.
Both models have an effective air conditioning system. However, the Durango's climate controls are more user-friendly. Similar options include heated front seats, second-row seat heating, and a heated steering wheel.
No version of the Traverse feels as sporty as the high-performance Durango SRT 392. It comes standard with leather-trimmed sport seats and a performance steering wheel. Race-inspired pedals also help give its cabin a more exciting atmosphere.
While the Traverse provides 23 cubic feet of cargo space in its standard form, flipping down its third-row seat increases cargo space to nearly 58 cubic feet. By comparison, there's 17 feet cubic feet of storage space in the back of the Durango. Folding down the Durango's third row increases its cargo capacity to just over 43 cubic feet.
Drivers will enjoy using the Traverse's infotainment system. Automotive journalists rave about its simple menu structure and easily readable graphics. While a 7.0-inch touchscreen comes standard, a larger 8.0-inch touchscreen is found on most trims.
Dodge equips the new Durango with a standard 8.4-inch touchscreen. However, buyers can step up to the automaker's latest Uconnect 5 multimedia system. It brings a faster 10.1-inch touchscreen with sharper graphics. Both of the Durango's available units are easy to operate.
Safety
The 2022 Chevrolet Traverse has yet to receive an official safety rating from the NHTSA. While the IIHS gives the Traverse a good crash rating, this SUV only receives an "Acceptable" rating in the organization's updated side-impact test.
When evaluated by the NHTSA, the 2022 Dodge Durango took home a four-star overall safety rating. While most of its crash scores were decent, car shoppers should take note of Durango's three-star roller rating. In the eyes of the IIHS, there are some weak points on the Durango's safety profile. The IIHS gives the Durango's structure and safety cage a "Poor" rating.
Some useful safety features are found on every new Traverse. Standard driver-assist technologies include automatic emergency braking with pedestrian alert and a lane-keeping system. In contrast to the Durango, the Traverse also provides a rear-seat reminder system. This feature ultimately helps protect children and pets. Dodge also does not offer a system similar to Chevy's Teen Driver system, which allows parents to monitor young drivers.
According to some testers, the image quality of Durango's backup camera isn't the best. Not only can the Traverse's backup camera be upgraded with a trailer hitch guidance feature, but there's also a surround-view camera system on the vehicle's list of options.
The Durango's newly standard blind-spot monitor is highly beneficial. Unfortunately, automatic emergency braking and lane-keeping technology cost extra. Chevy's optional Rear Camera Mirror and a vibrating Safety Alert Seat are also only available on the Traverse.
What has the Best Value?
Prices for the base Traverse start at a reasonable $37,300. By comparison, Dodge gives the entry-level Durango SXT a starting MSRP of $35,475. In terms of value, there's not a big difference between these SUVs. While the Traverse comes equipped with a Wi-Fi hotspot, the Durango counters by providing a standard power driver's seat and parking sensors.
Luxury car shoppers will likely be considering the Durango Citadel and the Traverse High Country. While the Durango Citadel demands $49,825, the Traverse High Country has an MSRP of $51,200 before adding any optional equipment.
Which is Better?
Drivers who desire a comfy family vehicle with ample interior space can't go wrong with the 2022 Chevrolet Traverse. Although the Traverse may not be geared towards driving enthusiasts, its strong V6 engine and smooth driving dynamics will impress a lot of car shoppers. Effective safety features make the Traverse more fulfilling.
While the Traverse is a great pick, it does have just a few shortcomings. For starters, it can't tow as much weight as the 2022 Dodge Durango. Cheap-looking plastics also make its interior feel less upscale.
Folks who crave a more muscular performance will be happier with the new Durango. Its available V8 engines feel especially strong. Expect the Durango SRT 392 to deliver a great deal of driving fun. A more robust 4X4 system with available low-range gearing also makes the Durango a better vehicle for conquering off-road trails.
While the Durango's V8-powered trims may pack more muscle, drivers will be forced to spend more money on fuel. So-so crash scores also put the Durango at a disadvantage.