2019 Chrysler Pacifica Pros vs Cons. Should You Buy?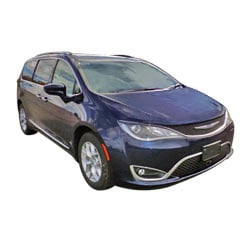 As far as minivans go, the 2019 Chrysler Pacifica is one of the more user-friendly models to hit the market this year. With plenty of safety and infotainment features, Stow 'n Go seats that are easy to move and help maximize cargo space, and a chic-looking and comfortable interior, the Pacifica has wide appeal. However, it does have a few drawbacks, including a 9-speed transmission that seems to slowly shift in certain situations. Most drivers will likely be able to overlook this, and the Pacifica will have no problem keeping up with most of the competition.
What's New for 2019?
No major changes have been made to the 2019 Chrysler Pacifica, as this vehicle is the third installment in the Pacifica's first generation (which was released in 2017). Since this line-up is so new, much of what you will find on the newest Pacifica is also what you will find on the introductory 2017 model.
Top 10 Reasons to Buy a 2019 Chrysler Pacifica – The Pros
1. Excellent Visibility
Finding a minivan with excellent visibility all around the vehicle is not exactly easy. However, the 2019 Chrysler Pacifica does a great job of providing the driver with forward and rear visibility. Both the front and rear windshields are massive, and the roof pillars are slim in their design. The side windows are also remarkably wide, making blind spots easier to check without the help of the blind-spot monitoring system. Of course, the system, standard rearview camera (or optional 360-degree camera), and parking sensors do that much more to aid the driver.
2. Stow 'n Go Seats Are Easy to Use
Stow 'n Go seats seem to be one of the primary reasons minivan drivers keep buying Chrysler's minivans. These seats only require the push of a button to get them folded all the way into the floor of the van. These versatile seats allow you to maximize your cargo storage as needed with virtually no hassle of manual maneuvering, which is problematic on some of the Pacifica's competitors.
3. A High-quality Interior Design
The interior is not made of the finest luxury materials, but that is not the intent here. The 2019 Chrysler Pacifica places more of an emphasis on comfort than looks, but the materials used throughout the cabin appear to be made from high-quality materials. There are a lot of soft touch surfaces to be found, and the biggest flaws are so minor that you have to really take a hard look at the stitching on the upholstery. The cabin itself feels comfortable and packs enough creature comforts to satisfy most of its occupants.
4. The Optional Towing Package
While the Chrysler Pacifica is not a vehicle that is purchased for its towing abilities, it does have some. In fact, the optional towing package that you can get put on the Pacifica gives it a 100-pound advantage over its top competitors. This package gives the minivan a maximum towing capacity of 3,600 pounds, which is pretty sufficient for a vehicle in this class.
5. A Rapid Acceleration
A quick acceleration speed is not something that most people would expect from a minivan. The 2019 Chrysler Pacifica breaks with this expectation by providing ample get-up-and-go power to the wheels from its 3.6-L V6 engine. This engine is able to generate 287 hp and 262 lb-ft of torque, which is what helps get it from 0 to 60 mph in roughly 7.7 seconds. This is one of the better rates you will find for this segment, and it is aided by a smooth response when you press your foot down heavily upon the gas.
6. Highly Responsive Brakes
Chrysler must have had safety in mind when they designed the Pacifica's brakes. This braking system is appropriately responsive when engaged and has a short travel distance for the pedal. Nothing about the brakes feels overly sensitive either. When you need to make a panic stop, the Pacifica can come to an emergency halt in a relatively short distance for its segment. Tests have shown that the Pacifica is able to make a panic stop from 60 mph in just about 119 feet, which is considered short for this segment.
7. Refined Handling
Handling on the 2019 Chrysler Pacifica has a refined feeling to it, which is rather remarkable for a vehicle that weighs in at around 4,600 pounds. The Pacifica is surprisingly agile while getting around tight corners despite having some slightly imprecise feeling from the steering. There is not much noticeable body roll, and bumps in the road get absorbed fairly well.
8. Excellent Climate Control
If you are someone who does not want to deal with trying to adjust the Pacifica's climate control via the touchscreen, you do not have to (although you can access it digitally). The climate control system has easy-to-use knobs located along the center console. All but the base L trim come with a standard tri-zone climate control system, which does a thorough job of evenly distributing air flow throughout the cabin.
9. A User-friendly Design
Overall, the 2019 Chrysler Pacifica has a cabin that is designed to be user-friendly. There are plenty of well-labeled physical controls for non-tech savvy drivers, and they are all placed easily within the driver's reach. Everything is laid out in a way that makes sense. Even the controls that you will find on the touchscreen display are set up in a sensible, user-friendly way that might encourage non-tech savvy drivers to give this system a try.
10. A Quiet and Comfortable Ride Quality
Ride comfort is a huge bonus when it comes to buying the new Chrysler Pacifica. Bumps and ruts in the road surface are barely felt, especially on the 17- and 18-inch wheels. Even the optional 20-inch wheels don't let as many bumps in as you might expect. Only a very minor amount of wind noise seeps in at highway speeds, and even at full throttle, the V6 engine is calm and well-mannered. Occupants throughout the vehicle can enjoy a peaceful and relaxing ride.
Buying Tip:
To avoid overpaying on a new car, shop prices online first. Get up front pricing before you walk into a dealership. We recommend the following free services;
Car Clearance Deals,
NADAguides,
CarsDirect &
Motortrend.
These free services will offer you
the lowest prices
and supply you with multiple competing price quotes. You will know the best price before you visit the dealer.
Reasons Not to Buy a 2019 Chrysler Pacifica – The Cons
1. The ZF 9-speed Automatic Transmission
The biggest downside to the 2019 Chrysler Pacifica is that its standard 9-speed automatic transmission shows occasional signs of a rough nature. When you are stuck in slow-moving traffic or taking the van uphill, you will notice the transmission searching almost relentlessly for gears. Similarly, downshifting seems hesitant and clunky. More refined transmissions can be found on the Pacifica's competitors.
2. Seat Bolsters Are Slightly Too Firm
Unfortunately, the one aspect of vehicular comfort that is lacking on the Chrysler Pacifica is that the seat bolsters feel slightly too firm. While this likely will not be a huge problem for most occupants, it might be a bit of annoyance for some. Also, the second- and third-row seats are reclining only; they do not slide as a way to maximize comfort, unlike the seats found in some of the Pacifica's competitors this model year.
3. Limited Leg Room For the Second- and Third-row Passengers
With no sliding option and limited leg room, second-and third-row passengers in the 2019 Chrysler Pacifica might find themselves feeling a bit cramped for space. This is not a significant issue since this is a minivan, but most other minivans seem to beat the Pacifica's leg space by at least a few inches. Otherwise, head, shoulder, and hip room is cozy enough throughout the cabin.
4. Adaptive Cruise Control is Overly-sensitive
If you opt for the Advanced SafetyTec package, you might find that its adaptive cruise control feature is too sensitive for use. If you encounter a slight slowing down of traffic in front of you, adaptive cruise control will kick into gear and brake harder than it should. Also, the system leaves a significantly large amount of space between the Pacifica and the vehicle in front of it.
How it stacks up to the competition:
2019 Chrysler Pacifica vs. 2019 Honda Odyssey
The 2019 Honda Odyssey is a major competitor for the 2019 Chrysler Pacifica. Even though it lacks Stow 'n Go seating, the Honda Odyssey offers quite a bit of flexibility while maneuvering the second- and third-row seats. There is plenty of cabin and cargo space, and the Odyssey offers some top-notch gas mileage for those looking to save at the pump. Its V6 engine is strong, and the ride is at least as quiet as what you get on the Pacifica.
2019 Chrysler Pacifica vs. 2019 Kia Sedona
The new 2019 Kia Sedona is another big competitor for the Pacifica. The Sedona does have a busier ride quality and lacks a good fuel economy. However, it has some serious strong points, such as versatile seating and a massive list of standard safety and infotainment features. It also has more sedan-like front seats than most minivans.
Conclusion
While the 2019 Chrysler Pacifica has a few minor flaws that impinge on the driving and riding experience, this minivan offers quite a lot of good qualities. The Stow 'n Go seats virtually guarantee sales, and the smooth ride quality the vehicle provides should be something that many people can appreciate. Overall, this comfortable and user-friendly minivan should remain a strong competitor for the model year and be a predominant choice among families looking for something that will keep them safe on the road.
Save Money on a 2019 Chrysler Pacifica: