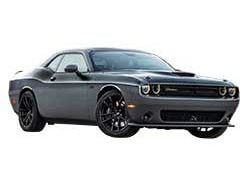 Buying Tip:
Before you walk into a dealership, price shop Online first. Avoid overpaying by using the following pricing services:
With these services you can:
• Force dealers to compete for your business.
• Start your own online price war.
• Many prices are not advertised online.
• It's Free and No Obligation.

Visit
Car Clearance Deals
,
CarsDirect
,
NADAguides
&
MotorTrend
During the 1970's, the Dodge Challenger was one of the hottest muscle cars on the street. It remains a great choice for the drivers who are looking to experience a unique blend of comfort and performance. With the recent arrival of an all-wheel-drive GT trim, the Challenger now appeals to a wide variety of different car enthusiasts. Furthermore, a plethora of advanced safety technologies are offered.
What's New for 2018?
This year, Dodge has introduced two new Challenger models. While the Widebody Hellcat offers aggressive styling and improved handling, the mighty Challenger Demon is among the most powerful production cars that you can buy.
Top 10 Reasons to Buy a 2018 Dodge Challenger – The Pros
1. Affordable & Fuel-Efficient V6 Model
If you don't desire heart-pounding performance, the V6 Dodge Challenger may prove to be your perfect match. Its engine pushes out a competitive 305 horsepower while returning an EPA-estimated 30 mpg on the highway. You can also take advantage of the V6 model's affordability. Prices start at a tempting $29,000.
2. No Other American Muscle Car Offers All-Wheel Drive
In contrast to today's other American muscle cars, the 2018 Dodge Challenger can be equipped with an AWD package. This is great news for the folks who live in snow-prone regions of the country. Instead of keeping your Challenger in the garage throughout the winter, you will be able to remain on the road.
3. Retro Styling Strikes a Pose
Retro styling helps separate the new Challenger from its key competitors. While even the base model will get some attention from onlookers, the high-performance trims have an especially aggressive appearance. Featuring a special set of wheels and a unique body kit, the Challenger T/A is bound to become a future collector's item.
4. Exciting New WideBody Trim
A lot of people will appreciate the new Challenger Widebody Hellcat. Like the regular Hellcat version, it comes strapped with a supercharged V-8 engine. However, it is engineered to deliver much improved handling. The car's wider tires enable it to carve corners with more precision. This package certainly makes the Hellcat Challenger more fun to drive on twisty roads.
5. A Slew of Powerful V-8 engines
Some drivers will desire more performance than the base V6 engine can deliver. Fortunately, Dodge gives you several V-8 engines to choose from. While the 5.7L version offers the best fuel economy, the larger 6.2L variant pushes out a thrilling 485 horsepower. Meanwhile, the supercharged Hellcat engine develops a monstrous 707 horsepower and 650 pound-feet of torque.
6. Ultra High-Performance Challenger Demon
For the drivers who seek the ultimate performance, Dodge offers the all-new Challenger Demon. It is among the most powerful cars in automotive history. Its engine pushes out a crushing 808 horsepower and 717 pound-feet of torque. When tested at the track, the Challenger Demon recorded a blistering 0-60 time of 2.3 seconds.
7. More Spacious Than the Average Sports Coupe
In contrast to a tiny sports coupe, the 2018 Dodge Challenger actually provides an impressive amount of passenger room. A relatively spacious backseat enables drivers to accommodate up to four people. There is also plenty of room in the Challenger's gigantic trunk. The extra luggage space will come in handy when traveling out of town.
8. Very Smooth, Comfortable Ride
The 2018 Dodge Challenger is perfect for cruising along the interstate and daily commuting. Its ride quality is exceptional. Even when equipped with a sports-tuned suspension, the Challenger still does a great job of absorbing rough patches of pavement. Well-designed seats also help you to remain comfortable for extended periods of time.
9. Impressive List of Modern Features
Although the 2018 Dodge Challenger has the appearance of an old-school muscle car, it offers a lot of modern features. Its available Uconnect infotainment system has received rave reviews from the automotive community. Some of the other upgrades include an Alpine premium sound system, a backup camera, and heated/ventilated seats.
10. True Muscle Car Experience
In terms of overall driving excitement, the 2018 Dodge Challenger ranks near the top of the class. Its retro styling and powerful exhaust note give you the experience of driving a true muscle car. You will feel in complete command of the road ahead.
Buying Tip:
To avoid overpaying on a new car, shop prices online first. Get up front pricing before you walk into a dealership. We recommend the following free services;
Car Clearance Deals,
NADAguides,
CarsDirect & &
MotorTrend.
These free services will offer you
the lowest prices
and supply you with multiple competing price quotes. You will know the best price before you visit the dealer.
Reasons Not to Buy a 2018 Dodge Challenger – The Cons
1. Heavy Car
With a curb weight surpassing 4,000 pounds, the 2018 Dodge Challenger is certainly not a light automobile. It is also noticeably larger than the typical sports car. Although the Challenger inspires a great deal of confidence on the road, its rivals handle a bit better. The Challenger will be at a clear disadvantage on a race course.
2. Some Models Are Thirsty for Fuel
The V8-powered Challenger R/T can return up to 25 mpg on the highway, which is not bad for a powerful muscle car. On the other hand, stop-and-go traffic will cause the Challenger's fuel economy to dip. The mighty Hellcat model is rated to return only 13 mpg in the city.
3. Poor Rearward Visibility
The design of the Challenger's rear window makes it hard for drivers to see. This could pose a problem when parking in congested areas. The available backup camera will prove to be a major asset.
How it Stacks Up to the Competition:
To no surprise, the Dodge Challenger's rivals remain the Ford Mustang and the Chevrolet Camaro. From a performance standpoint, the Challenger's powerful engine lineup enables it to stand toe-to-toe with these modern muscle cars. Most drivers will also find the 2018 Dodge Challenger to be the most comfortable daily-driver. An available all-wheel-drive model gives the Challenger yet another key advantage.
Conclusion:
While the competition is extremely stiff, the 2018 Dodge Challenger could easily claim the title of being America's best muscle car. Not only is the Challenger remarkably entertaining to drive, but it also boasts a five-star safety rating. A relaxing cabin makes the 2018 Dodge Challenger an especially rewarding choice.
Save Money on a 2018 Dodge Challenger:
Find New Car Clearance Prices - Many Vehicles are Selling Below Dealer Invoice Prices.
Every dealer offers a secret price. Many prices are below invoice.
Find yours here
.