Compare Trim Levels • Configurations
2020 Ford Transit Trim Levels with Comparisons & Configurations.
What do you get with each? Find out below..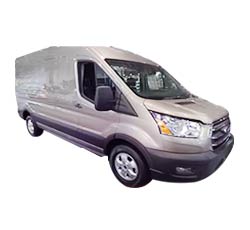 Buying Tip:
Before you walk into a dealership, price shop Online first. Avoid overpaying by using the following pricing services:
With these services you can:
• Force dealers to compete for your business.
• Start your own online price war.
• Many prices are not advertised online.
• It's Free and No Obligation.

Visit
Car Clearance Deals
,
CarsDirect
&
MotorTrend.
Ford is known for producing some superbly heavy duty work vans, and the 2020 Ford Transit is no exception to this rule. This model year, automatic headlights and a rear view camera have been added as standard equipment, showing just how committed Ford is to making work vans feel comfortable and safe. Automatic emergency braking and forward collision warning are standard now as well, which makes buying the Transit even more appealing.
What is even better is how compact the van is without feeling cramped. The passenger version feels spacious enough for everybody, and the cargo van definitely has enough room to store and haul your work-related cargo. You can stick with the regular gas-powered version of each or go for the diesel option and save a bit more on fuel.
But which configuration is the right one for your fleet? Is one trim level better than all of the rest? Which one makes for the best overall deal? Read through the rest of this comparison review. At the end, we will determine which 2020 Ford Transit configuration is the best overall choice and why that is the case.
Compare the 2020 Ford Transit Cargo Van vs Transit Crew Van. What is the difference?
The 2020 Ford Transit offers both a cargo and crew van, aside from its passenger vans. The cargo van and crew van are both powered by the standard 3.5-L PFDi V6 engine with a single 70 amp-hr battery. Both can be optionally equipped with a 3.5-L EcoBoost V6 engine, and a 10-speed automatic transmission comes standard on either one. Both vans ride atop standard 16-inch wheels with black hubcaps. There is an option to upgrade to 16-inch aluminum wheels, 16-inch forged aluminum wheels, 16-inch heavy-duty forged aluminum wheels, or 16-inch silver steel wheels. On both vehicles, handling features include electric power assisted steering, a tilt-and-telescopic steering wheel, a manual parking brake, hill start assist, and side wind stabilization. Options include a trailer braking controller, a heavy-duty front axle, enhanced active park assist, and all-wheel drive. 130-inch and 148-inch wheelbase options are available as well.
On the outside, these two vans are pretty similar, but there are a few differences, including varying options. The Transit cargo van has a three-bar grille with a carbon black surround, automatic high beam headlights, roof marker lamps, a rear tow hook, and a low roof. Medium and high roofs are available, as are front fog lights, long-arm mirrors with power adjustment/heating/integrated turn signals, autolamp (which has wiper-activated halogen headlights), front black wheel well liners, and a 60/40 hinged passenger side door.
The interiors are fairly similar as well, with a few notable differences. The cargo van has standard air conditioning, a medium center console, post-collision braking, pre-collision assist with automatic emergency braking, vinyl floor covering in the front, heavy-duty flooring in the cargo area, a locking glove box, and A-pillar assist handles. Also, you get a 12-volt power outlet up front, automatic rain-sensing windshield wipers, the Ford telematics system, and cargo tie-down hooks. Forward collision warning and lane keep assist are included as well, making the vehicle seem all the safer to drive.
Optional safety features include a rear view display in the rear view mirror, a front and rear split-view camera, and a reverse sensing system. There are B-pillar assist handles available for the passenger's side, as well as options for an overhead shelf up front, a 12-volt power outlet in the rear of the vehicle, a vehicle maintenance monitor on the instrumentation panel, and a blind spot monitoring system, which will come in handy given that this is a big work van with some blind spots.
The Transit's crew van does have a few differences inside of it. Standard features that it gains include an inside rear view mirror, vinyl floor covering for the front and rear, and, of course, seating for five passengers. It does share the cargo van's Audio Pack #18, which consists of an AM/FM radio, Bluetooth connectivity, two USB ports, and a 4-inch multi-functional display. You can upgrade to options that include the SYNC 3 infotainment system, which is one of the best of its kind on the market today.
Both vans have front seats that manually recline and have an adjustable head rest. They are bucket seats done in a dark gray vinyl upholstery. Of course, you can upgrade to some comfier cloth or leather seats.
There are some other safety features on these vans that are worth mentioning. Both have a passive anti-theft system that includes an engine immobilizer. Also, they have trailer hitch assist on the rear view camera, which is indeed quite helpful if you plan on hooking up and towing a trailer. A SOS post-crash alert system, tire pressure monitoring system, and crash unlocking for the doors are also standard.
Compare the 2020 Ford Transit Crew Van vs Transit Passenger Van XL. What is the difference?
If you need to be able to seat a lot of people, you might want to check out the Transit Passenger Van XL. This van can seat up to 15 people. On the outside, you will not notice a ton of differences. There are no standard running boards on it, but they can be tacked on for an extra price. The all-around windows are probably the most obvious difference between the two configurations, but an egress window is available as an option.
On the interior, you will find things to be a lot different, naturally. The Passenger Van XL gets a cloth headliner, a standard rear seat 12-volt power outlet, and 5-amp USB ports. There are a number of different seating configurations available, so how big you go depends on how many people you will need to fit in there all at once. Seating configurations come as 5-passenger seating, 10-passenger seating, 12-passenger seating, 14-passenger seating, and 15-passenger seating. The two latter configurations have options for different seating arrangements that will depend on which van length you go for.
Aside from those core variances, you will not find that the crew and passenger vans are that dissimilar. All of the helpful driver aids, infotainment features, and design elements carry over, and that is not a bad thing.
Compare the 2020 Ford Transit Passenger Van XL vs Transit Passenger Van XLT Trim Levels. What is the difference?
If you need a bigger version of the passenger van, then you might need to consider getting the 2020 Transit Passenger Van XLT. This van is outfitted with upgraded 16-inch steel wheels with full silver wheel covers, for starters. The front bumper is done in the body color and has fog lights that come built into it. Also, the three-bar grille gets a shiny chrome surround instead of the black. The autolamp setup is standard on this configuration, so you will get those wiped-activated halogen headlights. The short-arm side mirrors come with heating, are power-folding, and have integrated turn indicators.
The interiors are somewhat different too. The XLT has a large console, whereas the XL has the medium console. Also, adaptive cruise control (which is optional on the XL) becomes standard issue on the XLT. Blind spot monitoring is standard as well. Also, the floor coverings become carpeted instead of vinyl, but you can still opt for the vinyl if you prefer it. Additionally, the sun visors gain illuminated vanity mirrors.
The SYNC3 comes along on the XLT, whereas it is only part of the optional packages on the XL. However, the other audio packages that are optional on the XL remain so on the XLT, so you can swap one of those in if you so desire. The XLT's rear seats are reclining, and they have inboard armrests. Also, if you decide you want a serious upgrade, you can get a driver's seat and front passenger's seat that are both 10-way power adjustable. Not too shabby, eh? Upholstery choices include dark palazzao gray cloth and ebony leather.
The XLT does give you package options. You can choose the Exterior Upgrade Package - DRW or the Exterior Upgrade Package - SRW. Other than that, though, there are no packages available on the XLT that you cannot also get on the XL. They are all pretty straightforward, and the only real 'must-have' is the Tow/Haul Mode with trailer wiring, which is only a 'must-have' for those who plan on doing any type of towing. The optional heavy-duty trailer tow package is really best left for anyone planning on hauling a ton of extra weight behind the van.
2020 Ford Transit: Which Trim to Choose?
Here is where we get down to the nitty-gritty of this review. It is time to choose which van we think is the best variant of the 2020 Ford Transit. But let us first start out by saying that the Ford Transit really is an exceptional choice in this segment. It gives you a lot of options for how you want your van to look and function. And isn't life the best when you get to have a series of good things to choose from?
Having all-wheel drive available is especially nice, especially for those of us who live in climates where the weather can get nasty at the drop of a dime. The new 3.5-L V6 engine is a nice choice, and anyone who has driven a Ford F-150 with a 3.5-L V6 in it will find it to be quite similar to that engine. Still, a lot of people are bound to like the 2.0-L turbocharged diesel engine, which is also new for the 2020 model year.
So, which configuration is the best one for you? It really does depend on your needs. If you are planning on hauling a heavy amount of cargo and need the maximum space for it, go for the cargo van. The crew van works if you need seating for more than two people, but that does mean you do not get as much space in the rear for cargo. The crew van is a staple of a lot of fleets as it is, and the 2020 model offers a lot of excellent features.
If it is people you need to haul, the Passenger Van XLT truly is the stand-out vehicle here. It has all of the creature comforts that you could possibly ask for and even makes a full-size van feel somewhat luxurious. Of course, this does mean that you will have to spend more to get more, but the additional cost is not going to be completely unbearable for some buyers. It just depends on how much you are able to justify.
The 2020 Ford Transit is leading the pack, to be sure, and it is an all-around good addition to a fleet.
Did you find this article useful?
Please rate this page. Select a star rating from 1 to 5 below:


Save Money on a 2020 Ford Transit:
Find New Car Clearance Prices - Many Vehicles are Selling Below Dealer Invoice Prices.
Every dealer offers a secret price. Many prices are below invoice.
Find yours here
.