Reasons to Buy • Pros vs. Cons
2020 Ford Transit
Should you buy? Find out below..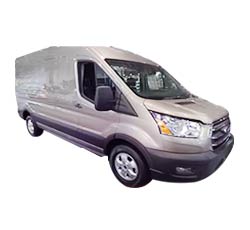 Buying Tip:
Before you walk into a dealership, price shop Online first. Avoid overpaying by using the following pricing services:
With these services you can:
• Force dealers to compete for your business.
• Start your own online price war.
• Many prices are not advertised online.
• It's Free and No Obligation.

Visit
Car Clearance Deals
,
CarsDirect
&
MotorTrend.
You've probably seen a lot of older Ford Transit models on the road, and there is a good reason for that. They make for capable work vans. Companies have been adding them to their fleets for a while now. Over the years, Ford has updated the Transit to make it totally contemporary and comfortable to drive. The 2020 Ford Transit has a lot of good things going for it, but its towing capacity might be a bit smaller than what some drivers are looking for. Still, it is worth checking into if you need to update your fleet or add a new vehicle.
What's New for 2020?
The 2020 Ford Transit is pretty much the same as the 2019 line-up. The 2019 Transit did get some features swapped around and better hinges on the longer wheelbase that allowed the cargo doors to open up wider. The one thing that is truly different this year is the addition of a crew van that can carry up to five people. Some vents and grab handles are also new.
Top 10 Reasons to Buy a 2020 Ford Transit – The Pros
1. Numerous Configurations
The best thing about the 2020 Ford Transit line-up is that there are a number of different configurations to choose from. The new crew van is a great addition since some companies need to send out multiple people in one vehicle. This makes doing so a lot more convenient. No matter which configuration you opt for, you get a ton of standard features, such as a tilt and telescoping steering column and Bluetooth wireless connectivity.
2. Powerful Engine Options
There are several engine configurations to choose from. The base engine is a 3.5-L V6 engine that generates 275 hp and 262 lb-ft of torque. You can upgrade to a turbo version of this engine, which nets you 310 hp and 410 lb-ft of torque. If you prefer diesel, there is a 2.0-L turbo diesel engine. A 10-speed automatic transmission accompanies all of these engine choices. All-wheel drive is available, but rear-wheel drive is standard.
3. Precision Steering
If precision steering is something you are looking for in a work van, the 2020 Ford Transit has some of the most precise steering you will find. It steers with ease and does not have that truck feel to it that other work vans possess. Instead, it feels more like a smaller vehicle. The Transit also has excellent handling capabilities that make rounding through turns feel smooth and produces little in the way of body roll.
4. A Ton of Creature Comforts
Features abound inside of the Transit. As was already mentioned, you get Bluetooth, a 4-inch multi-informational display, an optional 8-inch touchscreen display for the Sync 3 infotainment system, and standard 4G LTE WiFi hot spot connectivity to help you meet your work-related needs. Even the 4-speaker sound system has a nice quality to it so that you can enjoy your favorite music while you are on the go.
5. A Quiet Ride Quality
Work vans can get noisy, but not the 2020 Ford Transit. Its cabin is well-insulated from most noise, and the ride quality itself feels nice and smooth. Of course, it is not quite as soft as a minivan, but the quality feels cozy nonetheless. The suspension and wheels do well at absorbing bumps in the road and keeping them from disturbing the Transit's occupants.
6. Easy to Get In and Out
Getting in and out of work vans is not always easy, and, in some vans, it becomes a downright chore. The Transit has a low step-in height, which makes getting into the van a cinch. You won't have to hoist yourself up and in. The grab handles help with getting around, and the roof is high enough to allow most adults to walk through the cargo area. Even taller adults should find it easy enough to pass through. Unloading and loading cargo is also pretty simple due to the load height being just right.
7. Excellent Visibility
Get behind the wheel of the 2020 Ford Transit and be amazed at how well you can see out the front windshield. The roof pillars are slender enough, and the glass is wide. Even seeing out of the side windows is easy. Just quickly adjust the side mirrors, check the rearview camera, and you are good to go.
8. A Massive Amount of Cargo Space
The Ford Transit is a class leader when it comes to cargo space. When you get the right configuration, the cargo area maxes out at a whopping 487.3 cubic feet of cargo space. This is 20 cubes more than what you will get in the Ram ProMaster, and it beats the GM work vans by 200 cubes. Not a bad showing indeed. You will have plenty of storage space for your equipment with enough space left for extra cargo items.
9. A Standard Rearview Camera
Technology is a huge bonus on the 2020 Ford Transit, and the best part about all of it is the standardization of a rearview camera. Work vans are downright impossible to see out of the rear with the naked eye. That is just how they are built. The rearview camera gives you a much better idea of what is going on behind your van and can be incredibly helpful when trying to get in or out of a tight parking spot.
10. The Sync 3 Infotainment System
The Sync 3 infotainment system is hailed as being one of the best on the market, and it has been for a few years. It is easy to use as all of the controls located on the touchscreen's interface are clearly labeled and intuitively arranged. There aren't too many notorious glitches to speak of. Also, smartphone app integration via Apple CarPlay and Android Auto make using your favorite apps simple.
Buying Tip:
To avoid overpaying on a new car, shop prices online first. Get up front pricing before you walk into a dealership. We recommend the following free services;
Car Clearance Deals,
CarsDirect &
MotorTrend.
These free services will offer you
the lowest prices
and supply you with multiple competing price quotes. You will know the best price before you visit the dealer.
Reasons Not to Buy a 2020 Ford Transit – The Cons
1. Smaller Towing and Payload Capacities
The 2020 Ford Transit does not have the huge towing capacity of some of its competitors. It can tow up to 7,500 pounds. Its payload capacity maxes out at 4,530 pounds. Competitors tend to offer quite a bit more than this, so if you need a strong hauler, this might not be the right vehicle for you. Some of the older-style cargo vans might be better suited for those needs.
2. A Higher Price Tag
Being a Ford, the Transit is a bit higher priced than some of its competitors. You could be paying anywhere from $32,000 on up through the $40,000 range. Other manufacturers do price their line-ups lower than this and still offer many of the same features. The price you pay will highly depend upon which configuration you decide to buy. Expect the crew vans to be pricier than the cargo variants.
3. The Warranty Coverage Isn't That Generous
The warranty you get on the 2020 Ford Transit is not awful, but it could certainly be a lot better. And some competitors offer longer warranties. What Ford offers is this: a 3-year/36,000-mile limited warranty, a 5-year/60,000-mile powertrain warranty, and absolutely no complimentary scheduled maintenance, which is something other auto manufacturers add to their work van fleets. For the price you pay, you should be getting better warranties.
4. The Passenger-side Frontal Barrier Crash Rating
For the most part, the van has good safety ratings from the National Highway Transportation Safety Administration (NHTSA). However, the Passenger aspect of the Frontal Barrier Crash test was rated at just 3/5 stars. This indicates that there is some sort of weakness in the way the passenger's side of the body is designed and how it withstands a frontal impact. This does not make the Transit an unsafe vehicle, but it is something to consider while moving forward with your purchasing decision.
How it stacks up to the competition:
2020 Ford Transit vs. 2020 Mercedes-Benz Sprinter Worker
The 2020 Ford Transit sees stiff competition from the 2020 Mercedes-Benz Sprinter Worker van. They run around the same price, but the Sprinter Worker van has an immense cabin that can be walked through with no problem. However, it lacks a lot of the same standard features as the Transit. Also, its turbodiesel option is not as good at giving an initial thrust of power as the Transit's diesel option. Still, the Sprinter Worker van's turbodiesel engine is very fuel efficient. Also, this van is surprisingly easy to maneuver despite its gargantuan size.
2020 Ford Transit vs. 2020 Nissan NV Cargo Van
The 2020 Nissan NV Cargo Van is another strong competitor this model year. It offers powerful V6 and V8 engine options, but there are no diesel engine options available. The interior of the NV Cargo Van looks nice enough, and the seats are well-padded so that long journeys are packed with comfort. While the configurations list is substantially smaller than what you get to choose from on the Transit, the selection process is simple because of this.
Conclusion
The 2020 Ford Transit presents a line-up with a lot of options. You can pick from whichever configuration best suits your needs, and you will get a ton of standard features even if you go for the base trim. Just bear in mind that you will be paying more than you would for some of the Transit's competitors and that the warranties offered are pretty bare-bones.
Did you find this article useful?
Please rate this page. Select a star rating from 1 to 5 below:


Save Money on a 2020 Ford Transit:
Find New Car Clearance Prices - Many Vehicles are Selling Below Dealer Invoice Prices.
Every dealer offers a secret price. Many prices are below invoice.
Find yours here
.