2022 Ford Expedition Pros Vs Cons. Should You Buy?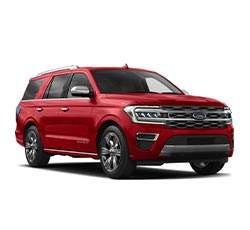 Available with two or three rows of seats, the 2022 Ford Expedition offers lots of premium options for American families. In addition to having upscale interior features, this full-size SUV offers a handful of hardware for off-road driving. The latest Ford Co-Pilot360 technologies also give the driver tremendous confidence for handling this large vehicle in the city.
What's New for 2022?
The 2022 Ford Expedition now comes standard with a 12-inch touch screen and the SYNC 4 software. Making a stellar debut, the SYNC 4A infotainment center includes a whopping 15.5-inch monitor. Engineered for the Timberline trim, the Trail Control delivers a new level of off-road prowess to the lineup. Additionally, the Ford BlueCruise technology provides exclusive access to hands-free driving on some approved highways in the USA.
Top 10 Reasons to Buy a 2022 Ford Expedition – The Pros
1. Powerful Engine
The 2022 Expedition comes standard with a 3.5-liter engine block from the proprietary EcoBoost family. When installed on the entry-level trims, this V-6 powertrain delivers up to 380 horsepower and 470 pound-feet of torque. High-level models tap into 400 hp and 480 lb-ft of torque from this six-cylinder powerplant. Engineered for heavy-duty deployment, the high-output powertrain whips out a maximum of 440 hp and 510 lb-ft. Every engine on the lineup exploits the Twin independent Variable Camshaft Timing and Gasoline Direct Injection technologies for powerful output.
2. Superb Towing Capabilities
When equipped with a 4x2 drive system, the 2022 Expedition can tow up to 9,300 pounds per SAE J2807 tests. Such a stunning specification is only available with the optional Heavy-Duty Trailering Towing Package and an axle ratio of 3.31 or 3.73. When rolling on a 4x4 drive system, this three-row Ford SUV can pull a trailer that weighs up to 9,200 lb. An integrated trailer brake controller fully synchronizes the vehicle's braking system with the electronic brakes on a connected trailer. Additionally, the Trailer Sway Control corrects any misalignment between the vehicle's wheels and a trailer's wheels in real time.
3. Terrific All-Terrain Handling
The 2022 Expedition runs on a 10-speed automatic transmission system that's precisely managed by an electronic dial instead of a mechanical shifting lever. This gearbox is paired with the Intelligent 4WD System, which can operate on seven distinctive driving modes. The driver could instantly calibrate the driving mechanics through the Terrain Management System, which has settings that optimize handling on sand, mud, grass, snow and other surfaces. Featuring a locking rear axle, the Control Trac 4WD System is fine-tuned for tackling extreme driving conditions. With an extra boost from the Traction Control, this large Ford SUV gets a good grip on slippery pavement in urban areas.
4. Durable Hardware
Having a fully boxed frame, the 2022 Expedition withstands forceful impacts with stationary and moving obstacles. This tough Ford SUV rides on an independent multilink rear suspension system that also takes plenty of punishment from the ground. Potholes and speed bumps won't bother this mechanical behemoth, which is available with the Continuously Controlled Damping (CCD) Suspension System. Made of stainless steel, the single-tip exhaust system resists damage from weather-related exposure. Additionally, coil-over-shocks and stabilizer bars bolster the front suspension system.
5. Stylish Wheel Options
The 2022 Expedition rolls on standard 18-inch aluminum wheels with a machined face and Magnetic-painted pockets for contrasting appeal. Sparkle Silver and Dark Carbonized Gray finishes are available for the vehicle's 20-inch aluminum wheels. A six-spoke configuration with Gloss Black accents is also optional for the 20-inch wheels. With an upgrade to the 22-inch aluminum wheels, the driver may choose six-spoke or 12-spoke layouts. Additionally, the 22-inch wheels are available with premium black-painted accents.
6. Exterior Amenities
Activated by a swinging motion of the foot, a hands-free liftgate is available on the 2022 Expedition. When approaching the vehicle with a synced electronic key fob, the driver will receive a grand welcome from the Exterior Zone Lighting. Similarly, the power-deployable running boards come in handy for entering and exiting this full-size Ford SUV on any terrain. Available with chrome accents, the roof rails may be combined with crossbars for transporting recreational equipment and other large items. This humongous family vehicle also has LED fog lamps and LED reflector headlamps for optimal illumination of the road in any visibility and weather conditions.
7. Ample Interior Space
The 2022 Expedition boasts 172 cubic feet of total interior passenger volume. This full-size Ford SUV can accommodate 104.6 cubic feet of cargo volume behind the first-row seats. Designed for families that have highly demanding travel needs, the MAX edition has a cargo capacity of up to 121.5 cubic feet. This elongated model also has a standard cargo rating of 36 cubic feet behind the third-row seating. Additionally, the MAX edition offers 42 inches of headroom and 41.5 inches of legroom in the front row.
8. Ergonomic Seating
Wrapped in real leather, the 2022 Expedition's Multi Contour Seats deliver a high level of ergonomics. In addition to featuring ventilation and heating, these patented seats have multiple massaging settings that reduce fatigue and stress for extended drives. When equipped with the 40-20-40 seats in the second row, this full-size Ford SUV accommodates up to eight people. These premium seats include power-folding mechanisms for sliding and tipping. Similarly, the third-row seats include the PowerFold, Power Recline and Power Folding technologies for the ultimate versatility.
9. Advanced Electronic Technologies
The 2022 Expedition offers the SYNC 4A infotainment center with a touch screen that measures up to 15.5 inches diagonally. Having a fully digital design, the instrument cluster covers up to 12.4 inches. Supporting up to 10 devices at once, the FordPass Connect Wi-Fi network is entirely powered by AT&T. A 22-speaker audio system from Bang & Olufsen delivers crystal-clear acoustics for drives on noisy roads. Additionally, this large Ford SUV boasts a rear entertainment system with dual monitors, which support swipes and other touch-based input.
10. Reliable Active Safety
Built into the 2022 Expedition, the Ford Co-Pilot360 technologies continuously monitor the surroundings for any imminent threats. When a front crash seems likely, the Automatic Emergency Braking (AEB) responds accordingly. Driving on urban streets won't be a hassle because of the innovative Intersection Assist function, which senses oncoming traffic at junctions. With a helping hand from the Pro Trailer Backup Assist 2.0, the driver will carefully and accurately handle a large trailer. Featuring a split view and built-in lens washers, a 360-degree camera system creates reliable visual cues for commanding this full-size SUV in tight quarters.
Reasons Not to Buy a 2022 Ford Expedition – The Cons
1. Low Fuel Economy
As a full-size SUV, the 2022 Expedition certainly sacrifices fuel efficiency in favor of power and handling. When equipped with a rear-wheel drive (RWD) system, this three-row Ford model earns an EPA-rated combined fuel economy of up to 19 mpg. A 4x4 drive system reduces the combined fuel efficiency rating by 1 mpg. Built for off-roading, the versatile Timberline edition delivers a maximum combined rating of only 17 mpg on paved surfaces. Even when departing for a trip with a full 27.8-gallon fuel tank, families will only get an estimated driving range of 640 miles on the highway.
2. High Rollover Risk
According to the NHTSA, the 2022 Expedition has a relatively high risk of a rollover. Based on the organization's standard testing procedures, this full-size SUV earns only three out of five potential stars in the rollover category. An estimated 21% rollover risk might concern some families that frequently navigate steep terrains in remote areas. Unfortunately, models with a 4x2 drive system lack the Hill Descent Control and Hill Start Assist technologies. Therefore, drivers might be discouraged to handle such trims on hills and other inclined environments.
3. Challenging Infotainment Interface
The 2022 Expedition's 15.5-inch LCD touch screen doesn't necessarily offer an improved user experience during a drive. In fact, this huge display might confuse some beginners and other drivers who lack experience with the SYNC technology. The graphics and icons on the bottom of the tablet-style display may not be clearly visible from the driver's seat. Therefore, this huge touch screen actually creates some distractions for high-speed driving on unfamiliar roads.
How It Stacks Up to the Competition:
2022 Ford Expedition vs 2022 Chevrolet Tahoe
As a full-size SUV that's manufactured by an American company, the 2022 Chevrolet Tahoe creates a healthy rivalry against the 2022 Ford Expedition. Rated at just 420 horsepower, the 6.2-L EcoTec3 engine is the most powerful installation that's available for the Chevy model. The Expedition's high-output powertrain beats such a rating by up to 20 total hp. Measuring just 10.2 inches wide, the Tahoe's HD infotainment system is no match for the Ford 15.5-inch LCD monitor. Additionally, the FordPass Connect portal offers better connectivity than the myChevrolet app.
2022 Ford Expedition vs 2022 Nissan Armada
Engineered by a reputable Japanese firm, the 2022 Nissan Armada seriously challenges the 2022 Expedition in multiple categories. Rated at 400 net hp, the Armada's standard 5.6-L, V-8 engine precisely matches the output of the Ford model's upgraded 3.5-L, V-6 powertrain. However, this full-size Nissan SUV can't tow a trailer that's loaded with more than 8,500 pounds. The Ford trim beats the trailering capacity by up to 800 total lb. Additionally, the Nissan edition lacks any technologies that resemble the Pro Trailer Backup Assist and Blind Spot Information System with Trailer Coverage.
2022 Ford Expedition vs 2022 Dodge Durango
Available with 5.7-L and 6.4-L V-8 engines, the 2022 Dodge Durango has a maximum towing capacity of 8,700 lb. In terms of raw horsepower and torque, both HEMI engines can't match the ratings of the 2022 Ford Expedition's V-6 powerplant. Having seven standard seats, the Dodge model simply doesn't offer as much interior space and versatility for families. In fact, the Durango can't haul more than 85.1 cubic feet of cargo volume. In clear contrast, the Expedition MAX can transport 121.5 cubic feet of cargo. Additionally, this enormous Ford SUV has a much larger fuel tank than the Dodge trim.
Conclusion
The 2022 Ford Expedition delivers a stunning mix of on-road safety and off-road skills. This versatile SUV is also available in the extended MAX configuration for hauling extra cargo. A 15.5-inch touch screen is another best-in-class technology inside the spacious cabin.