2022 Ford Explorer vs Toyota 4Runner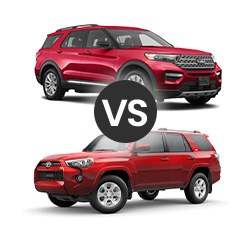 Midsize SUVs ranks among today's most sought-after family vehicles. Only a few models in the class are more popular than the 2022 Ford Explorer. Many people like the Explorer's versatile design. Not only does the Explorer prove to be a great family hauler, but it also has the ability to deliver a stimulating performance. With the arrival of a rugged new Timberline trim, the Explorer now appeals to an even broader range of drivers.
Another great option is the 2022 Toyota 4Runner. Although this SUV hasn't been redesigned in more than a decade, it still brings some standout qualities to the table. Adventurous families especially love the 4Runner's excellent off-road capabilities. Superior long-term reliability also helps make the 4Runner a fulfilling choice.
Although the Explorer and the 4Runner may compete in the same segment, there are a number of key differences that set them apart. In this head-to-head comparison, we'll find out which one of these iconic models is the better pick.
The Powertrain
Ford offers the latest Explorer with three powertrain options. The majority of buyers stick with the Explorer's standard turbo four-cylinder engine. It pushes out a more than sufficient 300 horsepower and 310 lb-ft of torque. Drivers can expect a 0-60 mph time of around 6.9 seconds.
Drivers who crave the strongest acceleration can step up to the Explorer's twin-turbo V6 engine, which generates up to 400 hp and 415 lb-ft of torque. The 4Runner can't come close to matching the Explorer ST's 0-60 mph time of 5.6 seconds.
Unlike the 2022 Toyota 4Runner, the 2022 Ford Explorer gives buyers access to a hybrid engine. It's rated to pump out a combined 318 hp. Although the hybrid-powered Explorer isn't quite as quick, most drivers will have no issues with its estimated 0-60 mph time of 7.6 seconds.
A 10-speed automatic transmission shifts the Explorer into gear. While this modern transmission aids performance, it does have some drawbacks. Some test drivers have found this transmission to be a bit too indecisive at city speeds, thus making the Explorer less satisfying to drive in traffic.
All versions of the 4Runner deliver the same level of performance. Toyota equips the SUV with a proven V6 engine, which generates 278 hp. Although the 4Runner's six-speed automatic transmission may be a tad old, its durability and precise shifting will impress a lot of people. Automotive reviewers rave about the overall smoothness of the SUV's powertrain.
When accelerating hard, the 4Runner takes around 7.5 seconds to reach 60 mph. Although there are clearly quicker models in the class, this SUV feels strong during real-world driving situations. Because of the 4Runner's good amount of low-end power, it's able to climb hills with ease.
When it comes to towing, the Explorer edges out the 4Runner. A properly equipped Explorer can pull up to a 5,600-pound load. By comparison, Toyota lists the 4Runner with a 5,000-pound maximum towing capacity.
To no surprise, the Explorer's more modern powertrain options enable it to offer better fuel efficiency. According to the EPA's estimates, Explorer trims equipped with a turbo four-cylinder engine can return up to 21 mpg town/28 mpg freeway. Selecting the available hybrid powertrain raises the SUV's fuel economy rating to 27 mpg town/28 mpg freeway. On the other hand, efficiency drops to 18 mpg town/26 mpg freeway with the twin-turbo V6 engine.
The 4Runner ranks near the bottom of the pack in fuel economy. It has a rating of around 16 mpg town/19 mpg freeway. Fortunately, premium gasoline is not needed. Both of these vehicles consume more gas when equipped with a 4WD system.
Few SUVs in the class are as rugged as the 4Runner. A body-of-frame design gives it a leg up on the Explorer. Featuring a locking rear differential for maximum traction and high-strength skid plates, the 4Runner TRD Off-Road comes ready to tackle challenging trails. Meanwhile, a special front skid plate and high-performance shocks transform the 4Runner's TRD trim into an even more skilled off-road machine.
While the Explorer isn't quite as tough as the 4Runner, it can take you on a rural expedition. Ford has recently added a new Timberline trim to the Explorer's lineup. A few of its adventurous upgrades include undercarriage protection, a raised suspension with trail-tuned shocks, and a limited-slip rear differential.
The 4Runner's brakes perform okay. Unfortunately, this SUV does tend to experience some nosedive when braking hard. Road tests show the 4Runner takes around 127 feet to come to a complete stop from 60 mph.
Expect the Explorer to stop quicker during emergencies. The standard version of the SUV posted a 0-60 mph stopping distance of 121 feet. However, bigger brakes enabled the racier Explorer ST to record a stopping distance of 114 feet.
From a standpoint of long-term reliability, it's hard to defeat the Toyota 4Runner. This well-built SUV typically has no trouble surpassing the 200,000-mile mark. Toyota 4Runner owners typically don't spend a lot of time at the repair shop. While the Ford Explorer is relatively dependable, it's certainly not as bulletproof as the 4Runner.
These SUVs come with a similar warranty, which provides 60,000 miles of powertrain coverage and 36,000 miles of bumper-to-bumper protection. However, Toyota goes a step further by providing two years of no-cost roadside assistance.
Drivability
Although it may have a truck-based chassis, the 2022 Toyota 4Runner still drives well. It feels quite surefooted when encountering curves. Drivers who desire tighter handling on the street should choose the 4Runner's TRD Sport trim, which is fitted with a sport suspension.
The 2022 Ford Explorer is easily the most agile of these two SUVs. It inspires more confidence on winding roads. A performance-calibrated steering system and a stiffer suspension make the Explorer ST especially entertaining to drive.
Despite its more rugged design, the 4Runner has a pleasing ride quality. Large tires help it to absorb harsh impacts. The Explorer also offers a smooth ride. However, its sports-tuned ST trim does force buyers to sacrifice some comfort. Passengers will feel more bumps when traveling over road imperfections. While the Explorer's optional 21-inch alloy wheels may look cool, they don't absorb vibrations quite as well.
Most test drivers will find the Explorer's cabin to be a quiet place. A dual-wall dashboard helps to quell outside noise. Because of the rugged Explorer Timberline's knobbier tires, more road noise is produced. While the 4Runner's interior remains hushed most of the time, this SUV's boxier shape creates more resistance at highway speeds. This tends to stir up more wind noise. On the bright side, the 4Runner's heavy-duty construction actually helps keep road noise at bay.
The Explorer's roomy cabin allows families to comfortably spread out. Passengers will find the Explorer's front and second-row seating areas to be especially accommodating. While the Explorer's second row provides 39 inches of legroom, there's around 33 inches of legroom in the 4Runner's second row. Taller drivers may also find the Explorer to be a bit more satisfying.
When equipped with an optional third-row seat, the 4Runner can match the Explorer's seven-passenger capacity. However, families who desire more relaxation on the road should steer clear of the 4Runner's available third row. It significantly limits the SUV's overall legroom.
Like the Explorer, the 4Runner can be upgraded with heated and ventilated front seats. However, only the Explorer offers the comfort of heated second-row seats. Although the Explorer's available Active Motion seats seem appealing on paper, they can feel a bit lumpy and uncomfortable when the massage settings are turned off.
Few drivers will have trouble using the 4Runner's infotainment system. Toyota's Entune infotainment gets top marks for its user-friendly design. However, don't expect the 8.0-inch touchscreen's graphics to be as sharp.
Ford's SYNC 3 multimedia system is more modern. Many drivers will enjoy the unit's pinch-to-zoom functionality, which makes it similar to a smartphone. While some buyers will be tempted by the Explorer's available 10.1-inch touchscreen, it's actually more cumbersome to use than the SUV's standard 8.0-inch touchscreen.
Both of these SUVs have a flexible storage area. With its third-row seat folded down, the Explorer can provide nearly 48 cubic feet of storage space. By comparison, there's 46.3 cubic feet of cargo space behind the 4Runner's second row. Keep in mind that only the 4Runner offers a powered back window, which enables drivers to load certain items without needed to raise the liftgate.
Squared-off windows enhance the 4Runner's outward visibility. While the 4Runner's line of sight is quite good from the sides and rear, some taller drivers have criticized the SUV for having a low roofline in the front. According to them, visibility out of the vehicle's windshield is not as great when maintaining an upright sitting position.
The Explorer has its own visibility issues. This SUV's short side-window glass and a narrow rear window create some blind spots. A good number of reviewers have also complained about the Explorer's thick roof pillars, which can block the driver's view when making turns.
Safety
When comparing the 2022 Ford Explorer and the 2022 Toyota 4Runner, car shoppers will notice that the Explorer has better crash scores. While the NHTSA gives the Explorer a five-star overall safety rating, the 4Runner only managed to snag a four-star overall rating. Not only does the 4Runner have a less favorable rollover rating, but it's frontal crash protection isn't as impressive.
Both of these vehicles come equipped with automatic emergency braking, pedestrian detection, and adaptive cruise control. However, only Explorer's standard lane departure system provides steering assistance. Standard blind-spot monitoring gives the Explorer another leg up on the 4Runner.
A surround-view camera system is offered on both SUVs. However, an automated parallel and perpendicular parking system is exclusively available on the Explorer. This feature will further reduce stress in congested areas. Designed to help motorists avoid frontal impacts with other vehicles, Evasive Steering Assist is another feature only offered on the Explorer. The 4Runner also does not offer reverse automatic braking or lane-centering technology.
Which Has the Best Value?
Prices for the 2022 Ford Explorer begin at roughly $33,245. On the other hand, Toyota gives the new 4Runner a starting MSRP of $37,600. The Explorer provides a similar list of standard equipment for less money, thus making it a better overall value.
Folks who desire a rugged SUV that can topple rural trails should compare the new Explorer Timberline and the 4Runner TRD Off-Road. While the Explorer Timberline has a listed MSRP of $46,245, the 4Runner TRD Off-Road demands around $41,150 before adding any optional features. Adventure-seeking families can save some cash by going with the 4Runner's TRD Off-Road trim.
Which is Better?
Drivers who desire an SUV that's more engaging to drive on the street will favor the 2022 Ford Explorer. Stronger acceleration and more athletic handling give the Explorer an added fun factor. Driving enthusiasts will have their eye on the exciting Explorer ST. While the 2022 Toyota 4Runner is arguably the top off-road performer in the class, Ford has recently countered by introducing a rugged new Timberline trim.
One of the 4Runner's biggest weaknesses is its lower fuel efficiency rating. Even the high-powered Explorer ST is more economical at the pump. While the 4Runner may lose to the Explorer in some categories, it is one of the segment's most bulletproof models. Drivers seeking long-term ownership will definitely appreciate the 4Runner's dependability.
The 2022 Ford Explorer ultimately gets the best of the 2022 Toyota 4Runner in this comparison. It has a more accommodating cabin, offers a more enjoyable performance, and saves more fuel. However, don't neglect taking the new 4Runner for a test drive. Its user-friendly interior features and extremely adventurous design may win you over.