2022 Ford Mustang Mach-E Pros vs Cons. Should You Buy?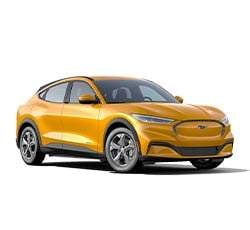 Ford's Mustang Mach-E is a beautiful car that's luxurious and fast. As an all-electric vehicle, it offers the opportunity to eliminate regular trips to the gas station. With a lot of power and athleticism, it shatters the misconception that electric vehicles aren't exciting. The 2022 Mustang Mach-E can beat a lot of electric and non-electric vehicles in any kind of race, and it can look good while doing so.
What's New for 2022?
2021 was the debut year for the Mustang Mach-E, and it was a big deal when it was first released. It has helped Ford have a very successful year, and it's a sign of what's to come from the company in the future. For 2022, the Mustang Mach-E has a few more paint color options, including Ice White and Cyber Orange, and it has slightly better range. There have also been some tweaks made to specific trims. The California 1 now comes with a heated steering wheel and heated front seats, and it has available all-wheel drive, and the GT has gotten a black-painted roof as a standard component.
Top 10 Reasons to Buy a 2022 Ford Mustang Mach-E – The Pros
1. Offers a Thrill
At a minimum, the Mustang Mach-E can make 266 horsepower and 317 pound-feet of torque. This is already plenty of power for an SUV of this size. Even a casual driver will be able to notice how fast and responsive this vehicle is, and the good news is that this is only the starting point.
There's a model that can make 346 horsepower and 428 pound-feet of torque, and there are some that can generate up to 480 horsepower and 634 pound-feet of torque. It's not everyday that people hear about SUVs with this much power. This is definitely a major selling point of the Mustang Mach-E.
2. Choose Your Mood
There are several standard drive modes that provide the opportunity to customize the experience. Whisper mode results in a calm and relaxing time, Engage mode makes the Ford feel more energetic, and Unbridled mode allows drivers to really push the limits. The GT trim has Unbridled Extend mode that's ideal for use at the race track.
One-pedal drive mode is another option. When this is engaged, taking one's foot off of the gas pedal can result in pretty quick deceleration.
3. Capable of Hitting the Trails
The Mustang Mach-E has available electric all-wheel drive. It can come with front and rear motors that can make adjustments as necessary in terms of power delivery. Overall handling is improved when all four wheels can receive power they can benefit most from it, and obviously, all-wheel drive is important to have when dealing with rough and/or slippery terrain.
4. Extensive Range
This vehicle can travel a long distance before having to stop and recharge. Its base trim can go up to 247 miles on a full charge, and the best that the other trims can do is to travel up to 314 miles before needing a charge.
These ranges are impressive and provide flexibility and freedom. Drivers don't need to be concerned about always needing to find public charging stations when they're away from home since the vehicle can last a long time. On day trips or multi-day road trips, the Ford app and the vehicle's infotainment system can help people find convenient charging locations.
5. Many Charging Options
Owning a Mustang Mach-E comes with access to the BlueOval Charge Network. This is the largest public charging network in the U.S. When using a public DC fast charging system, an 80% battery charge can be achieved in 45 minutes.
Charging at home is convenient as well. With a hardwired 240-volt Ford Connected Charge Station, which can be installed at one's residence, a full charge can be achieved in less than 11 hours. With a mobile charger and a 240-volt outlet, it would take about 15 hours. After doing the math, it becomes clear that charging can easily be taken care of overnight to get the vehicle prepared for several days or even a week of commuting in town.
Every Mustang Mach-E comes with a mobile charging cord, and this can be plugged into any regular 120-volt wall outlet. It does take several days to get a full charge using this equipment, but it can fill the gap when more powerful charging stations aren't close by.
6. A Front "Frunk"
Because it doesn't have all the traditional mechanical components that non-electric vehicles have, the Mustang Mach-E gets to have extra storage in its trunk. This front trunk, or frunk, offers a surprise to those who haven't seen it before. It's not that big, but it doesn't need to be. It has a little less than five cubic feet of space, and it has a drain hole. This means that it can double as a cooler, which is perfect for tailgating, picnicking, and other types of events.
7. Amazing Safety Features
The Mustang Mach-E seems to have a mind of its own. It has cameras and sensors in various places, allowing it to keep an eye on the road. If it detects an issue, it has the potential to hit the brakes or correct steering to help drivers avoid problematic situations. It comes standard with adaptive cruise control, lane centering, evasive steering assist, and navigation, so it can basically drive itself in certain situations.
This Ford can even help people maneuver in and out of parking spots. Active parking assist 2.0 can take over when a parking spot has been found, and it handles braking and speed. It can handle parallel parking and reverse perpendicular parking. The feature is quite safe to use, as the driver can override it at any time.
8. The Cabin Is Stunning
Ford has designed this vehicle with style in mind. It feels sophisticated and treats passengers to so much. The driver's seat can have a memory function, the front seats can be heated, and the steering wheel can be heated, too. Even the front door scuff plates have been thoughtfully designed; they can have metal inserts with a Pony Graphic and special trim lettering. Ambient lighting is available in different colors, and the seats can be covered in a perforated ActiveX material that looks elegant.
9. Technology Is Everywhere
It seems like every action in the Mustang Mach-E requires the use of technology. It has intelligent access with push-button start and a rotary gear shift dial, so even getting in the cabin and getting the vehicle going involves high-tech equipment.
Wireless charging and multiple USB ports are standard, and there's a 10.2-inch digital cluster screen behind the steering wheel. A 15.5-inch touchscreen, which is vertically oriented, is standard and features smartphone compatibility, SiriusXM, enhanced voice recognition, and integrated navigation. Even the windshield wipers are advanced, having the ability to turn themselves on and off depending on the weather.
10. An Ideal Size
The Mustang Mach-E is certainly fancy, but it's also comfortable. It can fit five passengers along with cargo. There is more than 38 inches of leg room in the back row, so adults should be fine sitting back there. The rear cargo area has a volume of about 30 cubic feet, and the rear seats can be lowered to expand cargo capacity to approximately 60 cubic feet.
Reasons Not to Buy a 2022 Ford Mustang Mach-E – The Cons
1. Higher Trims Can Get Expensive
The entry-level trim has a somewhat reasonable starting cost of around $44,000. The GT, at the top of the lineup, is priced at more than $60,000. This may be too high for the average customer, leaving the GT with a more limited number of fans. There's even an upgraded version of the GT called the GT Performance Edition. It's more fun to drive, but it's more expensive, too.
2. Cargo Area Not That Tall
Since the roofline slopes down in the back, the cargo area feels a little cramped. It isn't that small, but its angled shape may make it difficult to fit certain types of bulkier items. It's far from being cavernous.
3. Is the Screen Too Big?
Technology can be good and bad. Obviously, modern consumers have shown that they love convenient technology and want to feel connected. However, should there be a limit on the size of screens? Some may think that the 15.5-inch touchscreen is a tad too large. Even though it's vertically oriented, it seems to take up a lot of room and could be considered distracting by some.
4. No Ventilated Front Seats
Ventilated front seats are becoming more commonplace in the industry, especially in the high-end market. Unfortunately, this feature is not available in the Mustang Mach-E, though heated front seats are available.
Buying Tip:
To avoid overpaying on a new car, shop prices online first. Get up front pricing before you walk into a dealership. We recommend the following free services;
Car Clearance Deals,
NADAguides,
CarsDirect &
Motortrend.
These free services will offer you
the lowest prices
and supply you with multiple competing price quotes. You will know the best price before you visit the dealer.
How It Stacks Up to the Competition:
2022 Mustang Mach-E vs 2022 Tesla Model Y
In many ways, the Tesla Model Y and the Ford Mustang Mach-E seem similar. They both have aerodynamic shapes and strong powertrains. The two models have great range and ample interior space. A major difference is that the Model Y is much more expensive than the Mustang Mach-E. It starts out with a cost that's about the same as what the highest trim of the Mustang Mach-E costs. Budget matters to nearly every consumer, so this will be a key factor.
2022 Mustang Mach-E vs 2022 Audi e-tron
The Audi e-tron is another contender in the luxury electric-vehicle market. It's upscale in just about every way. However, it doesn't have as much range as the Mustang Mach-E has, and it doesn't have as much horsepower as the more powerful Mustang Mach-Es can offer. Plus, it has a little less cargo room than the Ford does.
Conclusion
The Mustang Mach-E is definitely a vehicle that can get noticed anywhere it goes. Once people learn about its power and all-electric range, they're sure to be impressed. This sleek and sporty vehicle would be very fun to own, and on top of having so much high-tech equipment, it's practical with how much interior space it has. Multiple trims and options give consumers the opportunity to customize their new Mustang Mach-Es.