2022 Ford Mustang Pros Vs Cons. Should You Buy?
The 2022 Ford Mustang is an amazing sports car that does everything well. It has power, handling, elegance, fun, and even budget appeal. Plus, it is one of the most storied models in the American car industry's history. You won't find a better sports car than the Mustang. It's a ton of fun to drive and has quite a few ways to customize it in order to make it fit a budget or a style.
What's New for 2022?
The 2022 version of the Ford Mustang is much the same as the 2021 edition. The differences are that the 2022 model has several new appearance packages. In terms of trims, features, and prices, it otherwise carries over from 2021.
Top 10 Reasons to Buy a 2022 Ford Mustang – The Pros
1. Engines
The Mustang has a great selection of engines, ranging from 310 horsepower up to an astounding 760. There are lots of options in between, so it is easy to find the right engine for your taste. All of them perform excellently at any speed, giving the Mustang a really fun feel no matter where and when you are driving it. It's striking that in addition to their high power output, these engines also deliver better fuel economy than any sports car below the luxury class, so it doesn't guzzle gas and add to upkeep costs like other sports cars tend to do.
2. Handling
Handling is the other major element of performance after the engines. This is another area where the Mustang really stands out. The typical handling for a sports car is heavy and slow-- ideal for straight-line speed, but not good for curves and winding roads. The Mustang has quick and responsive handling that makes it feel light to the touch. That gives it a truly sporty feel that not only is a blast to drive, but gives it a unique element in the sports car category. This is also practical, because the Mustang is better at navigating traffic or residential roads than a heavier sports car.
3. Road Feel
The performance elements of any car all come together to make a single feeling that the car gives you when you drive it. The road feel of the Mustang is exciting. It feels like there is a lot of power on tap that you can use at any moment. Moreover, the Mustang has a wonderful quality of smoothness that is hard to describe, but is immediately apparent when you take it out for a spin. It is an agile and powerful sports car that commands the road from the highway to the parking lot.
4. Interior Quality
Sports cars are expected to have a little bit of an upscale interior compared to an ordinary car, and the Ford Mustang definitely lives up to that standard. For example, starting at the second trim, the upholstery becomes synthetic leather, and it gets better from there. It is a great balance of engaging features and a refined feel in the use and quality of the materials. Getting into the Mustang for the first time is a great moment and it is sure to impress anyone who rides with you in the front seat or in the back as a passenger.
5. Value
Sports cars are not a category that is usually known for providing great value. However, the Mustang has a highly accessible starting price around $28,000. That's less than almost any luxury car and most mass market SUVs as well. There is a lot of range in price between the trims, but the Mustang has several options below $40,000. That's impressive for a sports car and means that it is not too hard to fit a higher-end engine into a standard budget. When taking into account the feature list, this means the Mustang delivers great value for the money.
6. Trim Levels
The Mustang's trim levels are mostly built around engine choices, but they also have differences to the interior quality, tech features, seating, and more. Each one can also have optional packages added to it in order to expand what it contains. The diversity of trims makes for a great array of choices. For a sports car, the more ways you can customize it, the better. The Mustang is just the right balance between including a lot on its lower trims while providing a good incentive to move up trim levels beyond just the engine. There are some luxury cars and sports cars that only differ in engine between each trim.
7. Classic Style
The Ford Mustang has been around for decades. Although it has gone through many revisions, redesigns, and upgrades, the sports car still retains an iconic style that hearkens back to classic muscle cars. Owning a new one is like owning part of history, and Ford is well aware of that legacy. They work to ensure that despite all the modern bells and whistles, the Mustang comes across like a real historic icon and that it lives up to its legendary name.
8. Infotainment
The Ford Mustang has an appealing set of infotainment features, although most of them are not standard for the base trim. They are contained within what Ford calls SYNC 3. It is inclusive and broad, with voice control, Wi-Fi, navigation, a touch screen, and other features among its standard and optional choices. Apple Car Play and Android Auto are also on the list, which means that phone connectivity is easy. Whether you opt for a basic setup or add on more packages and higher trims, you will get a fairly good deal when it comes to tech and infotainment on the Ford Mustang.
9. Storage Space
The Mustang has a large, expansive trunk, which is highly unusual for a sports car. That gives it much more practical appeal and expands its carry capacity by a lot. When it comes to carrying groceries, luggage, or sports gear, the Mustang can come in handy in a way that no other sports car can match. You can also store more things in the back row if you need the extra space, but that row is a little smaller.
10. Comfort
The interior of the Mustang is really comfortable, especially in the front row. The seating is large and soft, and so are the materials in the walls and wells. There's no point where it feels downscale or shoddy. The Mustang is indulgent to ride or to drive, which leaves a great impression. There is nothing like sinking into the seats when you take the speed up, but even for cruising around town, it feels great.
Reasons Not to Buy a 2022 Ford Mustang – The Cons
1. Rear Seats
While the front seats are roomy and comfortable and the trunk is spacious, the back row of seats are somewhat cramped and it can be hard for a taller adult to be comfortable in them, especially in longer trips. It is worth testing out this space if you are concerned that it will not be enough room for your needs.
2. No AWD
Most sports cars lack all wheel drive, so the Mustang is not unique in this respect, but the lack of all wheel drive might be a problem depending on the weather and the quality of the roads. For some areas, AWD is totally optional, but in others, it is a necessity. Going without it might be risky.
3. Limited Base Tech
The base model of the Mustang is lacking in terms of tech. You do have to go up at least one trim to get the full package, which can be a concern if you do not want to spend at the level that the second trim requires.
How It Stacks Up to the Competition:
2022 Ford Mustang vs. 2022 Chevrolet Camaro
The Camaro is another classic muscle car that still retains its old-school feel. However, the Mustang simply does it better. It has more features, more power, better interior quality, and more value. The Camaro does a bit better in handling, but unless you have an attachment to the brand, the Mustang is the right choice for most buyers in this category.
2022 Ford Mustang vs. 2022 Dodge Challenger
The Challenger, Dodge's sports car, is the only consumer sports car with better engines than the Mustang. The top end has more horsepower than the Mustang. However, its handling is not good and it does not corner well, and those top engines come at a high price as well, so that cuts into the value of the Challenger overall.
Conclusion
The Ford Mustang is the best 2022 sports car you can buy without getting into the super-luxury tier. It has the second-best power, the second-best handling, and the best feature set, plus a fun design and an amazing road-feel. There is no other option that gives you all of the best of the sports car experience in one package like the Mustang, and the price range allows for a lot of room for variations in budget.
Are you Shopping for a New Vehicle? Find the Best Deals with "Free - No Hassle" Prices Quotes.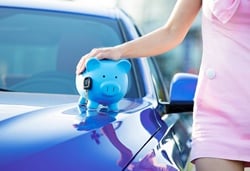 Get up to 4 local dealers to compete for your business by offering free, competitive pricing. Know before you go to the dealer.
Every dealer offers a secret price. Find yours here.