Compare Trim Levels • Configurations
2020 GMC Savana Cargo Trim Levels with Comparisons & Configurations.
What do you get with each? Find out below..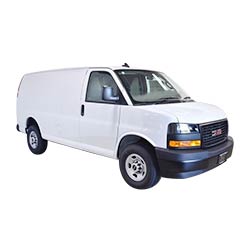 Buying Tip:
Before you walk into a dealership, price shop Online first. Avoid overpaying by using the following pricing services:
With these services you can:
• Force dealers to compete for your business.
• Start your own online price war.
• Many prices are not advertised online.
• It's Free and No Obligation.

Visit
Car Clearance Deals
,
CarsDirect
&
MotorTrend.
If anyone is in the market for a reliable cargo van, the GMC Savana Cargo van is likely to be on his or her short list. This van is practical, and it's equipped with many convenient features, making it a smart choice for anyone who has a lot of work to tackle. The van can help people handle their professional responsibilities, and since it's competitively priced, it's a smart investment.
There are two important things to consider when getting a GMC Savana Cargo van. There are both 2500 and 3500 models, with the 3500 being the more heavy-duty version. Beyond that, customers can decide whether to get a standard wheelbase or extended wheelbase. This would depend on how much interior space they need to store all of their equipment.
Regardless of what exact model is selected, the Savana Cargo van comes with four different engine choices. The first choice is a 4.3-liter V6, and it has respectable capabilities, generating 276 horsepower and 298 pound-feet of torque. It's matched to an eight-speed automatic transmission that can make the drive more smooth.
The other choices are a 6.0-liter V8, which is paired to a six-speed automatic transmission, and a 2.8-liter, four-cylinder that's actually a turbo-diesel engine. The V8 can output 341 horsepower and has 373 pound-feet of torque, and the diesel has 181 horsepower and 369 pound-feet of torque. That diesel engine is used in conjunction with an eight-speed automatic transmission, like the V6. Note that the V8 engine has two versions. The first runs on gas and ethanol, and the other is fueled by gas, propane, and compressed natural gas.
If trailering is important to potential customers, the V8 is the engine to go for. It can tow up to 10,000 pounds, while the V6 can tow up to 7,400 pounds and the diesel can haul up to 7,000 pounds. These are all impressive statistics, but the extra capacity that the V8 brings can be a significant factor for some professionals.
Compare the 2020 GMC Savana Cargo Regular Wheelbase vs Extended Wheelbase. What is the difference?
With a regular wheelbase, the Savana has an overall length of 224.05 inches, and 135.15 inches is the distance between the front and the rear wheels. On the extended wheelbase version, the total length of the vehicle is 244.05 inches. The wheelbase is 20 inches larger than that of the standard model, measuring 155.15 inches.
With this extra length, professionals can pack in a lot more into their vehicles, and they'll also have the opportunity to carry larger items like ladders and other types of tools. The total cargo area is 283.6 cubic feet in the extended wheelbase, which compares to 239.4 cubic feet in the regular wheelbase.
This greater size does affect driving in some ways. The turning diameter is a bit larger on the extended wheelbase, making it slightly trickier to drive around narrower driveways, smaller garages, and more densely populated neighborhoods. It also affects trailering and payload. Take the Savana equipped with a 4.3-liter engine, for example. The extended wheelbase has a towing capacity of 7,100 pounds and a maximum payload of 3,285 pounds, and this is a bit lower than the 7,400-pound towing capacity and 3,507-pound maximum payload in the regular wheelbase van.
Both models have seating for two, though there is the option to put in more seats to accommodate a total of five people. A manually adjustable driver's seat is standard, and a power driver's seat and power front-passenger's seat are available. Vinyl front bucket seats with high backs and arm rests are also standard. If anyone wants a slightly nicer material, cloth is available as an upgrade.
A security screen can be built into the van if drivers want to protect their belongings. It consists of metal screens that are mounted to the stationary windows, from the inside, making it much harder to break in to the vehicle.
Compare the 2020 GMC Savana Cargo 2500 Extended Wheelbase vs 3500 Regular Wheelbase. What is the difference?
In this head-to-head match-up, there's the opportunity to compare the 2500 versus the 3500 model. The 3500 Regular Wheelbase is priced slightly higher than the 2500 Extended Wheelbase, and the most obvious difference is related to length and overall cargo space.
Moving beyond the size differences, there are a few other ways in which these vehicles offer their own advantages. Towing capacity is higher on the 3500 Regular Wheelbase than the 2500 Extended Wheelbase when the same engine is found under both hoods.
Additionally, payload capacity on the 3500 Regular Wheelbase is significantly higher than on the 2500 Extended Wheelbase. When looking at the models with 4.3-liter engines, for instance, payload is 4,503 pounds on the 3500 Regular Wheelbase and 3,285 pounds on the 2500 Extended Wheelbase.
Exterior features are mostly the same across these two trims. They both run on 16-inch steel wheels that have gray center caps, and they have black side mirrors and black bumpers in the front and back. A chrome appearance package, which includes chrome center caps, bumpers, and a grille, is available.
In both trims, there are also Daytime Running Lamps, power windows and door locks, and a Solar-Ray glass that has a light tint. There are opportunities to put in deep-tinted glass in the rear windows if more privacy is desired. Both types of tint can keep the van a bit cooler by blocking some of the sun's rays, with the darker tint obviously doing a more effective job.
Only the 2500 models have the option to upgrade the van with a Communications Package. This package is pretty comprehensive, as it includes a steering wheel wrapped in leather, Bluetooth connectivity that can be used for streaming audio, controls mounted on the steering wheel, cruise control, and SiriusXM Radio.
On both the 2500 and 3500 vans, a swing-out door is included on the passenger side. Its wide opening makes it easier to get things in and out of the back. A swing-out ladder rack and removable roof rack are options.
On the inside of the van, there are many standard amenities. 12-volt and 120-volt power outlets can be convenient when it comes to charging, and a USB port can be included with the van at an additional cost. Cupholders, tie-downs in the cargo area, and a front console with some storage for small items can be greatly appreciated, as can the auto-dimming rearview mirror that can diminish the glare from other vehicles' bright lights.
The entertainment system is quite basic, as it comes with two speakers up front, an auxiliary jack that portable media devices can connect with, and an AM/FM stereo that can scan the local channels. There is the option to upgrade to have either a USB port or CD player, with the USB port allowing people to play their favorite downloaded music. SiriusXM Radio is another available feature that could greatly expand entertainment options.
In the safety department, there are many similarities and a few differences between the two trims. The two types of Savana Cargo van are capable of connecting with OnStar and GMC Connected Services, and this could come in handy if emergency services ever need to be requested. A rear vision camera is key when backing up, as the large size of the van makes it hard to see behind the vehicle. GMC has incorporated a high-tech feature with this system, as the camera feed is displayed on the inside rearview mirror. Further, Hill Start Assist is standard, and this system can keep the van, when stopped on a hill, from slipping backwards before the driver has a chance to get the vehicle moving forward.
If anyone feels that he or she needs extra assistance with backing up into parking spaces, Rear Park Assist is available. Warnings can be given to help people avoid hitting other objects behind them. Forward Collision Alert and Lane Departure Warning are two other available driver-assist systems, and they actively work to prevent the likelihood of accidents.
Two frontal airbags have been placed in the Savana Cargo van, one for the driver and one for the passenger. There are also side-impact airbags that have been mounted in the driver's and passenger's seats. Head-curtain airbags round out the collection of airbags.
Both the 3500 Regular Wheelbase and the 2500 Extended Wheelbase have a tire pressure monitoring system that will alert drivers when their pressure is low. In addition, they have StabiliTrak. This system works to stabilize the van when it seems like the vehicle is moving in a different direction than the driver wants it to. Adjustments can be made to the brakes and engine torque to keep the wheels moving in the right direction. This can be useful when driving in slippery conditions, taking tight corners, or in emergency situations when someone has to suddenly hit the brakes to avoid an obstacle on the road.
There are some packages that people can have added on to their Savana Cargo vans. The Communications Package comes with Bluetooth and SiriusXM Radio, and the Hotel Shuttle Package includes chrome accents, deep-tinted glass, and outside heated mirrors that are power-adjustable. One other package the the 2500 Extended Wheelbase can have is the Safety Package. It consist of a tilt-wheel, cruise control, a V8 engine, side mirrors that are heated and power-adjustable, rear park assist, and blind zone monitoring. This package is not an option on the 3500 models.
Compare the 2020 GMC Savana Cargo 3500 Regular Wheelbase vs 3500 Extended Wheelbase. What is the difference?
When deciding between these two models, the size increase in the extended wheelbase model is the biggest factor. Does one really need the extra room, or is what the standard model offers sufficient? The price difference is less than one thousand dollars, assuming all other components are the same, so the 3500 Extended Wheelbase is within reach of many customers.
An available package that's exclusively offered on the 3500 Extended Wheelbase is the Ambulance Package. It comes with many features, the first of which is the V8 engine. The chrome appearance package and cruise control upgrades are nice to have, and there are several more components that are found on this package, such as a heavy-duty locking rear differential, two batteries, fixed window glass in the rear door, high idle switch, and special HVAC system.
Which Trim to Choose?
It's not an easy task to choose which Savana Cargo van would be best given one's work situation. Additionally, there are so many options that can be included, giving people the chance to customize their cargo vans.
When looking at the 2500 or 3500, the 3500 comes out as the winner since it's a more sturdy vehicle. It's a good bet that anyone driving a cargo van will be putting heavy equipment in it, not to mention shelving, tools, and other supplies, and they could use that extra payload capacity.
For people who usually work in crowded urban areas, the regular wheelbase would make the most sense. It makes the van a little easier to maneuver and fit into tighter parking spaces. However, those who don't work in urban areas can take advantage of the space that the extended wheelbase models have. Having the extra room can be invaluable at times, and it can also make things more comfortable if anyone is ever doing any work in the back of the van.
Did you find this article useful?
Please rate this page. Select a star rating from 1 to 5 below:


Save Money on a 2020 GMC Savana Cargo:
Find New Car Clearance Prices - Many Vehicles are Selling Below Dealer Invoice Prices.
Every dealer offers a secret price. Many prices are below invoice.
Find yours here
.