2019 Honda Fit vs Civic
Honda has been well-known for creating high-quality vehicles for decades, which has led to an impressive line-up across both its smaller car and hatchback ranges. While this has meant that buyers typically can't go wrong regardless of which car they choose, it can often lead to many people struggling to choose between them.
 
This is especially true when it comes to the 2019 Honda Fit and Civic, both of which have a variety of attractive qualities. The Honda Civic has long been known as a well-rounded vehicle that blends performance and practicality while also providing a significant amount of value for money.
 
Since its inception, the Fit has received praise for being a versatile and spacious car that offers a significant amount of technology and other features, while also being recognized as somewhat of a leader in its field.
 
All of this is true for the 2019 editions of both vehicles, which is one of the primary reasons that many of us may have difficulty in choosing between them. There are some key differences between both the 2019 Honda Fit and Civic that buyers should be aware of before purchasing one.
 
By doing so, they'll be able to choose which of the two is best for their needs while also knowing whether there are any drawbacks to the vehicles that they should be aware of.
Size & Styling
Both the 2019 Honda Civic and Fit offer many similarities in terms of the overall design, although there are several key differences. The majority of these are because the Fit offers much more of a hatchback design, despite being much smaller than many others in the class.
 
While the Fit is only available in a hatchback style, there are a few options with the Civic, which means that buyers will have much more choice in the overall look. One of these is a 5-door hatchback design, which is where many of the stylistic similarities between the two vehicles are. Alongside this, you'll be able to choose from a coupe and sedan style.
 
While the Honda Civic's overall design has been updated for 2019, this doesn't mean that there are many noticeable differences from previous generations. The most notable of these come in the fact that the sedan and coupe versions of the vehicle can now come with a Sport trim.
 
This allows for most of the style differences from previous models, such as the introduction of a sleeker look and 18-inch alloy wheels.
 
When it comes to size, there is a large difference between the Fit and the Civic, with this being driven by the fact that they're a subcompact and compact, respectively. This means that this Civic is both wider and longer, although the Fit does have a height advantage.
 
There isn't much of a noticeable difference in terms of space in the interior of both vehicles, despite the difference in the overall category. This is because the 2019 Honda Fit has been designed in a way that maximizes space and can make it feel as though it's bigger than it is.
 
It also features a seating system that allows for different configurations. This could mean that you'll be able to carry a variety of large items, regardless of how long or wide they may be. Surprisingly, the Fit also has somewhat more legroom in the back than the Civic.
 
In terms of overall cargo space, however, the Honda Civic offers much more, with much of this space depending on which trim you purchase and whether you buy the hatchback, coupe, or sedan version of the car.
 
This means that you'll have to choose between either passenger or cargo space when you're deciding on which of the cars that you want to buy as you'll be sacrificing one for the other.
Drivability
Once the style of a car has got a buyer's attention, they'll naturally want to take a peek under the hood. There are some noticeable differences in this regard, with the 2019 Honda Fit being limited to one engine type while the Civic has two on offer, with both of these producing more power.
 
The Fit comes with a 1.5-liter, inline four-cylinder engine that produces 130 horsepower and 114 lb-ft of torque. This is an adequate engine considering the size of the car, although it can leave a lot to be desired.
 
The 2019 Honda Civic engines outpace this in several ways. The smaller of the two options is a 1.5-liter turbocharged inline four-cylinder engine that offers 174 horsepower and 167 lb-ft of torque. The larger variant is a 2.0-liter inline four-cylinder engine that, although being bigger, only produces 158 horsepower and 138 lb-ft of torque.
 
While the turbocharged engine can be more expensive to purchase, it can be recommended if you're looking for an extra kick. All of the engine options come with a front-wheel-drive as standard and can come with either a manual or automatic transmission.
 
Many people may also look for a certain amount of fuel economy when they're purchasing a car. Despite the differences in engine power, both cars are similar when it comes to this consumption, with the Honda Fit offering close to 33 miles per gallon in the city and 40 on the highway.
 
In contrast, the Honda Civic's 2.0-liter engine offers 31mpg in the city and 40mpg on the highway, while the turbocharged engine can go for up to 32 miles in the city and 42 on the highway. This means that there shouldn't be much of a noticeable difference in how often you'll need to refill the tank.
 
If you're looking for a robust blend of both fuel economy and performance, then the Civic's base engine may be the right choice for you, although the turbocharged engine can be a better choice, depending on your budget. This is because it can offer a much stronger performance than the Honda Fit.
 
The above doesn't take into account either the Civic Type R or Civic Si, as they're different models.
Comfort, Options and Performance
Comfort is perhaps one of the most significant features that buyers will consider when purchasing a car, which is why Honda has put a significant amount of time into ensuring that both the 2019 Fit and Civic have a variety of features in this regard.
 
The two vehicles have a considerable number of features in common, which means that you can expect a large amount of comfort from either option. These include heated front seats and leather upholstery, as well as a standard backup camera and automatic headlights, among others.
 
Many of these are things that you mightn't expect from either subcompact or compact cars, although Honda has aimed to go above and beyond in terms of luxury for both vehicles. Honda Sensing is available on the majority of trims available for both cars, although it's an optional upgrade for the lower trims of the Fit.
 
Alongside this is the Display Audio system that comes with both vehicles and can be integrated with a variety of connectivity services. Adaptive cruise control is also available as standard for both of the cars, regardless of which trim you purchase.
 
This doesn't mean that the Civic and Fit are evenly matched in this regard, as the Civic does have a few additional features that you mightn't expect.
 
While much of this is focused on the car's safety mechanisms and features, there are a few others. Chief among these is a power driver's seat and larger alloy wheels. Alongside this is the fact that it offers more technology as standard than the Fit.
 
Usability of this technology has also played a crucial part in the 2019 editions of both vehicles. However, it's the Honda Civic that stands out here with a variety of small touches that can make a large difference.
 
This includes a switch to a typical volume knob with the car, which is quite an improvement on the sliding control that came with previous generations and was often quite frustrating. All of this means that, while both cars offer a significant amount of comfort, the Civic has a touch more than the Fit, which can make it the slightly better choice.
 
In terms of overall performance, there isn't much of a difference between the two, as they share many of the same mechanical features. These include a drive-by-wire throttle system, hill start assistance, and much more. Other than the extra kick that the Honda Civic's engine offers, there isn't much to tell them apart here.
Buying Tip:
To avoid overpaying on a new car, shop prices online first. Get up front pricing before you walk into a dealership. We recommend the following free services;
Car Clearance Deals,
NADAguides,
CarsDirect & &
Motortrend.
These free services will offer you
the lowest prices
and supply you with multiple competing price quotes. You will know the best price before you visit the dealer.
Safety
Safety is paramount when considering any car. Honda has known this for all of its history and has worked on improving these features with each of their vehicles. Throughout this time, the list of safety features that it uses has been referred to as Honda Sensing, which is available with the majority of its vehicles.
 
This offers a variety of safety technology for each of the cars that it manufacturers, which means that both the Honda Civic and Fit have it included. With the Honda Fit, however, it's only available as standard with the more expensive EX and EX-L trims, meaning that it's an optional upgrade if you're looking at one of the baser models.
 
Each of the Honda Civic trims come with all of the safety features as standard. There are quite a significant number of them on offer, including a road departure mitigation system, a braking system that mitigates the risk of collisions, and a lane-keeping assist system.
 
This doesn't mean that the Fit doesn't come with any safety features; instead, it comes with the basics that you'll expect from a Honda and not much else unless you're willing to pay extra.
 
It should be noted that both cars come with the Honda LaneWatch technology, which helps drivers look after their blind spots. This is done through cameras that have been integrated into the side mirrors, which then display the blind spots on the car's infotainment screen.
 
If you're looking for a safer car without the need to upgrade to a more expensive model, then you'll need to consider purchasing the 2019 Honda Civic. While the base model of the Fit is typically more affordable, the cost of adding each of the features that you might want can quickly add up.
Which Model to Choose?
Which one to choose can depend on what you're looking for. The 2019 Honda Fit offers much more value for money, which can be something that any budget-minded buyers may look for. This also makes it a great choice for people who may be looking for a city-friendly car that offers a lot of versatility.
 
The Honda Civic has many more features, however, with the majority of these being focused on offering a premium experience. Though this means that you'll be paying much more, it can be worth it for buyers who aim for a more luxurious experience when they're driving.
Save Money on a 2019 Honda Fit:
Are you Shopping for a New Vehicle? Find the Best Deals with "Free - No Hassle" Prices Quotes.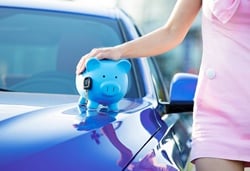 Get up to 4 local dealers to compete for your business by offering free, competitive pricing. Know before you go to the dealer.
Every dealer offers a secret price. Find yours here.