Reasons to Buy • Pros vs. Cons
2019 Honda Fit
Should you buy? Find out below..
Buying Tip:
Before you walk into a dealership, price shop Online first. Avoid overpaying by use pricing services such as
Car Clearance Deals
,
Edmunds
,
CarsDirect
&
MotorTrend
.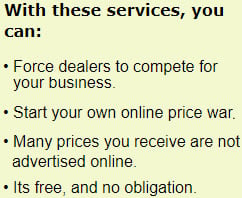 Visit
Car Clearance Deals
,
Edmunds
,
CarsDirect
&
MotorTrend
.
Honda has made a name for itself as a vehicle manufacturer that focuses on comfort, safety, and fuel economy. That's exactly what you will get with the new 2019 Honda Fit. This car might look small, but it has plenty of interior space, and it handles better than other vehicles in its class despite less-than-exciting acceleration.
What's New for 2019?
Very few changes have been made for the 2019 model year. The most significant alteration to the 2019 Honda Fit is that all trims now come with the standard Honda Sensing suite. This is Honda's bundle of advanced driver safety features, which includes automatic high-beam headlights. There is also a new exterior color option called Platinum Pearl White, which replaces the former White Orchid Pearl in the color wheel line-up.
Top 10 Reasons to Buy a 2019 Honda Fit – The Pros
1. The Surprisingly Spacious Cabin
As a subcompact hatchback vehicle, the 2019 Honda Fit might, from the outside, look like it is cramped for space on the interior. However, this is not the case. The Honda Fit is surprisingly spacious throughout the cabin thanks to its innovative design and cleverly crafted Magic Seats, which make it easier to configure the cabin's set-up. Occupants up front and in the rear will notice that they have plenty of leg and hip room, and those riding up front have more than enough head room.
2. Smooth Handling
Handling on the new Honda Fit is impressively smooth. This petite hatchback can easily navigate even the tightest of turns and is nimble on its feet. And, for a vehicle in its class, the Honda Fit handles the highway with a strong show of stability and confidence. When you need to quickly change lanes, you can do so in the Honda Fit without feeling sluggish or unsafe.
3. Impressive Safety Ratings
Honda takes pride in creating safe and reliable vehicles, and the Honda Fit is no exception to this rule. The Insurance Institute for Highway Safety (IIHS) gave the 2019 Honda Fit "good" marks across the board on all of its crash tests. Additionally, the National Highway Transportation Safety Administration (NHTSA) awarded the Honda Fit with five out of five stars overall. All but one test was also ranked 5/5. The only test in which the Fit received a 4 was the rollover test. However, no tip was noticed in the Dynamic Test Result, and NHTSA calculated that there was only a 14.7 percent risk of the vehicle rolling over.
4. Plenty of Cargo Space
Cargo space is something you don't expect to find much of in a small hatchback. However, thanks to Honda's clever design that allows the rear seats to fold totally flat, you can maximize the standard 16.6 cubic feet of cargo space into a whopping 52.7 cubic feet. You will be hard-pressed to find another vehicle in this class that has so much room for cargo.
5. Many Standard Infotainment and Safety Features
This year, Honda is packing even more standard features into its line-up with the inclusion of Honda Sensing on all trim levels. The Honda LaneWatch camera is a helpful aid for those who want an extra set of eyes on the road behind and to the side of them. As far as technology goes, there is full smartphone app integration with Apple CarPlay and Android Auto on all but the LX trim level. The 7-inch infotainment screen you get on the Sport trim and above is just the right size for the console and provides good graphics.
6. An Impressive Fuel Economy
As is typical for Honda, fuel economy is superb on the 2019 Honda Fit. On the automatic transmission models, you can get a combined 36 mpg (33 mpg city/40 mpg highway). On some models with the CVT, you can get 31 mpg city and 36 mpg highway. Finding these kinds of numbers on the Fit's competitors won't be easy, and this gives Honda a competitive edge.
7. The Manual Transmission
A 6-speed manual transmission comes standard on every trim level but the EX-L (which comes standard with the CVT automatic). The manual transmission, when paired with the 1.5-L 4-cylinder engine that comes on every 2019 Honda Fit, gets 130 hp and 114 lb-ft of torque, which is sufficient for powering this small hatchback vehicle. The manual's shifter offers a good amount of precision, and the transmission has a smooth feeling to it.
8. Ride Comfort and Quality
While the Pilot does have a short wheelbase, it provides a lot of comfort while driving. The ride quality itself feels effortless and smooth, never getting to be obnoxious during long drives. The cabin is well-insulated and remains quiet. Additionally, the seating throughout the front and rear is plush and wide, offering plenty of lumbar support in the process. The bolsters also provide a decent amount of lateral support for the vehicle's occupants.
9. Child Safety Seats Are Easy to Install
In many vehicles, child safety seats can be a pain to try to install. In the Honda Fit, however, this is not a problem. The LATCH anchors in the rear seat are easy to find and use. Getting child safety seats in and out of the rear seat is also simple thanks to the plentiful space in the rear and tall openings of the doors.
10. Stable Steering
Steering on the new Honda Fit has an easy-going and ultimately very natural feel to it that becomes even more pronounced as you drive. There is no question that the steering feels direct and precise, and the amount of road feel that the driver gets from the steering wheel is just what you would expect from a hatchback.
Buying Tip:
To avoid overpaying on a new car, shop prices online first. Get up front pricing before you walk into a dealership. We recommend the following free services;
Car Clearance Deals
,
Edmunds
,
CarsDirect
&
MotorTrend
.
These free services will offer you
the lowest prices
and supply you with multiple competing price quotes. You will know the best price before you visit the dealer.
Reasons Not to Buy a 2019 Honda Fit – The Cons
1. Lack of Integrated Navigation With the 6-Speed Manual Transmission
One of the downsides to driving the 2019 Honda Fit is that there is a lack of integrated navigation on the models that come with the 6-speed manual transmission. This feature is only available if you get a model with the CVT. While the CVT is a good automatic transmission, the manual transmission models would vastly benefit from having the addition of integrated navigation.
2. Sub-par Acceleration
Hatchbacks are not known for being little speed demons. Unfortunately, the 2019 Honda Fit manages to fall behind some of its competitors in the acceleration department. The CVT can get the Fit from 0 to 60 mph in about 8.8 seconds, and this is adequate when driving around town. However, on the highway, the Fit feels a little bit too sluggish for some drivers to really enjoy.
3. Rear Seat Head Space
The only issue with space that the Honda Fit has is the amount of head space it offers in the rear seat. For shorter adults and children, it will not be a problem. However, taller adults might find themselves hunching their shoulders and upper backs to try to make room for their heads.
4. A Soft Brake Pedal
The brake pedal might feel a bit too soft for some drivers, especially if they are used to driving vehicles with firmer pedals. Still, the Fit has smooth enough braking capabilities once you get used to the pedal. In city traffic, the Fit can easily come to a safe stop, and the brakes feel like they are well enough modulated to inspire driver confidence.
How it stacks up to the competition:
2019 Honda Fit vs. 2019 Toyota Yaris
The 2019 Toyota Yaris hatchback comes in both 3- and 5-door styles and is one of the more affordable alternatives to the Fit. Unfortunately, it still falls behind slightly on fuel economy (getting a combined 32 mpg on the automatic models and 33 mpg on the manuals). Safety features are similar between the Fit and Yaris, but Honda seems to be packing somewhat more into its lower trim levels now.
2019 Honda Fit vs. 2019 Kia Rio
Another contender this year in the small hatchback segment is the 2019 Kia Rio. The Rio has a strong 1.6-L engine capable of generating 130 hp. For the modest price it offers, the Rio will be stiff competition. However, its features still pale in comparison to those found in the Honda Fit, and the overall design on the Rio just does not feel quite as thoughtful as what Honda puts out.
Conclusion
Those looking for a safe, reliable, and fuel efficient vehicle might want to consider giving the 2019 Honda Fit a try. This small hatchback offers plenty of space throughout the cabin and cargo area, and for the price, it is hard to beat the number of standard features you can get. While the acceleration might seem a bit sluggish for some, those who plan on doing a lot of city driving might not mind.
Did you find this article useful?
Please rate this page. Select a star rating from 1 to 5 below:


Save Money on a 2019 Honda Fit:
Find New Car Clearance Prices - Many Vehicles are Selling Below Dealer Invoice Prices.
Every dealer offers a secret price. Many prices are below invoice.
Find yours here
.