2019 Honda Insight vs Accord Hybrid
For over two decades, the Honda Accord has been a staple in the manufacturer's lineup. Throughout this time, the car has gone through a variety of tweaks and improvements to ensure that it maintains the reputation that it initially became known for. As a result, it's consistently stayed modern while other cars have come and gone.
The Honda Insight, on the other hand, has gone through a variety of large changes in its history. This has led to the vehicle hitting almost every niche during this time, with the car now being a sedan and having somewhat of a Prius-inspired look.
Now, the 2019 Accord and Insight both have Hybrid versions, with these having a variety of features that many people might want to take advantage of. This is primarily driven by Honda's insistence on ensuring improvement and reliability across their range.
For some, this has meant minor improvements while others have needed an almost complete overhaul, as both the Insight and Accord highlight perfectly. With both vehicle's history, many people would be forgiven for not knowing which of the two to choose for a new car.
Both cars share an uncanny number of similarities, although there are almost as many differences between them. These differences are where you'll need to focus on when deciding which one you should choose.
As such, you'll need to look much deeper than the many obvious similarities that they share to get to what truly matters and determine whether the Insight or Accord Hybrid will be the right choice for you and your needs.
The two are undoubtedly designed for different demographics, which is something that will need to be taken into account when deciding. While this may seem as though it will make a choice an obvious one.
Size & Styling
When it comes to the looks of both cars, they're much more similar than you might think, especially at first glance. This is because the two vehicles have identical looking headlights at the front end which feature Honda's signature chrome bar running across it.
One of the few differences here is the placement of the Honda symbol; in the Accord, this is embedded in the chrome bar itself, while the Insight has it featured under the chrome bar and adds somewhat of a sporty look to the vehicle.
The intakes and lower grille portions are also surprisingly similar between the two cars, with only a few contours making a difference between them. This contour is also highlighted on the hood of the Honda Insight Hybrid, with this being much more noticeable here than on the Accord.
From this angle, both the windshields and wipers also look the same on both models. It's the back of the cars that you'll begin noticing the exterior differences. This is highlighted by the taillights, which are larger in the Accord than the Insight, with this also extending to the backup lights.
Both cars feature similar license plate cutouts and decklid spoilers, although the Accord's rear window is both noticeably taller and wider, which helps to differentiate the two from behind.
When it comes to the size of both cars, the Accord Hybrid offers significantly more space and legroom than the Insight, which is seen across almost every part of the vehicle. The only areas where the Insight Hybrid has any kind of advantage is with shoulder room in the front seats, although this is only by less than two inches.
In terms of legroom, both cars are similarly matched in the front seats, although the 2019 Accord offers a little bit more in the back seat. Much of this is driven by the fact that the Insight is based on the Honda Civic, which is a much smaller car. As a result, it gives up much of the space that many people may expect from it.
This is also seen in the amount of cargo space that the two cars offer; the Accord Hybrid provides 16.7 cubic feet of space, while the Insight Hybrid provides 15.1. While this isn't as much as many other cars on the market, it can make a significant difference when choosing between these two.
Outside of this, there's very little to differentiate the interior stylings of the vehicles. Both offer a three-spoke steering wheel that looks almost identical, which can also be said of the gauges.
One of the only core differences between the interior designs is in the dashboard. This is because the Insight Hybrid's dash is much thicker than that of the Accord's. As a result, the Accord Hybrid can come across as much airier, which can help to enhance further how comfortable it can feel.
Drivability
With the many similarities that both vehicles can have in terms of looks, many potential buyers will have to look under the hood to make a decision. While there are a variety of differences on offer here, you'll have to choose between either power or efficiency with either choice.
The Accord Hybrid offers a 2.0 liter In-Line 4-Cylinder + AC Synchronous Permanent-Magnet Electric Motor that provides 143 on the gas engine and 181 on electric, with a combined horsepower of 212. This allows for 129 lb-ft of torque with the gas engine and 232 lb-ft for its electric side.
In terms of fuel efficiency, the 2019 Accord offers 47mpg on both the city and highway. If you're looking for speed, then this is something that the car can offer, as it accelerates 0-60mph in 7.1 seconds.
The 2019 Insight Hybrid doesn't match much of this power, although it makes up for it in fuel efficiency. Despite having an almost identical engine, albeit smaller at 1.5 liters, it offers 107 horsepower for the gas, 129 for the electric and a combined total of 151 horsepower. Alongside this is 99 lb-ft of torque on the gas and 197 lb-ft on the electric.
For acceleration speed, the Honda Insight can achieve 0-60mph in 7.7 seconds. While none of this matches up to the Honda Accord, it does make up for it in terms of fuel efficiency and offers 55mpg in the city, 49mpg on the highway, and 52mpg combined.
There's also a significant difference in the drivability of both vehicles, with the 2019 Accord pulling out in front here. This is especially true when it comes to noise levels. While both cars offer smooth acceleration and a large amount of noise when pushed, the Accord does have more of a refined sound than the Insight does.
While you might expect that all of the above would make a significant difference in handling, this isn't necessarily the case. Despite having much more power than the Insight, the Accord has a similar level of handling, which means that you shouldn't have to worry about easy of driving.
If you're looking for a difference in powertrain, both of the cars use the same make and model, which means that they're identical in this regard. All of this means that, if you're looking for a more powerful drive, then the Honda Accord Hybrid is the choice to make.
Comfort, Options & Performance
With the size difference between both of the vehicles, there is a large difference in comfort between them. Much of this depends on where in the car you're sitting, however; front seats will offer an identical amount of legroom in both vehicles, while the Accord provides much more in the rear seat.
However, the Honda Insight has much more headroom in the front seat than its counterpart, although this can't be said for the back seats. This means that there's no right or wrong choice when it comes to which is the more comfortable car to drive. In contrast, it means that you'll have to decide whether you want this to be in the front or back.
The Honda Accord makes up for much of this, however, by having leather-wrapped seats, which means that it could be much more comfortable, despite the legroom being somewhat hit or miss.
In terms of overall technology, both vehicles have a considerable amount to take advantage of. The Insight, however, does have much more on offer here, with the majority of this being focused on making the driving experience much more customizable.
This includes a 5-inch infotainment screen, although there is the option for an 8-inch upgrade. Alongside this are Apple Auto, Apple CarPlay, remote start, and a few other features. The Accord Hybrid, however, can't match this.
While it does offer both Apple Auto and Apple CarPlay, as well as a few screens, one of the only other features that's included as standard is a wireless charging station. Alongside this is a Head-Up display that shows many of your most important driving stats.
Outside of this, you may need to upgrade to a more expensive trim, or purchase a variety of optional extras, to get the same number of technological features that the Honda Insight offers.
As a result, this could reduce the value for money that's on offer with the Accord. If standard features are what you're looking for, then it's recommended that you choose the Insight. That being said, the optional extras that 2019 Honda Accord offers significantly outnumber those provided with the 2019 Insight.
Buying Tip:
To avoid overpaying on a new car, shop prices online first. Get up front pricing before you walk into a dealership. We recommend the following free services;
Car Clearance Deals,
NADAguides,
CarsDirect & &
Motortrend.
These free services will offer you
the lowest prices
and supply you with multiple competing price quotes. You will know the best price before you visit the dealer.
Safety
When it comes to safety, there's virtually no difference between the 2019 Accord Hybrid and the Insight. This is because both cars come with the Honda Sensing package as standard, which is the case across all trims. While this may not help you choose between them, it does mean that you should be able to relax with either decision.
The Honda Sensing package has a variety of built-in safety technology, which has been tweaked and improved over the years to ensure optimal performance. This includes a collision mitigation braking system that applies pressure when it believes that a crash is unavoidable, leading to a reduced impact.
Alongside this is a road departure mitigation system that corrects the car's steering and adjusts the breaks if it detects that the vehicle is crossing a lane without signaling. This is enhanced by a lane-keeping assist system that ensures that your car remains centered within the lane.
An adaptive cruise control feature is also on offer, which means that you'll be able to maintain your speed and distance behind the car in front of you. Traffic sign recognition can also be capitalized on, which detects speed limits and warns a driver if they're above the limit and should need to adjust accordingly.
A blind spot navigation system is in place for when drivers are turning and can't tell when there's a vehicle in their blind spot. This is activated when the turn signal is activated and offers both a visual and auditory warning if there's a car in the adjacent lane.
Honda LaneWatch technology enhances this through the use of a camera and live video display with a view from your passenger-side mirror. This shows up to four times more visuals than you would typically expect from the mirror.
Auto high-beam headlights also come with both the 2019 Honda Insight and Accord Hybrid as standard. This is activated when you're driving above 25mph at night and automatically switches between high and low beams, depending on overall conditions.
Lastly is what Honda calls a cross-traffic monitor which takes advantage of a multi-angle rearview camera. This alerts drivers when there is a vehicle approaching from any direction while backing up the car, which can avoid a variety of collisions.
All of this means that both the 2019 Accord Hybrid and Insight both come with the same safety features. As a result, you shouldn't be able to base your choice between the two cars because of their safety measures. It does mean, however, that you shouldn't need to worry about these features with either decision.
Which Model to Choose?
Choosing between the 2019 Honda Insight and Accord Hybrid means that you'll have to make sacrifices, regardless of which one you decide to buy. This means that the decision can come down to what your preferences are for when you're driving.
The Accord brings much more comfort and power to the drive, although you'll be giving up a certain amount of efficiency for this. The Insight is the opposite of this and offers much more efficient while bypassing much of the power that its counterpart offers.
While the exteriors are noticeably similar in style, the Insight Hybrid does have some more stylish features in the interior, which could make a difference to a lot of buyers.
Both vehicles offer a significant amount of value for money. This means that the price points for either one shouldn't be an issue, as both come with a variety of features that you can take advantage of.
If you're keeping an eye on your budget and want to spend as little as possible on a car, then the Insight is the better option to choose from. However, it should be noted that you may be getting slightly more with the extra money you spend on the Accord Hybrid.
This means that your specific needs and preferences will play a large role in the choice, as you'll be forced to give up something with either option. Regardless of which one you go with, you'll still be getting a lot of car for your money.
Save Money on a 2019 Honda Insight:
Are you Shopping for a New Vehicle? Find the Best Deals with "Free - No Hassle" Prices Quotes.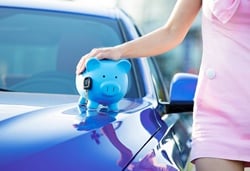 Get up to 4 local dealers to compete for your business by offering free, competitive pricing. Know before you go to the dealer.
Every dealer offers a secret price. Find yours here.