2022 Honda Accord vs Nissan Altima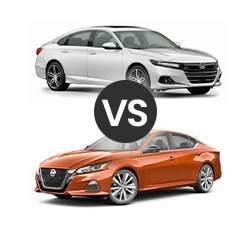 Despite the increased popularity of SUVs, some people still prefer the overall practicality of a family sedan. Not only do sedans handle better than SUVs, but they also often return better fuel efficiency. The 2022 Honda Accord and the 2022 Nissan Altima are two of the segment's finest options.
The Honda Accord did not undergo many changes for 2022, but the Accord Sport is now offered with a hybrid powertrain. It's worth noting that the Accord was recently updated last year with a better standard infotainment system and a few exterior styling tweaks.
The Nissan Altima returns for 2022 with a few minor changes. Drivers seeking a unique look will be interested in the SR trim's new Midnight Edition appearance package, which adds blacked-out exterior details. The optional SV Premium package also includes heated exterior mirrors with LED turn signals.
These two models have long remained popular picks for those shopping for a new family car. This head-to-head contrast will unveil which sedan is the better option.
The Powertrain
The Honda Accord comes standard with a smaller 1.5-liter, turbo four-cylinder engine. It manages to crank out a fulfilling 192 horsepower and 192 lb-ft of torque. To conserve more fuel, Honda pairs this engine with a continuous variable automatic transmission. Although this transmission isn't quite as engaging as a traditional automatic gearbox, its smoothness will impress a lot of drivers. Expect the Accord to clock a 0-60 mph time of around 7.6 seconds, which is quite good.
Folks who crave an even more enjoyable driving experience will want the Accord's bigger 2.0-liter, turbo four-cylinder engine. It can press out 252 hp and 273 lb-ft of torque. A 10-speed automatic transmission enhances the sedan's stimulating performance. During road tests, the Accord 2.0T clocked a rapid 0-60 mph time of 5.5 seconds. No other sedan in the class is quicker off the line.
In contrast to the 2022 Nissan Altima, the Accord is offered with a hybrid powertrain. It pleases drivers by generating a combined 212 hp. Many people are surprised by how swiftly the Accord Hybrid gets up to speed. It has a brisk 0-60 mph time of 6.7 seconds, thus allowing drivers to experience a superb blend of efficiency and performance.
The Altima comes standard with a naturally aspirated 2.5-liter, four-cylinder engine. Total output is around 188 hp and 180 lb-ft of torque. Like the Accord's base powertrain, it uses a gearless CVT as opposed to a traditional automatic transmission. Don't expect the Altima to move out as quickly as the Accord. It takes around 8.0 seconds for this sedan to accelerate to 60 mph.
Stepping up to the Altima's advanced VC-Turbo four-cylinder engine results in a noticeable boost of performance. Nissan cutting-edge engine is designed to compete with a more muscular V6 engine while saving drivers more money at the pump. Total output is a rewarding 248 hp and 273 lb-ft of torque. When launched from a stop, the turbo-boosted Altima clocks a 0-60 mph time of around 5.8 seconds.
Unfortunately, Nissan decided to mate the Altima's VC-Turbo engine to a continuously variable automatic transmission. Although this transmission is tuned well, true driving enthusiasts may not enjoy its rubbery feel. The Accord 2.0T's traditional automatic transmission is more enjoyable.
Folks who reside in one of the country's cold-weather regions will favor the Nissan Altima. While the Accord is strictly a front-wheel-drive sedan, the Altima gives buyers the ability to opt for an AWD system, The enhanced traction will certainly prove to be valuable when traveling on snow-covered streets. Keep in mind that only the Altima's base powertrain offers all-wheel drive.
Most commuters will be perfectly satisfied with the fuel economy of the Accord's standard powertrain. It can return up to a federal government-estimated 30 mpg town/38 mpg freeway. Selecting the Accord's larger turbo engine lowers efficiency to 22 mpg town/32 mpg freeway. To achieve the lineup's best fuel economy, drivers will need to choose the Accord's hybrid powertrain. They can look forward to getting up to a combined 47 mpg.
Despite not offering a hybrid powertrain, the Altima is still quite economical on gas. Its base powertrain can deliver up to 28 mpg in city traffic and 39 mpg on the open road. Choosing the Altima's more potent VC-Turbo engine results in a rating of 25 mpg town/34 mpg freeway. Luckily, both engines are calibrated to develop peak power using regular unleaded gasoline.
Test drivers rave about the strength of the Honda Accord's braking system. When braking at 60 mph, the Accord can stop in as short as 116 feet. This is a good showing for the class. Fortunately, the Nissan Altima's brakes perform just as well during emergencies. It's 60-0 mph braking distance is virtually the same.
While the latest-generation Accord is not quite as bulletproof as past models, it's still considered to be a highly dependable family vehicle. This sedan has an above-average predicted reliability rating. Research shows the Altima's long-term reliability is almost as good. While the Altima's average yearly cost of repair is $483, the Accord's average annual cost of repair is an estimated $400.
These two midsize sedans provide a similar warranty package. Buyers will receive a five-year/60,000-mile powertrain warranty and a 3-year/36,000-mile bumper-to-bumper warranty. Owners will also enjoy 36,000 miles of roadside assistance coverage.
Drivability
Automotive reviewers praise the 2022 Nissan Altima for its drivability. Because of the Altima's secure handling, drivers will feel confident in virtually every situation. Most Altima trims come standard with Intelligent Trace Control technology, which makes this sedan feel even more surefooted by aiding stability around curves.
A sports-tuned suspension enhances the Altima SR trim's agility. On the downside, driving enthusiasts tend to criticize the Altima for its vague steering. There's not enough road feedback according to some testers.
Like the Altima, the 2022 Honda Accord corners well. In fact, it's even more nimble than the Altima. Many drivers rave about the Accord's ability to stick to the road. An adaptive suspension is found on the Accord Touring, which further improves handling stability. Although the Accord's steering system is not especially sporty, it does give drivers just enough feedback.
The Altima offers a smooth, tranquil ride on most road surfaces. However, passengers may feel a few small bumps when driving over rough pavement. Expect the Accord's overall ride quality to be just a touch better. While the Accord Touring's adaptive suspension is meant to improve ride comfort, most test drivers don't notice a significant difference.
Both of these midsize sedans have a quiet cabin. Wind noise remains muted when traveling at freeway speeds. Passengers will enjoy a sense of peace. According to some automotive critics, the Accord's available 19-inch tires do produce a tad more road noise.
The Honda Accord enables drivers to obtain an unobstructed view of the street. While the Accord's rear sight lines are decent, drivers will encounter a few blind spots when glacing behind. Expect the Altima to also offer good forward visibility. However, a high trunk somewhat hampers the Altima's rearward visibility.
When it comes to front-seat comfort, the Altima edges out the Accord. Nissan's standard Zero Gravity seats provide great relaxation on long drives. They are specifically engineered to reduce strain on the occupant's back. Although the Accord's front seats are quite comfy as well, the overall cushioning isn't as good. Extra seat padding gives the Altima an advantage. However, keep in mind that only the Accord can be upgraded with ventilated front seats.
Taller drivers will find both cars to be a good pick. However, the Altima does provide an extra 1.5 inches of front legroom. Greater knee space also helps the Altima to satisfy long-legged drivers.
Drivers who have growing teens will find the Honda Accord to be the best choice. Its backseat provides an extra 5.2 inches of legroom. Passengers over six feet tall will not enjoy spending time in the Altima's backseat.
Folks who routinely haul around a lot of extra stuff will favor the Accord. There's 16.7 cubic feet of cargo space in its trunk. By comparison, the Altima provides 15.4 cubic feet of trunk space.
Both cars feature a touchscreen interface that is easy to use. Nevertheless, Honda's Display Audio infotainment system delivers the best overall performance. It operates flawlessly without any hiccups.
Some users have found the Altima's Bluetooth operation to be a tad fussy at times. While Honda now equips every Accord to trim with an 8.0-inch touchscreen, a smaller 7.0-inch touchscreen without Apple CarPlay/Android Auto smartphone integration comes standard on the Altima. Nissan's more modern Nissan Connect system is found on the upper trims.
Safety
The 2022 Nissan Altima and the 2022 Honda Accord are a close match in terms of passenger safety. Both cars snagged a five-star overall safety rating from the federal government. However, only the Accord earned a flawless rating in every crash test.
Like the Accord, the Altima received an IIHS Top Safety Pick+ award. While the IIHS deems both sedans to provide excellent impact protection, a better safety and structure cage rating gives the Accord an edge. Honda's upgraded LED headlights also do a better job of brightening the road at night.
As expected, both of these sedans come standard with an automatic emergency braking system. While only the Accord comes standard with an adaptive cruise control system, Nissan's available ProPilot cruise control system is more advanced. Aside from effectively controlling acceleration, ProPilot Assist can also actively keep the car centered in its lane.
Rear automatic braking is also only offered on the Altima. This feature makes drivers less likely to be involved in a crash when backing out of parking spots. While the Accord's multi-angle backup camera performs well, the Altima goes a step further by offering a 360-degree parking camera system.
What Has the Best Value?
Prices for the base 2022 Nissan Altima begin at around $24,900. By comparison, Honda lists the base Accord LX with a starting MSRP of $26,520. Because the Accord's list of standard equipment is a tad better, it's worth the extra cost.
Luxury car buyers will be more interested in the range-topping trims. While the Accord Touring demands around $38,000, the Altima costs around $36,400. Remember, a few more niceties are found on the Accord Touring. Highlights include ventilation functions for the front seats, heated rear seats, and a head-up display.
Which is Better?
The 2022 Nissan Altima is a solid family sedan. It gets max marks in several important categories. An optional VC-Turbo engine makes the sporty Altima SR a good choice for driving enthusiasts. Moreover, only the Altima enables folks living in snow-prone states to enjoy all-wheel-drive traction. Some car shoppers may also prefer Altima's exterior styling, which is accentuated by a signature V-Motion grille and a "floating roof" design.
While the Altima is certainly a worthy choice, it loses this head-to-head battle. The Accord is more spacious and more engaging to drive. Plus it offers a great number of luxurious features.