2020 Hyundai Tucson vs Kia Sportage
In a world full of options for small SUVs, competition is fierce. Consumers yearn for the extra space, enhanced versatility and impressive fuel efficiency that compact SUVs have to offer. As a result, the recent market for crossovers and small SUVs has experienced substantial growth and expansion.
As a result, many automakers who were once known solely for sedan production have moved into the market of small SUVs. Manufacturers who were already in this space stepped up their compact SUV production. Hyundai and Kia are two automakers who saw potential in small SUV production and sales. These two manufacturers took the durability and prestige of their pre-existing branding and moved forward with it into a new sector. Creating new SUVs models, these automakers have seen success in moving their vision forward into a market that was ready for a new look from these manufacturers.
Two notable small SUVs that actively compete in the market today include the 2020 Hyundai Tucson and the 2020 Kia Sportage. These two vehicles are widely-known for their roomy interior, additional cargo space and passenger potential without sacrificing style or performance. Both come with exceptional warranties and reputations to uphold. Yet, that is essentially where the similarities between the Hyundai Tucson and Kia Sportage end. Before making a final purchase decision, consumers should consider the following attributes and performance abilities.
The Powertrain
One of the largest considerations that consumers take to heart when buying a new vehicle, aside from appearance, is capability. Buyers want to make sure the vehicle performs as expected and is able to complete activities that they find most important. It is important to note that even the same model can feature different performance components based on the selected trim level. It is beneficial to explore the setup, capabilities and durability of the powertrain components within the selected trim level in order to make an educated decision between these two compact SUVs.
Similarly, most options for the Tucson and the Sportage utilize a 2.0-liter 4-cylinder engine. The Sport, Limited and Ultimate Tucson trim levels move up to a 2.4-liter displacement. While the Hyundai Tucson relies on a D-CVVT (Dual Continuous Variable Valve Timing), the Kia Sportage prefers the utilization of a 6-speed automatic transmission that is electronically-controlled. Each setup works well for the vehicle that comes into play, though the Kia Sportage configuration offers a bit of an advantage.
Both the Tucson and the Sportage are available in either front-wheel drive or all-wheel drive configurations, with the Sportage generating quite a bit more horsepower and torque output than its Tucson counterpart. Despite the configuration as a FWD or AWD, the Kia Sportage excels over the Tucson in both horsepower generation and torque output. This is a notable advantage for those who are seeking versatility in a new vehicle that can be used in both commuting purposes and for rough and tough fun. The ability to choose between AWD and FWD setups take both of these small SUVs far in the world of competitive marketing for automakers. It offers one more option that sets these competitors apart from others.
Whether you are interested in gliding around tight city curves or maneuvering down narrow country roads, the handling of the Tucson and Sportage can take anything you throw at them. With 4-wheel disc brakes equipped with an Anti-Lock Brake System, both SUVs come to a stop just as quickly as they accelerate. Based on safety ratings, these vehicles rank similarly in brake system capacity and can be trusted to keep you and your passengers safe during travel.
With identical fuel tank sizes coming in at 16.4 gallons, the Tucson beats out the Sportage in gas mileage in both FWD and AWD setups. The different between the two is a mere 2-3 mpg each. Despite the similarities in fuel tank capacity and consumption, the small differences in the Kia Sportage allow this vehicle to be more efficient in fuel utilization. Not only do these two compact SUVs mimic each other in fuel mileage, but they each have outstanding warranties and are notorious for their inherent reliability.
Drivability
Interior fabrics, supportive materials and useful accents make all the difference in vehicle ride comfort. When it comes to these aspects, the smallest differences can make the largest impact. While the Hyundai Tucson boasts more head room than its competitor, passengers gain a bit more leg room in the Kia Sportage. In comparison, the total amount of cargo area varies by less than two inches between these two SUVs.
Overall, Hyundai Tucson comes in with the win in the area of total interior space at just under four inches more than the Sportage. The amount of space with the rear seats folded down makes all the different in the competition between these two vehicles.
In other aspects, including blind spot prevalence and in-cabin noise levels, the Hyundai Tucson and Kia Sportage measure up evenly. Impressive infotainment system options draw any attention away from road noise and right into the technological capabilities of both the Tucson and the Sportage.
In order to help drivers stay focused on the road ahead, the Kia Sportage employs the use of Siri Eyes Free. This voice technology helps drivers use Siri hands-free making your driver safer and more intuitive. Both vehicles are equipped for Apple CarPlay and Android Auto, but the Tucson takes an extra step by integrating Blue Link Connected Car system for improved connectivity.
Buying Tip:
To avoid overpaying on a new car, shop prices online first. Get up front pricing before you walk into a dealership. We recommend the following free services;
Car Clearance Deals,
NADAguides,
CarsDirect & &
Motortrend.
These free services will offer you
the lowest prices
and supply you with multiple competing price quotes. You will know the best price before you visit the dealer.
Safety
Safety aspects and technology are important in any vehicle, especially those that haul multiple passengers. With current trends in the modern auto market, consumers are expecting vehicle to be more safe than ever. Automatic safety features, advanced technology and instant information about surroundings is expected to be included, even in the most basic vehicle models.
The Kia Sportage utilizes a suite of safety features that comes standard on all Kia vehicles and is known as Kia Drive Wise. This package is comprised of several advanced safety features, including lane keep assist, forward collision alert, rear cross traffic warnings and blind-spot alert. Each Sportage also includes dual front airbags and side rear airbags, ensuring passengers are safe from all directions. With two 5-star safety ratings from a national agency, the Kia Sportage is a great option in terms of safety and crash avoidance.
In comparison, the Hyundai Tucson is one of the safest compact SUVs available on the market today. Receiving 5 star ratings from the NHTSA (National Highway Traffic Safety Administration), the Tucson ranks high in driver and passenger safety. With superior marks in front crash prevention, this SUV has been awarded for its exceptional safety. Complete with overhead airbags to protect passengers in a 360-degree manner and seat belt pretensioners to keep passengers secure in the event of an accident, this modern SUV is one of the safest in its class.
Which Has the Best Value
When making the decision on which vehicle is the best for a buyer, many attributes must be taken into consideration. The overall value of a vehicle is dependent upon many factors, including reliability, cost of ownership, optional features and available warranty options.
Despite the absolute similarities of these vehicles, there are enough small differences to determine the one that would reign supreme from a value standpoint. While both vehicles rely on sporty styling in a crossover layout, the Kia Sportage features more options for individualization. When it comes to looks, the Kia Sportage wins. Yet, for consumers who are relying on performance and responsiveness, the Hyundai Tucson wins without hesitation.
Though both vehicles are comparably reliable, each one comes with a similar 5 year, 60,000 mile warranty. In terms of safety, the Kia Sportage surpasses the Hyundai Tucson by one 5-star rating by the NHTSA. Despite the Tucson's loss in this category, both of these compact SUVs have outstanding safety ratings and have met a series of rigorous criteria for safety feature acceptability.
Fuel economy can be a determining factor in a vehicle purchase for an individual who travels frequently or plans to use this car for career purposes. The Kia Sportage gets exceptional fuel economy, and drivers can go further on a single tank of fuel as a result. While the Hyundai Tucson does get exceptional fuel economy for a small SUV, it barely falls short of the abilities of the Sportage.
Upscale features and storage area are abundant in the Kia Sportage. Though the Tucson does offer some additional interior features and viable storage space, the Kia Sportage reaches the top first. Inside and out, the Kia Sportage achieves the best value for money in areas of performance, storage space, handling, fuel consumption and safety.
Which is Better?
Comparing the Hyundai Tuscon and Kia Sportage is a tedious task, considering how similar these vehicles are in every aspect. Where one vehicle falls short, the other one creates a small deviation in measurement to edge ahead. Any buyer would be making a great investment in purchasing either of these small SUVs. However, in buying a vehicle every little detail matters. Therefore, each minuscule detail plays a bigger role in making an ultimate decision.
One of these options in particular is not the perfect solution for every consumer. For those who are interested in a trustworthy vehicle with style and class at a more economical price, the Hyundai Tucson is an excellent option. The Tucson offers exceptional safety features, effective fuel economy and a plethora of amenity selections through various trim levels. Long-term reliability is inherent in this vehicle and its automaker, which is reassuring for buyers who yearn for a long-term investment.
The Kia Sportage is a great choice for individuals who want a vehicle that is a little flashier and more modern with unending features and upscale elements. Featuring a wider variety of selections within preset trim levels, the Kia Sportage is for those buyers who want a vehicle that goes above and beyond in terms of bold design and unique characteristics. The Sportage would provide a great solution for individuals who are looking for excellent fuel economy and prestigious safety designations. It would also be good for individuals who travel frequently, because of its balance between fuel economy and cargo area.
One of the best ways to thoroughly evaluate the differences between these two vehicles is to see them in person. Take them for a test drive to see how they handle. Ask body shop personnel about what kind of issues they routinely see in Sportage and Tucson repairs. These two vehicles can even differ in durability between different model years, so be sure to take that into consideration. Getting advice from professionals that deal with these vehicles frequently can be advantageous in making your final decision.
Save Money on a 2020 Hyundai Tucson:
Are you Shopping for a New Vehicle? Find the Best Deals with "Free - No Hassle" Prices Quotes.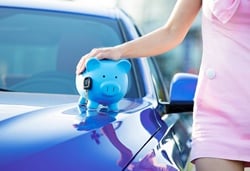 Get up to 4 local dealers to compete for your business by offering free, competitive pricing. Know before you go to the dealer.
Every dealer offers a secret price. Find yours here.