Compare Trim Levels • Configurations
2020 Hyundai Veloster Trim Levels with Comparisons & Configurations.
What do you get with each? Find out below..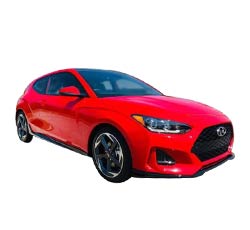 Buying Tip:
Before you walk into a dealership, price shop Online first. Avoid overpaying by using the following pricing services:
With these services you can:
• Force dealers to compete for your business.
• Start your own online price war.
• Many prices are not advertised online.
• It's Free and No Obligation.

Visit
Car Clearance Deals
,
CarsDirect
&
MotorTrend.
Recently redesigned just a year ago, the Hyundai Veloster has become one of the best hatchbacks in its price class. A starting MSRP of less than $20,000 makes the new Veloster a heck of a bargain. You'll also enjoy Hyundai's extensive warranty coverage.
While many car shoppers are lured by the Veloster's sharp exterior styling, it's more than just a cool-looking ride. Great handling makes it entertaining to drive. If you want to experience more fun, step up to one of the turbocharged models. Good cargo space also enhances this hatchback's everyday practicality.
There are currently six Veloster trims: 2.0, 2.0 Premium, Turbo R-Spec, Turbo, Turbo Ultimate, and N. Let's examine the key differences between each trim.
Compare the 2020 Hyundai Veloster 2.0 vs 2.0 Premium Trim Levels.  What is the difference?
The base Veloster 2.0 will save you the most money. In fact, it's one of today's most affordable hatchbacks. Motivating the Veloster 2.0 is a DOHC four-cylinder engine, which pushes out 147 horsepower and 132 pound-feet of torque. While a six-speed manual gearbox is standard, a six-speed automatic gearbox is available for an extra $1,000. Like every new Veloster, it has a front-wheel-drive system. Adjustable driving modes enable you to either dial up the performance or enhance fuel efficiency.
When the Veloster 2.0 is at the bottom of the lineup, it doesn't look like a boring base model. A stylish set of 17-inch aluminum wheels and a roof spoiler come standard. You'll also notice the hatchback's center-exit exhaust outlet, which gives it a racy touch. You'll have six paint colors to choose from: Chalk White, Phantom Black, Thunder Gray, Sunset Orange, Sonic Silver, and Racing Red.
To no surprise, the Veloster 2.0 features cloth upholstery. You'll also receive a 6-way driver's seat and 4-way front-passenger seat
Hyundai has a tradition of giving car buyers a lot of equipment for the money. The Veloster 2.0 is no exception. Apple CarPlay and Android Auto are integrated into the standard 7.0-inch touchscreen. These features help you to download your smartphone's apps. You can stay entertained by listening to the six-speaker stereo. A backup camera with dynamic guidelines, two USB ports, and Bluetooth are also standard.
Standard safety technologies add to the Veloster 2.0's value. Automatic emergency braking is a feature that can save lives. If you start to show signs of sleepiness, the driver drowsiness monitor will warn you to pull over. You'll also appreciate the active lane control system. Although a blind-spot monitor is not found on the base Veloster, blind-spot mirrors help you to remain aware of other vehicles.
Priced around $4,200 more than the base model, the Veloster 2.0 Premium features the exact same engine. However, it's only available with a six-speed automatic transmission. While the Veloster 2.0 Premium has a similar appearance, a larger set of 18-inch wheels give it a slightly more commanding stance. A wide sunroof adds to the appeal of this trim.
On the inside, Hyundai equips the Veloster 2.0 Premium with an upgraded 8.0-inch touchscreen. Music fanatics will love jamming to the eight-speaker Infinity sound system with satellite radio, which features a powerful subwoofer. Automatic climate control and heated front seats allow you to experience greater comfort on the road. Meanwhile, synthetic leather upholstery makes the interior feel more upscale. Wireless phone charging is also found on the Veloster 2.0 Premium.
Aside from the base model's standard accident-avoidance technologies, the Veloster 2.0 Premium also comes equipped with a blind-spot monitor. Rear cross-traffic alert is also built into the system, which allows you to ease out of parking spaces with more confidence.
Compare the 2020 Hyundai Veloster 2.0 Premium vs Turbo R-Spec. What is the Difference?
In comparison to the Veloster 2.0 Premium, the Veloster Turbo R-Spec delivers a lot more performance. It elevates driving fun with a stronger 1.6-liter, turbocharged four-cylinder engine. Hyundai tunes it to generate a stimulating 201 horsepower and 195 pound-feet of torque. There's no overlooking the Veloster Turbo R-Spec's livelier acceleration. A six-speed manual gearbox is the only available transmission. Fuel economy drops to a combined 28 mpg.
Aside from packing more muscle under the hood, the Veloster Turbo R-Spec also delivers sportier handling. Michelin Pilot Sport performance tires and a sports-calibrated suspension help enhance the hatchback's cornering capabilities. Hyundai also tunes the steering system to have a more responsive feel. Meanwhile, a sport exhaust gives the Veloster Turbo R-Spec a more entertaining sound.
While the Veloster Turbo R-Spec doesn't look drastically different from the Veloster 2.0 Premium, it does feature a unique set of 18-inch wheels. You'll also enjoy cool upgrades like the Infinity sound system and a larger 8.0-inch touchscreen.
Compare the 2020 Hyundai Veloster Turbo R-Spec vs Turbo Trims.  What is the Difference?
The Veloster Turbo R-Spec and the Veloster Turbo share the same engine. However, there aren't as many performance upgrades on the Veloster Turbo. It also features a seven-speed, dual-clutch automatic transmission. Fuel economy improves slightly to a combined 30 mpg. A blind-spot monitor comes standard. To further distinguish the Veloster Turbo, Hyundai equips it with different wheels.
Compare the 2020 Hyundai Veloster Turbo vs Turbo Ultimate Trim Levels.  What is the Difference?
The Veloster Turbo Ultimate is essentially a more luxurious version of the Veloster Turbo. It features the same set of 18-inch alloy wheels. However, a two-tone roof gives the Turbo Ultimate trim a contrasting look.
Expect the Veloster Turbo's interior to have a more upscale character. Unlike the other trims, it boasts genuine leather upholstery. Built-in navigation makes this trim ready for an out-of-town road trip. You'll also benefit from a head-up display, which project's your speedometer's info onto the windshield. Wireless smartphone charging is another one of the Veloster Turbo's niceties.
Aside from the safety features found on the lower trim levels, the Veloster Turbo also provides pedestrian detection. This feature helps make driving in crowded areas more secure.
Compare the 2020 Hyundai Veloster Turbo Ultimate vs N Trims.  What is the Difference?
If you desire maximum performance, go for the Veloster N. This "hot hatchback" is designed to offer more fun on the street and at the track. The excitement starts with the Veloster N's more powerful turbocharged four-cylinder engine. It pushes out a thrilling 250 horsepower and 260 lb-ft of torque. Power is sent to the wheels via a six-speed manual transmission with rev-matching technology. While the Veloster N certainly delivers a great deal of excitement, fuel economy does drop to a combined 25 mpg on regular unleaded.
The Veloster N isn't just about straight-line acceleration. It's also engineered to handle like a sports car. A special N Corner Carving Differential and a track-tuned suspension help this hatchback to aggressively hang curves. Pirelli P Zero summer tires give the Veloster N plenty of grip. Meanwhile, high-performance brakes ensure reliable stopping power. Don't forget about the active exhaust system.
Drivers who demand more excitement will be interested in the Veloster N's optional performance package. It increases the engine's total output by 25 horsepower. A limited-slip front differential helps manage the extra power. You'll also receive larger brakes and larger 19-inch wheels.
When checking out the Veloster N, you'll instantly notice its more hostile styling. Red exterior accents and a special spoiler help it to stand out. On the rear, large-bore exhaust outlets accentuate the hatchback's powerful appearance. LED headlights come standard. Remember, this is the only trim in the lineup that offers Performance Blue as a paint option.
The Veloster N also has a few special interior treatments. Contrast stitching and checkered flags on the steering help give the Veloster N a racy feel. Alloy pedals are standard as well. LED shift lights in the instrument cluster amplify the car's driving excitement. When taking tight corners, expect the sports seats to provide extra support. You'll also receive goodies like an Infinity sound system and an 8.0-inch touchscreen.
Because of the Veloster N's extra performance upgrades, it isn't able to offer certain safety technologies. This means you must go without forward collision braking and blind-spot monitoring.
Buying Tip:
To avoid overpaying on a new car, shop prices online first. Get up front pricing before you walk into a dealership. We recommend the following free services;
Car Clearance Deals,
CarsDirect &
MotorTrend.
These free services will offer you
the lowest prices
and supply you with multiple competing price quotes. You will know the best price before you visit the dealer.
Which Trim to Choose?
The 2020 Hyundai Veloster's lineup is better than ever. Even the high-performance N model is affordable. Nevertheless, drivers seek a low-cost commuter car should first check out the base Veloster. For less than $19,000, you get a well-equipped car. A 100,000-mile powertrain warranty also makes the base Veloster 2.0 a solid choice. Styling is impressive for a base model.
Although the Veloster 2.0 with its standard four-cylinder engine isn't going to win many races, most people describe it as being fun to drive. Handling is very good. While the standard touchscreen interface with Apple CarPlay and Android Auto is a big perk, you will especially appreciate the standard safety features.
The Veloster 2.0 Premium demands more money. However, it does boast some attractive features. The Infinity sound system and blind-spot monitoring are nice upgrades. Some drivers will also love the Veloster 2.0 Premium's sunroof. However, you can save money by sticking with the base model. Aside from larger wheels, exterior styling is virtually the same. Furthermore, there's no difference in performance.
If you hunger for more driving excitement, step up to the Veloster Turbo R-Spec. Its stronger turbocharged engine clearly packs more performance. Drivers who love manually shifting gears will love the transmission. You can also take advantage of the Veloster Turbo R-Spec's crisper handling, which is aided by a sports-tuned suspension and upgraded performance tires. Because the Veloster Turbo R-Spec only costs $350 more than the Veloster 2.0, it's a sweet deal.
While the Veloster Turbo also features a turbocharged engine, it's designed to offer greater comfort. It goes without the R-Spec trim's stiffer springs. This means you can expect the ride to be a bit smoother. Its list of features mimics that of the Veloster 2.0 Premium.
Priced at slightly more than $28,000, the Veloster Turbo Ultimate is the most luxurious trim in the lineup. It's well worth the price. You'll enjoy leather seating and a head-up display. Pedestrian detection will greatly benefit drivers who live in a busy metropolitan area.
The mighty Veloster N is actually a tad less expensive than the Veloster Turbo Ultimate. Very few cars of this performance caliber can match what the Veloster N brings to the table. Not only is the Veloster N strong enough to hit 60 mph in 5.5 seconds, but it also handles well enough for the track. Even if you opt for the performance package, you'll still be spending less than $30,000.
Exclusive exterior and interior treatments also help set apart the Veloster N. Before you head out to buy a new Veloster N, beware of its compromises. Like the Veloster Turbo R-Spec, this is a manual-only model that requires you to do the gear shifting. You'll also be forced to give up safety tech like forward collision braking and blind-spot detection.
Did you find this article useful?
Please rate this page. Select a star rating from 1 to 5 below:


Save Money on a 2020 Hyundai Veloster:
Find New Car Clearance Prices - Many Vehicles are Selling Below Dealer Invoice Prices.
Every dealer offers a secret price. Many prices are below invoice.
Find yours here
.