2022 Hyundai Elantra vs Accent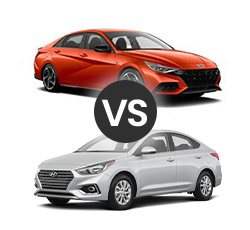 Hyundai is renowned for providing tremendous affordability and performance. Their small sedans are no exception, featuring the lowest price tags around as well as exceptional fuel efficiency to provide long-term savings. With two models on offer, drivers can explore their options from this leading brand with confidence knowing they're getting an excellent value.
Hyundai introduces a new high-performance model for the 2022 Elantra, which remains modern and packed with the latest features since its latest generation was launched just last year. In contrast, the 2022 Accent has removed the manual transmission from its option list, but otherwise, it carries on with the same features. This year's Accent belongs to the fifth generation of the car, which made its debut in 2018.
Size and Styling
Between the two, the Elantra is the larger of the sedans. It is 184.1 inches long, while the Accent measures in at only 172.6 inches in length. The width measurements are closer, with the Elantra coming in at 71.9 inches and the Accent being 68.1 inches. The Accent actually has a bit more ground clearance, giving buyers 5.5 inches compared to the Elantra's 5.3 inches. This may not make the Accent ready for the trails, but it may help it handle speed bumps a bit better.
Inside, the front legroom is quite similar. The Elantra gives drivers 42.3 inches and the Accent gives them 42.1 inches. Every version of the Accent has 38.9 inches of front headroom, while the Elantra has anywhere between 38.7 inches to 40.6 inches, depending on the trim level. The rear of the Accent is more cramped, giving only 33.5 inches of rear legroom compared to the Elantra's 38.0 inches. Both sedans have 37.3 inches of rear headroom.
Small sedans are not known for their cargo space. The Elantra has 14.2 cubic feet of trunk space, which is considered average. As for the Accent, it has 13.7 cubic feet, which is right around average for a subcompact sedan.
Both the 2022 Elantra and 2022 Accent are sleek and sporty sedans. The Elantra has more customization options, and buyers can add the available Premium package to the SEL trim level. It includes LED headlights, a sunroof, and a dark chrome front grille. Both the Elantra N-Line and the Elantra N add athletic style touches. The Accent has fewer exterior options, but its top Limited trim level does come equipped with LED headlights and attractive 17-inch alloy wheels.
Both the 2022 Elantra and Accent are sleek and sporty sedans. The Elantra has more customization options, and buyers can add the available Premium package to the SEL trim level. It includes LED headlights, a sunroof, and a dark chrome front grille. Both the Elantra N-Line and the Elantra N add athletic style touches. The Accent has fewer exterior options, but its top Limited trim level does come equipped with LED headlights and attractive 17-inch alloy wheels.
Drivability
The powertrain setup for the 2022 Accent is straightforward. All models are equipped with a 1.6L inline-four-cylinder engine that makes 120 horsepower along with 113 lb-ft of torque. Front-wheel drive and a continuously variable transmission are standard across the board.
The 2022 Elantra is poised to provide drivers with an exhilarating ride, featuring several powertrain configurations designed for a maximum driving experience. Choose from the standard 2.0L four-cylinder that pumps out 147 horsepower or opt for the breath taking N-Line model's 201HP engine mated with either 6 speed or 7speed transmission - guaranteed excitement.
For drivers ready to experience the height of power, speed and precision in their Elantra, look no further than the N trim. Under its hood lies a turbocharged 2.0L four-cylinder engine that generates an incredible 276hp and 289 lb-ft torque - allowing for personal customization with either six-speed manual or eight-speed dual clutch transmission options And on top? Variable sport exhaust systems plus powerful brakes ensuring great performance behind every wheel turn.
Unlike the Accent, the Elantra features a hybrid model that combines a 1.6L engine with an electric motor for a combined output of 139 horsepower. The entry-level Blue trim provides a spectacular estimated fuel efficiency of 54mpg combined, while the Elantra Hybrid Limited achieves an estimated 50mpg combined.
Every 2022 Accent is estimated to get 33mpg in the city and 41mpg on the highway. The 2022 Elantra manages to be even more impressive with its base engine, getting 33mpg in the city and 43mpg on the highway. The Elantra N-Line with the manual transmission gets 25mpg city and 34mpg highway. This model with the automatic gets 28mpg city and 36mpg highway. The most powerful Elantra N gets 22mpg city and 31mpg highway with the manual or 20mpg city and 30mpg highway with the automatic.
Another thing that the Elantra has going for it is a larger gas tank. It can hold up to 14 gallons of fuel, while the Accent can only do 11.9 gallons. Although it may cost more to fill up the Elantra, drivers will be able to go a lot longer between fill-ups, especially if they stick with the entry-level engine.
Although the Elantra is a bit bigger, these are both easily maneuverable vehicles. Buyers should have no problems when it comes to cornering or parking either the Elantra or the Accent. This is a result of both their size and their tight turning radiuses.
The 2022 Accent gets mixed reviews when it comes to ride and handling. On smooth surfaces, it does perfectly fine. This is not the case when the road gets a bit rough. Overall, it does a respectable job with its stopping power and lightly-weighted steering.
Buyers will likely enjoy driving the Elantra more. Even with its standard engine, this vehicle provides engaging dynamics. This is certainly true of the N-Line, and especially true of the N with its adaptive shock absorbers and bigger brakes. While there are sportier options out there, the Elantra should satisfy most drivers.
Comfort, Options, and Performance
The Accent's interior design may not be the most luxurious, with many hard plastics throughout. Nevertheless, it is priced very competitively, starting at just $15,500. Meanwhile, the Elantra presents a more elevated experience with its clean, modern design and higher-quality materials, although it also comes with a slightly higher price point. Ultimately, the choice between the two models may come down to personal preference and budget.
Along those same lines, the Accent comes standard with only a 5-inch screen while the Elantra has an 8-inch touchscreen. The Elantra has Android Auto and Apple CarPlay standard across the board, while these features are missing from the entry-level Accent. That said, the top two Accent trims do gain these features, plus a 7-inch touchscreen.
The Accent has a single USB port standard, and the Elantra comes with at least two of them. If buyers do stick with the entry-level Accent, they can use either Bluetooth or Siri EyesFree to accomplish smartphone integration.
The 2022 Elantra boasts advanced technology features on its upper trim levels. Buyers can equip their Elantra with a 10.25-inch touchscreen, wireless device charging, a 10.2-inch digital instrument cluster, and navigation, guaranteeing a more sophisticated and modern driving experience. Meanwhile, both the Elantra and the Accent come with a four-speaker sound system, with the option to upgrade to a six-speaker setup. The Elantra takes it a step further, however, offering an available eight-speaker system. Furthermore, both models feature satellite radio, while the Elantra also includes HD radio as standard.
With the Accent, you may get a sense of simplicity with its entry-level SE model. Featuring basic cloth upholstery and electric window/lock control to your liking - not much else other than that! On the flip side, if it's tech features or a little extra flair you're after then check out what Hyundai offers in their Elantra entry-level trim; boasting extras such as keyless access & eye catching alloy wheels.
With Accent Limited, you get to kick back in heated front seats whilst navigating with LED headlights. The automatic climate control and leather-wrapped steering wheel maximize your comfort as well. If technology is more up your alley, Elantra Limited has the perfect combination of luxurious touches from its leather-trimmed seating and a sophisticated voice recognition system that pairs perfectly with its large 10.25" touchscreen for an elevated driving experience! Alternatively, if performance upgrades are what you're looking for; there's pricier versions of the Elantra available too.
Safety
When looking at safety scores, the 2022 Elantra is a clear winner over the 2022 Accent. The Elantra received an overall score of five out of five stars from the National Highway Traffic Safety Administration. Five stars were awarded for side crashes and rollovers, and four stars for frontal collisions. Meanwhile, the Accent received only four stars overall. While it managed to get five stars in side crash testing, it got only four stars for frontal collisions as well as rollovers.
Both these vehicles were tested by the Insurance Institute for Highway Safety. There are six main categories looked at, and the 2022 Elantra got the top score of "Good" for all of them. The Accent got the top score of "Good" in five categories, and the score of "Acceptable" in small overlap front passenger testing. Buyers should note that both of these vehicles received the score of "Poor" for their entry-level headlights.
The only standard driver aid for the 2022 Accent is a rearview mirror. Forward collision mitigation is available, but it is exclusive to the top Limited trim level. As for the Elantra, it has a truly impressive number of driver assistance features. All of the trim levels have blind-spot monitoring, forward collision mitigation, driver drowsiness monitoring, safe exit warning, rear cross-traffic alert, and a rear seat alert. Other standard features for the Elantra are things like automatic high beams and pedestrian detection.
Select models of the 2022 Hyundai Elantra can add rear parking sensors along with rear collision warning. This sedan can also have the popular adaptive cruise control feature, plus cyclist detection. Upper trim levels can have Highway Driving Assist, which combines adaptive cruise control with a lane-centering feature for a semi-autonomous driving experience.
Which Model to Choose?
When deciding between the 2022 Elantra and its predecessor, buyers must consider a plethora of factors; from safety scores to features abound. Not only does it boast more standard equipment than ever before - with its hybrid powertrain option being particularly noteworthy - but there are also multiple engine options available for customers to maximize their efficiency or performance needs. Additionally, keen bargainers will benefit from comparing prices beforehand – making sure they get the best bang for their buck.
Drivers on a budget can score the Accent SE for less than $20,000 - much cheaper than its Elantra brother. Although it may not have as many bells and whistles, the Accent offers decent features at an unbeatable price tag that won't break your wallet. If safety isn't top of mind when choosing a car, then this is the perfect option to get you cruising around town in style without emptying out your bank account.
Looking for a dependable car that won't break the bank? The 2022 Hyundai Accent is your go-to option. But if you're searching for something with more bells and whistles, check out the updated Elantra - it's got modern technology galore plus advanced safety features to keep everyone safe on the road!