2022 Hyundai Santa Fe vs Tucson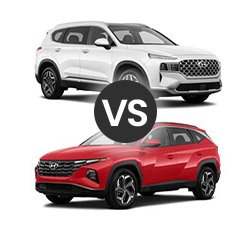 Finding the right SUV can be quite the task, but Hyundai certainly gives you a few good options to choose from. Either way, they will come with an industry-leading warranty that should give you some peace of mind as you go about each day.
The 2022 Hyundai Santa Fe comes with a long list of standard features for the cost of the vehicle. With its lengthy warranty coverage, swift acceleration from the 2.5-L turbocharged engine, and fully functional advanced driver aids, the Santa Fe is a vehicle with a lot of inherent value. However, its suspension is too soft for the average buyer to enjoy, and the available 10.25-inch touchscreen display slowly responds to inputs, proving to be a bit frustrating.
Of course, if you want to stay on the smaller side, the 2022 Hyundai Tucson is a solid choice. The Tucson was just redesigned for the 2022 model year; therefore, it offers a totally new line-up of engines that includes both hybrid and plug-in hybrid options. There are also a ton of fresh standard technological features and advanced driver aids slated along the trim level line-up. The ride quality remains smooth and compliant while the Tucson's front seats are immaculately sculpted for superior comfort. You also get some generous warranty coverage from Hyundai, just like on the Santa Fe.
There are some pitfalls, though. For example, you will have to deal with the 2.5-L engine's slow acceleration and a hybrid engine that falls short of the standards set by its top rivals. With the obnoxious and distracting touch-style center stack controls, the Tucson's set-up could be better.
Which one will be the right Hyundai for you? Which one has the most value? Let's dive in and find out.
Size and Styling
The 2022 Hyundai Santa Fe sits between the Tucson and the mid-size SUV Hyundai Palisade. While it seats five just like the Tucson, its extra space feels quite obvious once you're sitting inside of its cabin. You can get a gas-powered version, a standard hybrid, or a plug-in hybrid powertrain with it. There is a new XRT trim level that equips black exterior body molding, bumper fascia that are black, black cross rails and roof rails, and front and rear skid plates done in dark silver.
The Tucson is obviously smaller as it is a compact SUV. The new line-up includes a hybrid and plug-in hybrid, so you get your choice of powertrains. Stylistically, the Tucson has often played it safe, looking more subdued than many of its competitors. However, its new look is much more dynamic. You get some chic creases along the body, a cascading headlight design, and squared-off wheel arches. Inside of the Tucson, the center stack does not have any of the usual hard physical buttons, and there is a shroud-less digital instrument panel built into it.
Drivability
The 2022 Hyundai Santa Fe receives its power from a 2.5-liter four cylinder engine that generates 191 horsepower and 181 lb-ft of torque. It gets paired to an eight-speed automatic transmission. FWD is standard on every trim level, but AWD is available if you want it equipped instead. On the Santa Fe's Limited trim, a stronger turbo 2.5-liter four-cylinder gives this SUV 281 hp and 311 lb-ft of torque.
This higher-powered turbo engine gets the Santa Fe from 0 to 60 mph in 6.6 seconds -a swift showing for this segment. Power delivery feels like it is somewhat inconsistent and lacking in refinement when you aren't consistently asking it for power. The Santa Fe's transmission is tuned to find the highest possible gear, which proves to be obnoxious at times. The Santa Fe just doesn't feel as grounded as some of its rivals as it goes through turns, but its sharp steering makes for effortless maneuvering while traveling at slower rates of speed.
When you equip AWD and the upgraded turbo engine, the Santa Fe gets an EPA estimated 24 mpg combined. This is good enough, and real-world tests actually places this fuel economy rating at 27-28 mpg combined. And the FWD-equipped base engine does even better in terms of fuel efficiency.
Now, the 2022 Hyundai Tucson is powered by a standard 2.5-liter four-cylinder that serves up 187 horsepower. You can opt for a hybrid powertrain with a turbocharged 1.6-liter four-cylinder engine that generates 227 total hp. There is also a plug-in hybrid with a turbocharged 1.6-liter four-cylinder engine that makes 261 total hp. The gas-powered engine can come with front- or all-wheel drive and is paired up to an eight-speed automatic; the hybrid models come with AWD and a six-speed automatic transmission.
The Tucson's gas engine has trouble getting the SUV running off the line with any sense of swiftness. It feels just fine while cruising around town or out on the highway. However, if you are in a rush, the engine's slow acceleration is woefully obvious. The Tucson needs 10.2 seconds to move from 0 to 60 mph, making it one of the slowest crossovers out there.
The Tucson's driving experience is nothing all that remarkable. The steering comes off as being concise and straightforward, and the vehicle stays composed as you go through tight corners. The transmission's upshifts feel pleasantly smooth, but the downshifts are somewhat jarring when you press on the accelerator.
When AWD is equipped, the Tucson gets an EPA-estimated 26 mpg combined. A real-world test returns similar numbers, reflecting these estimates. However, that number doesn't exactly stack up to the Tucson's AWD-equipped competitors.
Comfort, Options and Performance
The 2022 Hyundai Santa Fe is drivable, there is no doubt about that. The standard suspension does create a wallowing ride that could do with some more refinement. The Santa Fe's front seats are quite comfortable and sculpted for ultimate spinal support. Sound is kept to a bare minimum thanks to the front dual-pane front windows, putting the tranquility level near luxury status. Adjusting the climate controls is easy as well, thanks to it being a no-fuss system.
There is plenty of leg space available inside this cabin, and the controls up front are intuitively laid out with an abundance of physical knobs and buttons to make for easy use. The door sills are absolutely huge and make getting in and out of the vehicle easy for most people. The rear window is massive, making outward visibility clear enough that you do not need to rely on the standard rear-view camera. The side-mirrors are mounted onto the door, which will give you a good view of your SUV's modestly sized blind spots.
Options on the Santa Fe include two packages for the SEL: the Convenience and Premium packages. The Convenience equips a hands-free power liftgate, front side windows that are noise-reducing, a digital key, a leather-wrapped steering wheel, rear passenger window sunshades, a digital instrument panel, power-folding rear seats, and a rear seat reminder. The Premium package requires the Convenience package to be added and tacks on a panoramic sunroof, leather upholstery, a power-adjustable front passenger seat, a premium 12-speaker Harman Kardon audio system, a 10.25-inch infotainment touchscreen, and a lane keeping system.
The 2022 Hyundai Tucson comes close to a luxury-level status when it comes to comfort. The suspension comes off as being well-tuned and provides you with a smooth ride quality, absorbing bumps in the road without any hassle. All things told, the Tucson makes for an incredibly cozy ride. The front seats are shaped with comfort in mind with their supportive cushions upholstered in chic material. Those seats deliver ample lateral support and have plenty of power lumbar adjustments on them. The cabin is remarkably quiet and properly insulated from noise as this Tucson zips along the highway. Many rivals in this segment are not this quiet, and even strong gusts of wind cannot be heard inside of the cabin.
The Tucson's impressive ergonomics and abundance of cabin space makes it feel like a real treat to sit in, whether you are up front or in the back. The front seats give you plenty of room, but the rear seats are just as good, as its passengers can stretch out their legs and recline back in their seats. Drivers can easily find a cozy driving position with a wide outward view. The huge front windshield and thin roof pillars lend to it. The control setup is not so superb though. The touchscreen controls a lot of the vehicle's features, and what it doesn't control, the flat buttons beside it do; they unfortunately offer very little grip. A dial or controller would certainly improve this. There are also a collection of smudges that quickly develop on the screen.
As far as options go, the Tucson also has the Convenience and Premium packages available for its SEL trim level. The features offered in them are exactly the same as those that come on the same packages offered on the Santa Fe. You will not be able to get any other packages or stand-alone options tacked on.
Safety
Hyundai goes all-out when it comes to safety and security. The 2022 Hyundai Santa Fe offers its buyers a bundle of standard driver aids. Included in this suite of driver aids are adaptive cruise control, a driver attention warning, forward collision warning, and lane keeping assist. Hyundai's Blue Link connected services come on the SEL, while the Convenience package tacks on a rear seat reminder. The full lane keep system comes on the Premium package and above trim levels. The well-loved Limited trim level adds a surround-view camera system, a blind spot camera, rain-sensing wipers, and an automated parking system. The line-topping Calligraphy trim gains a head-up display.
Likewise, the 2022 Hyundai Tucson is outfitted with a massive list of standard driver aids, which has been beefed up for the current model year. This vehicle has a standard rear seat reminder, lane keep assist, forward collision mitigation, and a driver attention warning. Upgrading to the second-in-line SEL trim level gets you blind-spot monitor with rear cross-traffic alert, blind-spot intervention, and adaptive cruise control. Going up to the line-topping Limited trim level nabs you a blind-spot camera, a surround-view camera system, and the full lane keeping system.
Which Model to Choose?
Both the 2022 Hyundai Santa Fe and the 2022 Hyundai Tucson represent just how far this automaker has come over the years. With generous warranty coverage and excellent overall value, either of these SUVs is going to be a solid choice for the average buyer. Both have plug-in and standard hybrid powertrain options if you are looking to save a bit on fuel, and there are zesty gas-powered engine options that are sure to make for a cozy daily driver. If you need the extra space, the Santa Fe is definitely the way to go. However, the Tucson gets slightly better fuel efficiency and isn't as crowded as some of its similarly sized rivals. What you choose will likely depend on just how much space you will need for making daily commutes and for taking some fun road trips with your family and friends.