Pros VS Cons • Configurations
2020 Hyundai Kona
Performance • Comparisons
The 2020 Hyundai Kona couldn't have come along at a better time. It can claim a blend of style, safety, technology, and value. Buyers can choose from five trims, two engines, and front-wheel or all-wheel drive.
This compact SUV has earned consistent praise since it was introduced in 2018. In fact, the Kona was chosen as 2019 North American Utility Vehicle of the Year. This award-winner makes a case for budget-priced value. Of course, nothing is perfect as you'll see in this review.
The affordable entry level price is catnip enough for savvy shoppers. Hyundai makes this a good deal by including critical advanced safety features and must-have dash tech at that low price. Priced to move, the higher trim levels let you get today's favorite amenities without necessarily busting your budget.
This isn't your cookie-cutter compact either. The 2020 Hyundai Kona has a distinctive look that is generally well-liked by consumers and reviewers. Appealing to younger drivers, it has a palette of bright color choices. Eye candy comes in the form of slanted headlights and a floating roof. The distinctive wheel fenders add to its unique design.
Hyundai even makes it inexpensive to choose a contrast-color roof. Available at the SEL trim level, the fee is around $350, which even budget buyers can afford.
What's New for 2020?
Since the Kona was developed in 2018, Hyundai has been gradually adding more goodies to the standards and options list. The manufacturer did drop the Iron Man Edition this year, but they haven't neglected the fun. A Sunset Orange exterior on the Limited can be paired with exciting orange interior accents for personalized color and style.
The SEL Plus is a new trim level that is replacing the old SEL with Tech Package. A shorter name is always easier to remember. Among its new features, this edition picked up a 4.2-inch color MID display. That's good because you'd expect a digital screen behind the steering wheel at this price point.
What's really fun for the SEL Plus buyer is the wireless charger. That's a top tech convenience feature usually reserved for more expensive trims. In other words, it's another Hyundai value move that makes the automaker popular with buyers.
The Pros and Cons of the 2020 Hyundai Kona
What are the most compelling reasons to pick the Kona? For that matter, what are the biggest reasons to rethink this choice? Let's examine the main pros and cons.
The Pros:
✅ The low price represents a big value.
Most automakers, such as Honda and Subaru, are holding back their bigger touchscreens at the entry level. 2020 Konas come with full Apple and Android connectivity. These systems are a value because they greatly expand what even the simplest system can do. Android Auto serves the Android phone owner by providing Google Maps and the convenience of Google Voice. Apple CarPlay does a similar thing for iPhone owners, providing Apple Maps and Siri.
✅ Driver Assistance is affordable.
Since driver assistance comes standard on the base trim, Hyundai gives Kona buyers what they need without asking for more money. The affordable trim level pricing allows you to move up the ladder to more safety features without a huge investment.
✅ Affordable ownership costs are a given.
The high value of each trim level is one reason ownership costs will be low when compared to what you get. In addition, it has good fuel economy so you won't spend too much at the pump.
Keeping costs down even more, the warranties are outstanding. There are only three or four car companies offering that much coverage. The five-year/60,000-mile new vehicle limited warranty provides coverage for almost everything. The powertrain has a limited 10-year, 100,000-mile coverage. It's hard to beat that. The standard is three years for limited and five years for powertrain.
✅ If you are downsizing, you don't have to give up favorite features.
Often compact SUVs don't provide you with the latest tech or leather seats. Fortunately, Hyundai has taken another direction with the Kona. Some examples of above-class offerings include the Infinity audio system, a Head-up display and a wireless charger.
✅ Distinctive looks make it stand out.
While some small SUVs are hated for their attempt at originality, the 2020 Hyundai Kona has been widely applauded. The fact that you can get a color-contrast roof for less than $400 extra makes it fun to personalize. If you think about what it costs to get a Mini Cooper with a contrasting roof, the Kona shouts 'great deal'.
The Cons:
❌ May not be big enough for some drivers.
The backseat is small, and the cargo hold is limited when you compare this to larger vehicles. This may force shoppers to a pricier model in order to get the space they need for family or gear.
❌ This SUV isn't for towing.
If you want an SUV to be able to tow, keep in mind that this one is built more like a car. Plus, it doesn't have high horsepower. So, look elsewhere if you want to tow.
❌ Headlights on lower trims don't pass IIHS tests.
So many vehicles today have headlights that don't make passing grades at the Insurance Institute for Highway Safety. The Kona's first three trim levels have a low rating for headlights. With the standard LED upgrade, the 2020 Hyundai Kona Limited and Ultimate models drove away with the coveted Good rating at the Insurance Institute. Still, this is probably not a smart reason for eliminating the vehicle from your list because its overall safety rating is excellent.
View more pros and cons of the 2020 Kona. ›
Configurations / Trim Levels
The 2020 Hyundai Kona trim levels include SE, SEL, SEL Plus, Limited and Ultimate editions. This range of affordable prices should please those who like to find a model with a sweet spot for their budget and lifestyle.
SE
There's enough tech for a budget buyer to feel good choosing the SE. Sure, there are things it doesn't have, but it does have basic driver assistance and advanced dash tech. The fully adjustable chair is matched with an adjustable tilt-and-telescopic steering wheel column. Your connectivity and infotainment are assured by these standards:
7-inch touch screen
Rearview camera
Android Auto/Apple CarPlay
Bluetooth
Two USB ports
SEL
The SEL trim adds heated side mirrors and, even more importantly, a blind spot warning. This includes a lane change assist and a cross-traffic warning. Winters will be more comfortable with three-level heated front seats. Entry is easier with the proximity key. This includes push button start, the modern way to get in and go.
The audio system is upgraded to include HD Radio. Satellite capability is added as well. Practical additions include roof rails and a hidden cargo compartment. For fun, you can add the color contrast roof at this inexpensive trim level.
SEL Plus
An SEL Plus adds the nicer things that many of us want when we buy a new car. There's a larger multi-information display and a wireless charger. As for looks, this trim starts to take on a more refined air. An 8-way power chair makes the driver comfortable. A sunroof adds a sporty vibe. The exterior gets a sporty shark-fin antenna. For better visibility, Hyundai adds fog lights.
Best of all, an Infinity 8-speaker audio system surrounds passengers with sound. Speakers are mounted in the doors and the center front panel. This premium system uses a process called Clari-Fi™ Music Restoration Technology to improve the quality of what you hear.
Here's another way that Hyundai has figured out how to add value to the 2020 Hyundai Kona. At this level, shoppers get three years of complimentary Blue Link Connected Car Care and Remote packages. You can interface with Google Home, Amazon Alexa, Apple Watch, Android Wear and more. The smartphone app and related website allows you to remotely lock and unlock the Kona. You can activate the climate controls to cool or warm the cabin.
Limited
At the Limited level, shoppers can get the turbo engine. Exterior elements include full LED lighting and 18-inch alloy wheels. The style lovers will be most interested in the handsome leather upholstery. The dash system is updated with automatic climate controls. HomeLink is added to an auto-dimming rearview mirror.
Ultimate
To get you where you need to go, the Ultimate has a larger eight-inch touchscreen with navigation. The dressy Ultimate adds even more critical safety features, including the head-up display. Driving is less stressful with automatic high-beam control and rain-sensing wipers. Parking is easier with rear sensors.
Smart cruise control, an Ultimate standard, is designed for slowing, stopping and going. It works at speeds as low as six miles per hour. The Ultimate also has additional Blue Link services. You can use the complementary plan for up to three years. It provides live navigational guidance.
If you are interested in the 2020 Hyundai Kona EV, you can choose from the SEL, Limited, or Ultimate. It's quite a bit more expensive, but it does qualify for the $7,500 federal tax credit. By the way, it is always advisable to ask an accountant to determine if your tax situation meets the requirements for using the credit before purchasing an electric vehicle of any kind.
For a detailed comparison of these trim levels, see our recent research into the 2020 Hyundai Kona Trim Level Comparisons and Configurations. ›
Driving Impressions and Performance
The SE, SEL, and SEL Plus have an Atkinson four-cylinder engine paired with a six-speed automatic transmission. Outlay is 147 horsepower and 132 pound-feet of torque. This engine may not feel as speedy as some people will like, but the horsepower is actually typical for this price range and model type. Most Konas weigh just under 3,000 pounds. This means it enjoys a very good ratio of weight to horsepower.
SHIFTRONIC provides a fun manual mode, allowing you to handle gear shifts if you want to. There's also a lock-up torque converter. This overdrive feature improves highway fuel economy. The rating is 33 miles per gallon on the interstate. City driving is rated for 27 miles per gallon. Combined driving is 30 miles per gallon.
Part of the allure of the Limited and Ultimate trims is the Hyundai turbo four. This Gamma 1.6-liter engine generates 175 horsepower and 195 pound-feet of torque. As great as it is to increase horsepower by 28, the real power comes from that high torque rate. When faced with entering the highway or climbing steep inclines, the Kona's torque is available at rpms as low as 1,500.
Hyundai engineers use a number of tricks to make this turbo more efficient. The most noteworthy include these refinements:
An electronic wastegate control to manage manifold pressure
A water jacket insert to improve cylinder block upper level cooling
Piston-cooling oil jets to extend engine life
Lean air/fuel mixtures for maximum fuel efficiency
To harness that low-end torque and high horsepower, Hyundai equips the Kona with an EcoShift® dual-clutch transmission. This 7-speed DCT harnesses the engine to smoothly deliver acceleration and deceleration. Shoppers shouldn't confuse this with a rival's continuously variable transmission (CVT). The Hyundai DCT transmission doesn't suffer from frustrating power interruptions live many competitor CVTs.
The vehicle build plays into drivability. The 2020 Hyundai Kona has short overhangs which decrease unsprung weight. It has a long wheelbase which provides balance and response. The wide track contributes to a planted stance that resists rollover and promotes accurate responses to driver commands.
Just as the Kona's construction makes a driver feel surefooted, the vehicle takes care of the passengers. Hyundai employs gas-filled shock absorbers and a special sub-frame bushing design that helps the suspension handle shock. Engineers utilizes advanced techniques to reduce noise and vibrations.
Hyundai makes all-wheel drive more affordable by offering it on all trim levels. With all-wheel drive, the Kona trades in a rigid torsion beam for a dual-arm multi-link design. This independent rear suspension helps the Kona handle off-road rides. Plus, the design allows for wider suspension travel, which is essential for agility on the trail.
If you live in the select states where you can get the Kona EV, you will want to look into it. The range is 258 miles on one charge. Even better, a quick charge station will help you reach 80 percent in less than an hour.
Surprisingly, the 2020 Hyundai Kona EV has the best horsepower of the bunch. It generates 201 horsepower and a whopping 291 pound-feet of torque. This EV would definitely be a driving enthusiast's favorite. If you are trying to figure out fuel economy, the equivalent miles-per-gallon estimate is 132 (city) and 108 (highway).
Safety
Shoppers will be happy to know that the 2020 Hyundai Kona has a five-star federal safety rating and achieved a good rating for every Institute for Highway Safety Test. The 2018 and 2019 models have the same excellent record. This assures you that the vehicle can handle a wreck as well or better as any other compact SUV.
Even if you aren't anxious about safety, you'll be glad that the Kona's ratings help your insurance rates. You'll also be pleased with the way it can reduce your chances of preventable accidents: forward, side, and reverse. This improves ownership costs by simply sparing you many things: the costs of repair, the corresponding loss of resale value, the corresponding rise in insurance rates, and potential for injuries, hospital bills and lost wages.
This year every Hyundai Kona has basic forward collision avoidance. This means that the Kona will react to a forward collision danger by warning the driver and, when needed, slowing the vehicle. It passes both the 12-mph and 25-mph test at the IIHS. Automatic emergency braking has been shown to reduce the chances that a driver will rear-end another car in traffic.
All models have a lane keeping assist. This driver aid both warns and reacts to help keep the Kona inside the safety of the lane lines. A gentle steering nudge helps the driver get it straight. If you step up just one level to the SEL trim, you gain the blind spot monitor which watches for traffic that's too close for a lane change. These two systems reduce the likelihood of common side swipe accidents.
The standard rearview camera gives you a clear view of what's behind the vehicle. The SEL edition and higher trims have a rear cross-traffic monitor. This provides a warning about traffic that is approaching while the Kona is in reverse. A third available tool is a rear parking sensor.
Another helpful standard is the driver attention warning. While some may think of this as a drowsiness monitor, there's more to it. This will notice the little mistakes made by a driver who is distracted by technology, an emotional break-down or a big argument. This gives the driver a chance to improve their attention to the road or, perhaps, stop driving.
The Kona Ultimate is an IIHS Top Safety Pick Plus. With pedestrian detection, the available forward collision system has a superior rating. The advanced device can recognize when someone steps into the roadway. Ultimate models also benefit from smart cruise control which can slow and go with the traffic.
Kona offers a heads-up display, which can be rare in this price range. Hyundai chose a big eight-inch vertical projection. It works day and night to show you speed, lane keeping information, entertainment system information, and navigation, when applicable. Drivers will like how simple it is to turn on and off with a button by the steering wheel.
Blue Link services provide enhanced roadside assistance and stolen vehicle location. You can use the button, located on the mirror, to call for help in emergencies.
Interior
Despite its affordable price tag, the Kona's cabin quality is excellent for its class. In fact, it is dressed so well inside that it feels like the price should be higher. The driver's cockpit has a logical feel. You can easily reach the necessary buttons and knobs on the center stack.
Hyundai has devised an interior that is stylish and youthful. The higher trims add favorites such as leather seats, heated front seats, and a sunroof. Orange trim can add spice on the Limited and Ultimate trims, if you choose.
Interior space measures 114 cubic feet. Of that, about 94 cubic feet of space seats passengers. Kona cargo space is 19.2 cubic feet behind the second-row passengers. If you are wondering what to compare this to, think of a large sedan's trunk. It is about that size.
Hyundai engineers have really thought out how to make the Kona as cargo-friendly as possible. There's a dual-level floor to provide hidden space in most trim levels. In all, the low load floor is easily accessible with the wide rear opening. The folded rear seats leave you 45.8 cubic feet of space. They can be split 60/40, allowing you to retain passenger seating and gain extra room for your gear.
Exterior Color Options
Chalk White
Lime Twist
Pulse Red
Sonic Silver
Sunset Orange
Surf Blue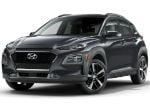 Thunder Grey
Ultra Black
Reliability
JD Power, a leading industrial analyst, has given the Kona an above-average reliability score. That's a good reason to keep it on your list. Generally good JD Power rankings demonstrate that the vehicle will treat owners well and generate fewer complaints.
The long warranty offers additional peace of mind that most car manufacturers don't provide. If you are someone who likes to keep your car forever, that long warranty is a solid deal. If you want to sell every few years, that warranty travels with the Kona, and that's a selling point if you want maximum value.
Improving reliability, the Kona comes with Hyundai's three-year maintenance plan. Again, it's longer than the typical plans from other manufacturers. It's also meaningful since there is more maintenance with more mileage. Blue Link provides regular vehicle health assessments, another tool in keeping your car on the road longer.
Adding to its resale values, the most trusted auto journalists have given it top marks, putting it at the top of its class. Other experts have named it a 2020 Best Buy. The top safety ratings from both the federal and private testing agencies are more points in favor of a long road life.
Demonstrating a history of reliability, there are no recalls for the 2018 or 2019 models. However, you should know that there has already been a recall on the 2020 model, but it is minor. The Gross Axle Weight Rating was mislabeled on the standard display sticker. This simply gets replaced by an updated certification label. Rather than actually being a safety hazard, the mislabeling could lead to someone exceeding the Kona's weight limitations.
How Does It Compare
2020 Hyundai Kona vs 2020 Kia Niro
The 2020 Kia Niro is a hybrid with a combined rating of 49 miles per gallon. So it definitely beats the Kona on that point. It is also six cubes larger inside, allowing it to offer more legroom. The cargo hold is the same, but the Niro has almost ten extra cubic feet when the second row is folded.
On the other hand, the 2020 Kia Niro is much more expensive than the Kona. The starting price difference can be as much as $6,000. The Kona has higher ground clearance. Plus, it offers all-wheel drive whereas the Kia doesn't. For those who need help handling winter weather, the Hyundai Kona is the only pick of these two.
See our In-Depth Comparison of the 2020 Kona and the Niro Here
2020 Hyundai Kona vs 2020 Subaru Crosstrek
From the outset, you can expect to pay $3,00 more for the 2020 Subaru Crosstrek. What's more, the basic price has a manual transmission and fewer driver assistance systems than the Kona.
If you want an automatic transmission, the initial price difference grows to $5,000 or more. A full touchscreen and automatic emergency braking push the price up even higher. If you compare the two, you'll see that you can get much more on the Kona whether you choose the base trim or a higher one.
There are other differences that may favor the Subaru. A Crosstrek has a few extra cubes when the seats are folded. The engine produces an extra five horsepower, but the fuel economy is similar. All-wheel drive is standard, but it's still more expensive than adding all-wheel drive to the Kona SE.
See our In-Depth Comparison of the 2020 Kona and the Crosstrek Here
2020 Hyundai Kona vs 2020 Honda HR-V
As mentioned, the Kona provides you with a full touchscreen complete with the most coveted Apple and Android capability. You won't find that on the 2020 Honda HR-V until you step up a level. Furthermore, the Honda costs about $1,000 more at the base trim level.
The HR-V can claim almost 14 extra cubes of cargo space when the rear seats are folded. This is due to the unique Magic Seat. It allows the owner to alter the cushions for different space configurations. There is also more legroom in the HR-V on the second row.
While the fuel economy is similar to the Kona, performance is much lower at 141 horsepower. This makes the Kona more fun to drive. The Hyundai is also more fun because it has more standard features and sporty interior color schemes. You won't find a color accent roof on an HR-V either.
Kelley Blue Book, a leading automotive appraisal firm, rates the Hyundai Kona's resale value in the same neighborhood as the Honda HR-V. If you combine that with the long warranty and the savings at purchase, the Kona comes out ahead in terms of ownership costs.
See our In-Depth Comparison of the 2020 Kona and the HR-V Here
2020 Hyundai Kona vs 2020 Hyundai Tucson
Perhaps your budget allows you to consider the 2020 Hyundai Tucson, but you are wondering if you should save money with the 2020 Hyundai Kona. Tucsons have a more refined material quality. Most of the basic equipment is the same on the two siblings. The larger SUV, however, comes with more standard active safety technology and offers higher-end amenities such as a 360-degree camera. It is interesting to note that the Kona offers a heads-up display that isn't available on the Tucson.
If you are buying for a growing family of four, a much bigger backseat is reason enough to try out the Tucson. Riders will appreciate four more inches of legroom. The Tucson's 30.1-cubic foot hold is more than ten cubes bigger than the Kona. The larger Tucson has 14 more horses under the hood at the base level and 6 more horses if you choose the turbo. Still, the Kona has better fuel economy, which is another reason that it attracts budget-minded buyers.
See our In-Depth Comparison of the 2020 Kona and the Tucson Here
2020 Hyundai Kona vs 2020 Nissan Kicks
The 2020 Nissan Kicks starts out about $1,000 less than the Kona. Plus, fuel economy is better. On the other hand, it has a much shorter warranty. Plus, material quality is cheap, reflecting its rock-bottom price. This will hurt its resale values.
If you want Apple CarPlay or Android Auto, the price difference flips in favor of saving about $1,500 with the Kona. Then there's the engine. The power outlay is a mere 122 horsepower and 114 pound-feet of torque. That's far lower than the peppy Kona.
The Kicks is slightly smaller than the Kona and has less rear legroom. Cargo space is interesting as the Kicks has more in the cargo hold than the Kona, but it has 13 cubic feet less when the seats are folded.
There are ways to personalize the Kicks, but this can run into quite a bit extra. There's nothing to compare to the affordability of the Kona's accent roof pricing. Plus, the Kicks has a divisive exterior style while the Kona is widely praised for its interesting good looks.
See our In-Depth Comparison of the 2020 Kona and the Kicks Here