Reasons to Buy • Pros vs. Cons
2018 Infiniti QX30
Should you buy?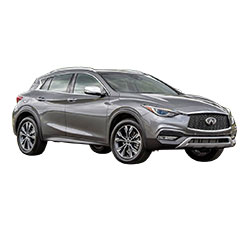 Buying Tip:
Before you walk into a dealership, price shop Online first. Avoid overpaying by using the following pricing services:
With these services you can:
• Force dealers to compete for your business.
• Start your own online price war.
• Many prices are not advertised online.
• It's Free and No Obligation.

Visit
Car Clearance Deals
,
CarsDirect
&
MotorTrend.
The QX30 from Infiniti holds its own in a luxury sub-compact SUV class that features true luxury. One of the most efficient vehicles in its class, the 2018 QX30 from Infiniti offers great gas mileage to save you at the pump while still offering a punch from the gas pedal. It looks sporty and aggressive and can be upgraded to include the best in technology and luxury.
What's New for 2018?
The 2018 Infiniti QX30 was all new in 2017. There are no new additions this year though it is still a very new offering.
Top 10 Reasons to Buy a 2018 Infiniti QX30 – The Pros
1. Best Warranty Coverage
The QX30 comes with a four-year or 60,000 mile warranty and an additional 10,000 miles or one year for just the powertrain. This warranty is better than any other car in its class including BMW and Mercedes-Benz. If you want to make sure your car's warranty is as good as possible, you can't go wrong with the QX30.
2. Engine Power and Efficiency
The 2018 Infiniti QX30 features a turbocharged four-cylinder engine that has a bit of pep. The engine cranks out well over 200 horsepower, yet still gets a class leading 24 mpg in the city and 33 mpg highway. The combination of power and efficiency show that Infiniti has really focused on making the engine stand out among the fierce competition.
3. Unique Exterior
As a sub-compact SUV, the QX30 sits higher up with an elevated stance compared to other hatchback crossovers. The higher stance makes the 2018 Infiniti QX30 more comfortable for getting in and out. It also impresses with rugged and distinctive exterior styling that makes it a sporty looking vehicle with an element of luxury design.
4. Dual Clutch Technology
The 2018 QX30 eliminates rough shifting while accelerating with dual clutch technology. The standard seven speed automatic transmission has separate clutches for odd and even number gears. This small detail makes the QX30 ride smoother with faster shift times and easier acceleration.
5. Luxury Standard Features
While the Infiniti QX30 has many available upgrades, the base model comes nicely equipped with standard 7 inch touch screen, rear view camera and high-definition and satellite radio. The base model is the only one that has cloth seats, but you do get dual zone climate control and the peppy turbocharged four-cylinder engine for nothing extra.
6. Luxury Exterior Styling
The QX30 was all new in 2017 so its interior and exterior design stands out. The sporty exterior makes the QX30 look stylish and aggressive while still offering seating for five. The QX30 Sport increases the exterior appeal by lowering the stance a bit and adding a more aggressive grill.
7. Interior Features
The QX30 offers a progressive range of interior material features. Once you get past the base model, the QX30 switches to Nappa leather seats and wood grain accents. The Sport package offers sport style seats, leatherette upholstery and a sport inspired steering wheel and pedals.
8. Luxury Upgrades
The QX30 offers high-end upgrades in the Luxury and Premium trim levels. Highlights of the long list of options include available all wheel drive, panoramic moon roof and Bose premium audio system with 10 speakers.
9. Specialty Navigation Package
If you want the best features of the QX30 you will want to get the navigation and technology packages. Navigation features include turn by turn navigation as well as parking sensors and the InTouch infotainment system.
10. Driver Automation Package
The technology package offers all the newest safety features. You can rest assured you are alert to your surroundings with upgrades like; adaptive cruise control, lane departure warning, automatic braking, automatic parallel and rear park and 360 degree camera.
Buying Tip:
To avoid overpaying on a new car, shop prices online first. Get up front pricing before you walk into a dealership. We recommend the following free services;
Car Clearance Deals,
CarsDirect &
MotorTrend.
These free services will offer you
the lowest prices
and supply you with multiple competing price quotes. You will know the best price before you visit the dealer.
Reasons Not to Buy a 2018 Infiniti QX30 – The Cons
1. One Engine Choice
While the standard four-cylinder turbocharged engine is capable, you won't find any upgrades in the engine department, even in the sport model. Most other luxury sub compacts either have a more powerful engine or an upgrade option.
2. Ride and Handling
The QX30 has some of the important features of a good daily driver like capable braking and a smooth ride on bumpy streets. It does fall short on cornering ability and cabin noise. If you want a sportier feel you will have to pay extra for the sport tuned suspension in the QX30 Sport.
3. Interior Space Is Limited
The 2018 Infiniti QX30 interior has been called inadequate by some. As a subcompact with a rear hatch, visibility is limited. You also have room for four in the cabin despite seating for five. Cargo space is about average for the QX30 at 34 cubic feet.
4. Economy Minded
While the 2018 Infiniti QX30 offers great value in this category with a low base model price and great fuel economy, there are more exciting and luxurious options. If you are not hung up on price you can get a more powerful engine, more cargo space and a more fun to drive vehicle.
How It Stacks Up To The Competition:
With a great starting price and excellent fuel economy, this vehicle makes a smart lower cost entry in the luxury sub compact category. You will be thousands less buying this base model compared to the Mercedes-Benz GLA or the BMW X1. The GX30 does not offer standard Nappa Leather Seats, but has a longer list of optional equipment than the Audi Q3. Its warranty is at the top of the list for both basic and powertrain coverage.
Conclusion
The 2018 Infiniti QX30 works well as a daily use vehicle with a long warranty, great gas mileage and plenty of luxury standard features. The QX30 can be upgraded to offer most of the best technology, luxury and safety features available today. It has a new design that makes it attractive on the road and a low base price for affordability. The main drawback is the average cargo and rear seat capacity.
Save Money on a 2018 Infiniti QX30:
Find New Car Clearance Prices - Many Vehicles are Selling Below Dealer Invoice Prices.
Every dealer offers a secret price. Many prices are below invoice.
Find yours here
.