Reasons to Buy • Pros vs. Cons
2020 Infiniti QX50
Should you buy? Find out below..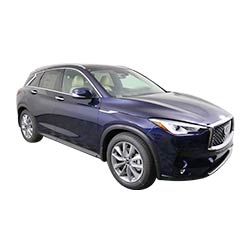 Buying Tip:
Before you walk into a dealership, price shop Online first. Avoid overpaying by using the following pricing services:
With these services you can:
• Force dealers to compete for your business.
• Start your own online price war.
• Many prices are not advertised online.
• It's Free and No Obligation.

Visit
Car Clearance Deals
,
CarsDirect
&
MotorTrend.
Functionality was once not a priority for INFINITI when it came to the QX50. Their focus was honed more in on giving the vehicle spunky handling capabilities. In the past few years, however, things have changed. INFINITI gives the 2020 INFINITI QX50 a more plush, high-end interior design while providing drivers with a fairly well-mannered ride quality. There are still quirks that need to be worked out, especially when it comes to how the continuously variable transmission (CVT) delivers power. As far as luxury vehicles go, the QX50 probably won't top your list, but it is at least worth taking for a test spin around the block to see how much you do like it.
What's New for 2020?
New for the 2020 INFINITI QX50 is a dual screen infotainment system that is accompanied by standard smartphone app integration with Apple CarPlay and Android Auto. Also, a few safety features are now standard as well. Otherwise, everything else carries over from the previous model year.
Top 10 Reasons to Buy a 2020 Infiniti QX50 – The Pros
1. A Spacious Interior
One of the biggest selling points for the 2020 INFINITI QX50 is its spacious interior. Even the tallest of adults will enjoy having plenty of headroom in the front and rear of the vehicle. The panoramic sunroof does not even take away from the head space that is available. The door panels and the console are constructed so that they create enough space to wiggle around up front. No matter which seat you occupy, there is enough room for you to adjust yourself as needed. You cannot find this in every vehicle in this segment.
2. Comfortable Seats
The second highlight on the QX50 is the comfort level its seats possess. The upholstery feels nice and plush while the padding beneath it is soft. The seats are well-bolstered and conform to the body. Even longer car rides feel pleasant enough. The rear seat is able to slide forward and backward, and it is also able to recline. Talk about the utmost in comfort seating!
3. Plenty of Cargo Space
The 2020 INFINITI QX50 is not just spacious inside of its cabin; the cargo area is also quite roomy. You can quickly and easily access it by opening the power liftgate, which reveals a best-in-class 31.4 cubic feet of cargo space. The opening had plenty of width for getting bulky items in, and the liftover height is fairly low. Additionally, the cargo area has cargo tie-downs, storage built into the floor, and levers for folding the rear seats down.
4. Easy to Get in and Out Of
Getting into and out of the QX50 is simple for just about everyone. The door sills do not get in the way, and the roof is set high enough to where the roofline does not get in the way. Taller adults will not have to worry about ducking their heads down while getting in or out. Also, the seats are set at just the right height for most adults. Sliding in and out is simple overall.
5. A Quiet and Comfortable Ride
The 2020 INFINITI QX50 is well-mannered when it comes to the ride quality. Sure, it can feel a bit light (almost as if it is floating) when you take it along winding roadways, and it is not meant to be a sporty ride. Still, you don't get that overly busy quality you find in other luxury SUVs. Take this vehicle over any road surface, and you will get a nice, smooth ride. The wheels and shock absorbers do their jobs well, letting very few - if any - bumps make their way into the cabin. Also, the cabin is kept well-insulated from engine, road, and wind noise. No need to worry about cranking your music or asking back seat passengers to speak a little louder.
6. Smartphone App Integration is Now Standard
INFINITI decided to make both Apple CarPlay and Android Auto smartphone app integration standard for the model year. This is a smart move considering that virtually every other automaker has already made smartphone app integration standard across their entire line-ups. If you do not like the car's built-in infotainment features, just switch over to the ones you know and love on your iPhone or Android. There is hardly any learning curve, so those of us who are not tech-savvy do not have to rip our hair out trying to get things to work.
7. The Climate Control System Is Very Effective
The 2020 INFINITI QX50 has a climate control system that is simple and effective. There are automatic settings that are easy to configure and work well at producing maximum comfort. The air pumps out well and flows evenly through the vents, both up front and in the rear. While the touchscreen has some buttons that feel redundant, the physical controls are simple enough. The system runs quietly, too.
8. High-Quality Interior Materials
INFINITI equips the QX50 with some high-brow stuff. Everything looks as expensive as it is, and nothing about the cabin comes off as looking tacky. The leather is some of the softest you will find on any luxury vehicle, and it is extremely comfortable to sit on. It also looks to be quite durable. Everything seems to be pieced together well, and you will not notice any odd gaps in the paneling.
9. The LATCH System is Easy to Use
The 2020 INFINITI QX50 comes with a LATCH child car safety seat system that is pretty easy to use. There are anchors on both outboard rear seats, and you will not have to dig around in between the seat cushions to find them. They are easy to grab from their spot between the cushions, and you do not have to deal with hard plastic covers.
10. A Huge List of Standard Driver Aids
The QX50 is loaded up on standard driver aids. Forward collision warning comes standard, as do a blind spot warning system, lane departure warning, rear cross traffic alert, rear automatic braking, an easy-fill tire alert, and a tire pressure monitoring system. The higher up you go in trim levels, the more you get. The base Pure trim can be equipped with the optional ProAssist Package, which has cube design LED headlights, lane departure prevention, blind spot intervention, an adaptive lighting system for the front, intelligent cruise control, and distance control assist.
Buying Tip:
To avoid overpaying on a new car, shop prices online first. Get up front pricing before you walk into a dealership. We recommend the following free services;
Car Clearance Deals,
CarsDirect &
MotorTrend.
These free services will offer you
the lowest prices
and supply you with multiple competing price quotes. You will know the best price before you visit the dealer.
Reasons Not to Buy a 2020 Infiniti QX50 – The Cons
1. The CVT Causes Power Delivery to be Inconsistent
Unfortunately, the biggest downfall to owning the 2020 INFINITI QX50 is that the CVT does not deliver a steady supply of power to the vehicle. It is inconsistent at best, obnoxious at worst. The 2.0-L turbocharged engine is actually a great engine, but its potential is hindered by the clunky CVT. In slow-rolling traffic, the accelerator can feel finicky, as if it is jumpy and doesn't quite know what to do. Were INFINITI to ditch this CVT, the power flow would probably be a lot smoother.
2. Real-World Fuel Economy is Low
INFINITI promises a great fuel economy from the QX50, but that too is hindered by the clunky powertrain. CVTs are typically used as a way to promote better fuel efficiency, but that just isn't the case for the QX50. Real-world numbers are a lot lower than their EPA estimates. INFINITI's promise of 26 combined mpg looks nice on paper, but real-world testing shows that the QX50 gets 22 combined mpg. This puts the INFINITI below quite a few of its competitors despite the promise of fuel economy ingenuity.
3. Steering Feels Too Light
Steering does not feel very solid on the 2020 INFINITI QX50. Instead, it feels too light, especially around the center. It also comes off as overly responsive. The faster you go, the more flighty it becomes. Steering really only feels adequate when you're rounding through a slow-speed parking lot or alleyway.
4. The Center Bin is Kind of Small
This gripe is infinitely minor compared to the other three issues, but it is a gripe nonetheless. The center bin is a bit too shallow for stashing tablets or even larger-sized cell phones. Small item storage space is merely adequate elsewhere in the vehicle, but the center bin is just disappointing.
How It Stacks Up to the Competition:
2020 INFINITI QX50 vs. 2020 Acura RDX
The 2020 INFINITI QX50 struggles to keep up with the 2020 Acura RDX. The RDX has some of the most precise steering and handling capabilities in this segment, and the spacious and cozy cabin just enhances the enjoyment. The engine's performance can feel a bit lackluster compared to some other luxury SUVs, but it totally makes up for that with its state-of-the-art (and user-friendly) infotainment tech and driver aids.
2020 INFINITI QX50 vs. 2020 Audi Q5
The 2020 AUdi Q5 is another top contender for the model year. While the Q5 lacks a bit in cargo space and only gives you one powertrain option, it puts in a good performance. The chassis gives the smoothest ride ever on a Q5 since Audi recently tweaked it. Also, all-wheel drive is standard, which is great for anyone who faces driving in inclement weather a lot.
Conclusion
Overall, the 2020 INFINITI QX50 gets a "meh" from most car gurus and drivers. While there are definitely good things in the way of comfort, the INFINITI QX50 lacks refinement in terms of performance. The CVT needs to go, and the steering system needs some adjustments. If INFINITI wants to keep up with the competition, they're going to have to make some changes to future QX50 models.
Did you find this article useful?
Please rate this page. Select a star rating from 1 to 5 below:


Save Money on a 2020 Infiniti QX50:
Find New Car Clearance Prices - Many Vehicles are Selling Below Dealer Invoice Prices.
Every dealer offers a secret price. Many prices are below invoice.
Find yours here
.