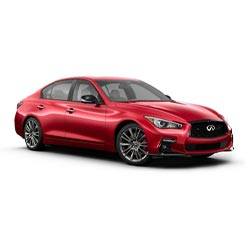 Find New Car Deals Near You
Buying Tip:
Before you walk into a dealership, price shop Online first. Avoid overpaying by using the following pricing services:
With these services you can:
• Force dealers to compete for your business.
• Start your own online price war.
• Many prices are not advertised online.
• It's Free and No Obligation.

Visit
Car Clearance Deals
,
CarsDirect
,
NADAguides
&
Motortrend
Introduced in 2014, the Infiniti Q50 is a new model to this automaker's lineup. Created as a replacement for the Infiniti G37, the Q50 took the role of an all-new hybrid model that was available in rear- and all-wheel drive. Offering superior interior upgrades compared to its predecessor, the Infiniti Q50 made a big impact on buyers and set up its successful position in Infiniti's most recent lineup. Over the past six years, the Infiniti Q50 has only gotten better with time. Moving into a luxury vehicle status, the 2021 Infiniti Q50 is the most modern and high-class version of this sedan to date. Featuring looks that set the standard for competitors, the 2021 Infiniti Q50 still falls into the original generation for this vehicle. However, its appearance and features are so enhanced from what we first saw in this vehicle.
What's New for 2021?
Ranking high on the list of vehicles that are attractive and fun to drive, the 2021 Infiniti Q50 combines ultimate comfort and impeccable design in its most recent model. A few handling attributes also make their way into the mix to elevate the experience users get in this sleek sedan. In fact, the 2021 version of the Infiniti Q50 adds in all-wheel drive that enhances this sedan's driving abilities. While rumor has it the Infiniti Q50 may even see a new powertrain in its 2021 model year, we can only imagine how this would affect this modern sedan's already superb handling.
Top 10 Reasons to Buy a 2021 Infiniti Q50 – The Pros
Every vehicle has its strong points and downfalls, and the 2021 Infiniti Q50 is no different. While this vehicle boasts many attributes that buyers enjoy, there are also some elements that could be improved upon. We prefer to look on the brighter side of things and explore vehicle aspects that buyers enjoy the most.
1. Excellent pricing in a luxury-ridden market-space.
The 2021 Infiniti Q50 plays with the big automakers, which means this sedan competes intensely with rivals like the Alfa Romeo Giulia and the Kia Stinger. In comparison to these models, the Infiniti Q50 boasts an unbeatable price point for the attributes it incorporates into its design and performance.
2. Number of powerhouse engine options.
Compared to rivals, the 2021 Infiniti Q50 does an outstanding job of excelling in the area of power-generation. Its ability to generate up to 20 more horsepower than its closest rival help the Infiniti Q50 stand out among competition. Not only does this vehicle look good, but it performs well, too.
3. Enticing exterior design.
One look at this sedan will have you longing for a better look at its interior. The exterior of the Infiniti Q50 draws buyers in. Its sleek lines, glossy paint, and winding contours give this vehicle a prestigious, yet sporty, appearance. Putting on the façade of a luxury sedan, the Q50 is a down-to-earth sports car underneath.
4. Cozy and comfortable interior features.
Stylish with comfortable seating throughout, the 2021 Infiniti Q50 sets its standards at providing the best ride experience for every passenger. A central infotainment center inset in the dash consist of two touchscreens stacked atop each other for the ultimate effect. The use of quality materials ensures passengers have just the right amount of cushioning and support they need to enjoy their ride.
5. Constant innovation that further develops with each model year release.
The Infiniti Q50 is not a vehicle that remains stagnant in its look, feel, and power. Constant innovation put this sedan a step above the rest. Implementing modern technology and tech-driven attributes, the 2021 Infiniti Q50 intends on making waves in its market through constant change and improvement.
6. Attractiveness that balances aggression and athleticism.
Letting you know it is a force to be challenged, the 2021 Infiniti Q50 makes a bold statement. It is looks alone are enough to give competitors second thoughts about positioning themselves against this sports sedan. A larger grille with compact headlamps shows off this vehicle's modern design, while sharp lines and obvious creases enhance its athletic stance.
7. Standard safety features that consumers can rely on.
Consumers have learned what they can expect from the safety attributes the Infiniti Q50 incorporates in its design. After years of performing well in this area, consumers have confidence in this vehicle that only time can develop. Intuitive features that are not available with many competitors, like a brake pedal with slide-away assembly, prove this sedan's dedication to safety innovation.
8. An impressive suspension setup.
All the reviews and data surrounding the 2021 Infiniti Q50 point to the fact that this vehicle's suspension setup is one to be revered. Though some bumps can be felt at lower speeds, this vehicle's stiff suspension serves as a buffer for most jolts and hiccups during the ride. As a result, passengers find ultimate comfort in this sporty auto.
9. Fun to drive and easy to handle.
Though many vehicles tout this concept, the 2021 Infiniti Q50 stands by its word. Offering steering that is responsive and body rolls that are minimal, this sedan takes corners and sharp turns like a champ. In fact, the 2021 Infiniti Q50 is branded as one of the most intriguing cars to drive among its competitors.
10. Distinctive trim levels with individualized variations.
Most models offer varying trim levels, but the 2021 Infiniti Q50 focuses on individualize style and power within the four trim levels it offers. Available as a 2.0t PURE, 3.0t LUXE, Signature 30, and 3.0t Sport, this sedan features a wide array of price ranges, performance components, and powertrain setup options.
Buying Tip:
To avoid overpaying on a new car, shop prices online first. Get up front pricing before you walk into a dealership. We recommend the following free services;
Car Clearance Deals,
NADAguides,
CarsDirect &
Motortrend.
These free services will offer you
the lowest prices
and supply you with multiple competing price quotes. You will know the best price before you visit the dealer.
Reasons Not to Buy a 2021 Infiniti Q50 – The Cons
1. A noisy cabin is to be expected.
One concept that Infiniti developers seemed to have overlooked in this vehicle's inherent design is the amount of noise that can rattle through the Q50's interior. It is rather loud compared to competitors, which consumers are not always able to look past.
2. Braking power that falls behind rivals.
Despite its numerous, positive component inclusions, the brakes of the 2021 Infiniti Q50 leave much to be desired. Slow to stop and a delayed response can make some drivers uneasy in this sporty sedan.
3. A disconnected steering feel.
Navigation as though you are one with the road will be difficult in the 2021 Infiniti Q50. Consumers have cited a disconnected feeling while driving and a lack of responsiveness on the road.
How it Stacks Up to the Competition:
In the arena that the 2021 Infiniti Q50 is marketed in, competition is never-ending. Serving as both a luxury sedan and a sports car, the Infiniti Q50 has many rivals.
2021 Infiniti Q50 vs 2021 Kia Stinger
While their MSRP and exterior appearances are different, the adoring feelings that consumers have for both the Infiniti Q50 and Kia Stinger are similarly strong. The 2021 Infiniti Q50's powerful engine setup allows this sporty sedan to generation as much as 50 additional horsepower compared to the 2021 Kia Stinger. As a result, the Q50 required premium unleaded fuel, while this is merely a suggestion for the Stinger. Both sedans seat up to five passengers, but the Stinger's smaller engine allows it to attain better fuel efficiency to aide drivers in traveling further on a tank of gasoline.
2021 Infiniti Q50 vs 2021 Alfa Romeo Giulia
Available at similar prices with similar rankings from consumers, the 2021 Infiniti Q50 is matched up against a tough competitor in the 2021 Alfa Romeo Giulia. While the Q50 boasts a larger engine that can produce more horsepower, the Giulia is able to attain better fuel efficiency and a more adept transmission. Both sedans seat up to give passengers and sport similar exterior appearances. Choosing between these two models is a tough decision that would be difficult to make.
Conclusion
The 2021 Infiniti Q50 is a sports sedan that any buyer would be lucky to have. It perfectly balances style, comfort, and performance in one comprehensive package that buyers find enticing. Despite a few downfalls, as every vehicle has, the 2021 Infiniti Q50 is rich with desirable attributes that buyers find useful and valuable. Not one to let its biggest fans down, the 2021 Infiniti Q50 plays to the needs and requests of consumers in its constant innovation efforts.
Striving to make each model year better than the rest, consumers can rely on seeing consistent improvements in this vehicle. From its tech-savvy interior to its quality upholstery and comfortable seating to its masculine exterior, there is not much buyers do not love about this athletic auto. Not only does it offer many features that buyers enjoy, but it also matches up well against competitors. The class that the 2021 Infiniti Q50 most often competes in is a tough one, so its ability to stand tall and remain a viable contender speaks well to its ability to adapt to industry standards and overcome barriers at all odds. Anyone who invests in a 2021 Infiniti Q50 will fare well this choice in a luxury sports car.
Save Money on a 2021 Infiniti Q50:
Find New Car Clearance Prices - Many Vehicles are Selling Below Dealer Invoice Prices.
Every dealer offers a secret price. Many prices are below invoice.
Find yours here
.