Reasons to Buy • Pros vs. Cons
2020 Jaguar XE
Should you buy? Find out below..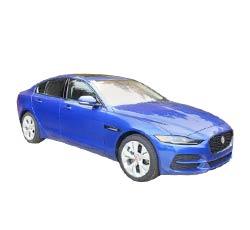 Buying Tip:
Before you walk into a dealership, price shop Online first. Avoid overpaying by using the following pricing services:
With these services you can:
• Force dealers to compete for your business.
• Start your own online price war.
• Many prices are not advertised online.
• It's Free and No Obligation.

Visit
Car Clearance Deals
,
CarsDirect
&
MotorTrend.
In the automotive industry, people often use the words "sport" and "sedan", but they rarely use them together. As a "sport sedan," the 2020 Jaguar XE changes that, and it gives customers a good option if they're looking for something practical, stylish, and youthful. As a four-door vehicle, the car has a sizable cabin, and it comes with many high-end features as well as high-performing engine components.
What's New for 2020?
2020 brings with it a lot of changes to the XE, which debuted only a few years ago in 2016. First, the V6 and diesel engines have been taken off the shelf, so the engine options are much more straightforward. On the outside of the car, there are some different stylistic elements to make the car seem more modern and fresh. Inside the cabin, some extra storage has been included and a few tweaks have been made to the interior trim. A big update is that Apple CarPlay and Android Auto are standard, and they come along with an enhanced infotainment system that can make the Jaguar much more competitive in a crowded market.
Top 10 Reasons to Buy a 2020 Jaguar XE – The Pros
1. A Smooth Ride
Everything seems to go smoothly in the 2020 Jaguar XE in terms of handling. A torque vectoring system continuously works to improve control by monitoring performance and balancing things out to enhance grip and steering. Another reason why many people will like driving the XE is because it has an advanced wishbone suspension in the front that has been used in sports cars and an integrated link suspension in the back. They work together to make the car feel agile, connected to the road, and easy to maneuver.
2. Has Ample Cargo Room
The trunk of the 2020 Jaguar XE can accommodate all sorts of items, from golf bags and suitcases to groceries and dry cleaning. It has a total volume of 14.5 cubic feet. A few nooks and crannies inside the cabin provide additional storage for smaller items. This factor can play a big role in helping people decide what vehicle to purchase, since most people want something practical that they can drive around on a regular basis.
3. All-Wheel Drive is Available
All-wheel drive is available on the base trim and standard on the R-Dynamic trim. This gives a lot of people peace of mind as they drive around town during the winter or head up into the mountains for the occasional ski trip. The best part is that the driver doesn't have to do anything special to engage AWD; sensors are continually assessing how the wheels are doing, and based on the data received, the system will automatically decide when to send power to all four wheels. This can greatly improve traction in slippery conditions.
4. Engine Feels Powerful
The base 2020 Jaguar XE runs on a 2.0-liter engine with four cylinders and 247 horsepower. With this engine under the hood, the Jaguar can speed up to 60 miles per hour in just over six seconds. Torque is 269 pound-feet, and the car can hit a maximum speed of 120 miles per hour.
One step up is a similarly sized engine on the R-Dynamic. It can go from zero to 60 mph in less than five and a half seconds, and it has 296 horsepower and 295 pound-feet of torque.
5. A High-Quality Interior
Inside the 2020 Jaguar XE are so many luxury amenities. Starting with the base model, there are Ebony grained leather seats, a unique headliner that contrasts the gloss black trim nicely, and Jaguar embossing on the front headrests. Sport seats are found on the R-Dynamic to enhance its appearance, and that higher trim also has satin chrome gearshift paddles. The interior lights on all models are set up in a way to greet people as they walk up to the vehicle, and ambient lighting provides a nice atmosphere.
6. Advanced Safety Features
In a 2020 Jaguar XE, drivers can be more confident as they venture out because the car comes with several high-tech safety features. Emergency brake assist is one of the key components, and it can improve braking if one ever has to quickly hit the brakes to avoid hitting an obstacle. At the same time, hazard warning lights can be automatically activated if it seems like something unexpectedly occurred.
Further, several driver-assist systems are built into the XE. Emergency braking can engage if a frontal collision seems imminent, a front and rear parking aid takes some guesswork out of parking, and lane keep assist can make sure the Jaguar stays centered.
7. Rearview Mirrors Has a Video Function
A cool available feature is that the XE can come with a rear view mirror that has a screen in it. The screen would play the live feed from the rear view camera as a driver goes in reverse. Then, there's no need to look between the mirror and a separate screen down below. Plus, the video feed is a wide-angle one, giving people greater perspective.
8. Quiet and Peaceful
No matter what the driving conditions are like, the Jaguar XE does a great job of keeping things serene, thanks in large part to the acoustically insulated windshield. Whether the engine is humming along on a highway or roaring to life during acceleration, everyone can enjoy some peace inside the cabin.
9. Upgraded Infotainment
Standard on the 2020 Jaguar XE is a 10-inch Touch Pro infotainment system. It comes with smartphone connectivity through Apple CarPlay and Android Auto, and Bluetooth connectivity makes it easy to link things up. There is a total of four power outlets in the car; two are 12V, and two are USB.
There's the option to upgrade the system to the InControl Touch Pro Duo, which actually has two touchscreens. The top screen is used for music playback and more, while the bottom screen is what people would use to make adjustments to climate control.
10. Stylish Exterior
As the 2020 Jaguar XE travels down the road, all eyes will be on it. It comes with premium LED headlights and special daytime running lights that can draw attention. The front section of the car seems like it narrows down towards the center, and this makes it seem more aerodynamic. Soft angles matched with elegant curves give the car an air of elegance. The R-Dynamic comes with special badging and unique side sills.
Buying Tip:
To avoid overpaying on a new car, shop prices online first. Get up front pricing before you walk into a dealership. We recommend the following free services;
Car Clearance Deals,
CarsDirect &
MotorTrend.
These free services will offer you
the lowest prices
and supply you with multiple competing price quotes. You will know the best price before you visit the dealer.
Reasons Not to Buy a 2020 Jaguar XE – The Cons
1. Small Back Seat
The front of the XE is spacious, with comfortable bucket seats that can accommodate people of all sizes. In the rear seat, there's a different story. Second-row leg room is only 35 inches, so taller passengers are likely to feel cramped on longer rides. Since the car is low to the ground and has 37 inches of head room, the height of the cabin doesn't exactly help in this regard.
2. Auto Stop/Start a Little Choppy
Having an automatic stop/start function on a vehicle is supposed to be a good thing, since it cuts down on energy loss. Ideally, when the engine turns on and off, the transition isn't supposed to be noticeable. With the Jaguar XE, though, the mechanism is a little bit clunky. The transition is definitely noticeable and can be a bit jarring.
3. Infotainment System Is Sluggish
The 2020 Jaguar XE uses Touch Pro technology on its infotainment system. While this gives users the same general capabilities that other infotainment systems come with, this particular interface feels a little bit slow to respond. It can also take some time to learn, so people may feel a little frustrated with the system at first.
4. No Supercharged Model
With some of their high-end vehicles, companies have included a top trim that features an engine that leads the pack in performance. With the Jaguar XE, there is the R-Dynamic model, but its horsepower is still under 300. This could leave some customers looking for something more.
How It Stacks Up to the Competition:
The Mercedes-Benz C-Class occupies a similar position in the luxury market as the Jaguar XE. When the two models are compared closely, it's clear that the Jaguar does better with handling, and a bonus is that it has a bigger trunk. From a price standpoint, the 2020 Jaguar XE is pretty attractive. It's priced lowered than the Audi A4, Lexus GS, and many other luxury vehicles.
Conclusion
As a luxury sport sedan, the 2020 Jaguar XE comes with a full package. Two capable engines are available, the infotainment system comes with a large touchscreen, and driver-assist features are standard. Leather seats are included, and they're just one example of the high-end touches that are found throughout the cabin. Driving an XE isn't just an everyday task. Instead, it becomes an overall experience. Because of its range of amenities, the Jaguar XE would be a wise purchase for anyone in the market for a new car.
Did you find this article useful?
Please rate this page. Select a star rating from 1 to 5 below:


Save Money on a 2020 Jaguar XE:
Find New Car Clearance Prices - Many Vehicles are Selling Below Dealer Invoice Prices.
Every dealer offers a secret price. Many prices are below invoice.
Find yours here
.