2021 Jeep Wrangler Unlimited Pros vs Cons. Should You Buy?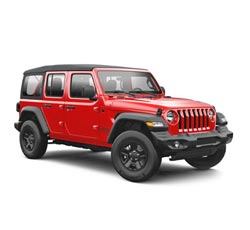 The Jeep Wrangler is an iconic vehicle that has been around since 1986. Some would say its roots go back much further than that. It is often considered to be an indirect descendant of World War II Jeep military vehicles. The Wrangler is known for its rugged appearance and go-anywhere attitude. Very few vehicles can compare with the Jeep Wrangler's off-road capabilities.
The 2021 Jeep Wrangler comes in a wide variety of trim levels and special editions. There are also two main body styles. There is a regular, two-door model and a four-door model that Jeep calls the Unlimited. Most trim levels are available in both styles, though a few of them only come in the Unlimited variation. The Wrangler Unlimited is categorized as a mid-size SUV, though it stands out as something unique in this class of vehicles.
What's New for 2021?
The 2021 lineup of the Jeep Wrangler includes a 4xe plug-in hybrid model for the first time ever. Jeep now offers an optional front camera called the TrailCam. This is to assist with off-road navigation and rock crawling. The Rubicon trim level will come standard with the Off-Road Plus package this year. There are also two new special models of the Wrangler for 2021 called the 80th Anniversary Edition and the Islander Edition.
Top 10 Reasons to Buy a 2021 Jeep Wrangler Unlimited – The Pros
1. Unparalleled Off-Road Capabilities
The off-road capabilities of the Jeep Wrangler are legendary. Off-road performance is probably what the Wrangler is most known for. It's definitely one of the best reasons to choose one over a conventional SUV. Every single model and trim receives the Jeep Trail-Rated Badge. This means that the vehicle has passed a series of tests to prove it can stand up to harsh weather and rough terrain.
The Jeep Wrangler Unlimited offers part-time and full-time 4X4 systems. Traction-Control technology keeps the power going to the wheels that need it the most. The Wrangler Unlimited has an especially high ground clearance to get you over rocks, logs and other debris. A high air-intake, sealed electrical components and water-resistant construction makes the Wrangler great at water fording too.
2. The Powerful Engine Choices
The 2021 Jeep Wrangler offers the choice of four different engines plus a hybrid model. The 2.0-liter turbocharged base engine produces 270 horsepower and 295 pound-feet of torque. Even at this level, there's plenty of power and torque for some serious off-road fun.
Jeep also offers a 3.6-liter Pentastar V6 that produces 286 horsepower and 260 pound-feet of torque. There's an ESS version of this engine with electronic start-and-stop technology. There is also an Etorque version that provides extra low-end torque. This gives the Wrangler more starting power and better rock-crawling abilities.
Last of all, Jeep offers a 3.0-liter EcoDiesel V6 engine. This model cranks out 260 horsepower and 442 pound-feet of torque. This engine was crafted with durability, low-end strength and off-road performance in mind.
3. Ground-Breaking Performance Technology
The latest Jeep Wrangler Unlimited offers three different traction-control systems, depending on the trim level you choose. The standard 4X4 system sends more power and torque to the wheels when the vehicle struggles to maintain control. It also features a special gear for when you need to move slowly over rough terrain or pull a trailer.
The available Selec-Trac system switches to two-wheel drive when you're on normal pavement. This means optimal fuel and power efficiency for the vehicle. The system shifts into four-wheel drive for better traction when you run into mud, snow or slick pavement. The top-tier Rock-Trac system optimizes traction control for just about anything that the environment could throw at it.
4. The Option of Open-Air Driving
The Wrangler Unlimited offers a removable roof and doors for an open-air driving experience. A soft and hard roof top are both available for most trims. This makes the Wrangler a unique vehicle in its class. It's a fun vehicle to drive if you like to get closer to nature.
The experience of driving a Wrangler is even better than your standard convertible car. The removable doors let you really feel out in the open. The Wrangler is a great choice of vehicle for adventurous people who enjoy the great outdoors.
5. The Iconic Exterior Design
While the exterior appearance of the Jeep Wrangler Unlimited has changed over the years, it always maintains its classic look. The Wrangler appearance has become an iconic image in pop culture as well as among car enthusiasts. It features a rugged and aggressive design that's perfect for the adventurous type. The exterior suitably matches the performance and capabilities of this SUV.
6. The Modern Interior
In the past, the Wrangler wasn't exactly known for its posh interior. Things were usually kept basic. This makes sense for a utility vehicle that's built to go anywhere. Today, Jeep includes more convenience features and modern amenities. A 2021 Wrangler is a fine daily driver in addition to being an off-road beast.
The seats are comfortable and supportive up front. There is also a modern infotainment system with a large touchscreen display. You can play your favorite music by streaming via Bluetooth from your mobile devices. You also get a navigation system along with Apple CarPlay and Android Auto compatibility.
7. A Premium Sound System
Another fine feature inside of the Jeep Wrangler Unlimited is the premium sound system. You get an Alpine stereo and a nine-speaker setup for crystal-clear sound quality. This includes an overhead soundbar and an all-weather subwoofer. The system can get loud too thanks to the 552-watt amplifier.
8. A Wide Variety of Customization Options
Jeep gives you an unprecedented number of customization options for the 2021 Wrangler. There are a number of exterior colors and interior styles, but the choices here go far beyond that. A Jeep can be configured for off-road performance, interior comfort or even towing capabilities.
The 2021 Jeep Wrangler Unlimited is available in over 12 different trim levels, configurations and special models. If you want something sporty, the Sport and Willys models have you covered. For something more luxurious on the inside, there's the 80th Anniversary Edition or the Rubicon.
9. Safety Features and Driver-Assist Tech
Jeep has packed the latest Wrangler Unlimited with plenty of standard safety equipment. The Wrangler Unlimited has a high-strength steel frame, steel side beams and an advanced airbag system. Every model gets four-wheel ABS brakes, Traction Control and Stability Control with Anti-Roll. There is also an available Parking-Assist System, a Forward Collision Alert and an Anti-Theft Alarm with Engine Immobilizer.
10. Good Clean Fun
Jeeps have always been known as easy-to-maintain and easy-to-clean vehicles. While the mechanical workings, electronics and tech features have gotten more complex over the years, the Wrangler Unlimited is still easy to keep clean. This is important for an off-road vehicle that is sure to see plenty of mud. The carpets are weather-resistant and easy to remove. The Wrangler Unlimited also has one-way drain valves in the floor so you can simply spray out the interior.
Buying Tip:
To avoid overpaying on a new car, shop prices online first. Get up front pricing before you walk into a dealership. We recommend the following free services;
Car Clearance Deals,
NADAguides,
CarsDirect &
Motortrend.
These free services will offer you
the lowest prices
and supply you with multiple competing price quotes. You will know the best price before you visit the dealer.
Reasons Not to Buy a 2021 Jeep Wrangler Unlimited – The Cons
1. Less Cargo Space Than Most Mid-Sized SUVs
Extra cargo space is one of the prime reasons why buyers select a mid-sized SUV. The Jeep Wrangler Unlimited, however, is a different kind of animal. This is a mid-size SUV built with performance and off-road adventures in mind, not for hauling around cargo. You will only get around 31.7 cubic feet of storage space in the Wrangler Unlimited. This is far below the vehicle-class average.
2. The Jeep Wrangler's Notorious Ride Quality
The Jeep Wrangler is known for its ride quality and not in a good way. It's a rough, stiff ride as many trucks and SUVs are known for when designed for utility and off-road performance. Jeep keeps getting better with this issue each year. This may actually be the smoothest ride in a Wrangler yet, but that stiff, unrefined feel is still there.
3. A Noisy Cabin and a Loud Engine
Most of the engines run smoothly, but you can certainly hear them. There is a lot of wind and road noise inside of the Wrangler Unlimited cabin too. There isn't much that can be done about this with such an open-air design. It's just the price you pay for riding in a Jeep and something to be aware of before you make a purchase decision.
How It Stacks Up to the Competition:
2021 Jeep Wrangler Unlimited vs 2021 Toyota 4Runner:
One of the top competitors to the 2021 Jeep Wrangler Unlimited is Toyota's 4Runner. This is also a mid-size SUV that has impressive off-road capabilities. The 4Runner seats up to five people as opposed to the Wrangler with its four seats. The 4RRunner offers a lot more cargo room in back too. The ride quality is a bit nicer in the Toyota and the interior is more upscale as well.
The downside for the 4Runner is that it's significantly more expensive than a Jeep Wrangler Unlimited. It's not as iconic and arguably not as attractive as the Jeep. The 4Runner is a good off-road performer, but it doesn't really come close to what the Wrangler can do when driven off the beaten path.
2021 Jeep Wrangler Unlimited vs 2021 Land Rover Defender:
The 2021 Land Rover Defender comes close to the off-road performance of the Jeep, but it still falls a bit short. The engines are all powerful with plenty of power and torque, but they're also less efficient than the Jeep's. Fuel economy is rather poor in the Defender. One thing the Land Rover has going for it is that it has much better towing capabilities than what the Wrangler offers.
When it comes to safety features, both vehicles are comparable. There aren't many notable differences in technology or interior quality either. The Land Rover is a fine vehicle, but once again the Jeep is less expensive and a much better value.
Conclusion
The 2021 Jeep Wrangler Unlimited is a fantastic SUV for adventurous drivers. Nothing can contend with the Wrangler when it comes to off-road performance. If you want to do some serious rock crawling or just need a vehicle that can go anywhere, it doesn't get much better than this. The iconic appearance of the Jeep Wrangler also make it a stylish daily driver, even for city dwellers looking for something a bit different.
Save Money on a 2021 Jeep Wrangler Unlimited: