Reasons to Buy • Pros vs. Cons
2020 Kia Cadenza
Should you buy? Find out below..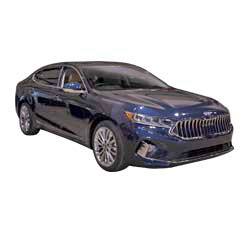 Buying Tip:
Before you walk into a dealership, price shop Online first. Avoid overpaying by using the following pricing services:
With these services you can:
• Force dealers to compete for your business.
• Start your own online price war.
• Many prices are not advertised online.
• It's Free and No Obligation.

Visit
Car Clearance Deals
,
CarsDirect
&
MotorTrend.
Large sedans are a dying breed. The 2020 Kia Cadenza is one of that breed. So far this year, the Cadenza has seen a slight uptick in sales, but it is nothing of statistical significance. The elimination of its base Premium trim level is a reflection of the fact that this line-up - and the segment itself - is enduring a slow and painful death. However, the Cadenza does have some good things left on it, and its small uptrend this year shows that Kia might have indeed made some smart changes on its new Cadenza.
What's New for 2020?
This year, the 2020 Kia Cadenza sees its base trim, the Premium, get the ax. Now, you will see more revitalized interior styling as well as some external changes. You will also see some updated or upgraded technology and safety features in the Cadenza. However, expect everything else to be the same as the previous model year since this (being the second) generation of the Cadenza released in 2017.
Top 10 Reasons to Buy a 2020 Kia Cadenza – The Pros
1. Brakes That Feel Secure
One of the highlights of owning the Cadenza is that they have some of the strongest brakes in this class. You do not have to exert much pressure on the brake pedal to get it to go. In fact, this vehicle can come to a stop from 60 mph in just 115 feet, which is shorter than average for such a large sedan. The system has a natural feeling to it, so you will never feel like you need to slam on the brakes or press down hard to get them to go.
2. Minimal Noise Intrusion
You can hear a small amount of tire and wind noise seeping into the cabin, but that is about it. The engine only rumbles at low speeds. As soon as you get it out on the highway, it will not even be audible. The cabin is well-insulated to protect against noise, so you will never have to worry about needing to crank up the radio or yell to your passengers in the back seat.
3. An Excellent Climate Control System
The 2020 Kia Cadenza has one of the better climate control systems in this class. Every trim level has standard heated front seats, which is quite luxurious for a car that focuses more on economy. If you grab the Technology trim level, you get a standard heated steering wheel, and the line-topping Limited trim level has ventilation added onto the front seats. While many of the competitors have heated seats that merely get warm, the ones in the Cadenza feel appropriately hot. Not to mention, the controls for the automatic climate control system are easy to use and pump air quite efficiently throughout the cabin.
4. Controls are Easy to Use
Speaking of user-friendly controls, you will find these throughout the console. Every single control on the dash is placed well within reach and is quite clearly labeled. The touchscreen can be a small stretch, but it is at a good visual level. You might just have to ask your front seat passenger to push certain buttons. But everything else - especially the functions placed upon the steering wheel - is smartly placed, and you will need not guess at their functions.
5. Getting In and Out is Simple
Looking for something that is super easy to get in and out of? The doors have tall and wide frames with side sills that are pretty slender. The seat bolsters do not get in the way at all, which greatly helps with getting in and out. You can slide in and pop out without hitting your head thanks to the minor slope of the roofline in the rear.
6. The Driver's Seat Offers Plenty of Adjustability
You can slip into the driver's seat and quickly adjust it to fit your comfort needs. There is plenty of thigh support for the driver as well as 4-way power-adjustable lumbar support which really feels nice if you have lower back pain while sitting. Taller drivers will appreciate the tilting and telescoping steering wheel, which has a broad range of extension. Your knees will not feel smashed up against the bottom of the wheel at all.
7. Expansive Outward Visibility
Getting into a great driving position is one thing, and having the expansive outward view you get from it makes the experience all the sweeter. The windows up front are wide and tall, which give a lot of visibility to the side and front of the vehicle. The small windows in the rear help minimize the blind spots created by the bulky roof pillars. Also, the rear windshield is pretty sizable, which aids with the view out the rear.
8. High-quality Interior Materials
For being a reasonably priced full-size sedan, the interior is quite well-crafted. There are not an abundance of different materials, and there don't need to be. The ones that are used within this vehicle are solidly crafted and soft to the touch. The seat bolsters are quilted and look more luxurious than what you would expect to find. The wood trim and glossy black surfaces look chic but do not reflect the sunlight throughout the cabin.
9. A Lot of Small Item Storage Areas
There are small item storage areas all around the cabin. There is a pretty big bin underneath the center armrest, and the center stack has a cubbyhole behind it for more storage. You can fit a water bottle in the door pockets that each door has built onto them. You can find space where you need it.
10. An Excellent Harman Kardon Sound System
Are you a fan of Harman Kardon's audio systems? If so, you will love the one that comes in the Cadenza. This 12-speaker sound system pumps out crystal-clear sound. You get a cool surround-sound effect, and the volume goes up pretty high. You can hear the sounds produced more closely to your ear than where the speakers are actually placed. It's truly a stellar sound system and is one worth having in a vehicle.
Buying Tip:
To avoid overpaying on a new car, shop prices online first. Get up front pricing before you walk into a dealership. We recommend the following free services;
Car Clearance Deals,
NADAguides,
CarsDirect &
MotorTrend.
These free services will offer you
the lowest prices
and supply you with multiple competing price quotes. You will know the best price before you visit the dealer.
Reasons Not to Buy a 2020 Kia Cadenza – The Cons
1. A Sluggish Acceleration Rate
The thing that massively infringes on the driving performance is the 2020 Kia Cadenza's slow acceleration. You can switch to Sport mode to get a snappier response, but you won't want to have to do that from every single stop. The transmission does not like to downshift even when thrown into full throttle. It takes roughly 6.8 seconds for the Cadenza to get from 0 to 60 mph, which is fairly slow compared to other large sedans.
2. Unrefined Handling and Steering
There are more issues with the driving performance than just the acceleration. Steering and handling both feel unrefined. Steering just feels bland, and the wheel takes quite a lot of effort to get to turn. As far as the handling goes, the problem here is the body lean. It feels a little excessive for a vehicle in this class, but that's mainly when you get a touch overzealous with rounding through turns.
3. Minimal Cargo Space and No Folding Rear Seats
There is not a lot of cargo space available inside of the Kia Cadenza. There are only 16 cubic feet of cargo space available, and all you get is a ski pass-through. The rear seats do not fold down at all, which is a huge drawback if you have a lot of cargo you need to lug around. There are competitors that offer more space and more versatility.
4. Wonky Driver Aids and Voice Control Features
The technology on the Cadenza is very hit and miss. Smartphone app integration is standard - thank goodness. The vehicle's native voice control features get confused by various addresses and directions. It definitely needs some work in that regard. ALso, the driver aids have issues. Lane keep assist is hyper-vigilant and adaptive cruise control is slow to get back up to speed after the vehicle in front of you has changed lanes or turned.
How it Stacks Up to the Competition:
2020 Kia Cadenza vs. 2020 Toyota Avalon
One of the Cadenza's top rivals is the 2020 Toyota Avalon. The Avalon has a ton of standard infotainment and safety features, and there are more that you can add on at your will. The Avalon's ride quality is comfy and compliant, and it is everything that you should expect from a vehicle in this class. Also, the Avalon has a quiet and spacious cabin. However, you cannot get all-wheel drive on this sedan, and you do not get much room for your head, especially if you are a tall man. Also, another downside is that there is no smartphone app integration for Android users, just iPhone users.
2020 Kia Cadenza vs. 2020 Honda Accord
The top competitor in this class is the 2020 Honda Accord. There is no denying its impressive build. You get to choose from two fuel-efficient, powerful engines. You also get to sit in a cozy, spacious, and beautifully designed cabin. The drive feels remarkably spunky too. There are also a ton of standard features packed into this vehicle. Getting in and out can be a little difficult since the vehicle is positioned kind of low to the ground. Also, there is a little bit more noise that makes its way into the cabin than what you get in the Kia Cadenza.
Conclusion
This model year's Kia Cadenza has a few drawbacks that impinge on how the vehicle drives. The sluggish acceleration is the issue that really stands out the most, but it likely will not be a deal-breaker for many buyers. But, in a dying segment, even minor-ish problems like this have a lasting effect. Rivals like the Accord are stamping out the competition because they are getting almost everything right. Still, there are a lot of things to enjoy about the Kia Cadenza. Its brakes are some of the best you will find on a large sedan, and the cabin looks upscale enough to match its price tag. With a few tweaks here and there, the future Cadenza could be a strong competitor for the Accord.
Save Money on a 2020 Kia Cadenza:
Find New Car Clearance Prices - Many Vehicles are Selling Below Dealer Invoice Prices.
Every dealer offers a secret price. Many prices are below invoice.
Find yours here
.