Reasons to Buy • Pros vs. Cons
2020 Kia Optima
Should you buy? Find out below..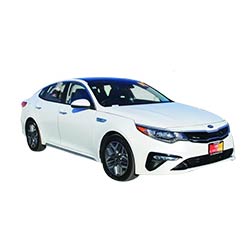 Buying Tip:
Before you walk into a dealership, price shop Online first. Avoid overpaying by using the following pricing services:
With these services you can:
• Force dealers to compete for your business.
• Start your own online price war.
• Many prices are not advertised online.
• It's Free and No Obligation.

Visit
Car Clearance Deals
,
CarsDirect
&
MotorTrend.
Looking for a new sedan that is sporty and upscale without the luxury price tag? Then you might want to consider taking the 2020 Kia Optima out for a test drive. This vehicle has a load of standard equipment, an easy-to-use infotainment system, and a chic interior design that does not cost a fortune. Of course, it might not be the right vehicle for everyone. That being said, let's look at some reasons why you might want to buy the Optima and what might deter you from doing so.
What's New for 2020?
Not a whole lot of changes have been made to the 2020 Kia Optima. There are a few that do stand out. The standard forward collision mitigation system now comes with pedestrian detection included. Also, on the EX trim level and above, a wireless charging pad comes standard. Those are the only changes worth noting though.
Top 10 Reasons to Buy a 2020 Kia Optima – The Pros
1. A Lot of Standard Equipment
One of the biggest factors that will draw people into buying the 2020 Kia Optima is the lengthy list of standard features. Last year's restyling of the interior and exterior lights gave the Optima a huge boost in terms of lighting features. You also can get a ton of driver aids, such as forward collision mitigation (now with pedestrian detection), a driver attention monitoring system, and lane keep assist. Even the base LX trim gets Bluetooth connectivity, a nice 8-inch touchscreen display, satellite and HD radio, and smartphone app integration. There are plenty of other features to be found; they are just too much to list. Have fun playing around with them!
2. Swift Acceleration
If you opt for the SX trim level and its 2.0-L inline-4 cylinder engine with the 6-speed automatic transmission, you will get some swift acceleration. This vehicle can go from 0 to 60 mph in 6.9 seconds, which is a decent showing for its class. The SX definitely has a sporty feel to it, especially when you try to get up to speed or pass other vehicles on the highway. The standard 1.6-L is nowhere near this spunky, though, so you might want to consider spending more to get more power.
3. Solid Brakes
The 2020 Kia Optima has brakes that ought to inspire a lot of confidence in drivers. They are totally solid in terms of performance. When making a panic stop from 60 mph, the Optima can make the stop in just 119 feet - a far better showing than most of the other vehicles in its class. The Optima really stands out for its braking performance, showing Kia's emphasis on making the driver and passengers feel secure.
4. The Sport-Tuned Suspension
The SX trim level has a fantastic sport-tuned suspension. It works marvelously well at delivering an excellent handling performance. While you will still feel some body roll while rounding through turns, it is nowhere near as much as you might notice in other sedans. There is plenty of feedback from the wheels to the driver, and the driving performance is quite spirited. The stability control system does not get in the way of this either.
5. Cozy Seats
The 2020 Kia Optima has some seriously comfortable seats that make it easy to enjoy a long car ride. Roadtrip, anyone? The Optima's front seats have plenty of adjustment to them, and they are well-bolstered for lateral support. If you get the SX trim level, the front seats are both heated and ventilated, which really comes in handy during temperature extremes outside. The rear seats also offer a lot of room for passengers to wiggle around.
6. A User-Friendly Climate Control System
Need the Optima to heat up quickly? Need it to cool you down? The climate control system works remarkably fast at distributing air through the vents. The controls for it are all laid out in simple fashion so that they are easy to use. If you go for one of the higher trim levels, you can get a heated steering wheel, which feels wonderful on your hands while driving during harsh winter months.
7. Easy to Find a Good Driving Position
If you have ever spent more than a few minutes in a vehicle trying to find a good driving position, you probably felt a bit frustrated - and rightly so. That should not be a problem with the 2020 Kia Optima. The higher trim levels (like the SX) have power-adjustable front seats and a steering wheel that is tilt and telescoping. This combination of features means that you should be able to find a comfy driving position in almost no time at all. And, with the seats being so well-padded, you might not want to leave this position for a while!
8. An Upscale Interior Design
The Optima has an interior design that speaks to luxury without the luxury price tag. The higher you go in the trim level line-up, the fancier things get. Sure, some of the interior trim is made from plastic, but it does not look at all cheap. The way that these plastic pieces get painted and textured makes them look way more high-end. Everything feels and looks solid, and there are no rattles while driving or obvious gaps between panels. Overall, Kia has done a great job of making the Optima look luscious.
9. Plenty of Cargo Space
Need a lot of cargo space? While the 2020 Kia Optima still does not trump the Honda Accord for cargo space, the Optima's 15.9 cubic feet is only slightly smaller. And it is truly innovative. The trunk has remote seatback releases for the rear seats, which certainly comes in handy. There is a neat trick you can do to get the trunk to open automatically. Just stand next to the trunk with your key fob on you for about three seconds. Then, the trunk will open! You don't even have to push the button.
10. Smartphone App Integration is Easy to Use
Smartphone app integration comes standard on the Optima line-up and is an easy-to-use alternative to the vehicle's built-in features like navigation. You can access your music and stream as you go. Bluetooth connectivity makes this quite quick and simple, and the system is not glitchy. It is the perfect set-up for anyone who isn't terribly tech-savvy.
Buying Tip:
To avoid overpaying on a new car, shop prices online first. Get up front pricing before you walk into a dealership. We recommend the following free services;
Car Clearance Deals,
CarsDirect &
MotorTrend.
These free services will offer you
the lowest prices
and supply you with multiple competing price quotes. You will know the best price before you visit the dealer.
Reasons Not to Buy a 2020 Kia Optima – The Cons
1. Rear Visibility Gets Cut Down
You can see pretty clearly out of the front, but the rear seat headrests and rear decklid obscure your view out of the back. Blind-spot monitoring can help, and this is a common problem for this class. However, there are competitors that do not have this problem, and it can be aggravating if you do not want to rely on technology to see what is around the 2020 Kia Optima.
2. A Sluggish 1.6T Powertrain
Skip the 1.6T powertrain. This turbocharged engine only gets 178 hp and 195 lb-ft of torque. That makes for a very sluggish performance. Paired with a 7-speed dual-clutch automatic transmission, the 1.6T creates quite the bland drive. The 2.0-L turbocharged engine is a much better option, as it gets 245 hp and 260 lb-ft of torque - a massive upgrade. The 1.6T is disappointing to the point that it is not worth buying. The 2.0T is exciting and worth the upgrade.
3. A Lack of Legroom in the Rear
In the 2020 Kia Optima, the rear seat lacks legroom. Head space is about on par with the rest of the class, but longer-legged folks will not be terribly cozy. They will have to cram themselves in, or front seat occupants will have to scoot themselves up.
4. Steering Lacks Feedback
Steering is mostly decent, but the Optima's steering column does not send enough feedback to the driver when going through a corner. On the straight and narrow, on slower-speed city roads, the steering feels light and easy. But when you round through a turn, the front wheels do not give you much feedback.
How it stacks up to the competition:
2020 Kia Optima vs. 2020 Honda Accord
The 2020 Honda Accord is competitively priced and is dominating this segment yet again. Unlike the 2020 Kia Optima, the Accord has two powerful turbocharged engines. Even the base engine performs well. The Accord also has more cargo space and a more spacious cabin. Its handling is spunky, and the interior quality is impressive. It does have a few downfalls, such as the low position of the seats and the cabin getting a little bit noisy.
2020 Kia Optima vs. 2020 Ford Fusion
2020 is the final production year for the Ford Fusion, as the automaker has been phasing out its sedans in favor of its SUVs and trucks. The Fusion has a well-mannered ride quality and a ton of standard safety features. You can opt for all-wheel drive, which is ideal for those living in colder climates. The pitfalls? The Fusion has a lot of frustrating controls. It also has a lackluster acceleration from the base engine.
Conclusion
The 2020 Kia Optima is a strong contender in its class, although the segment is tightly packed. The Optima might not have the most spacious rear seat or clearest outward visibility, but the optional 2.0-L engine provides a lot of pep. It's just a shame that you have to spend a good amount more to get it.
Did you find this article useful?
Please rate this page. Select a star rating from 1 to 5 below:


Save Money on a 2020 Kia Optima:
Find New Car Clearance Prices - Many Vehicles are Selling Below Dealer Invoice Prices.
Every dealer offers a secret price. Many prices are below invoice.
Find yours here
.