2022 Kia Niro EV Pros Vs Cons. Should You Buy?
The Kia Niro EV is an all-electric crossover that's youthful and agile. It feels athletic and has an upscale cabin, so there's a lot to like about this model. While it has impressive technology and modern stylings, it's still pretty practical with a sizable cabin and good capability.
What's New for 2022?
Not too much has changed about the Kia Niro EV for the 2022 model year, but what has been upgraded is noticeable. On the exterior of the vehicle, the new Kia logo is displayed. Inside the cabin, the touchscreen has gotten larger. Previously, it measured eight inches, and for this year, it measures 10.25 inches. Further, the touchscreen comes standard with a Harman Kardon speaker system as well as SiriusXM Satellite Radio and navigation.
Top 10 Reasons to Buy a 2022 Kia Niro EV – The Pros
1. Electric Motor Packs a Punch
The Kia Niro EV runs on an electric system that can make 201 horsepower and 291 pound-feet of torque. With this amount of power, the crossover feels like it's full of energy. In the past, some people might have been concerned with the performance of all-electric vehicles, but this is no longer the case, as evidenced by what the Niro EV can do.
2. Charging Is Convenient
With an electric vehicle, another important factor to consider is how easy it is to charge the battery. Potential buyers should feel more assured knowing that the Niro EV is compatible with DC fast chargers. With this type of equipment, the battery can achieve an 80% charge in about an hour. The good news for the electric-vehicle industry is that more and more of these DC fast charging systems are popping up all over the country.
The Niro EV can also be charged at home. It can be plugged into a regular outlet, but this method is not recommended because it's pretty slow. It would take about two and a half days to get a full charge with a 120-volt outlet. Instead, it's recommended that customers have 240-volt outlets installed at their residences. It takes about nine and a half hours to achieve a full charge using one of these outlets. Overnight charging works well for many drivers of electric models.
3. A Versatile Cabin
As a crossover, the Niro EV can accommodate a good amount of cargo. Behind its rear seats, it has 18.5 cubic feet of cargo capacity. This capacity can be increased to 53 cubic feet by folding down the rear seats. What's nice is that the rear seat is split into two sections. One side can be folded down independently of the other, so one or two passengers can sit in the back alongside a long piece of cargo.
4. So Much Advanced Technology
Those who love technology will be pleased with the infotainment package on the Kia Niro EV. There are two available trims, and both feature a 10.25-inch touchscreen with SiriusXM, navigation, and premium Harman Kardon sound systems with eight speakers. It's not often that entry-level trims, aside from luxury models, have all of these components. Navigation is a program that can really be useful on a daily basis since it can take traffic congestion into account as it plans out routes.
Along with the elements just mentioned, the Niro EV has Android Auto, Apple CarPlay, and Bluetooth. An added bonus is that wireless charging is standard, and so is a seven-inch LCD screen integrated into the dashboard that shows key vehicle data.
5. Staying Comfortable
This model comes standard with automatic climate control. Knowing that drivers often are the only people in their vehicles, Kia has given the Niro EV a Driver Only mode. Engaging this mode will focus the air conditioning on the driver, and this can improve efficiency. Heated front seats are standard on both trims, and the higher trim comes with ventilation in the front seats as well. A heated steering wheel is optional.
One other component that helps with cabin comfort is the remote start function. Before a driver gets in, he/she can push a button to start the engine and get the climate system going. No longer do people have to get into extremely hot or cold cabins in the summer or winter.
6. Good Range
People can feel free to go on fun excursions in the Niro EV. It has an estimated range of 239 miles. This should be plenty of range for most situations, and for those times when a long road trip is planned, it just takes a little planning ahead. The Kia's navigation system or an app can be used to find compatible EV stations, and the vehicle can keep track of its remaining range so that drivers know when they should be stopping to "fill up" their batteries. Coordinating a stop at a charging station with a visit to a restaurant or convenience store is usually a smart move.
7. Different Driving Modes
This crossover has Eco and Sport driving modes. Sport mode would make the electric system quicker to accelerate, and Eco mode would do the opposite in order to maximize efficiency.
There are also paddles mounted on the steering wheel that can be used to adjust the level of regenerative braking. Using the highest setting for the level of regenerative braking would mean that taking one's foot off of the accelerator would result in a marked deceleration. With this setting, it's possible to bring the vehicle to a stop without using the brake pedal at all. Lowering the level of regenerative braking would lessen that effect.
8. Looking Good
With an aerodynamic shape and the lack of a big front grille, the Kia Niro EV has an attractive, futuristic appearance. Its charging port is actually located within the closed front grille. There are blue accents on the front and rear bumper to help this model stand apart from the non-electric Niro versions. The rear spoiler and roof rails add to the sporty nature of the vehicle, as do the front fog lights.
9. Convenient Features
A lot of thought has gone into the design of the Niro EV. It has several components that might not seem that significant but can be very much appreciated. The side mirrors, for example, have heating elements built into them and have power-folding function, and they all come with LED turn signal indicators. The advanced smart key entry system can be used on a daily basis, and the windshield can automatically defog itself. Plus, the driver's seat is power-adjustable and has two-way power lumbar support.
10. Keeping Everyone Safe
Like many other vehicles in Kia's lineup, the Niro EV has a full set of driver-assist technologies working to protect passengers. Both trims come standard with blind-spot and rear cross-traffic collision warning, and they have lane keeping assist, automatic emergency braking, pedestrian and cyclist detection, and driver attention warning. The smart cruise control system works together with navigation, so it knows when to slow down for an upcoming curve.
Reasons Not to Buy a 2022 Kia Niro EV – The Cons
1. Front-Wheel Drive Only
Many buyers interested in crossovers would appreciate having all-wheel drive in case they ever run into difficult terrain or slippery conditions. The Niro EV, unfortunately, is only available with front-wheel drive. This may limit its appeal in the market.
2. Sits Low to the Ground
Some may like how low the Niro EV is to the ground, but others may be looking for models with a higher ground clearance than 6.1 inches. Having a higher ground clearance can make a vehicle more adept in off-road conditions. The Niro EV seems to be suited for the pavement instead of the trail.
3. Second Row Isn't That Big
Those sitting in the back seat of the Niro EV have 36 inches of leg room. While this area isn't extremely cramped, it's also not very generously sized. Taller passengers may be wishing for an extra few inches so they can stretch their legs.
4. More Expensive Than One Might Think
The regular Kia Niro is considered by many to be a budget-friendly vehicle. The same cannot be said of the Niro EV, though. The EX trim costs approximately $40,000, which is more than what many buyers are prepared to spend. The EX Premium is even more expensive, having a starting price of almost $45,000.
How It Stacks Up to the Competition:
2022 Mazda Kia Niro EV vs 2022 Chevrolet Bolt EUV
The Bolt EUV is one of Chevrolet's all-electric models. The Bolt EUV is comparable in size and capability to the Niro EV, but it doesn't have as many amenities as the Kia does. For example, it comes standard with a manually adjustable front seat instead of a power-adjustable one, and it doesn't has a speaker system that's as nice as the one found in the Kia. A big factor is that navigation isn't standard on the Bolt EUV like it is on the Niro EV.
2022 Mazda Kia Niro EV vs 2022 Mazda MX-30
Mazda has joined the growing list of companies making electric vehicles. It's MX-30 is its first entry in the all-electric market. Unfortunately, this crossover only has a range of about 100 miles, and it doesn't have as much power as the Kia Niro EV does. Its rear seat is considerably smaller than the one in the Kia, so it's not actually that ideal for transporting a lot of passengers around. Another thing that the MX-30 is missing is navigation.
Conclusion
Kia has done a great job with the Niro EV. Even though it's not that affordable, it will likely do well in the market thanks to its size, high-tech components, range, and of course, efficiency.
Are you Shopping for a New Vehicle? Find the Best Deals with "Free - No Hassle" Prices Quotes.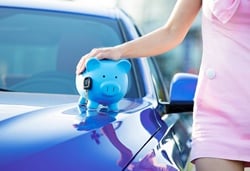 Get up to 4 local dealers to compete for your business by offering free, competitive pricing. Know before you go to the dealer.
Every dealer offers a secret price. Find yours here.