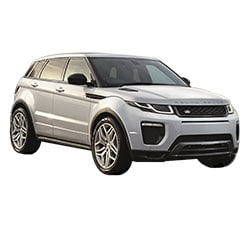 The 2016 Range Rover Evogue is a gift box of all the right features and updates to make it the SUV of 2016. A major revamp from the 2015 Evogue model, this 2016 mean machine is set to compete head to head with the likes of 2016 Porsche Macan. There is a lot of new stuff to look forward to in this new model including an exterior tweak that gives this subcompact luxury SUV a refreshing look.
The Evogue 2016 is designed for comfort and safety delivering a covetable user experience in cities, highways, and off-road terrains. A lot of improvement has been made like limited headroom and cargo space while extra features have been thrown in to boost the security of the vehicle while on the road. At the same time, the Porsche Macan 2016 is also throwing in a fete of its own, but what makes the 2016 Range Rover Evogue stand out as the ultimate car?
Top 10 Reasons to Buy a 2016 Range Rover Evoque - The Pros
1) Great Fuel Economy

Staying true to their previous design, the 2016 Range Rover Evogue also graces an EPA rating of 21/30 mpg for city and highway cruising. On its underbelly is an 18.5 gallon fuel tank which lasts you longer before the next refueling. The Porsche Macan 2016 manages an EPA of 17/23 mpg on city and highway cruise, falling right behind the Range Rover. It may pack one gallon more in its 19.8 gallon tank, but everybody knows who wins on the fuel economy slot.

2) Smooth Transmission

The Evogue 2016 will gear up on a 9-speed automatic transmission and a horsepower of 240 under the hood. The mpg and horsepower maintained since the 2015 Evogue, a quick pick up on acceleration can be felt after every stop. Range Rover enthusiasts can't wait for the 2016 Evogue to tear down on off-road terrains, likes its predecessor, to be voted as the best off-roader in the muddy, rutty roads.

3) A Whole New and Fresh Exterior

The beauty of the Range Rover is that there is always a fresh new design in the next model. This 2016 subcompact SUV features a revamped grille and a fresh bumper design. The headlights now feature LED technology, a classic look for any Sporty utility SUV. All windows are operated electronically, constructed from high-grade privacy glass with defrost technology on the rear side.

In terms of color, Land Rover seemed to have dropped 3 hues from its list of options to settle at 11. The consumer will be able to choose from color shades of Fuji White, Scotia Gray, Santorini Black, Corris Gray, Yulong White, Kaikoura Stone, Firenze red, Waitomo Grey, Aintree Green, Loire Blue and finally Indus silver.

4) Great Interior

The 2016 Evogue will come with either 2 or 4 door configuration that opens up to a high-quality leather interior. The luxury SUV will be detailed with a new Infotainment system that will be centrally controlled from an 8 inch touch screen display. As far as entertainment goes, the interior is fitted with an 11-speaker HD audio system and AM-FM radio. The driver will also have freedom to control their own entertainment via the 2 USB ports to plug in additional music, or alternatively connect their iPhone or Android phone to the in-built apps for Smartphones.

5) Drive Assist Controls

The Range Rover Evogue 2016 is with no doubts the ideal car for anyone fresh out of driving school. With so many features put together to improve driving experience, it's really hard to imagine yourself running into a pole, whilst blindfolded. So the SUV will have lane assist monitoring and trigger corrective steering with any slight veering off. Here is the best part; the Range Rover will set alarms warning you of on-coming danger when it catches you falling asleep!

6) Unbeatable Comfort

So the steering wheel heats itself up when it's chilly to prevent your hands from frosting as you drive. The front and rear seats also heat and cool automatically to keep the inner temperature comfortable for the driver on the road. The SUV comes with automatic transmission but there is an option of switching to manual for the hands-on kind folks.

7) Super Safe on the Road

Besides the drowsiness monitoring system, there are extra safety measures to prevent unavoidable mishaps. The interior is fortified with airbags from the driver to the passenger at the back, the side heads, rear head and all other sides. There is in-built brake assist working together with the 4-Wheel ABS setup. More features include child safety locks, traction control, and electronic stability control. On your request, the vehicle can also be fitted with auto-leveling headlights.

8) Ingenious Mirror Technology

All mirrors heat up automatically to prevent frost build when driving through snow. The mirrors are powered to fold automatically with the rears fitted with electrochromic technology for night driving assistance.

9) Reasonably Priced

Boasting a better fuel economy than the Porsche Macan, this sleek 2016 Evogue is also fairly priced comparatively. It has a starting price of $41,000 while the Porsche retails at $52,000. For someone looking for a few thousand dollars to spare on a highly efficient SUV, it is easy to guess where the loyalty would lie.

10) Extra Perks

The vehicle has some extra amazing features like Bluetooth, HD radio, 360 degree parking view and dual-zone automatic climate control.
Reasons you may not want to buy a 2016 Range Rover Evoque - The Cons
1) Some Features May not be the Best
Though it boasts of a dual zone climate control system, the Porsche Mayan has a better tri-zone climate control system. Perhaps they would have considered this step up seeing it's the same Dual Zone AC used in the 2015 Evogue.
2) Fewer Exterior Colors
That is for anyone who will be quick to notice there will be no more Barolo Black and they desperately wanted it in the new Evogue.
3) Less Power
Again the Porsche Mayan comes in strong with a 340HP engine against the Range Rover 240HP. The Porsche definitely packs more power and ill tear through terrains better.
Conclusion
Nonetheless, anyone who isn't serious about the SUV competition will be delighted in the new 2016 Evogue. It packs new features and considerably improved updates to make driving on the any road as smooth as ever.