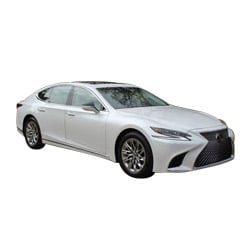 Find New Car Deals Near You
Buying Tip:
Before you walk into a dealership, price shop Online first. Avoid overpaying by using the following pricing services:
With these services you can:
• Force dealers to compete for your business.
• Start your own online price war.
• Many prices are not advertised online.
• It's Free and No Obligation.

Visit
Car Clearance Deals
,
CarsDirect
,
NADAguides
&
Motortrend
Last year, Lexus completely reinvented its flagship sedan. The Lexus LS is now more engaging to drive, more stylish, and loaded with an extensive number of high-tech features. Luckily, drivers can still look forward to experiencing bulletproof reliability. With the 2019 Lexus LS being a super luxury car, you can expect it to have a rather steep price tag. Will the new LS make its way into your garage?
What's New for 2019?
A few key updates were made to the 2019 Lexus LS. To keep the LS in line with the competition, Lexus has added Apple CarPlay and Amazon Alexa. You can also take advantage of the sedan's new lane change technology.
Top 10 Reasons to Buy a 2019 Lexus LS – The Pros
1. Swift Performance
Although some drivers may miss the previous V8 engine's muscular sound, you can't deny the turbocharged V6's enhanced performance. It's tuned to push out 416 horsepower and 442 pound-feet of torque. A 10-speed automatic transmission helps the new LS to accelerate swiftly for a big car. When you push down on the gas pedal, the 2019 Lexus LS can reach 60 mph in 4.9 seconds. The previous-generation LS was a few ticks slower.
2. Big and Nimble
The 2019 Lexus LS has a very confident feel on the road. Although the LS weighs at least 4,800 pounds, it does not move like a heavy car. This sedan can actually hold its own going around curve. A sharp steering system helps drivers to easily guide the LS down the highway. If you're seeking a more athletic performer, opt for the F Sport package. You'll enjoy sports-calibrated suspension dampers and a set of 20-inch performance tires.
3. Great for Cross-Country Road Trips
This is a great car for the folks who have a passion for traveling. Despite its full-size stature, the 2019 Lexus LS manages to deliver good fuel economy. According to the federal government's estimates, you can anticipate getting 19 mpg in town and an inspiring 30 mpg on the open road. As expected, this premium luxury sedan also gets high marks for its smooth ride. You'll be able to eat up the highway in pure comfort.
4. High Reliability Scores with Solid Warranty
When preparing to purchase a high-dollar luxury sedan, some people are concerned about long-term dependability. Unlike some of its competitors, the 2019 Lexus LS has an excellent predicted reliability rating. All of the sedan's key components are built to meet a very high standard of quality. You'll also benefit from Lexus' strong warranty. While the sedan's bumper-to-bumper coverage lasts for 60,000 miles, it's powertrain warranty gives you 70,000 miles of protection.
5. More Stimulating Exterior Design
Although the Lexus LS was never an ugly car, it did have a rather uninteresting appearance. In comparison to previous generations, the 2019 Lexus LS has a lot more attitude. An expressive grille and angular headlamps highlight the sedan's bolder styling. You'll also notice the sedan's lower stance, which helps it look sportier than before. If you're looking for an even sleeker look, opt for the F Sport package.
6. Comfort is a First Concern
Like the overwhelming majority of cars in this class, the new Lexus LS makes comfort a big priority. Although some competitors may provide more overall passenger room, no one will describe the LS as being cramped. Great legroom enables rear occupants to really sprawl out. Featuring 22-way power adjustable rear seats with massaging function, the optional Executive package enables your passengers to experience star treatment.
7. Standard Lexus Safety System+
A Lexus Safety System+ comes standard on the new LS. It takes your on-road security to the next level. When you need to change lanes, the blind-spot monitor makes sure the coast is clear. Meanwhile, forward collision warning keeps you mindful of pedestrians and stopped vehicles. Some of the other standard driving aids include lane departure assist, intelligent cruise control, and automatic headlamps. In the event that you get into a crash, Lexus Enform Safety Connect will link you to emergency personnel.
8. 24-inch Head-Up Display
Drivers are encouraged to take advantage of the sedan's new head-up display. It'll definitely help you to better focus on the road. Vital information, such as your speed, is projected directly onto the windshield. When an obstacle comes into your path, the system will also show visual warnings. Because this head-up display is convenient, you'll rarely use the regular gauges.
9. Onboard Wi-Fi
All versions of the 2019 Lexus LS come standard with a Wi-Fi hot spot. With the ability to support up to five electronic devices, this is a feature that your entire family can use. When taking a road trip, you'll especially appreciate the ability to save your phone's data. Furthermore, Lexus gives you a complimentary subscription for an entire year. This means more money in your pocket.
10. Mark Levinson Reference Surround Sound System
Available as an option, the Mark Levinson surround sound system makes passengers feel like they're in the front row of an actual concert. Quantum Logic Immersion technology helps deliver a realistic music-listening experience. A total of 23 speakers and a powerful amplifier enable you to enjoy superb audio quality.
Buying Tip:
To avoid overpaying on a new car, shop prices online first. Get up front pricing before you walk into a dealership. We recommend the following free services;
Car Clearance Deals,
NADAguides,
CarsDirect & &
Motortrend.
These free services will offer you
the lowest prices
and supply you with multiple competing price quotes. You will know the best price before you visit the dealer.
Reasons Not to Buy a 2019 Lexus LS – The Cons
1. Expensive Ride
Prices for the 2019 Lexus LS start at a little more than $75,000. This will be a very costly purchase for the average consumer. Adding options could cause you to spend nearly $100,000. Drivers who can't afford the LS should consider the new Lexus ES. It has a far more attractive MSRP of $39,600. Although the ES may not feel as posh on the inside, you can expect it to be nearly just as comfortable.
2. Infotainment System Can Be Complicated
Folks who enjoy simple technology may not like Lexus' Enform infotainment system. Although the standard 12.3-inch display looks nice, the interface can be a bit complicated to use. Many people have complained about the system's touchpad controller, which often proves to be a distraction while driving. Furthermore, Android Auto is still unavailable. This issue may disappoint the drivers who have a regular Android phone.
3. Low Roof
The sedan's low roof accentuates its sleek appearance. Unfortunately, some drivers may experience less headroom. When approaching intersections, they may also have to lean forward to see traffic lights. To avoid regrets about buying a new LS, tall folks should pay close attention to their comfort and outward visibility.
4. New Engine Doesn't Sound as Powerful
While the sedan's turbocharged V6 engine is indeed powerful, it does not sound as exciting. Some Lexus fans had grown accustomed to the old V8's quiet rumble under the hood. When accelerating, expect the new engine to sound a lot softer.
5. Hit-or-Miss Front Grille
For a few years now, Lexus' spindle grille has been the source of much controversy. While some people like it, others find it to be too polarizing. Before making a final decision, make sure this sedan's styling suits your taste.
How It Stacks Up to the Competition
Some automotive critics consider the 2019 Mercedes-Benz S-Class to be the segment's best. Not only does the new S-Class feel more luxurious than the Lexus LS, but it is also more composed on the road. High-performance variants of the S-Class are especially engaging to drive. However, the Mercedes-Benz S-Class does have a more expensive price tag. While the S-Class is dependable, it's still not as reliable as the 2019 Lexus LS.
You should also consider the 2019 BMW 7-Series, which is roomier and more agile than the new Lexus LS. If long-term reliability is a top concern, go with the Lexus LS.
Drivers who can't handle the cost of a new Lexus LS should think about getting the Lexus GS. While the Lexus LS is tuned for the maximum comfort, the Lexus GS is geared more towards the folks who're seeking a sporty driving experience.
Conclusion
The 2019 Lexus LS is a luxurious cruiser. For good reason, it's expected to remain a favorite among the business executives who do a lot of traveling. While the sedan's main objective is to provide superb comfort, its performance is engaging enough to satisfy most drivers. Some great safety innovations are available, including a panoramic rear-view camera and forward cross-traffic alert. One of this car's main drawbacks is its overly complicated infotainment system.
Save Money on a 2019 Lexus LS:
Find New Car Clearance Prices - Many Vehicles are Selling Below Dealer Invoice Prices.
Every dealer offers a secret price. Many prices are below invoice.
Find yours here
.