2019 Mazda CX-5 vs Toyota RAV4
While many people see the 2019 Mazda CX-5 and Toyota RAV4 as some of the best compact SUVs currently on the market, it's for vastly different reasons. The CX-5, for example, offers some of the best value for money around, while the RAV4 has some of the most extensive safety features.
The Toyota model has been around for quite some time now, although anyone expecting a significant amount of similarities between the 2019 model and previous editions may be surprised. This is primarily due to the 2019 RAV4 has received an overhaul across the board.
Alongside this, it's also received a new trim level, called Adventure, that brings a variety of unique qualities to the SUV. The CX-5, on the other hand, was last redesigned in 2017, although much of the newer edition seems to be based on the 2013 installment.
This has meant that the 2019 CX-5 is quite similar to the last model, although it has received a few tweaks and improvements. Some of these changes may not be too obvious, but there may be one or two that stand out. If you already have an active interest in Mazda cars, then there's significant chance that you'll spot the difference quite quickly.
This may partly be due to how spot-on many of the previous models were, which may leave people looking for an overhaul somewhat disappointed. People who loved the earlier editions of the vehicle, however, will be more than happy with the upgrades that have been made.
While there are a variety of differences between the two compact SUVs, there are also a number of noticeable similarities. This has led to many people having some difficulty choosing between the two, especially if they haven't taken too much of a look at them.
As such, an in-depth comparison between the 2019 Toyota RAV4 and the Mazda CX-5 should help many would-be buyers make their decision. What is it that separates some of the best-selling SUVs on the market?
The Powertrain
The new Toyota RAV4 offers quite a few enhancements on previous editions, with many of these being seen in the powertrain. The base model of the SUV has a two and a half liter engine working across four cylinders that puts out 203 horsepower while providing 184lbs in torque.
In terms of fuel consumption, the engine can offer up to 26 miles per gallon in the city with up to 35 mpg while on the highway, though these specs are only available with the standard FWD. If you opt for the AWD, you should expect 27 mpg across the city, with a further 34 mpg on the highway.
The new Adventure trim, however, sees a slightly reduced fuel efficiency with the AWD, and comes in at approximately 25 mpg around the city and 33 mpg on the highway.
Alongside this, the 2019 RAV4 has a Hybrid option of its basic engine, with this having quite an effect on its power and fuel consumption. The Toyota RAV4 Hybrid offers 219 horsepower with a similar improvement on its torque.
The SUVs fuel consumption also sees a significant improvement here, with Toyota suggesting that it offers up to 41 mpg in the city, while it should get up to 37 mpg on the highway.
The RAV4 also gets three different AWD options, depending on which trim you purchase; the Basic LE, XLE and XLE models get a crossover-style system, while the Adventure trim receives a sophisticated torque vectoring system, which is also optional on the Limited model. Lastly is the Hybrid model, which uses an electric motor.
The 2019 Mazda CX-5 also has two powertrain options, although these don't offer as high of a performance as the Toyota RAV4 does. The first of these is similar to that of the RAV4 and comes as standard for the lower trims while offering 187 horsepower alongside 186 lb-ft of torque.
In terms of fuel consumption, this engine also doesn't live up to the RAV4, as it offers up to 25 mpg in the city alongside 31 mpg on the highway, although this is for the FWD version of the trims. The AWD, on the other hand, runs 24 mpg in the city and 30 mpg on the highway.
However, it's with the turbocharged engine that the 2019 CX-5 stands out, as it offers considerably more power. The turbocharged engine is shared with both the Mazda6 and CX-9, and offers 250 horsepower and a considerable 310 lb-ft of torque, although this is primarily seen with premium fuel.
However, the fuel efficiency here still doesn't match up to the 2019 RAV4, as its FWD offers 23 mpg in the city and 28 mpg on the highway; the 22 mpg and 27 mpg in the city and on the highway, respectively.
In terms of overall towing power, the 2019 Toyota RAV4 is the leader here, although it depends on which of the trims you purchase. For example, the majority of its trims can handle 1,500 pounds, although the Hybrid tows 1,750 pounds and the Adventure model can handle a whopping 3,500lbs.
The Mazda CX-5 can't match up to any of this. While you mightn't need this much overall towing power, it can make a large difference in your overall decision.
With all of that in mind, the 2019 Toyota RAV4 is the clear winner when it comes to almost every aspect of the engine's power and overall performance. While the 2019 Mazda CX-5 is undoubtedly respectable, especially with its turbocharged engine, the RAV4 is much more of a well-rounded machine across all trims.
Drivability
When it comes to interior space and comfort, the 2019 RAV4 seems to be the winner here, thanks in large part to its overall size at 73.0 inches wide, 67.0 inches tall, and 180.9 inches long. This translates to 41.0 inches of legroom and 37.7 inches of headroom in the front seats.
In the back, you should be able to expect 39.5 inches of headroom while also getting 37.8 inches of legroom. The 2019 Mazda CX-5 doesn't offer as much overall size here, as it only provides 65.4 inches in height, and is 72.5 inches and 179.1 inches long.
Despite this, having less ground clearance has meant that it can offer much more passenger room than you might have thought. In total, it offers 41.0 inches of legroom in the front, which perfectly matches the RAV4. However, it manages to outdo it when it comes to headroom, as it provides 39.7 inches in this regard, slightly above what the Toyota offers.
In the back seat, it offers 39.6 inches of legroom, which is more than the RAV4, while also providing 39.0 inches of headroom.
As such, both of the SUVs offer quite a significant amount of space and comfort while driving, although it seems as though the Mazda CX-5 takes the lead with this one.
However, the 2019 RAV4 offers much more in terms of cargo space, as it has 38 cu ft. of cargo area that expands to 70 cu ft. once the second row of seats is folded down. In contrast to this, the CX-5 offers 31 cu ft. and 60 cu ft. respectively.
When it comes to luxury and technology as standard, the Mazda CX-5 is the clear winner here, as it offers nicest interiors in the class, and boasts quite a considerable amount of technology, much of which the 2019 RAV4 doesn't have.
Safety
In terms of safety technology, there's almost no comparison between the 2019 Toyota RAV4 and the Mazda CX-5. Though both offer some spectacular safety features, it's the RAV4 that offers much more, as it makes use of a variety of critical functions. The first of these is a pedestrian detection - although this only works during the day - and a system that warns when you're close to the edge of the road.
The benefits don't stop there, however, the 2019 RAV4 also offers a lane-departure warning that features an assist to keep you in-lane and high-beams lights that automatically adjust, as well as a cyclist detection system, although this only works during the day.
While each of the above comes as standard, there are also a few optional extras, including automated braking at the rear and monitoring for your blind-spot that features a rear cross-traffic alert. Both of these can come in quite handy, although they do come at quite a high cost.
While the 2019 Mazda CX-5 certainly can't compete with this, there are a few safety options for potential buyers to take advantage of. As standard, it offers a forward-collision warning, blind-spot monitoring with cross-traffic alert for the rear of the vehicle, and automated braking in the front for emergencies
Alongside this are a variety of optional extras. While this certainly makes the 2019 CX-5 safe, it doesn't seem to match up with the 2019 Toyota RAV4, especially when you consider which options come as standard.
As such, we'd lean heavily toward the RAV4 in terms of its overall safety features, as you're getting much more bang for your buck in this regard. Though both will need a variety of upgrades to have all of the available safety features, the Toyota RAV4 certainly need much fewer of them, which could mean that you'll save more money in the long-term.
However, Insurance Institute for Highway Safety test results should also play a significant role in determining how safe the SUVs are. The 2019 CX-5 earned extremely high results in this regard, which means that it's definitely a safe vehicle.
The 2019 Toyota RAV4, on the other hand, hasn't had its results released yet. However, the manufacturer has made a variety of improvements on the previous edition, which happened to receive top marks in many areas, which would lead many to believe that it should do so again.
Buying Tip:
To avoid overpaying on a new car, shop prices online first. Get up front pricing before you walk into a dealership. We recommend the following free services;
Rydeshopper,
Edmunds,
CarsDirect,
NADAguides
&
Motortrend
. These free services will offer you
the lowest prices
and supply you with multiple competing price quotes. You will know the best price before you visit the dealer.
Which Has the Best Value?
Value for money will play a significant role in any large purchase, and this is especially true when it comes to an SUV. While neither of these options could be defined as cheap, the 2019 Mazda CX-5 is definitely the more affordable option. Prices range from $24,350 up to $38,480, depending on which trim you choose, although this doesn't include any optional upgrades.
Should you choose the turbocharged engine, then that could add a sizable amount to the price. If you decide to go with any of the trims with their standard features, then you'll be getting a significant amount of value for money. Many of the extras, while significant, may not be worth the price that's being asked, which can reduce their overall value.
The base model of the 2019 Toyota RAV4, on the other hand, starts at $26,545, although if you were to go for the fully-loaded Limited and Adventure models, then you should expect to pay well over $38,000. Choosing the Hybrid option also adds a $2,200 premium, which makes quite a sizable difference.
When it comes to figuring out which of the SUVs are better value for their money, the Mazda CX-5 is definitely the clear choice. This is primarily driven by how well it holds up compared to similar SUVs that could cost much more. As a result, it offers much more value pound for pound than many people would expect from the car.
What you should take into account, however, is the optional extras that you might want to purchase. While this affects both vehicles, many of the additions could be much more expensive than you might wish to. Even though they're something that many people will want in their car, they are incredibly overpriced.
Which Is Better?
Both the 2019 Toyota RAV4 and the Mazda CX-5 are at the top of their game, as well as their SUV class. As such, you shouldn't go wrong by choosing either of them. That being said, they both have notable advantages, depending on what you're looking for in a compact SUV.
The 2019 Mazda CX-5 undoubtedly offers much better value for money, as it's considerably more affordable than many other options on the market. In some cases, it can cost between $10,000 and $15,000 less than some options while still offering a similar performance and experience.
Alongside this is that it's one of the more visually appealing SUVs currently on offer. As such, if you're looking for a vehicle that offers a great mix of style, power, and overall performance without breaking the bank, then this could be the right option for you.
This doesn't mean that the 2019 Toyota RAV4 is without its benefits. In contrast, it's the more advanced option and offers a variety of forward-thinking features that many buyers will want to take advantage of. Because of this, it sets the bar for compact SUVs in a variety of ways, with this being a standard that looks to stay high in the years to come.
Much of this is seen in the fact that it offers much more sophisticated AWD systems and performance upgrades, with a significant amount of this being seen in a new Adventure, as well as in the XSE Hybrid option.
Whether this means that the Toyota RAV4 is a better choice than the 2019 Mazda CX-5 is debatable, and can depend significantly on what features matter most to you. Regardless of which option you choose, you'll be purchasing a reliable SUV that improves considerably on the models that came before it.
Save Money on a 2019 Mazda CX-5:
Are you Shopping for a New Vehicle? Find the Best Deals with "Free - No Hassle" Prices Quotes.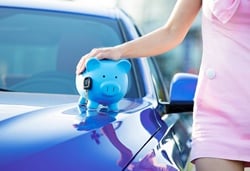 Get up to 4 local dealers to compete for your business by offering free, competitive pricing. Know before you go to the dealer.
Every dealer offers a secret price. Find yours here.