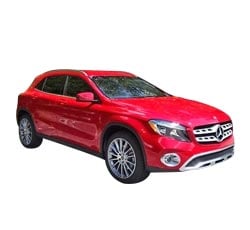 Find New Car Deals Near You
Get multiple price quotes from the Internets leading automotive websites
• Car Clearance Deals
• CarsDirect
• NADAguides
• Motortrend
Since its inception in 2013, the Mercedes-Benz GLA-Class has been a hit, outselling quite a few of its competitors in the luxury subcompact crossover segment. This year, the 2019 Mercedes-Benz GLA-Class is all set to keep up with this trend. Not a lot has changed for the model year, but most fans of this vehicle will not mind. With its decent gas mileage, all-weather build, and engaging driving performance, the GLA-Class manages to negate some of the pitfalls of its class.
What's New for 2019?
The only significant change to the 2019 Mercedes-Benz GLA-Class that is worth mentioning is the fact that the AMG GLA 45 model now comes equipped with standard 20-inch wheels. Other than that, you can expect almost everything else to carry over from the 2018 line-up, save for a few minor tweaks here and there.
Top 10 Reasons to Buy a 2019 Mercedes Benz GLA Class – The Pros
1. An Engaging Driving Performance
Every driver of the new 2019 Mercedes-Benz GLA-Class will likely find that this vehicle offers quite the exciting driving performance. Although the standard 7-speed dual clutch automatic transmission presents a few issues, the available engine options tend to make up for this. Taking the vehicle up to speed on the highway can prove to be quite thrilling, and the GLA-Class does have some light off-roading capabilities. With how superb handling and steering feel, it is hard to ignore the vehicle's straight-on performance.
2. An All-weather Friendly Design
Since the GLA-Class has a good amount of ground clearance (8 inches of it, to be more precise) and can come equipped with all-wheel drive, this SUV has very few issues with making it through inclement weather conditions. There is an off-road transmission mode that comes with the all-wheel drive system as well as hill descent control, which can come in handy when trying to safely descend down steep declines. Braking also feels secure on the GLA-Class, and the vehicle can make a panic stop in just 105 feet when going from 60 mph to 0. Altogether, this makes for a great year-round vehicle.
3. A Decent Fuel Economy For Its Class
Vehicles in this segment are not exactly known for getting superb gas mileage. However, for the way it performs, the 2019 Mercedes-Benz GLA-Class gets relatively good fuel efficiency. Depending on how you equip the GLA-Class, it can get you up to 24 mpg in the city and 33 mpg on the highway. This gives the GLA-Class the edge over competitors like Audi who struggle to get close to these numbers.
4. The AMG GLA 45's Long List of Standard Features
If you are willing to spend a little more, consider upgrading to the AMG GLA 45 trim level. This line-topping trim comes with everything you can possibly imagine. Not only is there a higher-powered engine (which gets 375 hp and 350 lb-ft of torque) and improved brakes, but it also has a massive list of features. There is a power-adjustable front passenger seat, a sport-tuned suspension, a sport exhaust, and it also comes with every feature found on the 250 4Matic as standard.
5. Swift Acceleration
Looking for a luxury SUV that can get up to speed on the highway in very little time? The 2019 Mercedes-Benz GLA-Class is that vehicle. Getting from 0 to 60 mph on the highway only takes the GLA-Class about 6.8 seconds, which is better than Audi and several other key rivals, including some of the larger SUVs that are on the market this year.
6. Agile and Responsive Steering
Steering on the new Mercedes-Benz GLA-Class is nothing short of impressive. While the steering might feel a bit light to some drivers, it is actually weighted quite well and offers quite a good amount of feedback to the driver regardless of what type of road surface you drive it down. Getting to feel the amount of road you do through the steering wheel is a huge bonus to driving the GLA.
7. Handles Like a Hatchback
Steering is impeccable, and handling is even better. In fact, it might just be the most glistening highlight of the 2019 Mercedes-Benz GLA-Class. Surprisingly, the vehicle feels more like a hatchback than a small crossover luxury SUV. The vehicle has a stability control system that works incredibly well at keeping body roll to a minimum, and the tires get more than enough grip on the road surface. Overall, handling on the GLA should inspire a lot of driver confidence.
8. Comfortable Seats
While the seats in the GLA might feel a bit too plush at first for some occupants, there is actually a good amount of lateral support available in each of them. It is certainly good enough to make long car rides more endurable. The simulated leather upholstery that Mercedes-Benz uses on their seats breathes easily and does not trap heat in during hot summer months. Even the rear seats pack a good amount of comfort, and having the AMG GLA 45's power-adjustable front passenger seat makes for a nice bonus.
9. Easy-to-use Controls
A lot of luxury vehicles struggle to provide drivers with user-friendly set-ups. This is not so on the 2019 Mercedes-Benz GLA-Class. The whole interior of the vehicle is extremely functional and sensible, and all of the necessary controls are within reach for the driver. The infotainment screen is huge and reads graphics out with clarity. Sifting through the menu is also easy since everything is appropriately labeled. Additionally, the climate control system relies on physical knobs and buttons.
10. Plenty of High-tech Features
High-tech gadgetry abounds in the GLA-Class, but none of it feels too complex and overwhelming for non-tech savvy drivers. The base 250 trim comes loaded with quite a few infotainment features, including a 6-speaker audio system, 8-inch touchscreen display, and a five-year trial-based subscription to Mercedes-Benz's Mbrace Connect telematics system. Satellite radio, a WiFi hot-spot, navigation, and an upgraded sound system all come as options on the GLA 250. There is an optional Multimedia Package that equips smartphone app integration via Apple CarPlay and Android Auto.
Buying Tip:
To avoid overpaying on a new car, shop prices online first. Get up front pricing before you walk into a dealership. We recommend the following free services;
Car Clearance Deals,
NADAguides,
CarsDirect &
Motortrend.
These free services will offer you
the lowest prices
and supply you with multiple competing price quotes. You will know the best price before you visit the dealer.
Reasons Not to Buy a 2019 Mercedes Benz GLA Class – The Cons
1. A Firm Ride Quality
The most noticeable drawback to driving the 2019 Mercedes-Benz GLA-Class is that its ride quality is simply too firm to make driving at slower speeds comfortable. While the suspension soaks up a lot while going at highway speeds, cruising along at city speeds is a lot less enjoyable. Occupants will feel every bump in the road.
2. Some Road and Wind Noise Seeps In
Another issue that many occupants will take with the new GLA-Class is that a lot of wind and road noise makes its way into the cabin. This just serves as a detraction from the fact that this is an expensive luxury vehicle, and there are more budget-friendly SUVs out there that do a better job of muting their cabins. Most of the noise seems to come from the area of the vehicle's huge side mirrors, which is something that would be common sense for Mercedes-Benz to fix on future models.
3. Limited Rear Seat and Cargo Space
Space is a huge limitation for the 2019 Mercedes-Benz GLA-Class. In the rear, the seats do not recline or slide, so there is not a lot of room for taller passengers to adjust for comfort. Head and leg space is massively infringed upon, as is the amount of cargo space that the vehicle offers. The maximum amount of cargo space you can get is just 43.6 cubic feet, which is small compared to a lot of other SUVs. While traveling on a road trip, you might need to pack lightly.
4. A Touchy Automatic Transmission
The 7-speed automatic transmission can be a bit finicky since its response tends to lag when going at slower speeds. Along with a noticeable lag from the gas pedal while in E mode, this can make for a frustrating daily driver. Those who are looking for a smoother and faster response from the transmission and throttle will need to consider buying a totally different vehicle.
How it stacks up to the competition:
2019 Mercedes-Benz GLA-Class vs. 2019 BMW X1
Set to be a crowd favorite for the model year, the 2019 BMW X1 presents itself as a strong competitor for the 2019 Mercedes-Benz GLA-Class. The X1 is equipped with a turbocharged engine that rapidly responds and provides ample power to the vehicle. Steering and handling are nearly on-par with what the GLA gives as well. Also, the X1 fares much better than the GLA in terms of rear seat and cargo space. However, the X1 has a few downfalls, including a bit of a noisy highway performance.
2019 Mercedes-Benz GLA-Class vs. 2019 Audi Q3
Another strong competitor for the year is the 2019 Audi Q3. The new Q3 offers a large number of features at a price that is lower than the GLA and other rivals in this segment. Also, the Q3 provides its occupants with a quiet, well-mannered ride quality that makes long trips enjoyable. On the downside, however, this SUV lacks the acceleration and handling that you get on the GLA and does not have as user-friendly of an infotainment system.
Conclusion
While Mercedes-Benz needs to consider making a few drastic improvements to the GLA-Class, the experience you get behind the wheel of the 2019 Mercedes-Benz GLA-Class is going to be suitable for quite a few drivers. The vehicle's easy-to-use set-up, comfortable seats, and handling and steering capabilities are sure to attract quite a bit of attention from Mercedes fans this model year.
Save Money on a 2019 Mercedes Benz GLA Class:
Find New Car Clearance Prices - Many Vehicles are Selling Below Dealer Invoice Prices.
Every dealer offers a secret price. Many prices are below invoice.
Find yours here
.