Compare Trim Levels • Configurations
2020 Mercedes Benz GLA Class Trim Levels with Comparisons & Configurations.
What do you get with each? Find out below..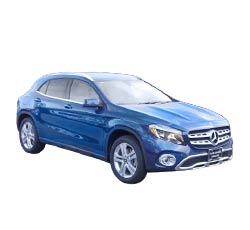 Buying Tip:
Before you walk into a dealership, price shop Online first. Avoid overpaying by using the following pricing services:
With these services you can:
• Force dealers to compete for your business.
• Start your own online price war.
• Many prices are not advertised online.
• It's Free and No Obligation.

Visit
Car Clearance Deals
,
CarsDirect
&
MotorTrend.
For many years, Mercedes-Benz has been associated with prestige and power. In 2015, they made an addition to their expansive list of luxury vehicles when they introduced the GLA-Class. The vehicle had a rough start with refinement needed to improve its ride quality and super slow-to-respond automatic transmission.
Since then, quite a few changes have been made. This year, the AMG GLA 45 has been axed from the line-up, leaving just one trim level, the GLA 250. This trim can be bought as a regular front-wheel drive or can have the 4MATIC all-wheel drive system tacked onto it. But those are the only options you get aside from a slew of packages that can help you customize certain features.
There are still issues with the ride quality and how the vehicle handles driving down rougher road surfaces. The ride quality dwindles the longer you are on that type of road surface, seemingly becoming fatigued. The 7-speed dual clutch automatic transmission also struggles to this day with being in stop-and-go traffic. It just feels sluggish and unsure of itself as it changes gears.
Also, you will not get much leg, head, or cargo space inside of the GLA-Class. Those in the rear seat especially suffer. For an automaker known for its focus on comfort, Mercedes-Benz has been dropping to ball on the GLA since its initiation. Luckily, 2021 marks the dawn of the second generation, and there are bound to be many changes, including a more SUV-like body design and more creature comforts that you can currently find in the A-Class.
If you can hang tight for another year, the 2021 seems very promising. However, if you do want to go ahead and try out the 2020 Mercedes-Benz GLA-Class, there are some things that you need to know about it. Just go into it knowing that the 250 and 250 4MATIC are essentially the same vehicle with one major difference - the drivetrain. With that being said, we will take an in-depth look at this singular trim level and, at the end of this review, tell you how we think it would be best equipped with certain packages and stand-alone options.
Compare the 2020 Mercedes-Benz GLA-Class GLA 250 vs GLA 250 4MATIC. What is the difference?
Let's kick this section off by discussing the one difference between the GLA 250 and 250 4MATIC. The GLA 250 comes with a standard front-wheel drive drivetrain, but the 4MATIC offers all-wheel drive. This only costs $2,000 more. The GLA 250 gets from 0 to 60 in 7.2 seconds while the GLA 250 4MATIC ever-so-slightly beats it at 7.1 seconds. The 4MATIC's fuel economy (22 mpg in the city and 30 mpg on the highway) is a minor drop from the GLA 250's 24 mpg in the city and 34 mpg on the highway.
Both vehicles are otherwise the same. The GLA 250 is powered by a standard 2.0-L inline-4 turbocharged engine that is paired with the 7G-DCT (dual clutch automatic transmission). Together, this gets the vehicle 208 hp and 258 lb-ft of torque. This vehicle rides atop standard 18-inch 5-spoke wheels and comes with all season extended mobility tires. There are also shift paddles, DYNAMIC SELECT, and a 4-wheel independent front suspension that is built with lightweight materials and geared toward providing a precise performance with a sporty amount of feedback. You can also opt for perforated front brakes with painted calipers.
As far as the exterior design goes, there are eight different body paint color options to choose from. The vehicle is designed to look sporty with its flared fenders and matte black cladding inside of the wheel arches and side sills. The silver chrome accents look nice and can be found all around the vehicle, from the roof rails up top to the front air dams. There is a wide grille up front with the MB logo plastered smack-dab in the center. Spanning out from that are twin matte silver crosswings that have six slots on each side that are outlined in chrome trim. The twin power dome hood contributes to the sporty appearance, and there is deeply tinted privacy glass in the rear for backseat occupants to enjoy.
Exterior options include the classy AMG body styling and gloss black exterior accents (which you will find everywhere, including on the side mirrors and grille crossbars). You can also opt for 18-inch twin 5-spoke wheels, 19-inch twin 5-spoke wheels with in matte black, or 19-inch AMG multi-spoke wheels in either silver or black.
The cabin has an upscale look - to an extent. It does lack some of the more high-tech features found in other MB vehicles, such as the A-Class. But don't worry, it will be getting a lot of those features in 2021! For now, you will have to settle with a standard 4.5-inch color instrument cluster display that is controlled by a multi-functional 3-spoke steering wheel. There are padded armrests up front and a freestanding central screen mounted on top of the dash. The steering wheel has raised thumb rests for a proper "10 and 2" holding position. Also, the dash has neat metallic sail pattern trim that stands out.
If you want, you can opt for topstitched MB-TEX upper dash trim, aluminum dash trim, matte black ash wood trim, satin light brown poplar wood trim, a panoramic roof, and a black headliner.
Of course, you are probably curious about which safety and security features come equipped on the 2020 Mercedes-Benz GLA-Class. There are quite a few, but definitely not as many as you get on some of the higher-end, higher-priced Mercedes-Benz vehicles. So if you are looking for something that is ludicrously packed with advanced safety features, you will have to consider spending a lot more money. The GLA 450 does pack enough in though. You get the Mercedes-Benz emergency call system, active brake assist, attention assist, and front fog lights. The body itself is built to withstand heavy impacts with its high and ultra high-strength steel frame and advanced front and rear crumple zones. Advanced tire pressure monitoring, adaptive braking technology (including hill start assist, brake HOLD, and predictive braking priming), and electronic traction and stability control are standard as well.
You also get MB's Smart Key with a keyless start function. When you approach the vehicle, you can get the "Welcome Home" lights to turn on and greet you, which is comforting when you are walking to your car in the dark. There is a remote panic alarm with the anti-theft system in case you cannot find your vehicle. There are also rain-sensing front windshield wipers and an automatic-on rear window wiper.
You can spend more on packages that will get you highly desirable driver aids like blind spot assist, lane keep assist, active distance assist DISTRONIC, active parking assist, a surround view camera system, LED daytime running lights, and LED headlights and taillights.
Safety features are great and all, but these vehicles really are centered on luxury. The 2020 Mercedes-Benz GLA-Class does a decent job of making this entry-level luxury SUV feel cozy (despite the lack of cabin space). There is lush MB-Tex upholstery on the seats, and this fabric is known for its durability. It has cool contrast topstitching that helps it look sporty. The vehicle also comes with a power liftgate, dual zone automatic climate control, three years of Mercedes me connect services, remote start from the Mercedes me Mobile app, 14-way power-adjustable front seats with 4-way power lumbar support and memory settings, a 60/40-split folding rear seat, and ambient lighting throughout the cabin. Inside of the cargo area, you will find a 12-volt power outlet, mesh netting on each side, and an underfloor storage area.
As far as options go, you can upgrade to leather upholstery and go for some nifty packages. The Premium Package will give you keyless go, hands-free access to the trunk, and heated front seats. You can also get multi-colored ambient interior lighting, auto-dimming driver's side and rear-view mirrors, power-folding for the side mirrors, a compass, and the Home Link system (which comes with the compass in the Convenience Package).
Finally, we have to talk about the multimedia features that you will find inside of the 2020 Mercedes-Benz GLA-Class. The GLA 250 has an 8-inch central display and controller that lets you access the vehicle's COMAND system. Bluetooth audio streaming and hands-free connectivity comes standard, as do two USB audio ports. A receiver for HD Radio is built in, as is pre-wiring for the GARMIN MAP PILOT. There is a CD player with MP3 capability and an in-dash SD card reader. This does not seem like a lot, and there will likely be some big upgrades here for 2021 as the GLA is set to take on many of the A's features.
Still, you get a good number of optional features that you can tack on. You can get COMAND navigation with no charge on over-the-air updates for three years, a 450-watt Harman Kardon LOGIC7 sound system, and TuneIn Radio. Smartphone app integration via Apple CarPlay and Android Auto is optional, which seems a bit odd since these features are now standard in even economy vehicles. Other options include in-vehicle WiFi, a 6-month all-access trial to SiriusXM Satellite Radio, five years of SiriusXM Traffic and Weather services, built-in voice control, and a DVD player.
2020 Mercedes-Benz GLA-Class: Which Trim to Choose?
So, what is our verdict on the 2020 Mercedes-Benz GLA-Class? Should you get it? Should you wait a year for the next generation of the GLA? Should you get a different MB vehicle altogether?
The answer here is pretty simple. While the 2020 Mercedes-Benz GLA-Class offers some great features at a reasonable price, a lot of buyers looking at MB's vehicles are going to be okay with splurging on something a little bit more upscale. And those who are looking at SUVs will find the design on the GLA-Class to be limited and small. While the trunk does have some versatile storage options, it will not feel spacious enough for people who have a lot of things to lug around. And the rear seat is just not meant for tall people, period.
The ride quality is the other factor that really brings down the GLA's desirability. It would be a cozy ride if MB made some adjustments to the transmission and chassis. However, you will have to wait for the 2021 line-up to come out before you stand a chance of getting an improved ride quality out of a GLA-Class.
That being said, the GLA is getting better over time, and this first generation seems like MB was experimenting with a lot of things. Sit tight for the second generation, as MB is known to deliver on their promises for improving their vehicles. But if you need a car now, the GLA-Class is an affordable entry-level SUV that will get you where you need to go.
Did you find this article useful?
Please rate this page. Select a star rating from 1 to 5 below:


Save Money on a 2020 Mercedes Benz GLA Class:
Find New Car Clearance Prices - Many Vehicles are Selling Below Dealer Invoice Prices.
Every dealer offers a secret price. Many prices are below invoice.
Find yours here
.