Reasons to Buy • Pros vs. Cons
2020 Mercedes Benz GLA Class
Should you buy? Find out below..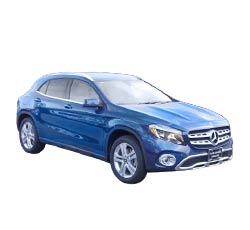 Buying Tip:
Before you walk into a dealership, price shop Online first. Avoid overpaying by using the following pricing services:
With these services you can:
• Force dealers to compete for your business.
• Start your own online price war.
• Many prices are not advertised online.
• It's Free and No Obligation.

Visit
Car Clearance Deals
,
CarsDirect
&
MotorTrend.
Mercedes-Benz has long been known as one of the leading makers of luxury vehicles. They have a knack for mixing power with prestige. Inside and out, MB goes all-out on making their rides truly luxurious. But there are always a few pitfalls. The 2020 Mercedes-Benz GLA-Class reflects that. While it is a strong performer that gets a respectable fuel economy, it does feel cramped and has a finicky automatic transmission that puts a damper on the ride's enjoy-ability.
What's New for 2020?
The only real change that has been made to the 2020 Mercedes-Benz GLA-Class is that the AMG GLA 45 has been axed from the line-up.
Top 10 Reasons to Buy a 2020 Mercedes Benz GLA Class – The Pros
1. Quick Acceleration
The 2020 Mercedes-Benz GLA-Class has no problem with getting up to speed on the highway. In fact, this fancy little crossover has been clocked going from 0 to 60 mph in just 6.8 seconds, which trumps a number of its competitors. Some of the larger SUVs just barely make it in this time, but the GLA makes quick enough work when you press down on the accelerator. And nothing about it feels like you're having to force the GLA to get up to speed, making it easy enough to merge onto the highway and pass other vehicles. It is only around town that the transmission feels limp.
2. Stellar Brakes
The GLA-Class has one of the shortest (and safest) stopping distances (going from 60 mph down to 0) in its class. It only needs 105 feet to come to a panic stop. The brakes feel smooth and relaxed as you push down on them, too, which should increase your confidence in this vehicle's braking abilities. And that 105 feet stopping distance? That's just with summer tires. Year-round performance tires might do even better. Note that the brakes only fade out after a lot of stops. Even then, it does not
3. Precision Steering
The 2020 Mercedes-Benz GLA-Class has some of the most precise steering you will find on a luxury crossover. While it does tend to feel a little bit too light at times, it makes turns in a smooth, sharp manner, and it always feels right on point. The weighting of the system feels right no matter what driving situation you are in. It can handle scooting about town and winding country roads.
4. Spunky Handling Capabilities
The GLA-Class handles less like a SUV and way more like a hatchback, and that is a good thing. It is spunky and sporty, thanks to the well-tuned stability and traction control system, the relatively little body roll, and the superior amount of grip that the tires have on the road. The only downside is that the AMG GLA 45 is gone, so you cannot get that nice, tug-free performance from its all-wheel drive system.
5. Off-roading Can Be Fun
Want to take the 2020 Mercedes-Benz GLA-Class off the beaten path? Well, go for it! With eight inches of ground clearance, this crossover has more clearance than many hatchbacks and SUVs. Go for the all-wheel drive system if you plan to do a lot of off-roading (or if you live in an area where there is a lot of rain and snow). The AWD system has an off-road transmission mode, compass and wheel angle displays on the COMAND display screen, and hill descent control. 50 percent of the power generated goes to the rear wheels, which will help keep the GLA stable and secure.
6. Comfy Seats
The GLA-Class gets treated to MB-Tex faux leather that looks and feels just like real leather. It has a lot of breathe-ability, which is not something you will find with other faux leather. There is a lot of side bolstering on the seats, and the bottoms of the seats are padded quite well, making the GLA-Class cozy on long road-trips. While there could be a little more thigh support on the driver's side, the driver's seat is still comfy and easy to adjust to the right position.
7. Controls are Easy to Use
The interior of the 2020 Mercedes-Benz GLA-Class might look somewhat standard, but this really is a good thing. It makes the controls much easier to use than what you will find in some of the vehicle's competitors. The gauges on the instrument display panel are all clearly marked and simple to read, and the large infotainment screen produces some crystal-clear graphics that are also well-labeled. The climate control system has physical knobs and buttons, which is a relief if you have been driving something with digital controls.
8. A Lot of Nice Infotainment Features
The GLA-Class comes with plenty of standard and optional infotainment features to meet your needs. The standard six-speaker sound system produces a nice audio quality, but the option to upgrade to the 12-speaker Harman Kardon premium sound system is incredibly alluring. That system has some of the best sound quality you can find, and the subwoofer enhances the experience. The Multimedia Package will give you voice-controlled navigation should you want it, but there is also an option to get an SD-card based Garmin Map Pilot system. Or you can just sync up your smartphone and use your navigation app on there. It is your choice.
9. Getting in and Out is Simple
If you are avoiding SUVs due to the high climb in, then you might like the ride height of the 2020 Mercedes-Benz GLA-Class. It is just low enough to allow you to slide in without having to stoop. Even taller adults should have relatively no problems with getting in and out of the front. If you have kids, loading them into the back will feel like you are loading them into a sedan, so you are not using your upper body to lift them in and haul them back out.
10. A Quiet Ride
The GLA-Class is not as cavernous as MB's other vehicles, but it remains pretty well-insulated from exterior noise. You will not get much coming from the engine or the road. The only noise that might seep in is the wind that hits the side mirrors. Otherwise, enjoy a nice, tranquil ride in the GLA-Class.
Buying Tip:
To avoid overpaying on a new car, shop prices online first. Get up front pricing before you walk into a dealership. We recommend the following free services;
Car Clearance Deals,
CarsDirect &
MotorTrend.
These free services will offer you
the lowest prices
and supply you with multiple competing price quotes. You will know the best price before you visit the dealer.
Reasons Not to Buy a 2020 Mercedes Benz GLA Class – The Cons
1. The Wonky Transmission
The seven-speed automatic transmission that comes equipped on the 2020 Mercedes-Benz GLA-Class is nothing short of problematic. If it was not for this, the GLA would give a nearly-perfect driving performance. Unfortunately, the transmission makes the vehicle one you might want to pass over. It has a ridiculous amount of lag, especially when you put the vehicle into E mode. However, manual and S modes are still frustratingly laggy. No one wants to be stuck with a vehicle that is painstakingly laggy when driven at slow speeds.
2. Poor Ride Comfort
If you hit a pothole in the GLA, expect to feel it - hard. As already mentioned above, this vehicle is not meant for slow-paced city roads that could use some work. You will get bounced around no matter the size of the road imperfection. Most luxury vehicles show vastly more composure while taking it slow and steady. The GLA gets a failing mark when it comes to ride comfort.
3. A Cramped Rear Seat and Tiny Cargo Area
The 2020 Mercedes-Benz GLA-Class feels pretty tight in the back, especially compared to standard SUVs. There is hardly any leg room for adults, and if you get the panoramic sunroof added on, it will lop off quite a bit of head room as well. That just makes for a cramped rear. It does not help that you cannot slide or recline the rear seat at all, as you can in other luxury vehicles. And, if you plan on toting a lot of bulky items, skip this vehicle. The cargo area is too small. You can fit maybe a few pieces of luggage or a minor amount of camping gear.
4. Visibility is Severely Diminished
Sit in the cockpit for a minute and test out how well you can see out of the GLA. It will not take you long to figure out you are going to have to rely on the standard backup camera and get the blind spot monitoring system tacked on as well. The seats are positioned way too low, and the roof pillars are too chunky, making the windows all a bit too small. It is just not the best design.
How It Stacks Up to the Competition:
2020 Mercedes-Benz GLA-Class vs. 2020 BMW X1
The 2020 Mercedes-Benz GLA-Class sees some seriously stiff competition from the 2020 BMW X1. BMW really knows how to compete, and it shows with the X1. The X1 has a powerful turbocharged engine that makes for a fun ride. Also, its handling capabilities rival those of the GLA-Class, giving a thrilling and sharp performance. The materials also look a bit more high-quality than the hard plastic surfaces you will find in the GLA. However, the standard sport suspension feels too firm and jolting, and you will hear a lot more road noise once you get the X1 going on the highway. But, pound for pound, it is the more drive-able vehicle.
2020 Mercedes-Benz GLA-Class vs. 2020 Audi Q3
Audi puts up a good front this year with the 2020 Audi Q3. The Q3 has a serene cabin that does not seem to let in any road, wind, or engine noise, making it quite the pleasant ride. The materials used also look like what you would expect from Audi - totally high-end. And the abundance of infotainment features and driver aids is tough to beat. Still, the Q3 has a few downsides, the biggest of which is the highly distracting infotainment system.
Conclusion
The 2020 Mercedes-Benz GLA-Class looks nice and has quite a few good features packed into it. However, with the AMG GLA 45 trim level gone from the line-up, buyers lose the best option of the bunch. The GLA-Class falls short of the standard most people have for MB, which is a shame. This vehicle is due for a massive overhaul if MB wants to keep competing in this segment. Otherwise, the GLA-Class is a hard pass.
Did you find this article useful?
Please rate this page. Select a star rating from 1 to 5 below:


Save Money on a 2020 Mercedes Benz GLA Class:
Find New Car Clearance Prices - Many Vehicles are Selling Below Dealer Invoice Prices.
Every dealer offers a secret price. Many prices are below invoice.
Find yours here
.