2021 Mitsubishi Mirage Pros vs Cons. Should You Buy?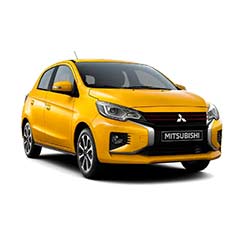 Some folks like big, fancy SUVs and don't mind blowing thousands of dollars on those expensive vehicles. But there are still some folks who would rather take the conservative approach. For those of you who want to take a thriftier approach and do not need a lot of space, you might want to consider looking at the 2021 Mitsubishi Mirage. This subcompact hatchback is powered by a tiny 1.2-L 3-cylinder engine and has a relatively small list of standard features compared to what you find in high-priced sedans and SUVs. With the subcompact segment shrinking down due to the loss of big competitors like the Honda Fit, Toyota Yaris, and Chevrolet Sonic, the Mirage is one of a select few left holding out. Is it worth the investment? Let's take a look.
What's New for 2021?
Nothing much is new for 2021. You can get the Mirage as a G4 sedan or hatchback. A 7.0-inch touchscreen with standard smartphone app integration via Apple CarPlay and Android Auto now comes equipped. A few new safety features have been made available, such as a lane departure warning system, automatic emergency braking with a feature that detects pedestrians, and automatic high beams headlights. Other than that, do not expect too many changes from the 2020 line-up.
Top 10 Reasons to Buy a 2021 Mitsubishi Mirage – The Pros
1. Excellent Fuel Economy When Paired With the CVT
Instead of getting the 5-speed manual transmission, opt for the continuously variable automatic transmission (CVT). It is built for fuel efficiency and pairs well with the 1.2-L engine in order to accomplish this. Together, they get an EPA estimated 39 mpg combined, which is one of the higher estimates you will find on a non-hybrid vehicle. And real-world tests reflect this efficiency. Just be prepared to make quite a few stops if you do a lot of driving every day since the fuel tank is a tiny one.
2. Extensive Warranty Coverage
Mitsubishi gives the Mirage some of the best warranty coverage you will find on any vehicle. The 10-year/100,000-mile powertrain warranty is almost unheard-of, and the five-year/60,000-mile bumper-to-bumper warranty helps sweeten the deal even more. Overall, you get a lot of value from the Mirage, which is already marketed as an economy vehicle. These strong warranty coverage numbers are the epitome of generous, showing that Mitsubishi really wants customers to feel valued and to know that, if something happens in the first few years or few thousand miles, they won't get hit with a bunch of pricey repairs.
3. Affordability
That brings us to the main reason why people look at the Mirage: Affordability. But the Mirage is no illusion here. It might have a cheap price tag, but you do get a lot from it. Some of the paneling and fit of the upholstery fall a little below expectations, but most buyers seem satisfied with their purchases. Those who buy the Mirage want a reliable vehicle that can get the job done, and that is exactly what this vehicle does - without costing a small fortune.
4. Maneuverability
If you live in the city, you are probably well aware of how much of a headache (sometimes literally) it is to try to park a truck or SUV in a tight parking space or to squeeze down a narrow one-way street. The 2021 Mitsubishi Mirage does not have those problems. Being so compact, it just zips right on through those crowded streets and can easily maneuver into tight parking spaces.
5. Good Ride Quality
For being a budget vehicle, the ride quality you get from the Mirage is above average. In fact, we would say that it is downright comfy and parallels what you get in some bigger sedans. If you hit a dip in the highway or just roll over a series of small bumps on a main road, the suspension will quickly smooth them over so that they do not reverberate throughout the cabin.
6. Good Outward Visibility
All around, the 2021 Mitsubishi Mirage offers good outward visibility. Out the front, you get a clear view over the hood. The roof pillars are slender, making the glass nice and wide for the viewing. Blind spots are minimal, and there is a standard rear-view camera that can help you see what is behind you when you are trying to back up out of a parking spot. Still, with such excellent maneuverability and a broad outward view, you can do a lot with just the naked eye.
7. The Controls Are User-friendly
The controls along the dash are all user-friendly. The learning curve for driving the Mirage is short, which is ideal for anyone who does not want to deal with confusing buttons and dials. Everything has a clear labeling applied to it so that there is very little guesswork. And the controls all function just as you would expect them to.
8. A Decent Amount of Infotainment Features For This Segment
Budget vehicles do not typically come with a long list of standard infotainment features, but the 2020 remodel saw the inclusion of quite a few for the Mirage. Mitsubishi gives the Mirage a standard rear-view camera, 4-speaker sound system, a USB port, and Bluetooth connectivity. Upgrading to the mid-tier LE trim level adds smartphone app integration with Apple CarPlay and Android Auto. We do tend to prefer the optional 6-speaker Rockford Fosgate sound system, and it isn't exactly an expensive add-on. But the standard system is still decent enough.
9. Enough Cargo Space
For this segment, the Mirage's 17.1 cubic feet of cargo space is quite ample. Fold the rear seats down to max this space out to 47 cubes. The rear seats are 60/40-split folding and can go down pretty far, offering you a good amount of extra space when you need it for toting bulkier items.
10. Practicality
The 2021 Mitsubishi Mirage is designed for practicality. It is not speedy, but it is reliable and packs in the right features for the price. Buyers can rest assured that they are investing their hard-earned dollars in a vehicle that will get them from Point A to Point B and back again. As a daily driver, it holds more value than you might think and more than what some reviewers might tell you.
Buying Tip:
To avoid overpaying on a new car, shop prices online first. Get up front pricing before you walk into a dealership. We recommend the following free services;
Car Clearance Deals,
NADAguides,
CarsDirect &
Motortrend.
These free services will offer you
the lowest prices
and supply you with multiple competing price quotes. You will know the best price before you visit the dealer.
Reasons Not to Buy a 2021 Mitsubishi Mirage – The Cons
1. It Is Extremely Underpowered
Unfortunately, we do have to admit that the 1.2-L 3-cylinder engine feels under-powered. It is hard to expect a vehicle in this segment to have a high-powered engine since they are geared toward fuel economy over power. Its 0 to 60 mph time is a sloth-like 12.7 seconds, which is slow even by this segment's standards. Anyone with a lead foot will find themselves wishing they could get this vehicle moving faster, but it just won't.
2. Steering Doesn't Self-center
The Mirage's steering column has the inability to self-center between 11 and 1 o'clock, which means that your hands will have to be on the wheel, directing it, making corrections for a wheel that shouldn't need that kind of correcting. Most steering wheels don't have this problem, but the Mirage's does. Drivers will need to be extra attentive to this and adapt their steering style to it.
3. A Noisy Ride
The Mirage's cabin is far from being a quiet one when you finally manage to get it up to speed on the highway. Wind noise is intrusive, and the engine makes quite the fuss when you put the pedal to the metal and force her into action. There is also an odd sound that happens with the vehicle when it is idling, which makes it sound as though it is misfiring, causing the vehicle to vibrate. It is definitely not pleasant getting bucked around.
4. A Low-brow Interior Design By Segment Standards
Mitsubishi's interior design has to be called into question here since some of the elements used in it are of questionable quality. Some of the fabrics look cheap, including the fabric in the cargo area that will snag on cargo items when you load and unload. The rear seats seem to lack proper fit and finish, and there are certainly a lot of hard plastic surfaces that serve as a reminder that you are riding inside of a budget car.
How It Stacks Up to the Competition:
2021 Mitsubishi Mirage vs. 2021 Kia Rio
Since the Honda Fit and Toyota Yaris bowed out of the competition, the door has been left wide open for rivals to step up to the plate. The 2021 Kia Rio is one such contender. The Rio has a sporty handling performance that makes it fun to drive. The long warranty coverage rivals what you get on the Mitsubishi Mirage, and you get an even better build quality inside and out from Kia. On the downside, the Rio is a bit too minimalist on the standard features, and its cargo space does not feel as generous. On top of that, there is no telescoping steering wheel option available.
2021 Mitsubishi Mirage vs. 2021 Chevrolet Spark
The 2021 Chevrolet Spark is an incredibly affordable and maneuverable little vehicle. It comes with a lot of high-tech gadgetry, both standard and optional so that you can customize it until your heart is content. You also get a stellar fuel economy from the Spark. However, it too is slow to accelerate and lacks leg room as well as cargo space, making it a tight squeeze even by segment standards.
Conclusion
The 2021 Mitsubishi Mirage is a budget-friendly alternative to getting a chunky SUV, and it is more fuel-efficient than many sedans too. In fact, as far as non-hybrids go, it is one of the most fuel-efficient vehicles out there. But it compromises on a thrilling ride. You will have to settle for the dull 1.2-L engine. While many reviewers knock the Mirage for being a 'cheap' vehicle, buyers have a lot of positive things to say about this practical little number.
Save Money on a 2021 Mitsubishi Mirage: