2019 Subaru Legacy vs Toyota Camry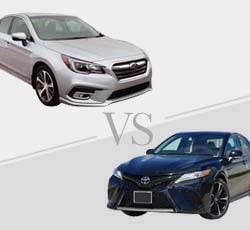 While the Toyota Camry and Subaru Legacy may not be the flashiest sedans on the market, but they've often be seen as the most reliable. As such, both vehicles have been some of the better selling for their respective manufacturers since they were initially released.
This is driven by both sedan's high-quality design, variety of infotainment and safety features, and overall performance. This has extended to both the 2019 Toyota Camry and the 2019 Subaru Legacy, which offer a significant number of improvements on their predecessors.
While neither vehicle is built to offer the best performance across the sedan category, they do stand out in various ways. For example, the Toyota Camry provides a significant amount of personality, comfort, and reliability. The Subaru Legacy, on the other hand, offers a certain degree of comfort alongside a decent amount value, as well as a variety of safety features.
That being said, neither vehicle has seen a complete overhaul, so drivers who've loved either range's predecessors should be familiar with many features. While the tweaks and upgrades have been minor, there are enough of them in both the 2019 Camry and 2019 Legacy to warrant a certain amount of interest in upgrading to the new models.
At a quick glance, it may not seem as though there's a large difference between the two sedans, as there are quite a few similarities between them. Once you look more in-depth, however, many of the differences become glaringly apparent, with both ranges having particular areas where they shine.
Many people may notice the similarities between the Toyota Camry's and Subaru Legacy's exterior, with only a few slight design changes helping to tell the difference. Much of this is because of the limitations of the sedan class. Under the hood and inside the vehicles, though, there are a few large differences.
These are what will help the majority of drivers decide which is the better choice for them. Is one car better than the other? Only an in-depth look at the vehicles will tell, although this could end up being decided based on your specific preferences.
The Powertrain
Both the 2019 Toyota Camry and 2019 Subaru Legacy offer two powertrains, with one being available for the basic trims while the other is available for the more expensive models. While both mid-size sedans have a basic 2.5-liter four-cylinder engine, there is quite a noticeable difference in horsepower.
While the Subaru Legacy offers 175 horsepower, the Toyota Camry generates much more, with 203 horsepower. Naturally, there's also a difference in the torque that each of the cars provides, with the vehicles offering 174 and 184 pounds, respectively.
While the base models of the 2019 Camry and 2019 Legacy are relatively similar, it's with their upgraded engines that things start to become somewhat more interesting. The Toyota Camry, for instance, offers a 3.5-liter V6 engine for the XLE and XSE, which provides a considerable amount of power.
Though the Subaru Legacy's 3.6-liter, six-cylinder also generates quite a large amount of power, it does lag behind slightly with 256 horsepower, which isn't something to turn your nose up at.
Many people might assume that the power offered by both of the vehicles would mean that the 2019 Camry would be the noisier of the two cars. While this is true, it may not be for the reasons that some would believe. Though the power output plays a large role in this, the 2019 Legacy engine has had a significant amount of innovation put into it.
This has meant that it's one of the quieter sedan engines on the market while also having significantly fewer vibrations. Much of this can also be seen when compared to similar cars that offer less horsepower.
The innovative approach has also extended to the rest of the powertrain, with the Subaru Legacy offering a continuously variable automatic transmission. Alongside this is an all-wheel-drive that comes as standard.
Compared to this, the Toyota Camry only offers front-wheel drive, which is something that the majority of drivers may want to avoid. Where the 2019 Camry does stand out, however, is with its fuel consumption, as there's quite a noticeable difference between the two sedans.
The basic engine on the Camry, for instance, offers 41 miles per gallon on the highway and 29 mpg in the city, with a combined mileage of 34 mpg. The 2019 Subaru Legacy isn't able to match up with this, however, as it offers a combined mileage of 29 mpg. In the city, drivers can expect up to 25 mpg, while it can fetch up to 34 mpg on the highway.
It should also be noted, however, that the 2019 Camry has a smaller fuel tank than the 2019 Legacy, with the mid-size sedans offering 14.5-gallon and-18.5 gallon tanks respectively. This could mean that drivers might have to stop at a gas station just as much, regardless of which vehicle they choose.
If you're looking for a large amount of power, then the Subaru Legacy should be your choice. While handling may also be an important quality for many potential buyers, both vehicles are quite similar in this regard, so there's little to differentiate in this regard.
Drivability
When it comes to the interiors of the 2019 Subaru Legacy and 2019 Toyota Camry, there are quite a few notable differences. Much of this is due to Toyota taking an approach that offers relatively few frills, while Subaru seems to have taken a 'more is better' approach.
This is first seen in how much space both of the vehicles offer, with the Camry offering a surprising 100.4 cubic feet of space for passengers. While this is quite large for a mid-size sedan, it doesn't match up with the 2019 Legacy, which offers 104.6 cubic feet of passenger space.
The size difference is also seen in cargo space, with the 2019 Toyota Camry offering 14.1 cubic feet compared to the Legacy's 15. The extra space also means that there's quite a significant amount of comfort available with the Subaru Legacy, which is an area that many people will want to take advantage of.
It should be noted that the Toyota Camry tries to make up for this by offering more comfortable bucket seats in the front and more spacious rear seats. However, this is counteracted by the Legacy's 10-way power-adjustable driver's seat that also happens to feature lumbar support.
While the interiors of both vehicles are well designed, there is quite a noticeable difference in looks. Though the Legacy has the option of three interior color options – grey, black and ivory – and either leather or cloth seats, it's the Camry that has the better-designed interior.
The primary reason for this is that the overall design of the Legacy hasn't been updated too much in previous years, whereas the Toyota Camry takes a much more modern approach. Potential buyers may find this much more appealing than the Subaru Legacy's somewhat dated look.
As you might expect, there's quite a difference in technology and other features in both of the vehicles, with this being obvious even from the base models. The 2019 Legacy is the winner when it comes to features that come as standard, although the 2019 Camry has much more available to take advantage of when it comes to higher trims.
The Legacy's base model features an upgraded Starlink touch-screen infotainment, which allows for much faster connection and also has a larger screen. Alongside this are both the Apple CarPlay and Android Auto systems, which are complete with a 12-speaker Harman Kardon audio system.
Compared to this, the 2019 Toyota Camry doesn't offer many technological features with its base model. Of those that come as standard, the only notable ones include Apple CarPlay, although the Android Auto system is notably absent.
Should you upgrade to a higher trim, then you'll be able to take advantage of a better audio system; at just nine speakers, however, it doesn't match up with the system included in the Subaru Legacy's base trim.
As such, if you're looking for a significant amount of comfort and a variety of features as standard, then the 2019 Legacy is the stand out between the two.
Buying Tip:
To avoid overpaying on a new car, shop prices online first. Get up front pricing before you walk into a dealership. We recommend the following free services;
Car Clearance Deals,
NADAguides,
CarsDirect & &
Motortrend.
These free services will offer you
the lowest prices
and supply you with multiple competing price quotes. You will know the best price before you visit the dealer.
Safety
Safety is a significant concern for any vehicle, and it's obvious that both Toyota and Subaru put a significant amount of time into ensuring that these are as high-quality as possible. As such, both the Camry and Legacy have a variety of safety features as standard, as well as a few optional extras.
Both of the mid-size sedans offer a variety of similar features, with these being available across each trim level. Some of the more common of these include adaptive cruise control, a lane departure alert, and a standard pre-collision braking, among a few others.
However, it's the 2019 Subaru Legacy that offers a little bit more as standard, as each model of the car features automatic braking in reverse, which is something that isn't available with the 2019 Toyota Camry.
There are a few other safety features that come as standard with the higher trims of both sedans. For example, the Legacy's 2.5i Premium model comes with blind-spot warning and high-beam assist, while the Limited trim also includes steering-responsive headlights.
This is another area where the 2019 Camry can't match up, as the only additional safety feature that comes as standard with higher trims is the inclusion of a rearview camera. Outside of this, you'll have to pay for any extra features that you might want to be included in the models.
Though they both have the basics, sometimes we'll want much more than that, especially considering the price difference between the Camry and the Legacy.
As such, the 2019 Subaru Legacy is the much better choice when it comes to overall safety features. While this isn't always the first thing that a potential buyer will look at, it should certainly play a large role in the decision.
Which Has the Best Value?
There's quite a noticeable price difference between the 2019 Subaru Legacy and the 2019 Toyota Camry, which would lead people to wonder which one is worth the money. This is something that everyone will think about when making such a large purchase, but many of us might struggle with determining the value of the cars.
While much of this might come down to individual preference, the Subaru Legacy does seem to offer much more value, as the base model includes a variety of features as standard. This is seen across both the infotainment and safety, as well as in the overall power of the vehicle.
While the Toyota Camry does offer much more style than its counterpart, there's very little to justify its price tag, which would lead to many of us leaning toward the Legacy. It should be noted that this can offer somewhat of a more exciting drive despite having slightly less power.
Coupled with its more modern appearance, the 2019 Camry does have more of a sporty appeal, which is something that many people might want. However, it's not the most budget-friendly sedan on the market, especially considering a notable lack of certain features as standard.
While the 2019 Subaru Legacy might cost slightly more, depending on the trim, it does offer significantly more for your money. As a result, it provides much more value in up-front cost. The only area where you might see some value with the 2019 Camry is with its fuel economy, although this mightn't be enough to justify the price tag.
When it comes to choosing between the two, you'll need to decide between power and sportiness while determining where you place the most value. For many, this would lead to the Subaru Legacy, although the no-frills approach may be off-putting to some.
Which is Better?
There are a variety of areas where both the 2019 Toyota Camry and the 2019 Subaru Legacy stand out. As such, both are better in specific ways, so which one you should choose will depend significantly on what you want to get out of your sedan.
In terms of overall value, the 2019 Legacy is the stand-out, especially when it comes to the extra features that come with the cost of the vehicle. Alongside this is the fact that it's quite difficult to beat its comfort and safety options, which is where the mid-size sedan shines.
However, this is much more of a no-thrills approach to driving, which could be a negative for many drivers. This happens to be where the 2019 Legacy stands out much more, as it offers much more of an exciting drive, especially if you're looking to spend a little bit more for its extra features.
That doesn't have to mean you'll need to break the bank to get more of a thrill with the mid-size sedan; even the base model has much more on offer than the basic 2019 Subaru Legacy. Alongside this is that it offers a sleeker design and a much better fuel economy.
The fuel economy aspect could mean that there's a certain amount of extra value here, although this could be somewhat debatable. In terms of a family-friendly car, the Subaru Legacy is the stand-out, thanks in large part to it being roomier and more comfortable, especially in the back seat.
Save Money on a 2019 Subaru Legacy:
Are you Shopping for a New Vehicle? Find the Best Deals with "Free - No Hassle" Prices Quotes.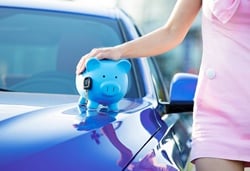 Get up to 4 local dealers to compete for your business by offering free, competitive pricing. Know before you go to the dealer.
Every dealer offers a secret price. Find yours here.