2020 Subaru Crosstrek vs Impreza
When you are searching for a new small SUV or hatchback, your search will inevitably lead you to a couple of Subarus - the 2020 Subaru Crosstrek (a small SUV) and the 2020 Subaru Impreza (which can also come as a sedan, not just a hatchback). Since they belong to the same automaker, you can safely assume that these two vehicles are a lot alike. But you might be surprised by how different they can be too.
Are these vehicles powerful enough? Are they comfortable? Are they spacious? Most importantly, are they safe? These are questions that car buyers ask themselves, and you're probably wondering the same thing. Before you decide on which vehicle to buy, you ought to know these things. The Crosstrek and Impreza have some pros and a few cons. The Impreza's engine feels under-powered and is slow to accelerate, but the cabin is serene and cozy. The Crosstrek has a good amount of ground clearance, which makes it ideal for off-roading adventures. However, cargo space is a sour spot, as is the vehicle's handling capabilities in regular driving situations.
So, which one should you buy? Should you avoid both vehicles altogether? Read on through this comparison review to learn about the powertrains, drivability factors, and safety features and ratings of the 2020 Subaru Crosstrek and 2020 Subaru Impreza. In the end, we will let you know which of these vehicles has the most value and which is the overall better buy.
The Powertrain
Power is a crucial element to consider when looking for a brand-new vehicle. You want something that can accelerate with ease. You might also be looking for something that can handle off-roading treks. In that case, you might be interested in the 2020 Subaru Crosstrek.
This small SUV is powered by a standard 2.0-L 4-cylinder engine that generates 152 hp and 180 lb-ft of torque. The base and Premium trim levels get a 6-speed manual transmission although a continuously variable transmission (CVT) is available. The CVT is the only transmission you can get on the line-topping Limited trim level. All-wheel drive is standard, and you get hill descent control (known as X-Mode). Unfortunately, the powertrain is incredibly slow. It can only get from 0 to 60 mph in 10.3 seconds. Even a Toyota Prius could surpass it in a race!
How does the 2020 Subaru Impreza stack up? Well, it also has a 2.0-L 4-cylinder engine, but it gets 152 hp and 145 lb-ft of torque. All-wheel drive is, of course, standard since this is just what Subaru does on its vehicles. A 5-speed manual transmission and a CVT are both available as transmission options. Again, this powertrain is slow. It gets from 0 to 60 mph in 9.4 seconds, and the transmissions are both pretty unresponsive. The brakes feel easy to modulate though, and the steering is responsive, even sporty. Body roll is not present, and the body just feels well-controlled overall.
Drivability
Power is one thing, but there are numerous things that factor into how a vehicle drives. What makes a vehicle drivable? You need to consider its comfort level, interior design elements, technology, and utility. The 2020 Subaru Crosstrek is hit and miss in some areas, as is the Impreza.
Let's start with the Crosstrek. It is, by all means, a comfortable vehicle to ride in. The seats have excellent bolstering, even though the seat padding is a bit too firm for long road trips to be truly enjoyable. It is nothing an extra cushion beneath your bum will not fix. The suspension and wheels absorb a lot of bumps, making for quite the smooth ride quality. The engine, however, gets noisy when you take it up to full throttle... which is every time you try to pass someone or charge uphill. The climate control mostly works well, but there are some vents positioned near the steering wheel that blow air onto the driver's hands. If you like getting air blown onto your hands, you'll love this. If not, you will be kind of annoyed.
The interior is all about functionality and spaciousness. Fore and aft, you get a ton of room. Adults of all sizes will comfortably fit inside of the Crosstrek. The lifted ride height also helps make getting in and out a lot easier, which cannot be said of the Impreza. Outward visibility is vast thanks to wide windows and narrow roof pillars. You can also easily find a good driving position by adjusting the seat and steering wheel. Additionally, the controls in the cockpit are all easy to use, and even the secondary top screen comes in handy. You get large fonts and buttons that have shapes making them easy to identify. Overall, it is rather user-friendly.
On the tech front, you get standard smartphone app integration via Apple CarPlay and Android Auto. These can handle everything from navigation to music. Syncing your apps is super simple and often preferable to the built-in functions. The center screen provides crystal clear graphics, and the Starlink infotainment system works well in general. In fact, a lot of people feel that it is one of the best systems on the market right now.
Finally, we need to address the Crosstek's utility. You get very little in the way of cargo space behind the rear seats. Even the Honda Civic hatchback has more space than this. You only get 20.8 cubic feet of cargo space with all seats in place, and it maxes out at a puny 55.3 cubes. You also do not get much in the way of small item storage areas. The cubbyholes and pockets are kind of shallow, so you will not be able to fit many personal items into anything. The LATCH system does work well since you have large door openings and a ton of space in the rear seat for a rear-facing car seat.
What about the 2020 Subaru Impreza though? Could it be a better choice based on its drivability factors? It does give you a smooth, quiet, compliant ride quality. While the CVT does tend to whine as you amp things up, there is no wind noise that makes its way into the cabin. The seats are comfortable but on the firmer side, much like the seats you will find inside of the Crosstrek. The rear seats are pretty flat, and, as is the case in the Crosstrek, the front vents are poorly placed.
The Impreza's cabin is similar to the Crosstrek's in a lot of ways. The controls are extremely easy to use, and the secondary touchscreen is useful and well-placed. If you get the hatchback variant, you get expansive outward visibility, allowing you to see the sides and out the rear of the vehicle with clarity.
When it comes to the technology on the Impreza, the touchscreen infotainment display has a smartphone-esque vibe, calling to mind how your phone's home screen probably looks. The screen itself is responsive, so you do not have to press it multiple times just to get one button to function. The built-in navigation system is easy to use, making it feel effortless to find your intended destination. The stereo is rather abysmal though, as its maximum volume and speaker quality do not compare to a lot of Subaru's rivals.
Utility also leaves something to be desired, much like the Crosstrek. The hatchback Impreza is a better option than the sedan, but both seriously lag behind the competition. The Impreza's sedan only gives you 12.3 cubic feet of cargo space with all seats left in place. The hatchback at least gives you 20.8 cubic feet. The max amount of cargo space you can get on either variant is 55.3 feet. It still is not a lot. Rivals also do infinitely better with regard to small item storage spaces. There are quite a few cup holders available, and they are all well-sized. The LATCH system is extremely easy to use with the three anchor points located behind the rear seat.
Buying Tip:
To avoid overpaying on a new car, shop prices online first. Get up front pricing before you walk into a dealership. We recommend the following free services;
Car Clearance Deals,
NADAguides,
CarsDirect & &
Motortrend.
These free services will offer you
the lowest prices
and supply you with multiple competing price quotes. You will know the best price before you visit the dealer.
Safety
Safety is a major contributor to why people buy certain vehicles. If it is demonstrably safe and reliable, then a vehicle is all the more appealing to consumers. And that is something you are probably looking for, right?
The 2020 Subaru Crosstrek is loaded with Subaru's Eye Sight driver aid bundle. The vehicle gets adaptive cruise control, which tends to keep the vehicle at lengthy distance from the automobile in front of it. While it is nice to get features like blind spot monitoring and lane keep assist, you cannot turn these features off. They do work pretty well though, so you might not find yourself wanting to turn them off anyway. The reverse automatic braking system pairs up nicely with the standard rear-view camera.
The 2020 Subaru Impreza has the Eye Sight bundle as well, so you get to reap the benefits of having adaptive cruise control, lane keep assist, and pre-collision warning. Adaptive cruise control works well at keeping a good distance between the Impreza and whatever vehicle is in front of it. It also will not force the brakes down hard if your vehicle starts to get too far behind. Everything else in the bundle functions just as it should too.
Safety features are important, sure, but safety ratings are crucial too. They let us know how these vehicles will likely hold up in the event of a wreck. The Insurance Institute for Highway Safety (IIHS) and National Highway Traffic Safety Administration (NHTSA) analyze how new vehicles perform in crashes every model year, and they have assessed the 2020 Subaru Crosstrek and Impreza.
The IIHS gave "Good" marks to the Crosstrek on almost everything and even labeled it as a Top Safety Pick for 2020. It did, however, get a "Poor" score on the headlights on the 2.0i and 2.0i Premium trim levels. They exhibit a moderate amount of glare at night. The LATCH system got a "Great!" grade though! NHTSA assigned the Crosstrek 5 full stars for its overall rating. It got 4 stars on all aspects of the front crash test though, as well as a 4-star score on the rollover test. A 15.60% rollover risk was noted, which is a fairly standard percentage for this segment. So far, there have been no recalls issued, but there are serious complaints about the moonroof shattering due to Subaru using faulty glass.
The 2020 Subaru Impreza was also labeled a 2020 Top Safety Pick by the IIHS. It got "Good" scores on almost everything as well, but it got marked down for the headlights on the lower trim levels, which showed glare. Again, the LATCH system received a "Great!" grade. NHTSA gave the Impreza 5 full stars for its overall score. It also got 5 stars on every single test administered. There is a 9.50% rollover risk. Again, complaints center around the glass used, as multiple people have had windshields crack out of nowhere.
Which Has the Best Value?
So, which of these two Subarus has the best value? The 2020 Subaru Crosstrek does not have much in the way of cargo space, but it is affordable and cozy. You also get a lot of standard features for a good price. Also, the interior build quality looks upscale compared to what you might find in some of the other small SUVs out there.
The 2020 Subaru Impreza falls a bit short of her big sister, the Crosstrek. The Impreza's base trim is a great way to get all-wheel drive and a ton of features on the cheaper side of things, but the further you go up in trim levels, the more the price tag surges. This makes the Impreza less appealing, as does the interior, which looks a bit cheaper than the Crosstrek and competitors in its own segment. You also do not get many features that really set the Impreza apart from others in this class.
Which is Better?
You might be attracted to the 2020 Subaru Impreza's price tag, but don't be fooled. The amount of features and build quality aren't up to par with other vehicles in its segment. The 2020 Subaru Crosstrek at least feels a bit more expensive. Both struggle with a lot of the same issues though, so you will have to choose carefully. You might even want to consider a totally different vehicle. But, if you have to pick between these two, give the Crosstrek the first test drive and see what you think of it. It does give you some good off-roading capabilities, which is going to be one of its biggest selling points.
Save Money on a 2020 Subaru Crosstrek:
Are you Shopping for a New Vehicle? Find the Best Deals with "Free - No Hassle" Prices Quotes.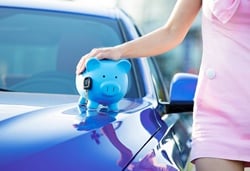 Get up to 4 local dealers to compete for your business by offering free, competitive pricing. Know before you go to the dealer.
Every dealer offers a secret price. Find yours here.