2022 Subaru Forester vs Crosstrek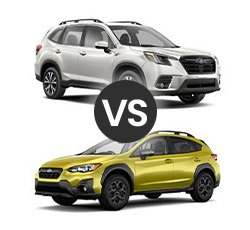 Looking for a capable SUV that suits your needs? This can be easier said than done. This market is now so highly competitive. SUVs these days are cable to balance out power and fuel efficiency - a mixture that the average buyer desires. Of course, it doesn't hurt when there are an abundance of standard tech gadgets and driver aids.
The 2022 Subaru Forester equips Subaru's standard all-wheel drive (AWD) system. You get an abundance of cargo space in the rear, and the EyeSight suite gives you a smattering of driver aids to use. With its AWD and 8.7 inches of ground clearance (a bit more than what you get on other SUVs) makes the Forester a confident and rugged off-roader. But this SUV has its downsides. Utility is reduced due to its unimpressive max tow ratings, and the base engine is under-powered to get this vehicle moving in a timely manner. and sluggish.
Meanwhile, the 2022 Subaru Crosstrek stands out with its similarly high ground clearance (8.7 inches, actually) and excellent off-roading capabilities. For being a hatchback SUV, you get a lot of interior space, making enough room for all occupants.
Unfortunately, the Crosstrek also has a base engine that is entirely too lackluster in terms of power. You need to spend more money to get ample power from the turbo XT engine. On top of that, the Crosstrek's handlingis not all that refined, and there is less available cargo space than what comes in other crossover SUVs.
So, which Subaru model will best suit you? It is time to find out.
Size and Styling
The 2022 Subaru Forester is a small crossover SUV that has a rugged, outdoorsy vibe to it. Like other Subarus, it is based on a hatchback design, coming off as being kind of wagon-like. Likewise, the Crosstrek has a hatchback-esque style, but it is indeed smaller than the Forester. This is an extra-small crossover SUV, so there is less interior space available in this SUV.
For the most part, both of these vehicles are athletic in appearance and match that with their performance. You will find a lot of features - such as roof rails, fog lights, a sun roof, and adaptive LED headlights - throughout both line-ups. What you get will depend on which trim level and any optional packages you choose to equip.
Drivability
A strong powertrain can make driving a small or extra-small SUV a heck of a lot of fun. But a bland powertrain? Well, it can make for a miserable term of ownership that nobody raves about. This is exactly why automakers are always tweaking the engines and transmissions that they dump into their vehicles. Subaru, unfortunately, has a trend of dumping in lackluster base engines and only average upgraded turbo engines.
The 2022 Subaru Forester receives its power from a standard 2.5-liter four-cylinder that puts out a meager 182 horsepower and 176 lb-ft of torque. This power is directed to each of the four wheels utilizing a continuously variable automatic transmission (CVT). The Forester needs a painstaking 9.3 seconds to chug from 0 to 60 mph, which is comparably slow for this segment. The Forester isn't all that sporty but at least comes off as being planted while taking turns. The Forester truly shines off of the beaten path with its standard AWD and 8.7 inches of ground clearance. Its Wilderness trim level adds more ground clearance and front skid plates, making it even better at performing off the paved roadway.
Fuel economy is an EPA estimated 29 miles per gallon in combined city and highway driving. While these are top-notch estimates for the class, the Forester's under-powered base engine is fuel-thirsty. In fact, real-world tests reveal that you will be really lucky to reach that 29 mpg rating.
The 2022 Subaru Crosstrek gives you two engine options, the base engine being a 2.0-liter four-cylinder that puts forth 152 horsepower and 145 lb-ft of torque. This engine comes on the Base and Premium trim levels. For the Sport and Limited trim levels, there is a stronger 2.5-liter four-cylinder, which serves up 182 hp and 176 lb-ft of torque. While a six-speed manual is available for the Base and Premium trim levels, a CVT is standard across the board.
The base engine requires over 10 seconds to slink from 0 to 60 miles per hour, which is remarkably slower than the Forester's base engine. The XT engine trims the time down to 8.4 seconds, which is more on par with the time other SUVs this size put in. There are, of course, 8.7 inches of ground clearance and steering that feels responsive - both creating a good off-roading performance. However, handling is pretty bland given the Crosstrek's the tall ride height and how it creates too much body roll; also, the tires don't have enough road grip.
With the optional XT engine equipped, the Crosstrek gets an EPA-estimated 29 miles per gallon in combined driving, which is a decent fuel economy for an off-roader in this segment. However, as is the case with the Forester, the Crosstrek's real-world tests put the fuel economy around 27.5 mpg, which is certainly disappointing. Given its 16-gallon tank, the Crosstrek's tank is about 20-30% larger than those found in its competitors. The same can be said for the Forester.
Comfort, Options and Performance
The 2022 Subaru Forester's front seats are comfortably bolstered and padded, offering day-long support for occupants. The suspension is comfort-tuned and ultimately compliant in its mannerisms, dispatching bumps in the road with ease. While its taller height generates wind noise at highway speeds, noise intrusion is otherwise well-muted inside of the cabin. Most trim levels come with standard heated front seats, and there is an available climate control system that is effective at heating or cooling the cabin as you prefer it.
The Forester's controls are properly labeled and placed within the driver's reach, making them easy to use. The SUV-like ride height and wide door openings lead to easy access to the cabin. The steering wheel and driver's seat provide plenty of adjustability, so drivers of all shapes and sizes can find their preferred seating position.
Technology is also strong here. The central dual-screen set-up is chic and doesn't have a long learning curve. You can work through the touchscreen menus without confusion, quickly finding just what you need. Voice controls and navigation work just like they should, and smartphone app integration via Apple CarPlay and Android Auto makes for a good alternative to the touchscreen infotainment system and navigation. Most of the trim levels feature a set of front and rear USB ports.
The 2022 Subaru Crosstrek has a smooth and quiet ride quality. Its 2.5-L XT engine generates barely any noise, although a growl will emit if you press down on the throttle. It sounds much less growly than the base engine's raging howl. Road trips are cozy and enjoyable thanks to the sculpted and supportive front seats. They could use a bit more bolstering on the sides, as you will notice while rounding through turns. Some of the air vents are improperly positioned, yet the air flow remains even, and the temperature is always stable.
The controls inside of the Crosstrek are well laid out, making it easy to get used to them. There are huge fonts used in the touchscreen's high-resolution menus, and the elevated ride height makes access to and from the cabin easy enough. Space is abundant, and this is certainly one of the most spacious cabins available in an extra-small crossover SUV. Taller occupants might find the rear seat to be cramped, but everyone else should be just fine.
Want to use the features found on the Crosstrek? Tech gurus need not apply - these features are for everyone, as Subaru makes them feel totally streamlined. Standard smartphone app integration via Apple CarPlay and Android Auto leads to a seamless performance. The center screen delivers sharp imagery, and the Limited's eight-speaker Harman Kardon premium sound system is worth the cost of the upgrade if you love rocking out to your favorite tunes while you drive.
Where cargo space is concerned, it does feel a little bit tight. With 20.8 cubic feet of space in back of the rear seats or 55 cubes when those rear seats are folded down, there simply is not that much space for you to use. Also, you do not get that many small item storage spaces throughout the cabin. Indeed, you need to come up with creative solutions to how you stash your items.
Safety
Safety is a major concern for all drivers, to be sure. Automakers know that there is a high demand for enhanced safety features. That is why Subaru equips its vehicles with the EyeSight suite of driver aids. Adaptive cruise control, forward collision mitigation, lane keep assist, and lane departure warning are all standard issue on the Forester. Going up to the Sport trim gives you evasive steering assist and a blind spot monitor with a rear cross-traffic alert. The line-topping Touring also equips a driver monitoring system to detect and alert you if it thinks you are becoming drowsy or distracted as you drive.
Similarly, the 2022 Subaru Crosstrek is equipped with the EyeSight bundle. Of course, this comes standard on all trim levels. Forward collision mitigation, a lane keep system, and adaptive cruise control are all included in the standard bundle. On the Premium trim level and higher, there is Subaru's Starlink connected services suite. Also, on the CVT-equipped Premium, you will get blind spot monitoring with a rear cross-traffic alert. You get adaptive LED headlights and rear automatic braking on the Limited trim level. These driver aid features work well enough for the most part, although lane keeping intervenes a bit more than it ought.
Which Model to Choose?
Space is at a premium in both the 2022 Subaru Forester and Crosstrek, and neither has a particularly powerful base engine. The XT engine is the one you're likely to opt for on either model. However, you get slightly more space from the similarly equipped Forester, and they both make for capable off-roaders.
These vehicles tend to last for years, and you can take them just about anywhere. But, if we had to choose between the two, the Forester would get our vote. Its Wilderness trim level (which adds a front skid plate, LED fog lights, all-terrain tires, and water resistant seating surfaces) is family-friendly and has a lot of versatility to it. It also beefs up the max towing capacity to 3,000 pounds. Ultimately, you will end up paying more for a higher trim level and better engine option regardless of whether you go for the Subaru Forester or Crosstrek.