2022 Subaru Outback vs Crosstrek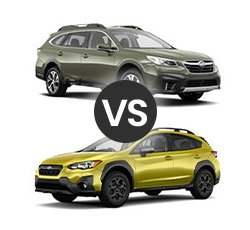 Right now, SUVs are a hot commodity. But buyers are still looking for something that won't gouge them at the fuel pump, so larger SUVs might not be for everyone. That's where Subaru and its smaller crossovers come into play. Having once built some of the strongest, longest lasting station wagons on the road, Subaru became known for their standard all-wheel drive and better-than-average ground clearance. Those are things you will still find in a Subaru. And the 2022 Subaru Outback and 2022 Subaru Crosstrek deliver on those fronts, for sure.
The 2022 Subaru Outback is designed for maximum comfort. Its ride is nice and smooth, plus there isn't much noise that seeps into the cabin at any speed. And, if you opt for its available turbocharged engine, you get a good amount of power to get the Outback moving. Loading up on cargo is simple due to the ride height, plus you have the advantage of extra ground clearance for off-roading adventures.
Downside? The standard engine is super sluggish, which requires you to spend more to get the XT's more ample power supply. The built-in voice controls aren't all that adept at understanding natural speech patterns. What's more, a lot of controls get thrown haphazardly into the touchscreen's menus, and the screen itself is slow to respond to your inputs.
The 2022 Subaru Crosstrek also offers high ground clearance - to be more precise, 8.7 inches. Its off-roading abilities are undoubtedly strong and well-rounded. You even get a lot of cabin space for this being a small-ish hatchback SUV. It is fairly straightforward when it comes to the controls, which makes the vehicle an easy one to get used to driving.
The Crosstrek has some issues, most of which revolve on the under-powered base engine. If you want something with any real power behind it, you have to spend more money to get the turbocharged XT engine. There are also some handling pitfalls and not as much cargo space as what you can get from rival crossovers.
Which of these two Subaru models is going to best meet your needs? Is there one that offers a bit more value than the other? Let's dive on in and find out.
Size and Styling
The 2022 Subaru Outback is, quite honestly, a station wagon at its core. Think of it as a wagon/SUV hybrid. Every trim level is outfitted with standard LED headlights and integrated crossbars on the roof rails. The Premium trim adds heated and power-folding side mirrors, windshield wiper de-icer, rear windows that are tinted, and LED fog lights. The Limited upgrades you to 18-inch wheels, and the Onyx Edition XT tacks on special body cladding. The all-new Wilderness trim level is the most unique with its 17-inch wheels (equipped with all-terrain tires), a lifted suspension for extra ground clearance, front skid plates, black badging on the outside, accents in copper trim, revised designs for the fender flares and bumpers, and a roof rack that has a 700-pound weight limit.
The 2022 Subaru Crosstrek is a small crossover hatchback SUV which sizes below the Outback. Its base trim comes with roof rails and 17-inch wheels done in alloy. The manual Premium adds fog lights, but the one with the CVT attached comes with a sunroof. The Sport trim sports some unique fender flares while the Limited upgrades the vehicle with 18-inch wheels, LED fog lights, and adaptive LED headlights.
Drivability
Powertrains are important aspects of vehicle ownership. After all, these are what power the vehicle. A strong powertrain will have the vehicle pulling off the line in no time at all and will not gas out at higher rates of speed. But a weak engine? It won't accelerate in a timely fashion, and it will burn out quickly at higher speeds and on steep uphill grades. And, unfortunately, this is where Subaru sometimes struggles.
The 2022 Subaru Outback is powered by one of two engines: a base 2.5-liter four-cylinder engine that gets 182 horsepower and 176 lb-ft of torque (paired with a
continuously variable automatic transmission) or the XT turbocharged 2.4-liter four-cylinder engine, which puts forth 260 hp and 277 lb-ft of torque.
While the base engine feels pretty slow, the XT is snappier. The base engine needs about 8.8 seconds to cruise up to 60 miles per hour from a dead stop. The XT is more in line with what the Outback's competitors are able to do. The CVT does a good job of shifting between gears, but aside from some body roll while turning, the Outback feels pretty solid overall. There is even a good amount of on-centeredness from the steering system.
Fuel economy is decent enough. The base engine is EPA estimated for 29 miles per gallon in city and highway combined driving. However, real-world tests put it much lower, closer to 20 mpg - most likely due to the engine's lack of power requiring you to have a lead foot to get around in traffic.
The Subaru Crosstrek has two engine options available. First, you can pick the base engine, which is a 2.0-L 4-cylinder engine capable of generating a power output of 152 horsepower and 145 lb-ft of torque. While this comes standard on the Base and Premium trim levels, you can opt for a 2.5-L 4-cylinder engine on the Sport and Limited trim levels. This engine puts forth 182 hp and 176 lb-ft of torque. A 6-speed manual transmission is optional for the Base and Premium, but a continuously variable automatic transmission (CVT) is standard pairing for both engines.
The base engine takes well over 10 seconds to trudge along from 0 to 60 miles per hour. This makes for an incredibly slow acceleration rate for this segment. That time gets trimmed down to 8.4 seconds on the XT engine - a time that feels much more reasonable and on par with the Crosstrek's rivals. The Crosstrek's generous 8.7 inches of ground clearance and responsive steering system combine to create a decent off-roading performance. Unfortunately, handling is inferior due to the vehicle's tall ride height. There just isn't much road grip from the tires, and body roll is something you can feel while rounding through turns.
The available XT engine earns the Crosstrek an EPA-estimated 29 miles per gallon in combined city and highway driving - a respectable enough fuel economy for an off-road-oriented vehicle in this segment. But real-world tests put the Crosstrek's fuel economy at a more disappointing 27-28 mpg combined. This can be accounted for by the fact that the Crosstrek's 16-gallon fuel tank is approximately 20-30% larger than those found in its main rivals.
Comfort, Options and Performance
The 2022 Subaru Outback is indeed comfortable. The front seats are soft but well sculpted for support, giving you just the right amount of bolstering to keep you locked in place. Ride quality is smooth, easily dispatching bumps that you happen to roll across. It does all this without coming off as drifty. The one issue you might have is trying to use the touchscreen menus to control things like the automatic climate control system, as the controls are buried in a confusing manner.
While the controls being scattered among the finicky touchscreen is quite an annoying, the cabin gets other things right. The seats are positioned in a rather upright manner but, up front, they have a lot of adjustability. The blind spots are small, and you get a lot of outward visibility with how big the windows are and how slender the roof pillars have been designed. Fore and aft, you get a lot of space to stretch out.
The vertical 11.6-inch infotainment touchscreen display is cool to look at but lacks functionality. The menu structures are overly complex, which takes time and focus away from driving. The stereo system does sound crisp, which is about the one stellar tech feature you'll get. The voice controls are kind of wonky, plus the smartphone app integration display eats up the top half of the screen, which renders the bottom half totally useless.
As a lifted station wagon style vehicle, the Outback doesn't quite have the same amount of cargo space available as its rivals. At least the cargo floor is low and flat, which makes loading and unloading cargo a breeze. There are a lot of small item storage areas, but what there is, is small in size. The center bin, for example, is relatively shrimpy in size.
With its tranquil and smooth ride quality, the 2022 Subaru Crosstrek offers a high degree of comfort. The available XT engine doesn't make much sound, although you get a pleasant howl from it if you press down hard on the accelerator. If you do the same to the base engine, though, it will emit a horrible roar. The front seats are sculpted for the utmost in support despite not having a ton of side bolstering built into the sides. The air vents by the steering wheel seem to hit your fingers a little too directly, but you get a stable temperature and plenty of air flow throughout the vehicle.
Getting used to the Crosstrek's controls is easy peasy. If you've ever been behind the wheel of another Subaru, you should feel right at home. The touchscreen display has high-resolution menu screens with massive, easy-to-read fonts labeling everything. The lifted ride height means you can get in and out of the cabin easily, and the cabin sure is spacious for this being such a small crossover SUV. Everyone should fit in just fine save for extremely tall folks relegated to the rear seats.
Tech-savvy or not, you should have no problem getting used to Subaru's gadgetry. The smartphone app integration you get through Apple CarPlay and Android Auto is user-friendly, and the center screen has nice, crisp graphics. The Limited comes with an eight-speaker premium Harman Kardon audio system that produces recording studio quality sound; it is absolutely worth the cost to upgrade.
Cargo space is where the Crosstrek feels a touch too constricted. You only get 20.8 cubic feet of cargo space to work with when the rear seats are left in place. Folding them down only results in 55 cubic feet. This just doesn't stack up to a lot of the Crosstrek's rivals. You will have to come up with some unique ways to stash your small items since those storage spaces are lacking inside of the cabin.
Safety
Safety is a major concern for all drivers, to be sure. Automakers know that there is a high demand for enhanced safety features. That is why Subaru equips its vehicles with the EyeSight suite of driver aids. The 2022 Subaru Outback comes with automatic high beams, adaptive cruise control, forward collision warning, and lane keep assist. The Premium adds on a blind-spot monitor with rear cross-traffic alert, and the Limited has a driver attention warning.
Similarly, the 2022 Subaru Crosstrek has the EyeSight bundle tacked onto it and is indeed standard on each one of the trim levels. Forward collision mitigation, adaptive cruise control, and a lane keep system are all part of this suite of driver aids. Subaru's Starlink connected services suite come on the Prestige and above trims. The CVT-equipped Premium receives a blind spot monitoring with its own included rear cross-traffic alert. Adaptive LED headlights and rear automatic braking both come on the Limited trim. Lane keeping interrupts more than it should, but everything else seems to work as it ought.
Which Model to Choose?
The 2022 Subaru Outback and Subaru Crosstrek are relatively similar, save for their size differences. Both have underpowered base engines and some issues with how their technology is construed. However, they are both capable off-roaders with a lot of comfort packed into them. If we had to pick one vehicle, though, we'd go for the Outback. It is a little bit bigger and more versatile, plus the XT engine option gives it ample power. While rivals of both models do better in some ways, the Outback in particular has a long history of being a great off-roader that retains its former wagon-esque appeal.